'Big win' for grocery workers | Union-built at the Gorge | Who Brandi needed
Friday, March 19, 2021
---
COVID-19
► LIVE from the Seattle Times — Coronavirus daily news update, March 19 — The latest count of COVID-19 cases in Washington totals 352,907 infections (7-day average of new infections per day: 702) and 5,168 deaths.
► From the (Everett) Herald — With vaccine supply rising, governor will expand eligibility — Starting March 31, restaurant and construction workers, and everyone over the age of 60, will be among those able to get a shot as the state extends eligibility into the third and fourth tiers of Phase 1B of its vaccination plan.
The Stand (March 5) — WSLC thanks Inslee, state DOH for expanding vaccine eligibility — As supplies increase, WSLC continues to press for ALL essential workers to be eligible.
► From the Washington Post — More than 4 in 10 health-care workers have not been vaccinated, Post-KFF poll finds — Health-care workers were the first group in the United States to be offered coronavirus vaccinations. But three months into the effort, many remain unconvinced, unreached and unprotected. The lingering obstacles to vaccinating health-care workers foreshadows the challenge the United States will face as it expands the pool of people eligible and attempts to get the vast majority of the U.S. population vaccinated.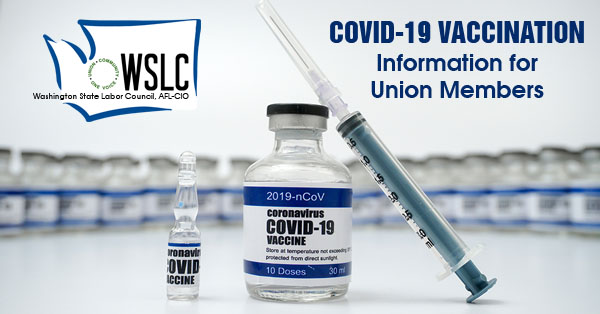 The Stand (Jan. 22) — WSLC offers COVID vaccination resource for union members — A website and workshop focus on protecting rank-and-file members by educating them about vaccination so they can make informed choices.
---
LOCAL
► From the Seattle Times — Federal judge dismisses grocery industry suit against Seattle's $4-an-hour hazard pay law — A federal judge has dismissed a grocery industry lawsuit that sought to block Seattle's new law granting $4-an-hour raises to grocery store workers for the duration of the coronavirus pandemic.
EDITOR'S NOTE — A statement by UFCW 21 President Faye Guenther:
"We have pushed for hazard pay for essential grocery store workers since May when the corporations running the stores decided, without even giving a reason, to cut the hazard pay that had been in place. The city's hazard pay ordinance is a good law that provides temporary additional pay to the frontline workers in our grocery stores who have been putting their health and safety on the line every day since the pandemic began. The pay provides some additional income for these workers as their jobs have increased risk, increased demands, and increased hazards. And these workers' labor is what has allowed the rest of the us in the community to get access to the food and other necessities we need and has resulted in the huge increased profits for the grocery store corporations.

"This is a big win for grocery store workers who deserves this hazard pay and also a big win for all the other municipalities out there considering passing their own hazard pay ordinance that these laws are legal and will withstand the bullying lawsuits of the industry."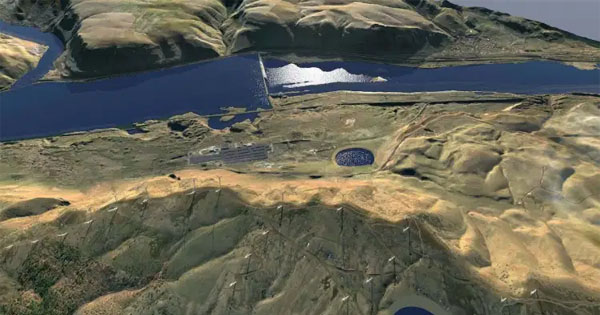 ► From the NW Labor Press — Colossal energy storage project in Columbia Gorge will be union-built — A massive renewable energy storage facility in the Columbia River Gorge will be built with union labor, thanks to a newly signed agreement between Copenhagen Infrastructure Partners and two area building trades councils. The proposed project is expected to cost $2.1 billion to construct and will employ over 3,000 workers during a four-year construction period. When it's complete it would solve one of the biggest challenges of wind and solar power—how to store electricity for use when the wind isn't blowing and the sun isn't shining… It would be built on private land on the former site of the Golden Northwest aluminum smelter about eight miles due southeast of Goldendale, in Klickitat County. The smelter once employed 500 members of USW Local 8147, but it closed in 2003, the victim of an electricity price crisis in an era of ill-conceived electricity deregulation. The site has remained vacant since then… According to a memorandum of understanding signed by Washington Building Trades Council and the Columbia Pacific BCTC, the Goldendale Energy Storage Project will be built under a Project Labor Agreement (PLA): Contractors and subcontractors would recognize the Columbia Pacific Building Trades Council and its member unions as the exclusive bargaining representative of construction workers on the project.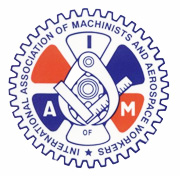 ► From the Seattle Times — Boeing supplier Precision Castparts loses federal court appeal over Machinists unionizing effort — Precision Castparts welders won a victory before a federal appeals court this week, potentially clearing the way for them to organize — more than three years after the Oregon workers voted to unionize. The Portland company, a key Boeing supplier, refused to bargain with the 100 welders and challenged their organizing effort, arguing that their work was too closely integrated with the rest of the company to constitute a distinct union. The NLRB disagreed, finding that Precision Castparts had committed an unfair labor practice. Precision Castparts challenged that decision in court, losing its case Tuesday before the U.S. Court of Appeals in Washington, D.C.
EDITOR'S NOTE — Justice delayed is justice denied. Companies like this consider legal appeals just a "cost of doing business" to avoid allowing their workers to join together in unions. Pass the PRO Act to fix this!
TODAY at The Stand — Six ways the PRO Act restores workers' bargaining power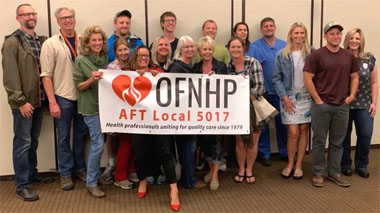 ► From the NW Labor Press — St. Charles hospital in Bend recommits to negotiations after nine-day strike by medical techs — Well, that got their attention. After trying for over a year to get a first-ever union contract by asking and waiting, 143 medical technologists at St. Charles Medical Center in Bend tried striking instead, walking off the job March 4, eighteen months after they joined Oregon Federation of Nurses and Health Professionals (OFNHP). Nine days later, they returned to work after St. Charles management agreed to a union proposal to resume negotiations and hammer out a deal by March 31.
---
THIS WASHINGTON

► From KNKX — Battle over Washington's budget looms as revenue picture improves — Wednesday's March revenue forecast shows the state returning to pre-pandemic revenue levels. By calling the state flush with cash, Republicans argue that new taxes aren't necessary to balance the budget. While acknowledging the state is in a good fiscal position, Democrats note that many families across Washington are still struggling from the fallout of the pandemic… House  Speaker Laurie Jinkins views the capital gains tax as a way to make Washington's tax system less regressive. "The way I think we do that this year is by using [the] cap gains [tax] to actually fund our working families tax credit," Jinkins said. That's a credit for lower-income families to offset the state taxes they pay.
EDITOR'S NOTE — Increased state tax collections are happening on the backs of our state's lowest-income residents who pay a nation-leading 17 percent of their income in taxes. This "good news" doesn't lessen the need for fixing Washington's upside-down tax code, it should provide MORE incentive to do so!
► From the Spokesman-Review — Inslee extends coronavirus eviction moratorium through June — The statewide eviction moratorium will be extended through June 30, Gov. Jay Inslee announced Thursday. The moratorium, which prohibits evictions of tenants struggling to pay rent due to the COVID-19 pandemic, was set to expire at the end of this month. The proclamation prohibits landlords, property owners and property managers from serving, enforcing or threatening any notice that would require a resident to vacate any dwelling.
---
RACISM



► From the NY Times — Asian-Americans are scared for a reason (editorial) — It's difficult to disentangle the vile pathologies that lead a man to take so many innocent lives. It's also impossible to ignore the context in which the murders were committed and the impact that the tragedy has had on communities across America. In an analysis of nearly 4,000 hate-related incidents targeting Asian-Americans documented this year and last, nearly 70 percent of the victims were women, according to a report by the group Stop AAPI Hate… After a year of vitriol and violence against Asian-Americans amid the coronavirus pandemic, it's long past time to admit that the country has a problem.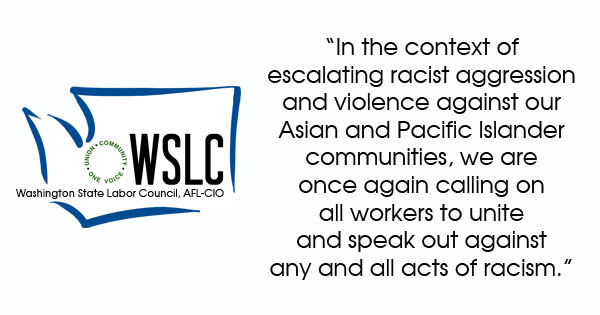 The Stand (March 17) — Labor condemns Atlanta shootings, racism
The Stand (March 17) — APALA Seattle Gala is Saturday; get tickets to support their work — The Asian Pacific American Labor Alliance (APALA) Seattle Chapter invites all union members to join its 2021 Virtual Gala this Saturday, March 20 from 4 to 5:30 p.m. Due to the ongoing pandemic restrictions, this 22nd annual banquet will be held virtually via Zoom. The purchase of a $35 ticket to the gala ($15 for students/retirees) will include an annual membership to APALA. Get your tickets here.
► From The Hill — Trump reference to COVID-19 as 'Chinese virus' prompted increase in anti-Asian hashtags: study — Trump tweeting the phrase "Chinese virus" in reference to COVID-19 in March 2020 sparked an increase in the use of anti-Asian hashtags on Twitter, according to a new University of California, San Francisco study.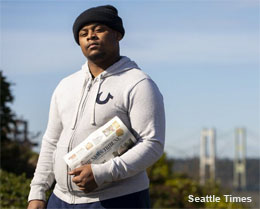 ► From the Seattle Times — Black newspaper delivery driver detained after Pierce County sheriff claims, then recants, threat to life — Pierce County Sheriff Ed Troyer sparked a massive police response in late January after confronting a Black man driving near his home, telling a 911 dispatcher the man "threatened to kill me" — an allegation he retracted upon questioning by Tacoma police. The man was a newspaper carrier on his regular route. The 24-year-old carrier, Sedrick Altheimer, said the early morning encounter on Jan. 27 left him afraid for his life and angry at Troyer — who was driving an unmarked, personal SUV and didn't identify himself as law enforcement.
► From the Spokesman-Review — 'Choose a side,' tearful EWU president declares after student athlete targeted with racist graffiti
---
THAT WASHINGTON
► From the NW Labor Press — How the COVID relief bill saves union pensions — Section H of the American Rescue Act is a modified version of the Butch Lewis Act, a stand-alone bill that the labor movement has been promoting as a top priority for years. It would prevent declining union pension plans from failing, and it would restore benefits to pension plan participants who previously suffered benefit cuts.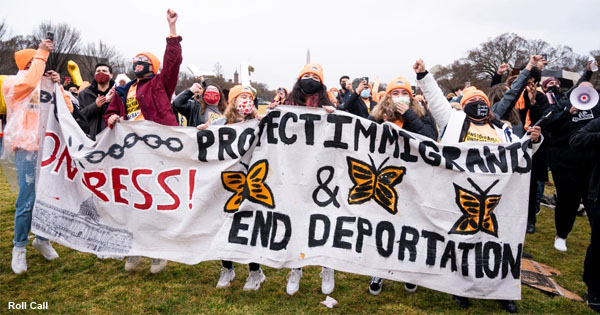 ► From Roll Call — House passes immigration bill to help 'Dreamers' — The American Dream and Promise Act (H.R. 6) that would create a path to citizenship for undocumented immigrants brought to the United States as children and those with other temporary immigration protections passed the House with bipartisan support Thursday, potentially teeing up a battle in the more closely divided Senate.

ALSO TODAY at The Stand — AFL-CIO acclaims House passage of H.R. 6
► From the Yakima H-R — Newhouse one of 9 Republicans to vote in favor of H.R. 6
► From the Yakima H-R — Newhouse's Farm Workforce Modernization Act passes the House — The bill, co-sponsored by Rep. Dan Newhouse (and Rep. Kim Schrier), was first introduced in October 2019 after nearly a year of bipartisan negotiations between Republicans and Democrats, farmworker advocates and agriculture industry officials. "Through their hard work, farmworkers have earned the right to a stable future in the U.S.," said UFW President Teresa Romero.
EDITOR'S NOTE — The AFL-CIO was officially "neutral" on this bill because, although its affiliated unions are universally in support of a pathway to citizenship for farm workers, some are divided on certain aspects of the legislation.
► From the Washington Post — As House approves 'Dreamers' bill, Biden pushes for support amid GOP resistance in Senate — On Capitol Hill, nascent legislative efforts on the issue have become immediately intertwined with the increasing number of unaccompanied migrant children now arriving at the U.S. border — an escalating challenge that the Biden administration has struggled to manage.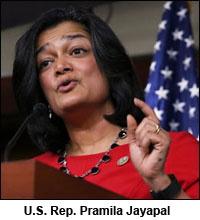 ► From Jayapal.House.gov — Jayapal introduces Medicare for All Act of 2021 after millions lose health care during a pandemic — On Thursday, U.S. Reps. Pramila Jayapal (D-Wash., 7th) and Debbie Dingell (D-Mich.) introduced the Medicare for All Act of 2021, transformative legislation that would guarantee health care to everyone in America as a human right at a moment in which nearly 100 million people are uninsured or underinsured during a pandemic. Endorsed by 300 local, state, and national organizations and co-sponsored by more than half of the House Democratic Caucus including 14 committee chairs and key leadership members, the landmark bill provides comprehensive benefits to all with no copays, private insurance premiums, deductibles, or other cost-sharing.
EDITOR'S NOTE — Delegates representing the affiliated unions of the Washington State Labor Council, AFL-CIO have passed multiple resolutions in support of Medicare for All, most recently in 2020.
► From The Hill — Poll: Majority of voters say an infrastructure package should be prioritized — Fifty-four percent of registered voters in the March 12-14 survey said infrastructure should currently be considered a priority.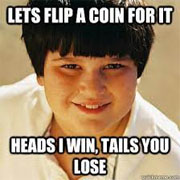 ► From the Washington Post — Republicans are laying a 'Trojan horse' trap on infrastructure (by Catherine Rampell) — If Democrats try to undertake this expensive project without paying for it, Republicans will no doubt accuse them of running up the debt and thereby stoking out-of-control inflation. But as Democrats explore the possibility of raising taxes on corporations and high earners to pay for it, Republicans have preemptively accused Democrats of using infrastructure as a "Trojan horse" for tax hikes. By this twisted logic, tax increases are Democrats' secret ends, not merely the means for paying for stuff that Republicans demand be paid for.
► From the Washington Post — A Supreme Court case could devastate unions' ability to organize. And that's just the start. (by Aaron Tang) — The case, Cedar Point Nursery v. Hassid, involves a decades-old California regulation that grants union organizers temporary access to an agricultural employer's property — during non-working hours — to communicate with workers about their right to organize. A pair of California fruit producers are challenging this access in the Supreme Court, contending that the access regulation is a unconstitutional "taking" because it prevents them from excluding people that they just don't like. If the Supreme Court agrees, the upshot would be staggering.
---
NATIONAL
► From the NY Times — Amazon says it pays Alabama workers well; other local employers pay more — To many of Amazon's Bessemer employees, who are voting this month on whether to unionize, Amazon's claims to generosity can ring hollow alongside the demands of the job and local wage rates. The most recent figure for the median wage in greater Birmingham, a metropolitan area of roughly one million people that includes Bessemer, was nearly $3 above Amazon's pay there, according to the Bureau of Labor Statistics.
EDITOR'S NOTE — Want better pay? Get a union! Find out more information about how you can join together with co-workers and negotiate a fair return for your hard work. Or go ahead and contact a union organizer today!
---
T.G.I.F.
► Rolling Stone magazine celebrates Women's History Month in its current issue by asking 12 of today's top musical acts to talk about the women who have inspired them most in their lives and careers. Brandi Carlile, the Pride of Ravensdale, hails the Indigo Girls who she discovered at 13 or 14: "The Indigo Girls were so deeply influential in my life — not just musically, but also as an activist and as an out queer person. The representation and the visibility that they managed to scrape together at that time, despite all odds and all the obstacles against them, were really important for me in my life. I needed them… In the film (Philadelphia), I heard these women singing this song: 'I don't wanna talk about it, how you broke my heart…' I asked for the soundtrack for Christmas, and I got it, and that's when I really heard the Indigo Girls. I was already a musician — I was obsessed with Elton John, I was learning to play songs on the keyboard, and I had been singing since I was eight. But the Indigo Girls were a fork in the road for me, and because of them, I went in a different direction."
Here is their lovely rendition of this great Crazy Horse song, also memorably covered by Rod Stewart and Everything But the Girl. Enjoy.
---
The Stand posts links to Washington state and national news of interest every weekday morning by 10 a.m.
Short URL: https://www.thestand.org/?p=96721
Posted by
David Groves
on Mar 19 2021. Filed under
DAILY LINKS
. You can follow any responses to this entry through the
RSS 2.0
. Both comments and pings are currently closed.