AFL-CIO acclaims House passage of H.R. 6 on immigration
American Dream and Promise Act offers path to citizenship for Dreamers, TPS recipients
WASHINGTON, D.C. (March 19, 2021) — The American Dream and Promise Act (H.R. 6), which the AFL-CIO hails as an important first step toward fixing our unjust immigration system, passed the U.S. House of Representatives on Thursday by a 229-197 vote, with nine Republicans — including Rep. Dan Newhouse (R-Wash., 4th) — joining Democrats in voting for the legislation.
H.R. 6 offers a pathway to citizenship for about 2.5 million Dreamers, young undocumented immigrants who were brought to the United States as children, and have lived and gone to school here. More than 825,000 Dreamers have been allowed to live and work here under the Obama-era Deferred Action for Childhood Arrivals (DACA) program, which Trump unsuccessfully sought to undo. H.R. 6 would also help immigrants with Temporary Protected Status, a humanitarian protection for people suffering from natural disaster, armed conflict, or other extraordinary circumstances. About 400,000 citizens of countries including El Salvador, Honduras, Haiti and Liberia have TPS status, something Trump also sought to take away starting in November 2017.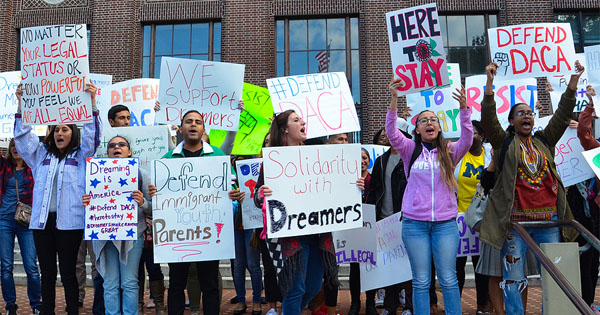 AFL-CIO President Richard Trumka issued the following statement Thursday on the passage of H.R. 6: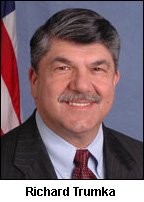 "America's unions laud House passage of the American Dream and Promise Act, and urge lawmakers to use it as a catalyst for broader immigration reforms that are long overdue. The Senate must now step up and take action to provide a well-earned path to citizenship to working people who help to build, feed, serve, educate and care for our nation.
"Throughout the country, working people of all backgrounds are organizing and winning. We will continue to mobilize to support legislation like the Dream and Promise Act that uplifts workers' rights and protects our right to organize. Enacting a path to permanence for vital members of our families, our communities and our unions will help to raise wages and labor standards in our country and spur a more just recovery.
"Reforming our unjust immigration system is a core part of our Workers First Agenda, and unions also renew our call for the administration to use all possible means to reduce the fear in our workplaces and communities. As an immediate step, we urge the Department of Homeland Security to halt deportation flights and issue temporary protected status designations for countries destabilized by disasters and strife, including Haiti, Cameroon, Mauritania and the hurricane-affected countries of Central America."
Washington's newest member of Congress, Rep. Marilyn Strickland (D-Wash., 10th) joined House Speaker Nancy Pelosi at a Thursday press conference prior to passage of H.R. 6.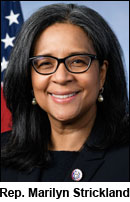 "For the 1.5 million Asian Dreamers and 2.1 million African immigrants, the American Dream and Promise Act isn't just any piece of legislation, it is a pathway to citizenship that determines their future in this country — in this place that they call home," said Strickland, who is a member of both the Congressional Black Caucus and the Congressional Asian Pacific American Caucus.
"As we continue to battle the COVID-19 pandemic, it is important to remember that immigrants, including undocumented immigrants, have been frontline workers ensuring essential services like health care, food, and transportation remain possible," said Rep. Adam Smith (D-Wash., 9th). "H.R. 6 finally recognizes the contributions of immigrants who have built lives and raised their families in this country and gives them the stability they deserve."
President Joe Biden strongly supports the American Dream and Promise Act as part of his comprehensive immigration modernization package. But despite its bipartisan support in the House, H.R. 6 faces resistance from Senate Republican leaders.
The Washington Post reports today that Senate Republicans have made it clear in early private negotiations that any measure like H.R. 6 that includes legalization would be difficult to pass absent measures that would bolster border enforcement and tighten U.S. asylum laws. At least 10 Republican senators are needed to pass most bills in the evenly split Senate.
Short URL: https://www.thestand.org/?p=96724
Posted by
David Groves
on Mar 19 2021. Filed under
NATIONAL
. You can follow any responses to this entry through the
RSS 2.0
. Both comments and pings are currently closed.