It's Workers Memorial Day | "It shouldn't be this hard" | Labor's future
Wednesday, April 28, 2021
---
WORKERS MEMORIAL DAY



It's #WorkersMemorialDay. Today we pray for the dead, and fight like hell for the living.#1u pic.twitter.com/4KIniGiIMO

— AFL-CIO // Pass the #PROAct (@AFLCIO) April 28, 2021
► From L&I — COVID-19 victims among the fallen workers to be honored in April 28 ceremony — Coronavirus (COVID-19) played a significant role in the increase in work-related deaths in Washington last year. Two dozen COVID-19 fatalities were among more than 100 Washington workers who died on the job or in connection with their work in 2020. L&I will honor all 119 of the fallen workers during its annual Worker Memorial Day ceremony, a virtual event today (April 28).
EDITOR'S NOTE — The Washington State Department of Labor & Industries will host its annual Workers Memorial Day ceremony virtually from 2 to 3:30 p.m. today. Larry Brown, President of the Washington State Labor Council, AFL-CIO will be among the speakers at this event. Here is the department's list of 2020 Worker Fatalities in Washington. Get details on the livestream here.
Also, the Northwest Washington Central Labor Council plans to hold a virtual commemoration for Workers Memorial Day today starting at noon. Check the NW Washington CLC's Facebook page for details.
► From the Southwest Washington CLC — Workers Memorial Day 2021 — On this Workers Memorial Day, the Southwest Washington Central Labor Council honors all 119 Washingtonians, and especially those in Clark, Skamania and West Klickitat counties, who died on the job in 2020 — and we ask that you call your Senators today and urge them to pass the PRO Act so that working people can have a voice on the job about safety issues.
ALSO TODAY at The Stand — Remember fallen workers — and their kids (by Kairie Pierce) — Kids' Chance helps children when their parent is killed or seriously injured at work.
---
PASS THE PRO ACT



► From the AFL-CIO — 'It shouldn't be this hard': AFL-CIO launches major ad campaign boosting the PRO Act — The AFL-CIO launched a seven-figure advertising campaign this week, airing television and radio ads promoting the Protecting the Right to Organize (PRO) Act across Alaska, Arizona, Virginia and West Virginia. Additionally, digital ads are running nationwide, urging constituents to contact their senators in support of the PRO Act.
► From HuffPost — Organized labor puts heat on Democratic holdouts to support PRO Act — Senators who haven't yet voiced support for the Protecting the Right to Organize Act might soon hear from more constituents on the matter. The AFL-CIO labor federation says it's spending seven figures on television and radio ads aimed at bolstering Senate support for the PRO Act, which would make it easier for workers to join unions. The ads will run in Arizona, Virginia and West Virginia ― states with moderate Democratic senators whose support, or lack of it, could determine the bill's fate. All members of the Senate's Democratic caucus have co-sponsored the bill except for Sens. Mark Kelly and Kyrsten Sinema of Arizona and Mark Warner of Virginia. Sen. Joe Manchin of West Virginia said last week that he will support the bill. The AFL-CIO is also targeting Alaska with the advertising. Alaska has high union membership relative to other states, and the federation may see a possible co-sponsor in moderate Republican Sen. Lisa Murkowski.
► From The Hill — Sen. Sinema at center of filibuster storm in Arizona — Fred Yamashita, a Sinema ally who heads the Arizona AFL-CIO, said he had brought up the filibuster with Sinema in a recent conversation:
"She was again pretty clear on her position on the filibuster. I expressed our concern that so many of the important bills after this last relief package were going to take the filibuster or a different version of the filibuster in order to pass. She has been there with and for labor, both as a member of the House and the Senate, so I do feel that there's always that opportunity that she will end up coming down on the side of labor."
EDITOR'S NOTE — The AFL-CIO's national Week of Action to pass the Protecting the Right to Organize (PRO) Act continues. ICYMI, here is yesterday's forum, The PRO Act and Freelancers Town Hall:
TOMORROW (Thursday), the Washington State Labor Council, AFL-CIO is hosting a workers' forum on Why Washington State Needs the PRO Act at 5 p.m. featuring special messages from Sens. Patty Murray and Maria Cantwell and workers explaining how the PRO Act will help them exercise their freedom to join together in unions. It will be conducted live via Zoom (register here). It will also appear via Facebook Live on the WSLC's page.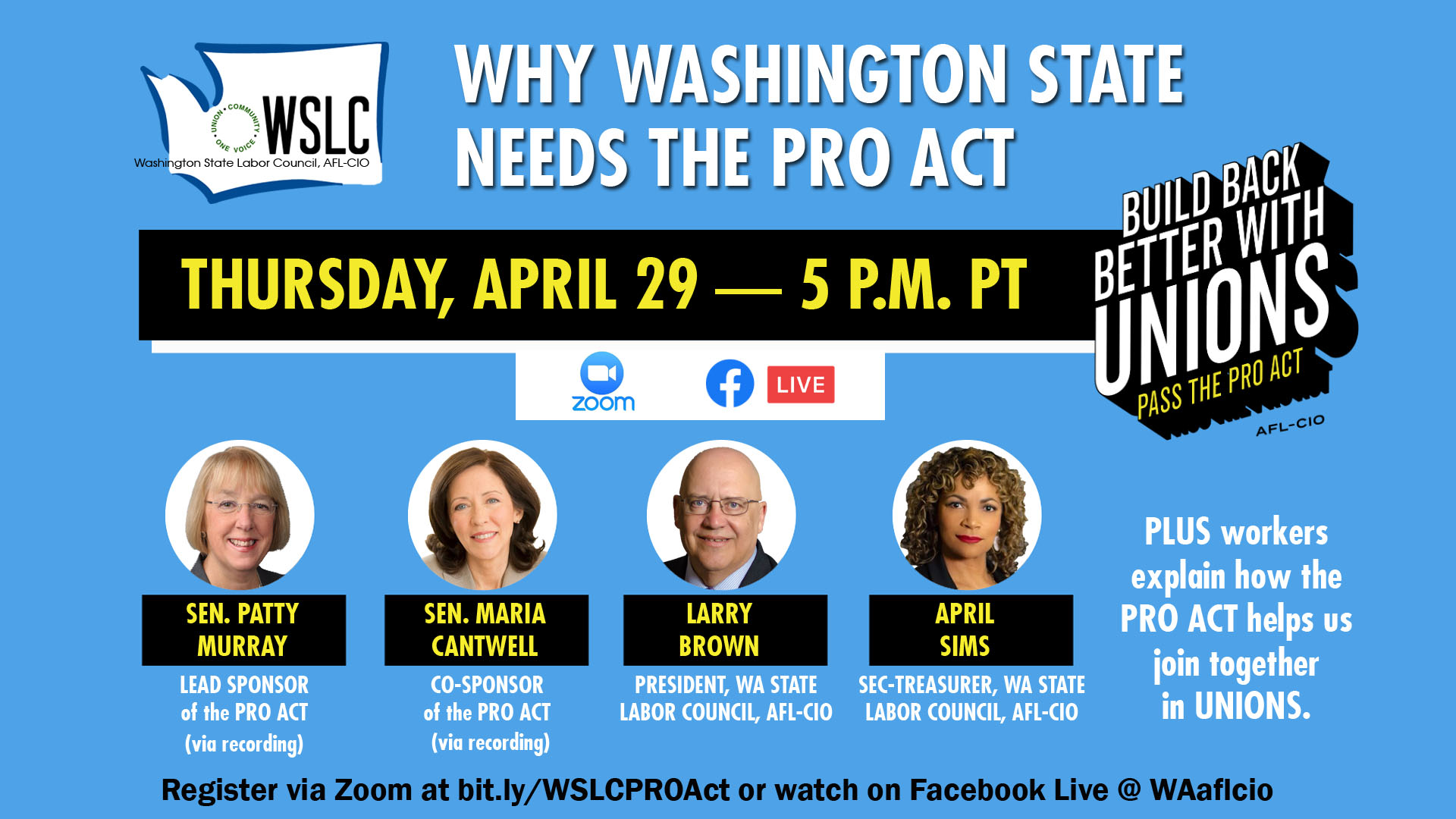 ---
COVID-19
► LIVE from the Seattle Times — Coronavirus daily news update, April 28 — The latest count of COVID-19 cases in Washington totals 398,509 infections (7-day average of new infections per day: 1,399) and 5,462 deaths.
► From the News Tribune — Pierce County COVID cases soar even as vaccine appointments are plentiful. What gives? — Despite a rollback to Phase 2 in the state's Roadmap to Recovery, Pierce County is seeing a growing number of new COVID-19 cases.
► From the (Everett) Herald — Snohomish County on verge of slipping back to Phase 2 — Snohomish County, like much of Washington, has less than a week to get its COVID metrics down, or else it could move back to Phase 2, local leaders warn.
► From the Tri-City Heald — Benton and Franklin new COVID cases, hospitalizations continue to climb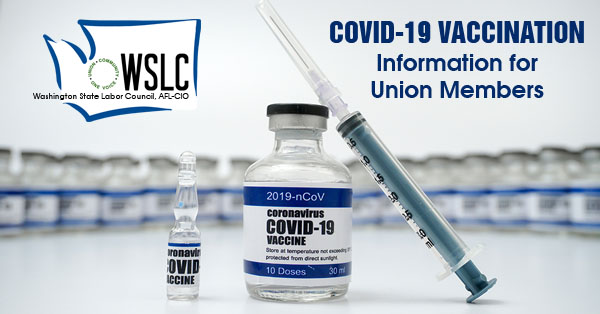 ► From the Seattle Times — Nervous about getting the COVID-19 vaccine? Don't believe these myths — There's plenty of misinformation circulating about the COVID-19 vaccines, much of which can make it feel scary to sign up for an appointment. We're setting the record straight on common COVID-19 myths to help you feel better about getting vaccinated.
► LIVE from the NY Times — Infections surge in India, taking its death toll past 200,000 — Relatives of the sick scramble to secure cylinders of oxygen as the country sets global records for new cases.
---
EDUCATION

► From the (Longview) Daily News — Longview teacher's union to vote on return to full in-person classes; superintendent's contract extended — Longview Education Association President Jerry Forsman said he's heard rumors the union is "trying to hold kids back from classrooms, but that's definitely not the case." While the district and the union signed an agreement in the fall that specified teachers would return to work following Department of Health guidelines, the union plans to vote whether the agreement should be altered.
► From the Columbian — Battle Ground schools could eliminate nearly 60 jobs due to falling enrollment — The school board Monday night approved a resolution that would allow it to cut 57.7 full-time equivalent certificated teacher, specialist and administrative positions to save the district $4.79 million.
► From the (Everett) Herald — School levies passing in Lakewood and Edmonds districts — For Lakewood, success in passing a supplemental levy follows two defeats in 2020.
► From the Yakima H-R — Voters approve school levies in Selah, Toppenish in special election
► From the Spokesman-Review — Pride Prep charter school in Spokane faces tough questions over academic and financial performance — Spokane's largest public charter school is facing some growing pains. On Wednesday night, Pride Schools, made up of Pride Prep Middle School and Innovation High School, will face some tough questions about its academic and financial performance in recent years, and may need to meet some additional conditions for its charter to be renewed.
► From the (Everett) Herald — Kids back in class; help keep them there (editorial) — Plans for graduation ceremonies, summer school and the fall depend on our response to the pandemic.
---
BOEING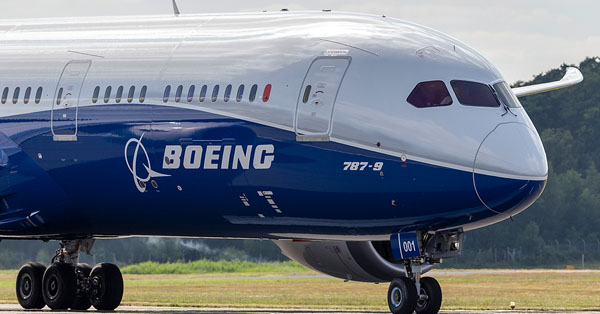 ► From the Seattle Times — Hit both by pandemic and quality problems, Boeing reports more losses — Boeing reported Wednesday that it lost $561 million in the first quarter on revenue of $15.2 billion, results largely in line with market expectations, though it burned through cash at a higher than expected rate of $41 million per day.
► From Reuters — Embattled Boeing posts smaller loss as more Americans fly — Boeing reported a smaller quarterly loss on Wednesday as increased 737 MAX jet deliveries reflected a cautious rebound in air travel from the coronavirus pandemic, though the embattled U.S. planemaker took a charge on its Air Force One presidential aircraft program.
---
THIS WASHINGTON

► From Crosscut — WA lawmakers try to thread needle on drug possession, to mixed reviews — After the landmark Blake decision decriminalized drug possession, the state Legislature imposed new penalties with an expiration date of two years.
---
THAT WASHINGTON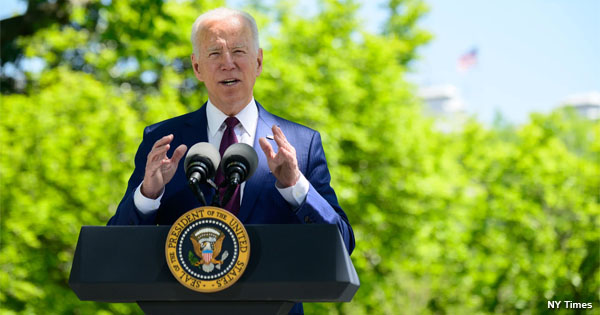 ► From the NY Times — Biden details $1.8 trillion plan for workers, students and families — The Biden administration on Wednesday detailed a $1.8 trillion collection of spending increases and tax cuts that seeks to expand access to education, reduce the cost of child care and support women in the work force, financed by additional taxes on high earners. The American Families Plan, as the White House calls it, follows the $2.3 trillion infrastructure package President Biden introduced last month, bringing his two-part package of economic proposals to just over $4 trillion. He will present the details to a joint session of Congress on Wednesday evening.
► From The Hill — Here's what's in Biden's $1.8T American Families Plan
► From The Hill — Biden plan omits major health care measures pushed by Democrats — Biden's American Families Plan unveiled Wednesday leaves out two major health priorities pushed by congressional Democrats: reducing the cost of prescription drugs and lowering the eligibility age for Medicare.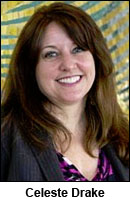 ► From the Washington Post — Biden names trade expert Celeste Drake as 'Made in America' Director — President Joe Biden has selected Celeste Drake, a longtime trade expert from AFL-CIO, to be the first director of his initiative to steer more federal dollars to U.S. manufacturers and producers, an administration official said. Drake will be responsible for ensuring the federal procurement process rewards U.S.-based businesses, including small companies and minority entrepreneurs. "Celeste is a brilliant, critical thinker on trade and global issues who throughout her career has fought for policies that benefit America's working families," AFL-CIO President Richard Trumka said. "She is the perfect person to lead Made-in-America for the Biden-Harris administration."

► From HuffPost — D.C. police officer beaten during Capitol riot calls out 'whitewash' — Metropolitan Police Officer Michael Fanone said it's difficult hearing politicians downplay the "brutal, savage, hand-to-hand combat" he experienced Jan. 6.
---
NATIONAL
► From the Guardian — United Airlines received billions in COVID aid. Now thousands of workers could lose their jobs. — A year on, the $5 billion United Airlines received from the CARES Act has helped the airline hand back billions to shareholders and millions to executives. But for 2,500 United catering workers who struggled through the pandemic, it's a different story. The company is now weighing plans to outsource their jobs to a contractor.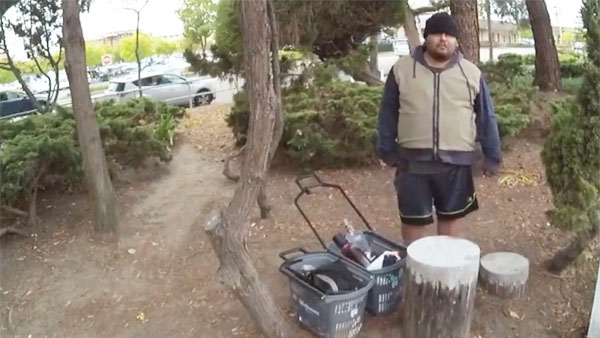 ► From the NY Times — California man dies after officers pin him to ground for 5 minutes — The death of Mario Arenales Gonzalez came one day before a former Minneapolis officer was convicted of murdering George Floyd. Body camera footage was released on Tuesday.
► From the NY Times — 'That's heartbreaking': How American health care looks from abroad (video) — We asked eight people around the world what they thought about the American system. It didn't go well.
---
TODAY'S MUST-READ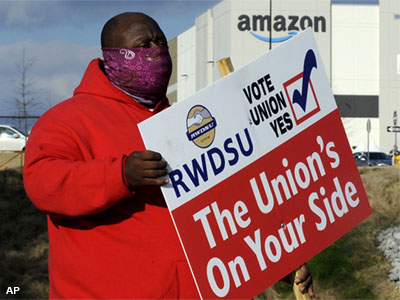 ► From The Guardian — The Amazon union drive showed us the future of U.S. labor (by Donna Murch) — While many of us are mourning the outcome of the unionization vote among Amazon workers in Bessemer, Alabama, we must not confuse the failure of this specific campaign with the wants and aspirations of workers on the ground. The Amazon drive is only one part of a larger tide of multiracial labor activism incubated in workplaces during the Covid-19 pandemic – activism that will undoubtedly grow as the lockdowns recede. Now is a time for reflection on recent union campaigns that have captured the imagination of workers of color and the communities in which they live. At the dawn of the Biden presidency, the most vital sector of the labor movement is in dialogue with the Movement for Black Lives' call for reinvestment in communities of color. From the Chicago Teachers Union (CTU) fighting for the rights of homeless students during the pandemic, to public sector unions at Rutgers University demanding layoff protections for the most vulnerable, a new generation of labor activists see workplace struggle as an essential staging ground for racial and gender justice. The turn toward intersectional unionism matters, because it is the new face of labor militancy in the United States.
---
The Stand posts links to Washington state and national news of interest every weekday morning by 10 a.m.
WASHINGTON IS A UNION STATE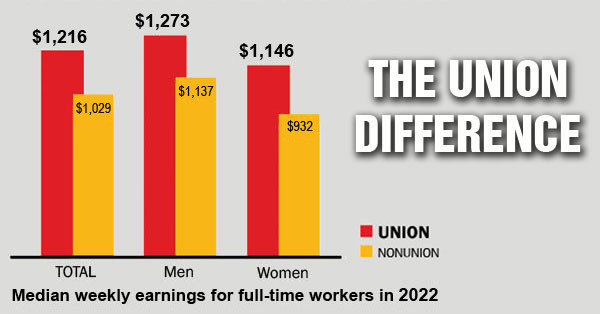 CHECK OUT THE UNION DIFFERENCE in Washington state: higher wages, affordable health and dental care, job and retirement security.
FIND OUT HOW TO JOIN TOGETHER with your co-workers to negotiate for better working conditions and respect on the job. Or go ahead and contact a union organizer today!