An emergency, at last | History for farm workers | Mind the pay gap
Tuesday, April 27, 2021
---
COVID-19
► LIVE from the Seattle Times — Coronavirus daily news update, April 27 — The latest count of COVID-19 cases in Washington totals 397,417 infections (7-day average of new infections per day: 1,393) and 5,450 deaths.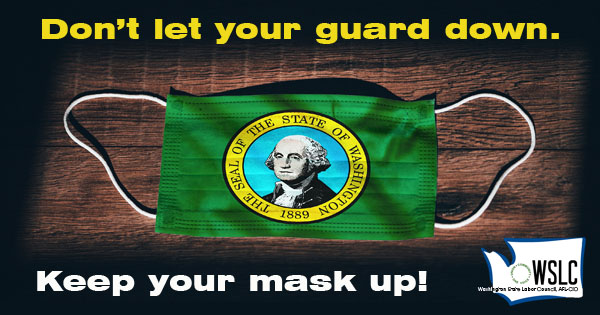 ► From the Spokesman-Review — Hospitalizations increase locally, statewide as fourth wave sets in — The number of patients in local hospitals has doubled in less than two weeks, and there has been an uptick in younger people hospitalized with the virus. And while local hospitals are not canceling elective procedures yet to make room for COVID-19 patients, hospital officials are asking the public to continue wearing masks, physically distance and get vaccinated to help slow down the accelerating count of cases and hospitalizations statewide.
► From the Yakima H-R — Plenty of vaccines are available for farmworkers and Latino residents, but not everyone is getting them — UFW's Elizabeth Strater said people employed in smaller farms are having issues: "(Those) who on average work six days a week, very long hours in those six days, they are not going to go to Yakima to go into the fairgrounds, to a big site during the week. It's just not accessible."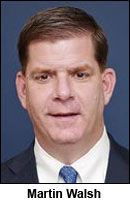 ► From Politico — Biden administration advances emergency COVID workplace safety rules — The Biden administration is advancing emergency workplace safety rules to prevent the spread of the coronavirus after weeks of delay and growing pressure from Democrats and safety advocates. The Labor Department sent the safety standards to the Office of Management and Budget for review Monday night, according to a DOL spokesperson, the first step before they are released publicly and go into effect.
► From the AFL-CIO — Trumka: OSHA COVID-19 Emergency Temporary Standard will save lives — AFL-CIO President Richard Trumka:
"Make no mistake, an emergency OSHA standard will save lives. We're grateful for the Department of Labor's work in getting the standard to this point, and we urge swift issuance of the rule. Strong enforceable standards that require employers to develop workplace COVID-19 safety plans, implement science-based protection measures, train workers and report outbreaks are necessary for reducing infections and deaths, and beating this virus. As working people continue to keep our country afloat more than a year into this pandemic, the Biden administration must continue to prioritize our safety and ensure we are protected from this virus on the job."
---
LOCAL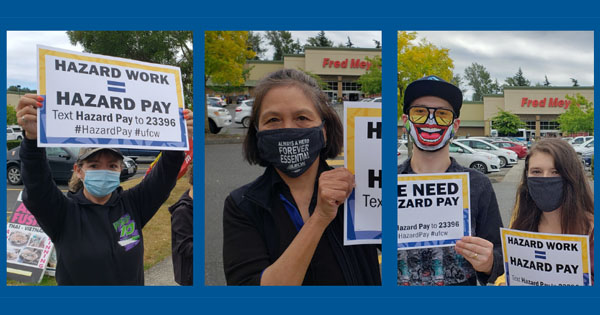 ► From KING 5 — Bellingham City Council considers hazard pay for grocery workers — Bellingham City Council is considering a measure that would give front-line grocery workers an additional $4 per hour in hazard pay. The city council scheduled a public hearing Monday night to discuss the proposed hazard pay ordinance. If approved, Bellingham City Council would revisit the hazard pay ordinance after four months to "consider modifying or eliminating" the requirements and review the latest data to assess health and safety risks to front-line grocery workers.
UPDATE…
TODAY at The Stand — Pierce County Council considers hazard pay for grocery workers — If approved, Pierce County would join multiple neighboring jurisdictions, including King County, Olympia, Seattle, Burien and Edmonds, which have enacted hazard pay ordinances for grocery workers.
► From the PS Business Journal — Boeing Renton notches wins, losses and deferrals on 737 MAX deals — Boeing won a solid new 737 MAX aircraft order from the Middle East but lost others as airlines moved to solidify their finances and prepare for a post-pandemic recovery.
► From the News Tribune — 'Perpetual debt.' WA lawsuit targets court practice of sending unpaid fees to collections — Pierce County's practice of referring court debt to collections agencies violates the constitutional rights of those who can't afford to pay, a recently filed class action alleges.
---
THIS WASHINGTON

► From the Yakima H-R — Overtime bill for agricultural workers marks a historic change for workers and industry — Gov. Jay Inslee is expected to sign SB 5172 into law. Under the bill, which passed both chambers of the Legislature with bipartisan support, all agricultural workers will start receiving overtime pay in 2022 and have a 40-hour workweek by early 2024.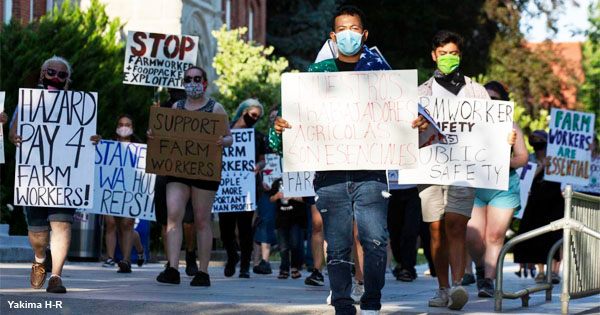 ► From the Yakima H-R — Farmworkers have earned their pay — it's time they finally get it (editorial) — Washington state is on the brink of righting a longtime wrong, and the Yakima Valley can take a share of the credit… Assuming Inslee signs the bill into law, farmworkers and their advocates can celebrate a landmark achievement — a just solution to a longtime injustice, particularly to people of color, who make up the bulk of Washington's agricultural workforce.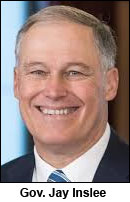 ► From the (Everett) Herald — Inslee wants one more thing: An extra nickel at the gas pump — Gov Jay Inslee on Monday celebrated lawmakers' passage of two major climate change bills he's pursued for years. Now, to carry them out, he's got to get them to do one more thing — agree on a transportation package with a nickel hike in the gas tax. And if it means summoning lawmakers into special session, he's ready.
► From Crosscut — Eight big things the Washington State Legislature passed in 2021 — A new capital-gains tax, a slate of police accountability bills and new limits on carrying guns at protests are just a few of the things that state lawmakers approved.
The Stand (April 26) — As it adjourns, Democratic leaders hail 'historic' legislative session
► From the Columbian — Lawmakers pass ambitious, optimistic budget (editorial) — Despite an economic downturn and uncertainty created by the lingering coronavirus pandemic, Washington lawmakers have passed an optimistic and ambitious budget for the coming two years.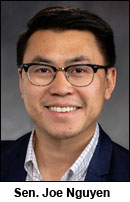 ► From the Seattle Times — State Sen. Joe Nguyen launches bid for King County executive — State Sen. Joe Nguyen, a progressive Democrat from West Seattle, is running for King County executive, he announced Tuesday, marking the first serious challenger to County Executive Dow Constantine in more than a decade. Nguyen, 37, launched his campaign with a focus not so much on policy disagreements but on the need for new, more diverse leadership, with "lived experience" of the problems facing the county.
---
THAT WASHINGTON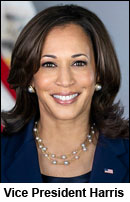 ► From The Hill — Biden establishes task force to promote labor unions — President Biden on Monday is set to sign an executive order creating a new White House task force focused on promoting labor unions that will be led by Vice President Harris. The executive order will direct the new task force to make recommendations within 180 days on how already existing policies and programs can be used to help workers organize and collectively bargain in the federal government. The task force, formally known as the "Task Force on Worker Organizing and Empowerment," will also make recommendations on potential new policies and regulatory changes.
► From Politico — Biden to launch pro-union task force
► From the AFL-CIO — Trumka: White House task force is a key step forward — AFL-CIO President Richard Trumka:
"The fight to strengthen working people's freedoms on the job has never been more urgent, and President Biden is right to give this effort the resources and attention it demands. He understands that unionism is the single most effective tool we have for building a fairer economy and a more just society.

"Under the leadership of President Biden, Vice President Harris and Secretary Walsh, this task force will put organizing and collective bargaining at the center of the federal government — part of their steadfast commitment to worker empowerment. Of course, the most important thing we can do to empower workers is pass the PRO Act, and we look forward to working with the Biden administration to get the job done."
► From The Hill — Biden to order raising federal contractor minimum wage to $15 — President Biden on Tuesday is expected to sign an executive order raising the minimum wage for federal contractors to $15 by March 2022. At that time, the order will result in a 37-percent raise for federal contractors making the current contracting minimum $10.95, and setting their salary at over double the regular statutory federal minimum wage, which has been stuck at $7.25 since 2009.
► From The Hill — Manchin pumps brakes on Biden infrastructure plans — Sen. Joe Manchin (D-W.Va.) is emerging as the chief obstacle to quick passage of President Biden's $2.25 trillion infrastructure package that Democrats want to move through Congress sooner rather than later.
► From The Hill — Biden faces mounting pressure on forgiving student loan debt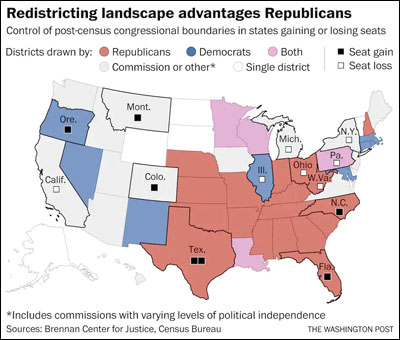 ► From the Washington Post — New census numbers shift political power south to Republican strongholds — Political power in the United States will continue to shift south this decade, as historically Democratic states that border the Great Lakes give up congressional seats and electoral votes to regions where Republicans currently enjoy a political advantage, according to new data from the U.S. Census Bureau. Texas, Florida and North Carolina, three states that voted twice for Trump, are set to gain a combined four additional seats in Congress in 2023 because of population growth.
► From the AP — Census: Washington population increases to 7.7 million — The state grew by nearly 15% over 10 years, but the number of congressional districts will remain at 10.
► From the Spokesman-Review — Census results show above-average population growth in Northwest as Oregon, Montana gain congressional seats
► From Roll Call — Supreme Court rejects GOP attempt to defend public charge rule — The Supreme Court on Monday rejected an attempt by a group of Republican governors to defend a Trump-era expansion of a rule that makes it more difficult for immigrants to achieve legal status if they use public benefits. However, the court also signaled the states could continue efforts in lower district courts to defend the rule.
► From Politico — The arcane legislative maneuver 'sucking up all the oxygen in D.C.' — Budget reconciliation, which lets the party in power pass bills without the minority, has changed the game on K Street and Pennsylvania Avenue.
---
NATIONAL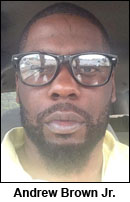 ► From the AP — Andrew Brown Jr.'s family, after viewing body cam footage, says police 'executed' him — A Black man killed by deputies in Elizabeth City, N.C., was shot in the back of the head and had his hands on his car steering wheel when they opened fire, attorneys for his family said Monday after relatives viewed body camera footage. The account was the first description of the shooting of Andrew Brown Jr., who was killed by deputies serving drug-related search and arrest warrants. His death last Wednesday led to nightly protests and demands for justice in the town of Elizabeth City. Authorities have released few details, and the video has not been made public.
► From The Hill — Women, people of color more likely to be financially worse off after pandemic year: poll — Women and Americans in minority groups are more likely to say that their families are financially worse off now than before the COVID-19 pandemic began last year, according to a new poll. In a Washington Post/ABC News poll published this week, one in four women — 25 percent —  said they are in worse financial situations than they were at the beginning of 2020, while just 18 percent of male respondents agreed.
► From the Washington Post — The Fed helped fuel a stock market boom that benefited wealthy Americans — and left behind everyone else — Low-interest policies helped stabilize the economy, but they also set off a multitrillion-dollar run-up in markets, which overwhelmingly benefited the richest 10 percent of Americans.
► From HuffPost — Florida Senate passes bill restricting voting rights — The Republican-led legislation criminalizes giving water to voters in line, restricts ballot drop boxes, makes it harder to vote by mail and empowers partisan poll-watchers.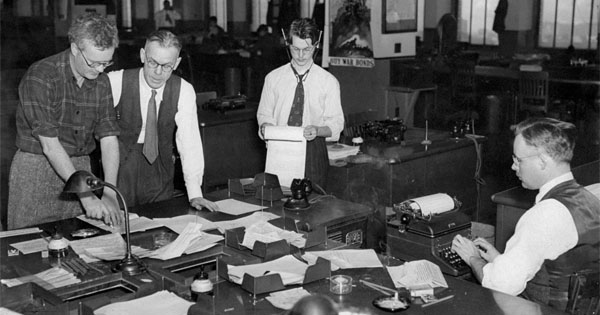 ► From HuffPost — Salary study of Gannett newsrooms alleges gender and racial pay gaps — Journalists who are women and people of color tend to earn lower salaries than their male and white counterparts in more than a dozen newsrooms run by the largest newspaper chain in the U.S., according to a new pay study conducted by the chain's employees. The anonymous pay data for nearly 450 employees was obtained from the company by the journalists' union, the NewsGuild-CWA, which represents workers at 41 Gannett properties.
Just going to cite this forever: @NewsGuild looked at pay data from Gannett newsrooms and found that pay disparities for women/people of color were dramatically lower in the newsrooms that have union contracts. These are workers ***at the same company*** https://t.co/XiKeQjusey pic.twitter.com/G939f0v2nh

— Matt Pearce ? (@mattdpearce) April 27, 2021
EDITOR'S NOTE — Close the gap! Get a union. Find out more information about how you can join together with co-workers and negotiate a fair and equitable return for your hard work. Or go ahead and contact a union organizer today!
► From Axios — Record number of journalists unionize during COVID pandemic — The COVID-19 crisis has triggered a massive uptick in news media unionization efforts, union leaders tell Axios. The trend is only going to grow bigger once people head back to work in-person, says Jon Schleuss, president of the NewsGuild.
---
The Stand posts links to Washington state and national news of interest every weekday morning by 10 a.m.
WASHINGTON IS A UNION STATE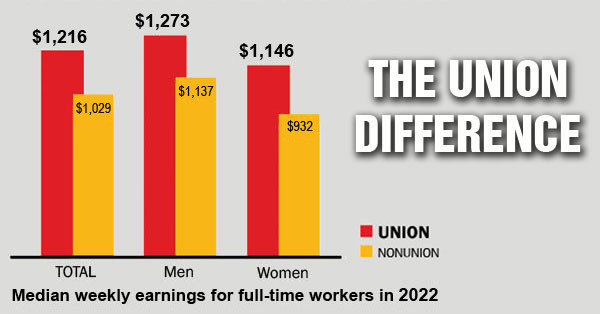 CHECK OUT THE UNION DIFFERENCE in Washington state: higher wages, affordable health and dental care, job and retirement security.
FIND OUT HOW TO JOIN TOGETHER with your co-workers to negotiate for better working conditions and respect on the job. Or go ahead and contact a union organizer today!