Beginning of the end | America's pro-union | Kroger CEO makes bank | The Fab Foo
Friday, May 14, 2021
---
COVID-19
► LIVE from the Seattle Times — Coronavirus daily news update, May 14 — The latest count of COVID-19 cases in Washington totals 419,382 infections (7-day average of new infections per day: 1,279) and 5,626 deaths. Vaccination: 46.09% of Washington residents have received their first dose; 35.05% are fully vaccinated.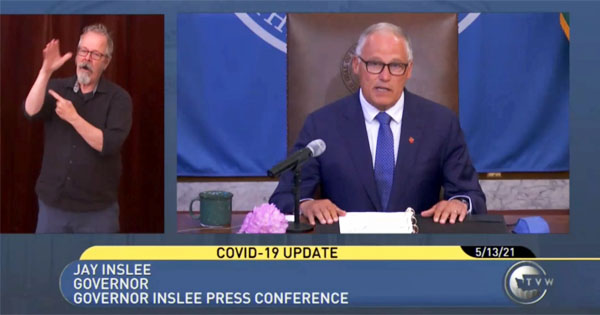 ► From the Olympian — Washington state plans to fully reopen by June 30. All counties go Phase 3 on Tuesday — All of Washington state will be in Phase 3 of reopening on Tuesday, with the state on track for a total reopening of its economy by June 30, Gov. Jay Inslee said at a news conference Thursday. The plateau in the state's fourth wave of new COVID-19 cases has turned into a decline, allowing all of the state to have restaurants, bars, fitness centers, movie theaters, bowling alleys and more open at 50% capacity as of Tuesday, he announced.
► From the (Everett) Herald — Washington schools to open full time in fall, masks required — Officials are recommending COVID-19 vaccinations but are not requiring them for in-person instruction.
► From the Washington Post — CDC says fully vaccinated Americans no longer need masks indoors or outdoors in many cases — The relaxation of restrictions incentivizes people to get the shots and helps pave the way for a full reopening of society.
► From the NY Times — What does the new mask guidance really mean? — The new federal guidance came with caveats and confusion. And it sent state and local officials, as well as private companies, scrambling to decide whether and when to update their own rules.
► From the NY Times — Racial gap in U.S. vaccinations is shrinking, but work remains — Known vaccination rates for Hispanic, Black, Native and Asian populations now outpace those of white people per capita, but there is still ground to make up.
---
BOEING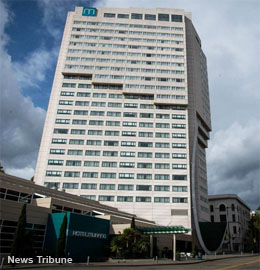 ► From the News Tribune — Hotel Murano reopens downtown after 13 shuttered months — Downtown Tacoma got a boost late last month when Hotel Murano welcomed guests back to rooms and its restaurants following a 13-month pandemic hiatus… The hotel laid off 133 workers when it closed last spring, as reported by the state Employment Security Department in June. More than 100 of those employees are represented by UNITE HERE Local 8, a chapter of a national hospitality union; their contract expired in September when they weren't working. A city ordinance proposed but stalled last fall would have required hotels with more than 60 rooms to provide recall notices to those workers. Asked if the hotel had rehired previous staff, Overholser said, "We are rehiring at the same cadence as we see demand returning."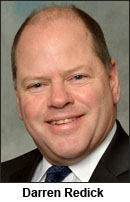 ► From the (Everett) Herald — Providence stays local in selecting a new regional CEO — As the region CEO, Darren Redick said, the focus will be supporting health care workers who gave their all on the frontlines during this crisis.
EDITOR'S NOTE — Hey, Darren. Why don't you start by supporting a fair contract for your 1,700 frontline nurses at the Everett hospitals? They've been in negotiations since October and your latest offer reportedly contains below-market wages, reduced paid leave and fewer medical benefits for family members.
---
THIS WASHINGTON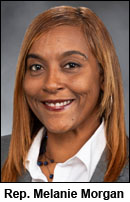 ► From the AP — Juneteenth becomes official holiday in Washington — A little over a month from now, Washington will celebrate Juneteenth as an official state holiday for the first time. Gov. Jay Inslee signed a bill Thursday making the holiday official. And beginning next year, it will be a paid holiday for state employees. "This says we belong as Black African Americans, that we are human, and I believe it's another step toward declaring Washington state as an antiracist state, which leads to reconciliation, healing and true inclusion," said Rep. Melanie Morgan (D-Parkland), who sponsored the bill.
---
THAT WASHINGTON
► From Reuters — White House group gets to work on plan to increase unionization of U.S. workers — The White House on Thursday launched an effort to increase the number of American workers belonging to unions, address income inequality and redress a power imbalance that favors employers. Vice President Kamala Harris, who leads the group, said the work was a high priority for the administration. "When there are more union members, there is less income inequality," she said.
The Stand (May 13) — Get the facts: Unions help reduce disparities, strengthen democracy
► From Bloomberg Law — Labor agency aims to wield its data to counter anti-union groups — The Biden administration plans to have the federal office in charge of policing unions mount a more robust defense of organized labor in the face of well-funded conservative groups that seek to undermine unionization efforts.
► From The Guardian — Americans are more pro-union – and anti-big business – than at any time in decades (by Emily DiVito and Aaron Sojourner) — Today, the public feeling toward labor is more positive, and public feeling toward big business more negative, than at any time in five decades. What's more, workers increasingly want to be in unions: over half of Americans say they would vote for a union at work, while only 11% of US employees currently belong to one – largely because labor laws remain stacked in favor of big business.
EDITOR'S NOTE — Pass the PRO Act!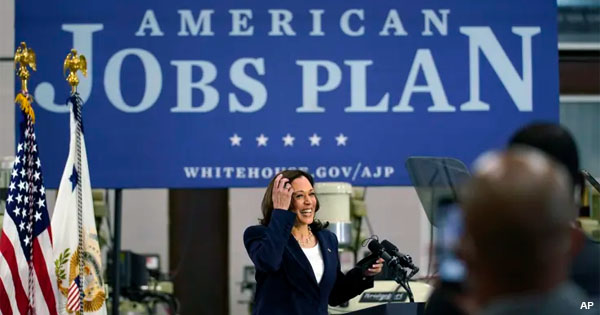 ► From Crooked — The Families and Jobs Plans are overwhelmingly popular — Democrats in Congress are currently advancing what could be one of the most ambitious economic investments in U.S. history. If passed, the American Families Plan and American Jobs Plan would create millions of jobs, rebuild our country's infrastructure, and provide urgently needed economic relief to families across the nation. In a May 2021 survey, Data for Progress and Vote Save America tested the popularity of the proposals and found: Voters support the American Families Plan by a 32 point margin and they support the American Jobs Plan by more than a 40-point margin.
► From the AP — Biden, GOP senators upbeat, plan more infrastructure talks — After meeting at the White House, President Joe Biden and a group of Republican senators agreed to talk again early next week as negotiations intensified over a potentially bipartisan infrastructure package that could become one piece of the administration's ambitious $4 trillion public investment plan.
► From the Washington Post — Biden holds 'good faith' infrastructure talks with Senate Republicans, but they're still far apart on the hardest questions — Meanwhile, the White House inched closer to its self-imposed Memorial Day deadline, a date by which it says it expects progress on advancing Biden's jobs and infrastructure plan.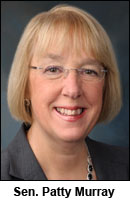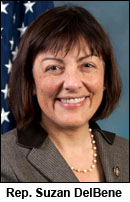 ► From the Spokesman-Review — Parents must file taxes by Monday deadline to receive correct monthly payments up to $300 per child starting in July — The Internal Revenue Service will begin sending families monthly payments of up to $300 per child in July, the result of a reimagined child tax credit Congress passed in March, but parents need to file their taxes by Monday's deadline to receive the correct amount based on their 2020 income. Washington Democrats, including Sen. Patty Murray and Rep. Suzan DelBene, who represents the northwest corner of the state, led the effort to include the tax credit overhaul in the $1.9 trillion pandemic relief and economic stimulus bill President Joe Biden signed into law March 11.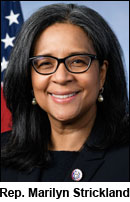 ► From Politico — Pelosi drug price plan threatened by centrist defections — House Democrats' push to tack a sweeping drug price negotiation bill to President Joe Biden's infrastructure package was always going to face a fight in the evenly divided Senate. But the legislation is also hitting troubled waters in the House. At least 10 caucus moderates are signaling opposition to Democrats' drug pricing negotiation bill — more than enough to potentially force House Speaker Nancy Pelosi into dropping the reforms from infrastructure legislation Democrats hope to pass along party lines. Pelosi can only spare two Democratic defections on partisan legislation because of the party's slim House majority. In a letter to Pelosi earlier this month, the group of moderate House Democrats called for a more modest drug pricing overhaul that's bipartisan and would "preserve our invaluable innovation ecosystem."
EDITOR'S NOTE — Rep. Marilyn Strickland (D-Wash., 10th) is among the 10 "centrists" who signed the letter to Pelosi.
► From the AP — Biden to meet DACA recipients in immigration overhaul push — The Oval Office meeting comes as Biden looks to press Congress to pass legislation codifying the Deferred Action for Childhood Arrivals program that then-President Barack Obama instituted by executive action in 2012, providing limited protections for immigrants brought to the U.S. illegally as children.
► From the AP — House GOP elects Trump defender Elise Stefanik to No. 3 post — Rep. Stefanik (R-N.Y.) is a Trump loyalist who's given voice to many of his false claims about election fraud.
► From Mother Jones — Leaked video: Dark money group brags about writing GOP voter suppression bills across the country — Republican legislators claim they're tightening up election procedures to address (unfounded) concerns about fraud in the 2020 election. But what's really behind this effort is a group of conservative Washington insiders who have been pushing these same kinds of voting restrictions for decades, with the explicit aim of helping Republicans win elections. The difference now is that Trump's baseless claims about 2020 have given them the ammunition to get the bills passed, and the conservative movement, led by Heritage, is making an unprecedented investment to get them over the finish line.
---
NATIONAL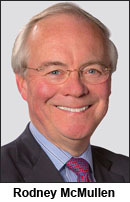 ► From HuffPost — Kroger CEO cut workers' COVID-19 hazard pay, grabbed record $22.4 million package himself — Kroger grocery company CEO Rodney McMullen cut COVID-19 hazard pay for food workers last year just months into the pandemic — then scooped up a record $22.4 million in compensation for himself, Bloomberg reported Thursday. McMullen's pay package was revealed Thursday in a regulatory filing. His compensation rose almost 6% from the prior year, padded by a bigger bonus, a salary hike and stock awards, Bloomberg noted. That was McMullen's biggest take ever since he became CEO in 2013. Median pay for Kroger's workers fell 8%, to an annual $24,600… Kroger has closed stores this year in cities that have approved ordinances requiring hazard pay for grocery store workers.
The Stand (Feb. 17) — UFCW 21 decries Kroger/QFC's 'greed, bullying' in Seattle — The Cincinnati-based Kroger Co., which operates grocery stores in Washington state under the names of QFC and Fred Meyer, announced Tuesday that it was closing two Seattle QFC grocery stores in part because of the new Seattle ordinance requiring $4/hour hazard pay for workers in grocery stores amid the COVID-19 pandemic.
► From WVTM — Families of miners bear the burden of the Warrior Met Coal strike — When about 1,100 miners went on strike against Warrior Met Coal last month, their families immediately saw a loss in benefits, like health insurance.
EDITOR'S NOTE — These workers have been on an Unfair Labor Practice strike since April 1. They could use your support so they can stay out "one day longer" and ultimately force Warrior Met to agree to a fair and equitable contract. Donate to the UMWA 2021 Strike Fund here.
► From NPR — Missouri will not expand Medicaid despite voters' wishes, governor says — The battle over Medicaid expansion in Missouri reached a new boiling point Thursday as Gov. Mike Parson, a Republican, announced that the state will not implement expansion, in defiance of a ballot measure passed by voters last year.
► From The Verge — Three cheers for Scabby the Rat — Since the late '80s, unions have been using Scabby to shame business owners who won't negotiate a fair contract with workers. The giant inflatable rat became a beloved symbol of the labor movement by embarrassing business owners, drawing unwanted attention from passersby. And embarrassment turned out to be a powerful force for union organizers.
---
T.G.I.F.
► This week, it was announced that Seattle's own Foo Fighters will join the 2021 class of inductees into the Rock & Roll Hall of Fame. Founded in 1994 by Nirvana drummer Dave Grohl in the wake of Kurt Cobain's death, Foo Fighters took a more melodic, radio-friendly approach to their post-grunge/punk/hard-rock music. Grohl said his songwriting style was influenced by members of Nirvana "liking The Knack, Bay City Rollers, Beatles, and ABBA as much as we liked Flipper and Black Flag, I suppose." That might explain this homage to the Fab Four when the band played "Live on Letterman" at NYC's Ed Sullivan Theater in 2011. (Watch the entire set in order here. The first half was in black and white.) After this performance, Grohl said that the band looked like stoners on their way to a court date. Enjoy.
---
The Stand posts links to Washington state and national news of interest every weekday morning by 10 a.m.
WASHINGTON IS A UNION STATE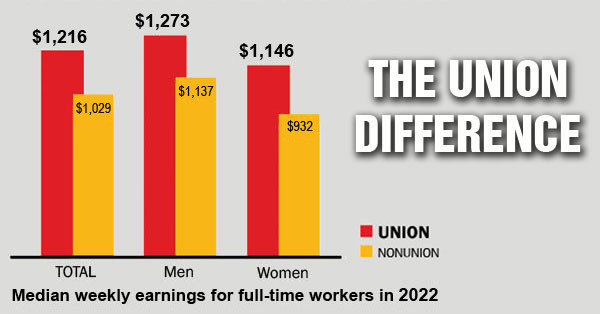 CHECK OUT THE UNION DIFFERENCE in Washington state: higher wages, affordable health and dental care, job and retirement security.
FIND OUT HOW TO JOIN TOGETHER with your co-workers to negotiate for better working conditions and respect on the job. Or go ahead and contact a union organizer today!