A good start | Everett nurses may strike | America runs on poverty
Monday, June 14, 2021
---
COVID-19
► LIVE from the Seattle Times — Coronavirus daily news update, June 14 — The latest count of COVID-19 cases in Washington totals 444,166 infections (7-day average of new infections per day: 607) and 5,815 deaths.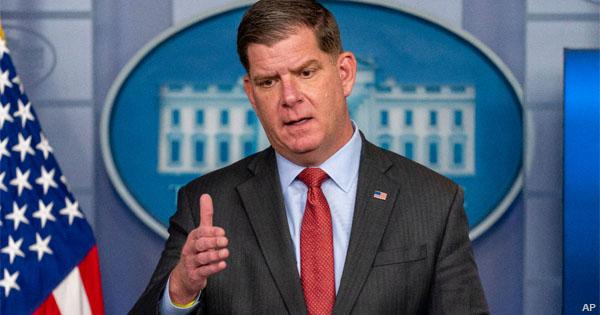 ► From Politico — Biden administration will limit mandatory COVID workplace safety rules to health care settings — The Labor Department will limit long-awaited emergency COVID-19 workplace safety rules to the health care sector, Labor Secretary Marty Walsh said last week, a decision that disappointed unions pushing for more expansive rules but that will likely be a relief to businesses worried about new costs.
► From the AFL-CIO — Health care COVID-19 ETS a good start, but more work is needed — AFL-CIO President Richard Trumka:
"Fifteen months into this pandemic, health care workers will finally have enforceable OSHA protections that will require their employers to provide prevention measures to keep them safe from COVID-19 at work. Labor Secretary Marty Walsh should be commended for taking this overdue step to care for the workers who care for us.

"But we are deeply concerned that the ETS will not cover workers in other industries, including those in meatpacking, grocery, transportation and corrections, who have suffered high rates of COVID-19 infections and death. Many of these are low-wage workers of color who have been disproportionately impacted by COVID-19 exposures and infections."
► From the NY Times — Judge dismisses Houston hospital workers' lawsuit about vaccine mandates
---
LOCAL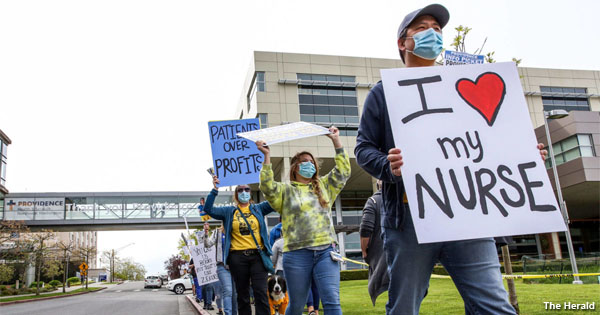 ► From the (Everett) Herald — Everett nurses threaten to strike as contract talks stall — Nurses at Providence Regional Medical Center Everett are threatening to strike as contract talks stall between hospital brass and the union. Officials from UFCW 21, the union that represents 1,700 nurses across both Everett campuses, say Providence's latest offer brings below-market wages, as well as cuts to medical benefits and paid leave. "As qualified caregivers leave Providence Everett due to COVID burnout and more competitive compensation at other area hospitals, these nurses are taking a stand and asking Providence to respect health care workers, leave their earned leave alone, and agree to proposals that will ensure safe staffing levels and better patient care," union spokesperson Anna Minard said.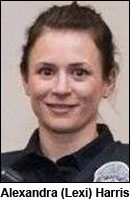 ► From the Seattle Times — Seattle police officer killed during traffic incident on I-5 — A Seattle police officer who had just finished a shift was killed early Sunday while attempting to render assistance at a three-car collision on Interstate 5 just south of downtown Seattle. The officer was 38-year-old Alexandra Brenneman Harris, who went by Lexi, her father Laird Harris said Sunday. She had served with SPD for five years.
► From the Spokesman-Review — Delayed COVID-19 federal aid has some Spokane venue owners anxious about reopening — Spokane's entertainment industry is waiting on a cut of the $16 billion in federal grant aid Congress approved late last year to help clubs, theaters and other venues stay afloat after being devastated by the pandemic. The good news is local venues will receive assistance. However, patience is required as disbursement of funds have slowed to a crawl.
► From the Yakima H-R — It happened here: Cesar Chavez leads march for farm workers' rights — Thirty-five years ago in April, Yakima Valley farmworkers took to the streets to address low wages and other concerns. The workers, who marched from Granger to Yakima over the course of two days, were led by Cesar Chavez, founder of the United Farm Workers union. One organizer of the march said its legacy was instilling confidence in area farmworkers and giving them a voice that has been heard in Olympia.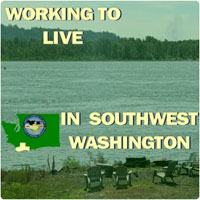 ► From Working to Live in SW Washington — What do we mean when we talk about 'equity'? (podcast) — WSLC Director of Racial and Gender Justice Kasi Perreira tells Shannon and Harold what her department is all about, some of the history that labor is working to acknowledge and move past and about the WSLC's Race, Gender and Labor Workshops. June is also PRIDE month! PRIDE at Work National Co-President Shellea Loutsis-Allen stops by to talk about what PRIDE means to her, the challenges LGBTQ+ workers are still facing, the importance of the Equality Act, and about PRIDE at Work's annual Celebrating Solidarity event on June 24.
ALSO TODAY at The Stand — Join WSLC at Juneteenth kickoff on Tuesday — Instagram Live panel at 5 p.m. Tuesday; plus see other Juneteenth events.
---
THIS WASHINGTON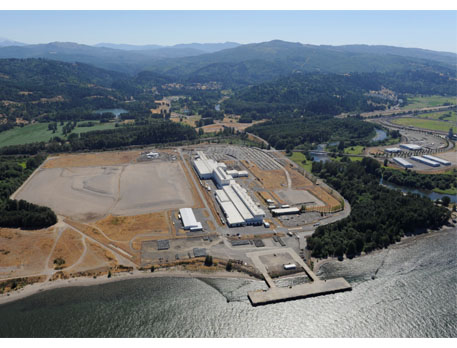 ► From the Seattle Times — Plans for $2 billion Washington methanol plant 'effectively ended,' as company terminates lease — Plans for a more than $2 billion Southwest Washington methanol plant are "effectively ended," according to a Friday statement from Port of Kalama officials, as Northwest Innovation Works — denied a permit by the state this year — will terminate its site lease. The project, years in the planning, suffered a big setback in January when the state Department of Ecology rejected a request for a shoreline permit required to build the plant, which would have been one of the Pacific Northwest's largest users of natural gas.
► From Governing — Washington state: Amazon's speed-ups are breaking workplace laws — An investigation into the company's Pierce County warehouse revealed that Amazon is violating state workplace safety laws by requiring employees to work at speeds that exacerbate injuries and lack proper recovery time.
► From the PSBJ — Roofing company fined $1.2M for safety violations — The state Department of Labor and Industries fined Allways Roofing of Snohomish $1.2 million for disregarding the same worker safety rules it violated last year.
---
SOUTH OF THE BORDER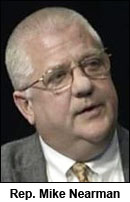 ► From KNKX — Oregon House expels state Rep. Mike Nearman, plotter of state Capitol incursion — State Rep. Mike Nearman became the first person ever expelled from the Oregon Legislature on Thursday, following revelations he helped plan an armed incursion in the state Capitol late last year. In a widely anticipated vote, the Oregon House approved a resolution that formally found Nearman's act of opening a Capitol door for a far-right crowd on Dec. 21 amounted to "disorderly behavior," the constitutional standard for ejecting a legislator. The resolution passed by a vote of 59-1, with only Nearman voting against… He also worked as a senior fellow at the conservative Freedom Foundation, but resigned Monday as the organization sought to distance itself from his actions.
EDITOR'S NOTE — The video that finally led to Nearman's expulsion, which showed him plotting the incursion with protesters, was recorded at the Freedom Foundation's Salem office.
---
BOEING
► From the PSBJ — Boeing down to 10 Max jets from inventory needing buyers — After having more than 100 completed but unclaimed 737 Max jets last summer, the surge in narrow-body demand has helped the Boeing Co. whittle the number of those aircraft needing buyers to 10. That signals a further dent to a Max inventory that will play a major role in how quickly production work on the Renton-built jet ramps up.
---
THAT WASHINGTON
► From the Washington Post — Senate Democrats, Republicans prepare to sell nearly $1 trillion infrastructure deal to White House — Congressional lawmakers are set to return to the Capitol on Monday facing a pivotal week for the future of infrastructure reform, as bipartisan negotiations continue and work proceeds to advance a flurry of bills to improve the nation's roads, bridges, pipes, ports and Internet connections. At the center of the debate is an infrastructure compromise brokered by 10 Senate Democrats and Republicans. Some Democrats already have expressed discomfort with the early details of the nearly $1 trillion, five-year package, arguing it should be bigger and more robust in scope.

► From Roll Call — Hill staffers expect infrastructure bill to pass, but little else — Latest Capitol Insiders Survey shows Democratic aides not optimistic about filibuster changing either, with Manchin standing firm.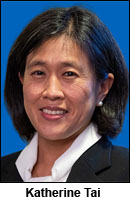 ► From Bloomberg — U.S. trade chief resets union relations in worker-centric push — U.S. Trade Representative Katherine Tai criticized the trade policies of past administrations, saying that while some sectors of the economy benefited, far too many communities were left behind, with jobs being sent overseas. "This created a trust gap with the public about free trade," Tai said. "We want to make trade a force for good that encourages a race to the top. The first step to achieving this goal is creating a more inclusive process. In order to understand how trade affects workers, we want to come meet with, listen to, and learn from them."
► From The Hill — Eradicating child labor requires a holistic, accelerated approach (by Thea Lee) — According to the ILO, 160 million children toil in child labor worldwide, 79 million of them in hazardous conditions, including in forced labor and commercial sexual exploitation. It's an increase of 8 million since 2016 — a heartbreaking step backward in an arduous global fight. And in sub-Saharan Africa the situation got even worse, as more children were engaged in child labor (88.7 million) than in the rest of the world combined. This is a harsh wakeup call to the global community: more must be done, even while the task is made more onerous, as COVID ravages economies.
---
NATIONAL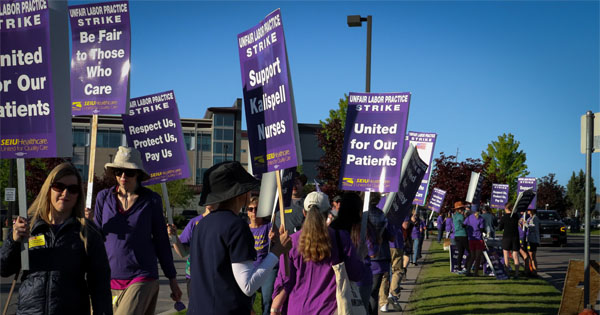 ► From The Guardian — 'People are so burned out': U.S. essential workers struggle as restrictions lifted — Workers fight for permanent improvements to wages and benefits as many are concerned about safety and angry over working conditions. "People are so burned out," said Donna Nelson, a nurse in the behavioral unit at Logan health center in Kalispell, Montana, in regards to staffing issues that have persisted through the pandemic as workers are constantly being asked to come in to cover shifts. "It feels to me there's absolutely no intention of taking care of nurses during the pandemic, who are the boots on the ground taking care of these people. And then it shows very much at the bargaining table, because they don't want to do anything different than they're already doing." Nelson is one of 650 nurses at her hospital in Kalispell, Montana, who are currently fighting for their first union contract, represented by SEIU 1199NW. They recently conducted a three-day strike in early June.
EDITOR'S NOTE — Want permanent improvements to your wages and benefits? Get more information about how you can join together with co-workers and negotiate for a Union contract and a fair return for your hard work. Or go ahead and contact a Union organizer today!
► From the Washington Post — These businesses found a way around the worker shortage: A big boost in wages — The owners of Klavon's Ice Cream Parlor in Pittsburgh had hit a wall. The job posting for scoopers — $7.25 an hour plus tips — did not produce a single application between January and March. So owner Jacob Hanchar decided to more than double the starting wage to $15 an hour, plus tips, "just to see what would happen." The shop was suddenly flooded with applications. More than 1,000 piled in over the course of a week.
► From The Hill — First four states cut off federal unemployment benefits — Alaska, Iowa, Missouri and Mississippi eliminated their federal unemployment programs on Saturday, ending federal assistance for almost 340,000 workers. The states are the first four of the 25 Republican-led states that have announced plans to end federal assistance to do so.
---
TODAY'S MUST-READ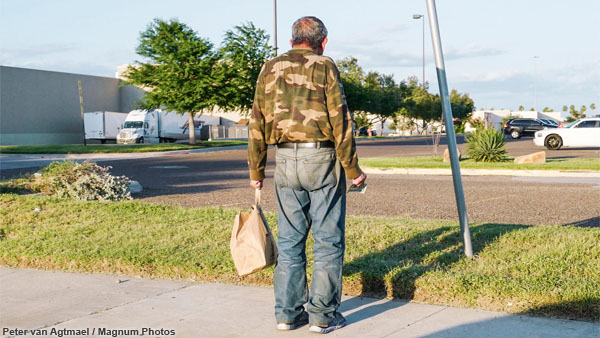 ► From the NY Times — What the rich don't want to admit about the poor (by Ezra Klein) — The American economy runs on poverty, or at least the constant threat of it. Americans like their goods cheap and their services plentiful and the two of them, together, require a sprawling labor force willing to work tough jobs at crummy wages. On the right, the barest glimmer of worker power is treated as a policy emergency, and the whip of poverty, not the lure of higher wages, is the appropriate response. But it's not just the right. The financial press, the cable news squawkers and even many on the center-left greet news of labor shortages and price increases with an alarm they rarely bring to the ongoing agonies of poverty or low-wage toil… Those in the economy with the power to do the dictating profit from the desperation of low-wage workers. One man's misery is another man's quick and affordable at-home lunch delivery.
---
The Stand posts links to Washington state and national news of interest every weekday morning by 10 a.m.
WASHINGTON IS A UNION STATE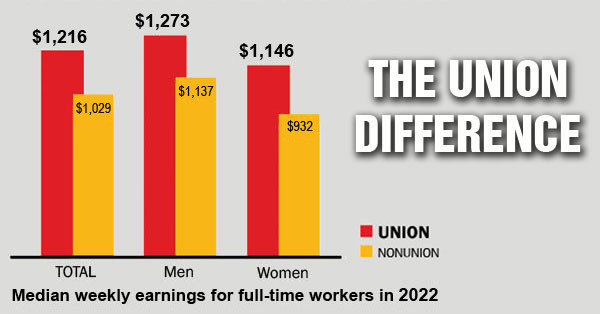 CHECK OUT THE UNION DIFFERENCE in Washington state: higher wages, affordable health and dental care, job and retirement security.
FIND OUT HOW TO JOIN TOGETHER with your co-workers to negotiate for better working conditions and respect on the job. Or go ahead and contact a union organizer today!