Longtime UFCW, community leader Dave Schmitz passes away
The following is from UFCW 21:
SEATTLE (June 22, 2021) — Dave Schmitz, a leader for worker and union rights in our region, and former President of UFCW 21, the largest UFCW local in the nation, passed away in the early morning of Sunday, June 20 after a long battle with pancreatic cancer. At his passing, and over the last year as his condition grew worse, he was surrounded by loved ones and family, and in particular, his longtime love and wife Pam Blauman-Schmitz.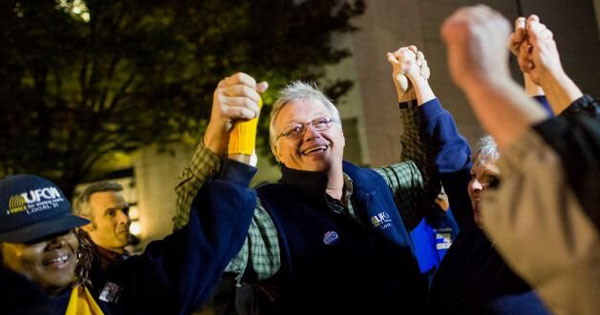 Union members and staff, community leaders and many others here and around the nation are grieving this loss.
"He made our lives better and more meaningful. It was never about just one of us, but all of us together. He dedicated his life to bringing workers into a democratic force for change that we call a union," said Kyong Barry, a long-time Executive Board member of UFCW 21 and Albertsons worker who served on the grocery store worker's bargaining team alongside Dave for many years.
Dave grew up in eastern Washington and in 1971 started work at a local grocery store and experienced first-hand the importance of having a union. These early experiences were with UFCW 1439 in Spokane when he worked as clerk and a night manager. He later came to Seattle where he worked as a produce clerk at QFC in University Village and became increasingly involved in the political and social activism of his union (UFCW 1105) and traveled to our State's Capitol and the U.S. Capitol in the early 1980s to advocate for workers' rights. His tenure as a worker in the stores ended in 1982 when he was hired onto the staff of UFCW 1001 as a Business Representative. He would later be a Union Organizer, and then Organizing Director in the union. He was always insistent on the importance of connecting with new workers and prioritizing union organizing in the budget and focus of growing the size and diversity of the union movement.
"Dave understood that workers coming together in our workplace could change your life, your community, even your country. It certainly changed mine. He brought me and so many others into bargaining with our employers – sharing our voices, our stories and making us feel listened to, showing us power we did not yet know we had," recalled Sue Wilmot, a longtime Safeway worker and former bargaining team leader who also walked the line with her three young children during the grocery store strike of 1989 and remained active for many decades since.
Todd Crosby, former President of UFCW 21 and current Organizing Director of the UFCW International Union, added, "The reach Dave has is almost impossible to capture. Beyond my family, he impacted my life more than any other person. Many of us feel that way. He was one of those rare transformational people that you might, if you're lucky, be able to call a dear friend and a close colleague once in your life."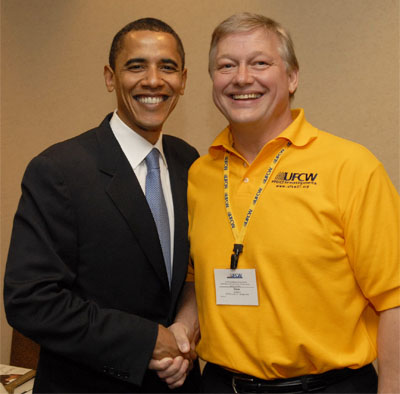 In addition to Dave's actions to improve the lives of UFCW members, he joined efforts in labor to take on battles that crossed borders both literally and figuratively. Early in 1985 he was one of several UFCW 1001 staff who took arrest when protesting the Apartheid regime in South Africa. A couple years later he helped found Jobs with Justice in Washington and would later go on to help found many other organizations such as Puget Sound Sage, and served on many boards including OneAmerica. He helped guide the UFCW's early and pivotal endorsement of then Senator Barack Obama in 2008 when serving as an Executive Vice President of the UFCW International, and he strongly supported UFCW 21's leadership role in the R-74 campaign to pass Marriage Equality in 2012 in Washington.
"I first started working with Dave in the late 1990's as we organized health care workers into our union so they could have a better voice on the job, better pay and working conditions," said Faye Guenther, current President of UFCW 21 and one of the youngest women union Presidents in the nation. "He and Diane Zahn were critical mentors to me and so many others in and outside our union."
In 1998, with Dave and many other members and staff, UFCW 1001 took the lead on collecting more signatures than any other union, and I-688 was filed to raise the minimum wage in the state of Washington from $4.90 an hour to $5.70 in 1999 and to $6.50 in 2000. The new law was passed overwhelmingly by voters, as was a similar effort led by UFCW 21 in 2016 that raised the statewide minimum wage (now $13.50/hour) and created paid sick leave for all workers in the state by passing I-1433.
It was a close partnership with Diane Zahn, former UFCW 21 Secretary Treasurer, that led to the creation of UFCW 21 in 2005 and then helped grow it, through both mergers and organizing successes, into the largest UFCW local in the nation. Together, Dave and Diane were a dynamic and dedicated team who helped forge greater capacity within the union movement, as well as in community organizations and the halls of government, to build power for workers. This comprehensive, creative and ever-evolving approach of combining union organizing, community organizing, political organizing, and the negotiating and enforcement of groundbreaking Collective Bargaining Agreements is one of the keys to the success of UFCW 21 over the years and remains a foundation of the organization to this very day.
In 2007 the grocery store bargaining campaign took on a much more community-based profile and was a turning point for the new local union as it flexed its fledgling muscle and the next decade would be a battering ram of year-to-year campaign successes that stacked one on top of the other. From helping to lead the Fight for $15 that has moved on to the national stage, to setting a standard for racial reckoning in the labor movement, Dave's roles went deep and broad in the movement.
Legacies of particular note are the joint efforts to build the power in the membership and community partnerships to negotiate some of the strongest grocery store and health care worker contracts in the nation. In the fall of 2013, after 10 months of negotiations and only 2 hours until a massive region-wide strike was to begin, Dave and Diane led a bargaining team of grocery store workers to broker a deal with national grocery store chains. The companies withdrew all their bad proposals, and the deal protected the workers' health plan, raised wages, and saved the pension of thousands of meat department retirees.
Another legacy is the development of a massive worker leadership program. In 2005 when UFCW 21 started, there were less than 300 stewards and workplace leaders. After years of focused efforts, trainings, conferences, and hundreds of actions, the leadership numbers had flourished to over 1,500 by his retirement in 2015.
Dave and his wife and fellow UFCW 21 leader Pam Blauman-Schmitz stood by each other over many years in the union and they both felt blessed to be able to have had Dave retire not too long after Pam.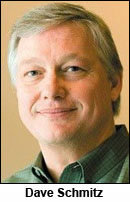 In the end of our lives, all of us can only hope to have served a purpose larger than ourselves. We hope to leave something, or someplace, or someone better than they were before – better than they would have been without our soulful labor. Dave Schmitz approached his own passing knowing that he had achieved such a purpose and knowing that there was so much more yet to be done.
While the last year and a half of the COVID 19 pandemic has been brutal for so many, our union's wins in the past as well as during the pandemic itself have made life much better than it would have been. Our wins for higher wages, more rights on the job, more paid leave, hazard pay, PPE, to our prioritizing essential workers for the vaccine all added up to a much less harmful year than it would have been otherwise.
Dave's legacy will continue long after his passing and that is one of the testaments to a life well-lived.
Short URL: https://www.thestand.org/?p=99470
Posted by
David Groves
on Jun 22 2021. Filed under
LOCAL
. You can follow any responses to this entry through the
RSS 2.0
. Both comments and pings are currently closed.