Pass the PRO Act | Darigold workers authorize strike | Defend DACA
Monday, July 19, 2021
---
PRO ACT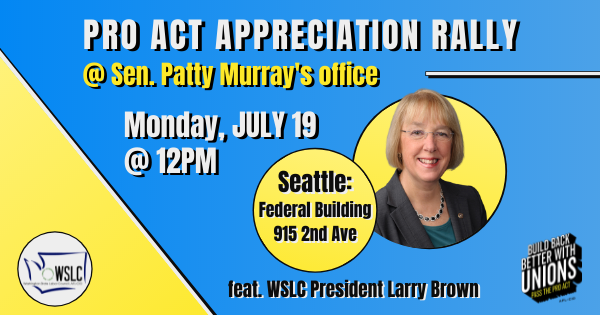 TODAY at Noon in Seattle outside Sen. Patty Murray's office at Seattle's Federal Building, 915 2nd Ave. — Let's show Sen. Patty Murray that we appreciate her advocacy for Washington's working families. We've written her and called her during the pandemic, but now that restrictions against public gatherings have been lifted, let's show up in person to say THANK YOU for sponsoring the PRO Act and for working to get it passed!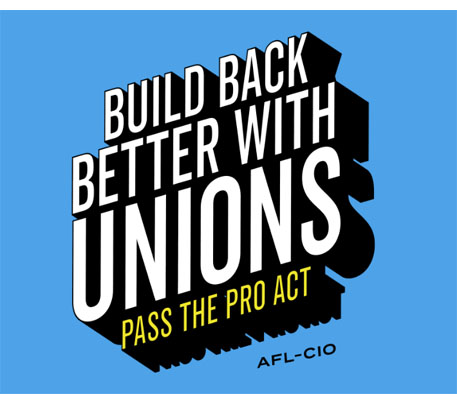 ► From Truthout — Sanders confirms inclusion of provisions of PRO Act in reconciliation bill — Sen. Bernie Sanders (I-Vermont) confirmed on Wednesday that Senate Democrats' $3.5 trillion reconciliation bill that is slated to be passed with a simple majority vote in the chamber will include elements of the pro-union PRO Act. As details of the reconciliation bill are still emerging, it's still unclear which provisions of the PRO Act are included. One element that may be included is a proposal to create monetary penalties for companies violating labor laws, though that's just one element of the broad pro-union proposal.
► From AMNY — Labor of love: Gillibrand, Schumer call for passage of 'Pro Act' to expand worker rights — Although the struggle to strengthen workers' rights has been decades in the making, the liberties some employers have taken with their staff during the still ongoing pandemic has brought this issue to a boiling point, the lawmakers said.
► From the People's World — Texas Dems, AFL-CIO's Trumka link voting and workers' rights — Citing civil rights leaders the Rev. Dr. Martin Luther King Jr. and the late Rep. John Lewis, D-Ga., AFL-CIO President Richard Trumka and a delegation of Texas state Democratic lawmakers—who left Austin for D.C. to halt a draconian Texas GOP voter repression law—inextricably linked voting rights with worker rights.
---
COVID



► From the Columbian — COVID-19 outbreak sickens patients, staff at PeaceHealth — An outbreak of COVID-19 traced to a patient floor at PeaceHealth Southwest Medical Center has sickened at least 10 patients and four employees in the last few days, according to hospital and public health officials.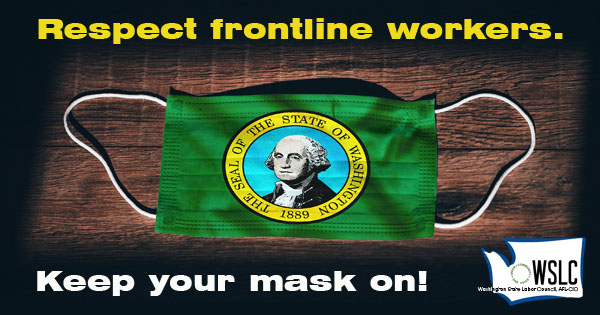 ► From the Seattle Times — 'This isn't over.' Even as life gets back to normal for many, COVID-19 keeps killing Washingtonians
► From the Washington Post — Delta variant takes hold in U.S. as coronavirus cases rise nearly 70 percent — Federal health officials sounded an alarm Friday about a surge in U.S. coronavirus infections fueled by the twin threats posed by the highly transmissible delta variant and a stagnation in efforts to vaccinate as many Americans as possible. "There is a clear message that is coming through: This is becoming a pandemic of the unvaccinated," said CDC Director Rochelle Walensky.

► From the LA Times — L.A. County coronavirus spike hits alarming levels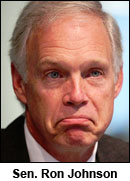 ► From the Washington Post — Biden is right. Purveyors of vaccine disinformation are killing people. (by Jennifer Rubin) — Disinformation spreaders, including elected officials such as Sen. Ron Johnson (R-Wis.), are putting people at risk. Not only do these voices discourage vaccination, and thereby endanger those inclined to follow their advice, they also put children too young to receive the vaccination at risk. It is hard to imagine a more disgraceful way to make money or advance one's career. Rather than advance any "pro-life" agenda, vaccine disinformation has created a sort of right-wing death cult in which its members are willing to put themselves and their children in harm's way to "own the libs."
---
LOCAL
► From the News Tribune — Fred Meyer warehouse workers vote to authorize strike; work stoppage could begin Monday — Fred Meyer warehouse workers, represented by Teamsters Local 117, voted 335-0 to authorize a strike on Saturday that could take effect at stores across the Northwest as early as Monday, the union announced. Contract negotiations between Teamsters Local 117 and Fred Meyer have been underway with little progress.
TODAY at The Stand — Teamsters at Fred Meyer vote unanimously to authorize strike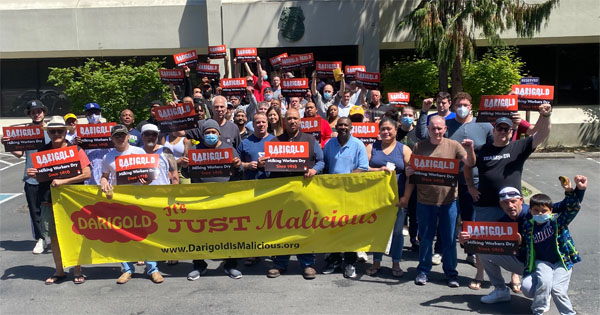 ► From Teamsters 117 — Teamsters at Darigold approve final strike vote — Workers employed at Darigold's laboratory and production facilities in Seattle and Issaquah have approved a final strike vote. Teamsters Local 117, the Union representing Puget Sound dairy workers, has been in contract negotiations with Darigold since April, and union members have been working without a contract since the end of May. Workers gave their final approval to strike this afternoon, meaning they could establish picket lines at any time.
► From the Kitsap Sun — Nurses' class action suit against CHI Franciscan settles for $5.5 million — A class-action lawsuit brought by thousands of nurses who said they weren't properly paid for lunch and other breaks has settled with Kitsap County's main health care system, now known as Virginia Mason Franciscan Health. The average payment a nurse will receive in the settlement is $510, their attorneys said.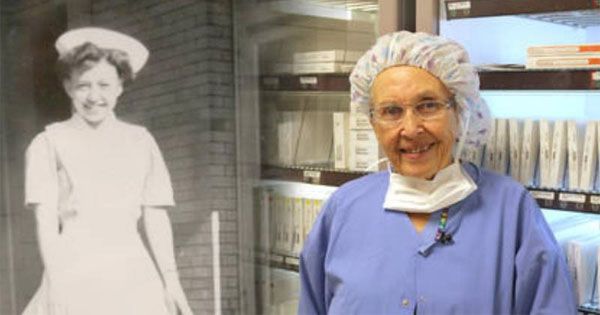 ► From KIRO — Tacoma nurse retires at 96 after 70-year career — More than 70 years after her career began, 96-year-old Florence "SeeSee" Rigney, the oldest working nurse in America, has retired. MultiCare Health System officials said her last day was Friday, July 16. Rigney began as a student nurse at the Tacoma General School of Nursing. When she started nursing, penicillin had just been introduced.
---
THIS WASHINGTON

► From L&I — Washington among the first to issue rules to protect workers from wildfire smoke — Washington is under a state of emergency, with more than 600 wildfires reported already this year.  The Department of Labor & Industries filed emergency rules Friday to help protect employees exposed to wildfire smoke. Washington is just the second state to issue regulations regarding workers and wildfire smoke. California was the first, adopting its rules in 2019.
TODAY at The Stand — L&I: Dairy workers eligible for overtime starting July 25
► From the Columbian — I-5 Bridge project details timeline, goals — Less than a year from now, the Interstate Bridge Replacement Program office hopes to have settled on a single preferred configuration for a new Interstate 5 Bridge over the Columbia River — one that would answer all of the big design questions, such as how many lanes the bridge would have and what kind of high-capacity transit it would carry.
---
THAT WASHINGTON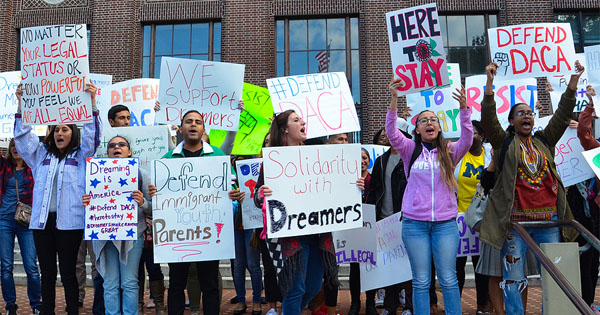 ► From Roll Call — Texas judge says DACA is illegal, halts new requests — A Texas federal judge on Friday struck down an Obama-era program protecting undocumented immigrants brought to the U.S. as children, blocking the government from approving new requests but shielding current program recipients for now. The ruling by U.S. District Judge Andrew Hanen of the Southern District of Texas bars DHS from approving new requests and sends the program back to the department to be redone. However, the judge acknowledged that hundreds of thousands of young immigrants currently depend on the program, and he agreed to pause the effect of his ruling for current DACA recipients. The question of DACA's legality will likely ultimately be decided at the Supreme Court.
EDITOR'S NOTE — Sen. Patty Murray (D- Wash.) responds:

"This ruling is cruel and wrong, needlessly upending the lives of too many who will now live in fear and uncertainty. The judge's decision must be overturned, but Congress can't just wait for the courts to do the right thing—we must act on behalf of America's Dreamers."
► From the AP — 'A blaring siren' for Democrats after ruling halts DACA — Immigrants and advocates are urging Democrats and President Joe Biden to quickly act on legislation to protect young immigrants after a federal judge in Texas on Friday ruled illegal an Obama-era program that prevents the deportation of thousands of them brought into the U.S. as children.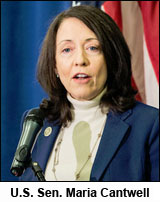 ► From KNKX — Cantwell quizzes airlines on delays, worker shortages — Sen. Maria Cantwell (D-Wash.), who chairs the Senate Commerce Committee, is asking six U.S. airlines to explain the high rates of delayed and canceled flights this summer, and she's asking whether there are labor shortages despite the airlines getting billions in federal aid to keep workers on the job.
► From the Washington Post — Unruly airplane passengers are straining the system for keeping peace in the sky — The sprawling, multitiered system for enforcing regulations and federal laws covering passengers can take years to play out. As travel rebounds, that structure is being strained by confrontations fueled by alcohol, hostility to mask mandates and small conflicts that careen out of control.
---
NATIONAL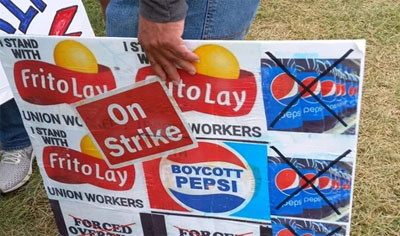 ► From Vice — I'm a Frito-Lay factory worker. I work 12-hour days, 7 days a week — Mark McCarter, a 59-year-old palletizer and union steward at Frito-Lay, who has worked at the Topeka facility for 37 years, talks about his job and why he's striking: After 37 years, I still get forced to work 12 hours a day, seven days a week. Seven years ago, my wife passed away and I spent a lot of time in grief counseling, and I told the company, I don't want to work 12 hours a day seven days a week. I ended up getting FMLA [Family Medical Leave Act unpaid leave], but they're still having me do it sometimes. You come in at 7 a.m. and not only do you work eight hours, but when you get off at 3 p.m., they suicide (force you to work a double shift) you and have you come back at 3am. There's 850 employees and it's true for half or three quarters of them.
► From Politico — The future of work has arrived, and it's messy — COVID smashed the fast-forward button on transformations already under way in the nature of white-collar work. The "Future of Work" is already here. But it's a deeply confused picture.
► From Crosscut — Want ex-Microsoft CEO Steve Balmer's low tax rate? Buy a sports team — As he tries to become a winner on the basketball court, the LA Clippers owner has already won in the tax game.
---
The Stand posts links to Washington state and national news of interest every weekday morning by 10 a.m.
Short URL: https://www.thestand.org/?p=100145
Posted by
David Groves
on Jul 19 2021. Filed under
DAILY LINKS
. You can follow any responses to this entry through the
RSS 2.0
. Both comments and pings are currently closed.