Bring masks back | Still feeding ICE | Dems go big on budget
Wednesday, August 11, 2021
---
COVID
► From the Spokesman-Review — Here's what you need to know about Washington's new vaccine mandate — The proclamation applies to all employees of the governor's 24 executive cabinet agencies and 30 small cabinet agencies. Inslee estimated Monday about 60,000 state employees fall into this category. It also includes independent contractors, service providers or volunteers on state property. It also applies to health care providers or employees in health care settings. The proclamation defines "health care provider" as anyone required by state law to have credentials to provide health care services, or anyone who is permitted to provide health care services but doesn't need credentials and long-term care workers. Secretary of Health Dr. Umair Shah said Monday he estimated about 400,000 health care employees would fall under this mandate.
The Stand (Aug. 11) — WSLC outlines position on vaccine mandates — As labor continues to support vaccination, WSLC says workers must have a voice in employers' vaccine policies.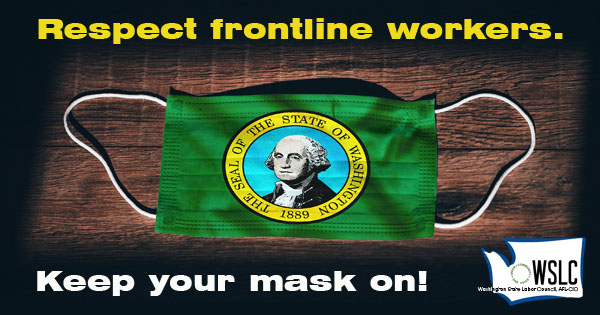 ► From the (Everett) Herald — Snohomish County health officer enacts indoor mask requirement — Starting Thursday, all Snohomish County residents 5 and older, regardless of vaccination status, must wear a mask in public indoor spaces, like grocery stores, retail shops and gyms, under a new directive from Snohomish Health District health officer Dr. Chris Spitters.
EDITOR'S NOTE — The WSLC supports resuming the statewide mask mandate in all indoor public spaces to protect the safety and health of workers there.
► From the Oregonian — Oregon to resume statewide indoor mask mandate as COVID hospitalizations break records
► From the Tri-City Herald — Franklin has highest COVID rate in 4 Western states
► From the Olympian — Thurston has 724 new cases in past week, its highest ever
► From the Bellingham Herald — Whatcom sees triple-digit COVID case increase, as Bellingham hospital restricts visitors
► From KUOW — 'A very rough fall in Seattle for pediatric patients' as delta variant spreads — The now-dominant delta variant has changed the pandemic we've come to know so well. Whereas kids were previously less affected by the coronavirus, they are now increasingly at risk. This has many families wondering how they should balance their kids' childhood with protecting them from the pandemic.
► From the NY Times — Families of high-risk children despair over COVID resurgence — When a 7-year-old in Utah tested positive, his mother vented her frustration on social media. Low vaccination rates in her state are to blame, she says.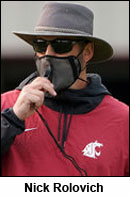 ► From the Seattle Times — How can state's highest-paid employee — more than $3M — be allowed to shirk vaccine mandate? (editorial) — The state's highest paid public employee — Washington State University football coach Nick Rolovich — has dug in and exempted himself for unspecified "private" reasons. That stance has made WSU President Kirk Schulz's campus vaccine mandate for students, faculty and college staff appear sadly toothless.
► From The Hill — Southwest, American, Delta break with United, won't mandate vaccine for workers — Three major airlines — Southwest, American and Delta — have decided against following United Airlines in requiring COVID-19 vaccine mandates for employees. The CEOs of all three major airlines have each said that they will not be requiring their employees to get vaccinated.
---
LOCAL
► From the Tri-City Herald — Pasco school bus drivers looking for public support — Pasco school bus drivers and supporters stood at the intersection of Road 68 and Burden Boulevard early Tuesday during an informational demonstration. Tamara Pearson, who has been a contracted bus driver for nine years, said that the bus drivers are demonstrating to get their message out that they want fair wages. She added that, while the bus drivers are a part of IUOE Local 280 where she's the steward, the demonstration was not a union event nor a strike. Their three-year contract is set to expire at the end of the month and that negotiations are continuing.
► From the Spokesman-Review — Spokane affordable housing program pushed back amid staff shortages in City Hall — Amid a declared housing emergency, Spokane will not offer more than $1 million to support affordable housing projects this year, primarily due to staffing shortages in City Hall.
---
THIS WASHINGTON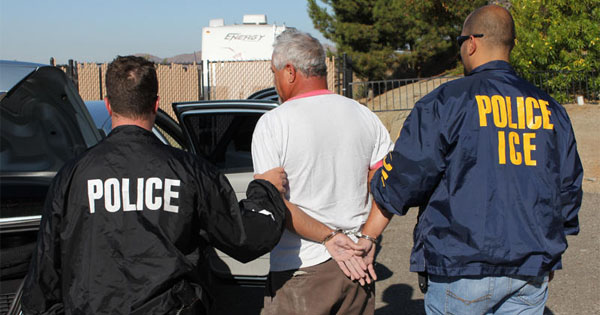 ► From KNKX — WA law enforcement continues to violate Keep Washington Working Act by feeding info to ICE — Police, jail staff and other local law enforcement across Washington state continue to share information with U.S. Immigration and Customs Enforcement, or ICE, and Customs and Border Protection, facilitating arrests and deportations, despite a law that prohibits such cooperation, according to a new report by the University of Washington Center for Human Rights.
► From the News Tribune — Thousands of Washington residents will soon lose unemployment benefits as programs end — As many as 122,780 Washington residents who now collect federal unemployment benefits could stop receiving them in early September. Four major federally-funded unemployment programs expire on the week ending Sept. 4.
► From the AP — Pacific Northwest braces for another multiday heat wave — People in the Pacific Northwest braced for another major, multiday heat wave starting Wednesday, just over a month after record-shattering hot weather killed hundreds of the region's most vulnerable people when temperatures soared to 116 degrees Fahrenheit.
The Stand (July 13) — New L&I rule aims to protect workers amid extreme heat — The emergency Outdoor Heat Exposure rule clarifies proactive steps that employers must take to prevent outdoor workers from suffering heat-related illness.
► From the Oregonian — Heat, smoke protections are a start, but workers need more (by Reyna Lopez) — These emergency heat rules at the workplace are temporary and must be made permanent. As climate change increases the number of extreme weather events, we know that heat and wildfires will continue to endanger the health of workers in Oregon.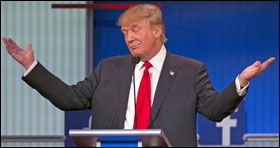 ► From the Seattle Times — Trump's stolen election racket is working extremely well — even here in Washington state (by Danny Westneat) — I took a look through the local side of Trump's fundraising juggernaut for the first half of 2021. It consists of political committees he's been flogging for months now as a way to fight the mythical "election fraud" that he insists will be discovered any day now — provided you keep smashing that "donate now" button. Trump — though out of office and not currently running for anything — raised more money during the first half of 2021 from Washington residents than any other Republican politician, here or elsewhere, according to FEC data. It shows the Godzilla-sized sway Trump maintains over the base of the Republican party, despite it all. It's a sorry testament to the damage Trump has caused the GOP in Washington state that the party isn't calling this out for the total scam that it is.
---
THAT WASHINGTON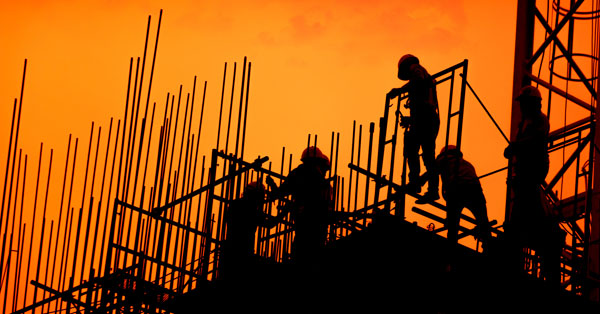 ► From the NY Times — Senate passes $1 trillion infrastructure bill, handing Biden a bipartisan win — The Senate gave overwhelming bipartisan approval on Tuesday to a $1 trillion infrastructure bill to rebuild the nation's deteriorating roads and bridges and fund new climate resilience and broadband initiatives, delivering a key component of President Biden's agenda.
ALSO TODAY at The Stand — U.S. Senate passes historic infrastructure bill — AFL-CIO's Shuler and Sens. Murray and Cantwell hail "good-paying union jobs" the legislation will create.
► From the Seattle Times — Bridges, rail, airports: What's Washington state's cut of the Senate's $1 trillion infrastructure bill? — Both of Washington's Democratic senators — Maria Cantwell and Patty Murray — are committee chairs, and helped craft the package. The funding includes some high priority Northwest items, including salmon restoration, forest thinning, prescribed burns and monitoring and cleaning up the toxic legacy of firefighting chemicals that have contaminated drinking water. Washington and Oregon, through a new fund, also could seek money to help replace the Interstate 5 bridge spanning the Columbia River.
► From The Hill — It's now Pelosi's move on bipartisan roads bill — The Senate's approval of a massive infrastructure bill on Tuesday sends the proposal to the House — and confronts Speaker Nancy Pelosi (D-Calif.) with some tricky questions over how to proceed.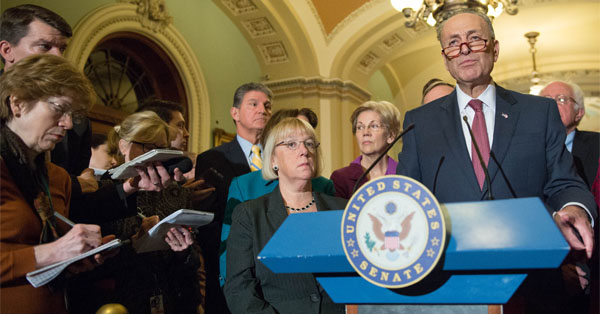 ► From the AP — Senate OKs Dems' $3.5 trillion budget in latest win for Biden — Democrats pushed a $3.5 trillion framework for bolstering family services, health, and environment programs through the Senate early Wednesday, advancing President Joe Biden's expansive vision for reshaping federal priorities just hours after handing him a companion triumph on a hefty infrastructure package. Lawmakers approved Democrats' budget resolution on a party-line 50-49 vote, a crucial step for a president and party set on training the government's fiscal might on assisting families, creating jobs and fighting climate change. Higher taxes on the wealthy and corporations would pay for much of it.
► From The Hill — House to cut recess short, take up Democratic budget plan
► From CNN — Senate Republicans block effort by Democrats to advance voting and election bill — Senate Republicans blocked an attempt by Democrats to advance their signature voting and elections overhaul bill in the early hours of Wednesday morning. It was an effort to put Republicans on the record on the voting rights package and to demonstrate that Democrats are still trying to pass it despite stiff GOP opposition.
► From The Hill — Schumer sets September voting rights fight after GOP blocks debate
► From the NY Times — Texas Republicans order the arrest of Democrats who fled to block GOP voting bill — The 80-12 vote empowered the House sergeant-at-arms to dispatch law enforcement officers to compel the attendance of missing members "under warrant of arrest, if necessary."
---
NATIONAL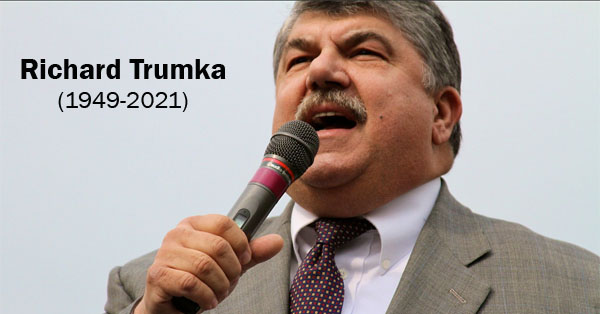 ► From Slate — American workers just lost their biggest champion (by Mary Harris) — The death of AFL-CIO President Richard Trumka means the U.S. labor movement is about to start a new chapter, in the wake of a long era of union decline. Still, Trumka's story could pave the way for the future. On Tuesday's episode of What Next, I spoke with Erik Loomis, a labor historian at the University of Rhode Island, about Trumka's influence, his death, and what's now left for American workers.
PREVIOUSLY at The Stand:
Nation mourns, honors AFL-CIO's Trumka (Aug. 6)
WSLC: Richard Trumka's passing is a monumental loss (Aug. 5)
► From NPR — Wages are going up — and so is inflation. Consumer prices have hit a 13-year high — A lot of workers are getting wage hikes this year as employers compete for scarce labor. But it's not all good news for workers, or for the economy: Some businesses are raising prices to offset the wage hikes, contributing to surging inflation and eroding some of the benefits from that higher pay.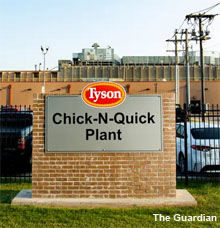 ► From The Guardian — 'They rake in profits – everyone else suffers': U.S. workers lose out as big chicken gets bigger — The tight grip that Tyson Foods, America's largest meat processing company, has on the chicken industry has generated dire consequences for its workers, farmers and the environment in one of the U.S.'s leading poultry-producing states, an investigation has found. Its near monopoly in Arkansas, which reflects national and global trends in the meat industry, has been built over the past three decades by exploiting weakened antitrust regulations to acquire dozens of smaller companies and facilities. Our findings suggest that this power has been used to dictate contracts and erode conditions for farmers and workers in plants in Arkansas, where it is the third-biggest employer.
► From The Hill — NY Times tech workers plan walkout amid union fight — Tech workers at The New York Times are planning a walkout on Wednesday in protest of what they see as the news company's attempts to hinder their unionization efforts.
---
The Stand posts links to Washington state and national news of interest every weekday morning by 10 a.m.
Short URL: https://www.thestand.org/?p=100905
Posted by
David Groves
on Aug 11 2021. Filed under
DAILY LINKS
. You can follow any responses to this entry through the
RSS 2.0
. Both comments and pings are currently closed.