The worst it's been | Ferry staffing | What has happened in Vegas
Tuesday, September 14, 2021
---
COVID
► LIVE from the Seattle Times — Coronavirus daily news update, Sept. 14 — The latest count of COVID-19 cases in Washington totals 607,160 infections (14-day average of cases per day: 3,418) and 6,981 deaths.
► From Q13 FOX — COVID surge in Washington the worst it's been since the start of the pandemic — Hospitals are overwhelmed, particularly in rural areas. 95 percent of hospitalized COVID patients are unvaccinated.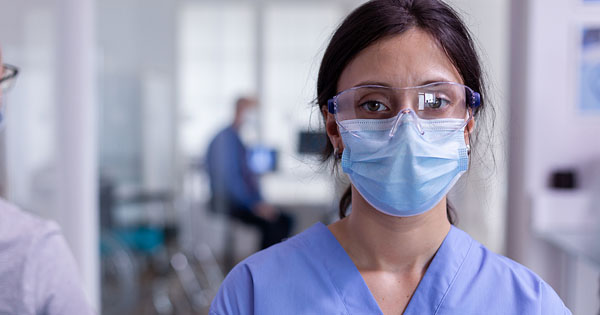 TODAY at The Stand — Hospitals on brink of unprecedented crisis (by WSNA, SEIU 1199NW and UFCW 21) — Preexisting staff shortages have reached critical levels; nurses, healthcare workers and patients need immediate action from hospitals in Washington state.
► From the Spokesman-Review — State's hospitals barely 'keeping head above water'
► From the Tri-City Herald — Tri-Cities COVID outbreaks growing. Fair cases investigated as hospitals hit new high — The Benton Franklin Health District reported it was investigating 19 business outbreaks just after the start of September, with 16 other potential outbreaks under investigation. That is up from four business outbreaks about two months ago, with four potential outbreaks under investigation.
EDITOR'S NOTE — Remember back when local health districts actually reported the names of the companies that were having outbreaks?
► From McClatchy — Hospital officials say workers are burned out from fighting relentless COVID wave — While the outside world is essentially moving on with fairs, sports events and more, the health systems continue to struggle with no let-up in patient flow. "When you walk down a hall that is full of COVID patients, it becomes very real," said Taya Briley of the Washington State Hospital Association. "These patients cannot catch their breath, they literally cannot get enough air. They are in effect, drowning, and it's horrible for the patients. It's also something that causes horrible anguish for our staff who, day after day, are working to position patients to get them the oxygen that they need to try and make sure that they stay off the ventilators if they possibly can. This is a huge level of human suffering that is occurring in our hospitals, day after day."
► From the NY Times — COVID hospitalization crisis reaches fever pitch in southern ICUs — One in four hospitals now reports more than 95% of ICU beds occupied — up from one in five last month. Experts say it can become difficult to maintain standards of care for the sickest patients in hospitals where all or nearly all ACU beds are occupied.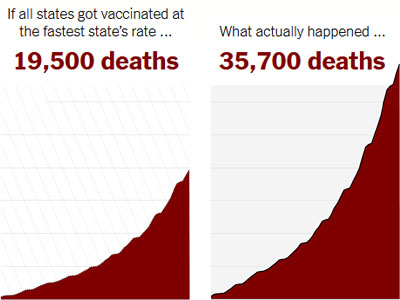 ► From the NY Times — Some states fell far behind in vaccinating against COVID-19. How many lives could have been saved if they had caught up? — We set out to estimate how many lives might have been saved if all states had managed to vaccinate their residents as quickly as the state with the highest vaccination rate (usually Vermont in the period we looked at). This provides a benchmark for what would have been possible with vaccination rates that we know are, under at least some circumstances, achievable.
► From The Guardian — 'The virus is painfully real': Vaccine hesitant people are dying – and their loved ones want the world to listen — For the most part, when an unvaccinated person dies of COVID-19, their families grieve privately. It is not hard to see why: the internet is a callous place… But despite the gloating misanthropes, some people are speaking out about the deaths of their COVID-sceptic friends and relatives, in the hope of encouraging unvaccinated people to ignore social media misinformation and get vaccinated.
► Déjà vu from HuffPost — Right-wing anti-vax radio host dies of COVID-19
---
VACCINE MANDATES

► From KUOW — State troopers and public employees file lawsuit to overturn Gov. Inslee's vaccine mandate — More than 90 state troopers, correctional officers, ferry workers, city firefighters and other public sector employees in Washington state have filed a lawsuit in an attempt to overturn Gov. Jay Inslee's requirement that they get vaccinated against COVID-19, or lose their jobs.
The Stand (Sept. 13) — WFSE members ratify agreement on vaccine mandate
► From the Everett Herald — Snohomish County prosecutor, judges impose vaccine mandate on workers — Employees must comply by Nov. 1 in superior and district courts and Nov. 15 in the prosecutor's office.
► From the Washington Post — GOP condemnation of Biden mandate fuels concern other vaccine requirements could be targeted — Republicans' sweeping denunciations of Biden's plan are raising concerns among public health experts that this heated criticism could help fuel a broader rejection of other vaccine requirements, including those put in place by schools and the military, as the issue of inoculations becomes increasingly political.

► From The Hill — Delta Air Lines official says 4,000 unvaccinated employees got shots after surcharge announcement — The company announced it was adding a $200 monthly surcharge on its health care plan for employees who were not vaccinated.
---
THIS WASHINGTON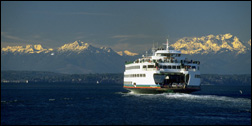 ► From KING 5 — Staffing shortages cripple Washington state ferry system — The head of Washington State Ferries said a COVID-19 outbreak led to a staffing shortage and the mass cancellation of sailings this past weekend. Along with vessel repairs, ferry delays and cancellations could continue for weeks. Dan Twohig of the Masters Mates and Pilots Union and Jay Ubelhart of the Inlandboatman's Union of the Pacific both said they were surprised by the problems this past weekend, and there was no coordinated labor action. Ubelhart said there is national staffing and training shortage for Merchant Mariners and any little blip in the system can cause problems. "The general public has no idea what it takes to be credentialed to serve on a ferry," he said.
---
AEROSPACE



► From the Seattle Times — U.S. aerospace companies to get $482 million in payroll support, $41 million in Washington state — The Biden administration is making $482 million available to aviation industry manufacturers to help them avert job or pay cuts in the pandemic. In Washington state, 32 mostly smaller companies will benefit, receiving a total of $41 million. The Transportation Department lists that amount as protecting 2,280 local aerospace jobs.
► From the Seattle Times — Looking past today's steep downturn, Boeing projects a rosy future of growth — Boeing's annual 20-year jet market forecast, released Tuesday, projects a rosy future beyond today's grim aviation realities. The company forecast anticipates a full air travel recovery from today's steep pandemic-driven downturn by 2024 and then a resumption of long-term demand growth that would double the size of the world's commercial airplane fleet by 2040.
---
LOCAL

► From the Tri-City Herald — Elections unfair to Latino voters in Franklin County to change by 2022 — Franklin County expects to have a plan for its new county commissioner districts by Nov. 8. Attorneys for Franklin County and three local members of the League of United Latin American Citizens agreed to the deadline during a brief court hearing Monday.
► From the Olympian — North Thurston Public Schools educator is named Washington state teacher of the year — Jerad Koepp, a Native American student program specialist at North Thurston Public Schools in Lacey, has been named the Washington state teacher of the year for 2022, the state Office of Superintendent of Public Instruction announced Monday.
► From the Kitsap Sun — Puget Sound Naval Shipyard gets a larger crane for larger ships — A new floating crane inherited from the Army will help the Puget Sound Naval Shipyard maintain the Navy's fleet in Sinclair Inlet.
---
THAT WASHINGTON
► From McClatchy — Third round of child tax credit payments go out this week — The temporarily enhanced tax credits — included in the $1.9 trillion American Rescue Plan signed into law by President Joe Biden in March — provide eligible parents with up to $3,600 per child over the course of a year.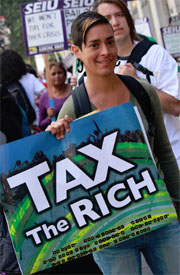 ► From the Washington Post — With big tax push, Democrats aim to tackle enormous gains of top 1 percent — Senior House Democrats on Monday unveiled legislation that would represent the most significant tax increases on the rich and certain corporations in decades, reflecting President Biden's pledge to confront a dramatic surge in U.S. inequality. House Ways and Means Committee Chairman Richard E. Neal (D-Mass.) proposed more than $2 trillion in new revenue that would overwhelmingly hit the richest 1 percent of Americans with a number of new taxes and tax changes affecting their incomes, investments, businesses, estates, retirement funds and other assets. Neal's plan pares back some of the ambitions in the Biden administration's initial $3.5 trillion budget plan, rejecting a key White House proposal to tax the inheritances of the very wealthy. And Democrats have not completely rallied behind the package, with some members studying the details as votes are expected in the coming days.

► From The Hill — Democrats draw red lines in spending fight — The frustrations among Democrats, which have simmered for weeks, are boiling over as lawmakers return to Washington and immediately plunge into a debate over tax hikes to pay for the plan.
► From the NY Times — Democrats to propose compromise voting rights bill — Senate Democrats on Tuesday will propose a pared-down voting rights bill that has the backing of both progressives and centrists in an effort to present a united front against deep Republican resistance to new legislation setting nationwide election standards.
► From Politico — GOP's Jan. 6 problem returns to its doorstep — So far, top Republicans are staying as quiet as possible about the Sept. 18 protest on the Hill in defense of some Capitol riot defendants, which has prompted police officials to re-install the Capitol security fence to safeguard against potential violence.
---
NATIONAL
► LIVE from the Washington Post — California voters to decide whether to replace Newsom with Trump-supporting Republican — The effort to recall California Gov. Gavin Newsom comes to a close Tuesday, as voters head to the polls for a final day to decide whether to remove a relatively popular, first-term Democrat and replace him with one of 46 other candidates, including Larry Elder, a conservative Republican who supports Trump. Elder has already begun contesting his defeat by claiming voter fraud.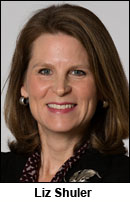 ► From KPIX — Democrats ramp up GOTV efforts in closing hours of recall election — Democrats and union leaders are concerned about complacency and they gathered at SEIU headquarters in San Jose, dispatching workers door-to-door to get out the vote. AFL-CIO President Liz Shuler was in attendance and said, "The progressive gains that have been made in California are at stake. If this recall were to go in the other direction we see that as a tipping point — that positive gains throughout the country would be at risk."
► From the Quad City (Iowa) Times — John Deere UAW workers pass strike authorization — Deere & Co. employees under the United Auto Workers Local 865 union voted to pass strike authorization on Sept. 12. The current six-year agreement that expires on Oct. 1 covers 10,100 production and maintenance employees across 12 Deere facilities.
► From Deadline — Cinematographers Guild to hold informational meeting on status of IATSE contract negotiations — The union's current pact with management's AMPTP, which covers IATSE's 13 West Coast studio locals, expired on Sept. 10, but negotiations are continuing.
► From The Hill — President of newly recognized union for adult performers boosts membership — This year, the Adult Performers Actors Guild became the first federally recognized union for adult performers in the United States. Its growth from about 300 to 1,3000 members has come at a crucial time for an industry that has been destabilized by the coronavirus pandemic.
---
TODAY'S MUST-READ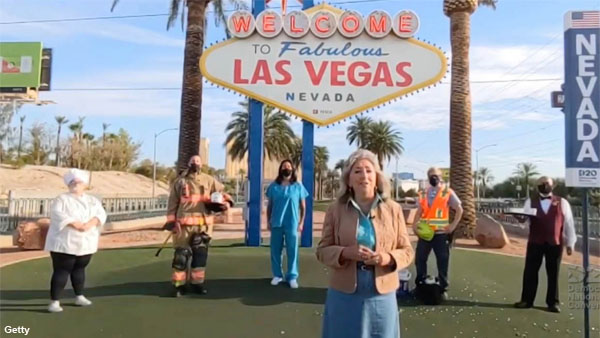 ► From Politico — Vaccine mandates crash into America's 'Don't Tell Me What To Do' state — Within days of Las Vegas' official reopening in early June, COVID case numbers had begun trending up, and within weeks some events around the city were getting canceled. Once Las Vegas reached the highest infection rate in the country among major metropolitan areas, and once 13 cast and crew members at a local hotel tested positive for the virus, IATSE 720 President Phil Jaynes shut the union hall doors again — 11 days after reopening them. He sat down to send a message to his members, though what came out turned into more of a desperate plea. "This did not have to happen," Jaynes wrote. "We are on the brink of a massive flood of work that might be cut to a trickle because people are not getting vaccinated." Jaynes gets emotional reading the letter even now, weeks after sending it, pulling off his thick-rimmed glasses before a tear slips down the union logo emblazoned on his black face mask. "It's just this post-traumatic … " he trails off. "It feels like March of 2020."
After its halting reopening and a summer of Delta, Las Vegas has become a case study in just how difficult it will be to fully reopen America's services sector — and especially its entertainment, tourism and hospitality industries, the ones fueled by in-person activity — as long as the pandemic remains an active threat. Services account for more than two-thirds of U.S. economic activity, and growth in that sector will be crucial to a robust recovery across the country. But without broader uptake of the vaccine, cities everywhere risk entering into the brutal boom-and-bust cycle Las Vegas is currently enduring: a celebratory reopening followed by near-immediate illness and death. Pull back, mask up, reset, reopen, repeat. It's exactly the scenario President Biden is seeking to put a stop to by mandating vaccines for federal workers and requiring, via a rule set to be written in the coming weeks, that private businesses with more than 100 employees either mandate vaccinations or submit workers to weekly testing.
---
The Stand posts links to Washington state and national news of interest every weekday morning by 10 a.m.
Short URL: https://www.thestand.org/?p=101848
Posted by
David Groves
on Sep 14 2021. Filed under
DAILY LINKS
. You can follow any responses to this entry through the
RSS 2.0
. Both comments and pings are currently closed.