No beds | J&J shots available | Tax the big banks | Manchema
Thursday, September 30, 2021
---
COVID
► LIVE from the Seattle Times — Coronavirus daily news update, Sept. 30 — The latest count of COVID-19 cases in Washington totals 654,710 infections (14-day average of cases per day: 2,954) and 7,654 deaths.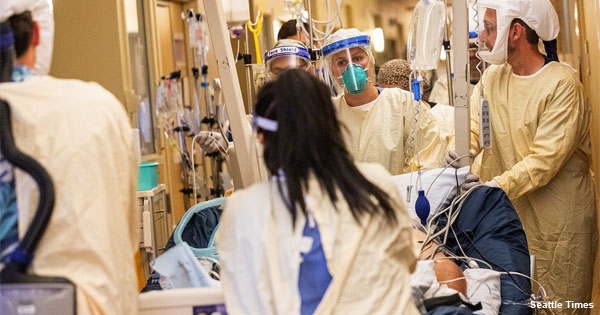 ► From the Seattle Times — 'I have no beds': Hospitalizations spike in rural Washington amid fifth COVID-19 wave — High hospitalization levels have collided with a workforce of burned-out nurses, doctors and assistants. Beds have run low, staffers come from other departments to help in the ICU and crucial procedures like heart surgeries are being delayed. The grim marathon of medical triage has also left workers seething that more people haven't gotten the vaccinations that might have blunted this surge.
The Stand (Sept. 14) — Hospitals on the brink of unprecedented crisis — WSNA, SEIU 1199NW and UFCW 21: Preexisting staff shortages have reached critical levels; nurses, healthcare workers and patients need immediate action from hospitals in Washington state.
► From the News Tribune — State's COVID wave could continue straining hospitals for weeks, health officials say — While COVID-19 cases and hospitalization rates appear to be declining in Washington state, there doesn't appear to be a quick end to the overwhelming workload facing hospitals.
► From the Spokesman-Review — Gov. Jay Inslee calls on Idaho politicians to take action on COVID-19 during visit to crowded Spokane hospital
MORE local coverage in the Bellingham Herald, (Longview) Daily News, Tri-City Herald, and the Yakima Herald-Republic.
► From KNKX — COVID-19 deaths much higher in Washington's Republican counties, analysis shows — As of this week, the death rate for people with COVID-19 was 44.4 per 100,000 in counties that voted over 60 percent Republican in statewide races in 2020. By contrast, counties that went for Democratic statewide candidates by 60 percent or more have a death rate of just 6.8 per 100,000.
► From the Chronicle — Lewis County Commissioner Gary Stamper dies of COVID-19 at 67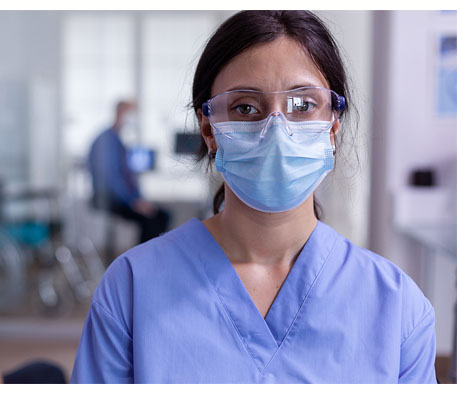 ► From Fierce Health Care — Nurses say hospitals rarely in compliance with OSHA's new COVID-19 protections — According to a nationwide survey of more than 5,000 registered nurses conducted by National Nurses United, about 23% of respondents say their hospital employer reported COVID-19 exposures in a timely manner. This was down from the 31.6% rate reported in another survey from March.
► From the Guardian — Hospitals outfitting nurses with panic buttons to prevent assaults — Violence against healthcare workers from patients and families has increased during the pandemic.
EDITOR'S NOTE — And if all this sounds enticing to you…
► From the Olympian — Providence to host hiring events, offer bonuses to fill openings in Olympia, Centralia — They are offering a sign-on bonus of $1,000 or more for most positions. Providence St. Peter Hospital and Providence Centralia are looking to fill positions in dietary, housekeeping, patient transport, security, admitting and all levels of nursing.
---
VACCINE MANDATES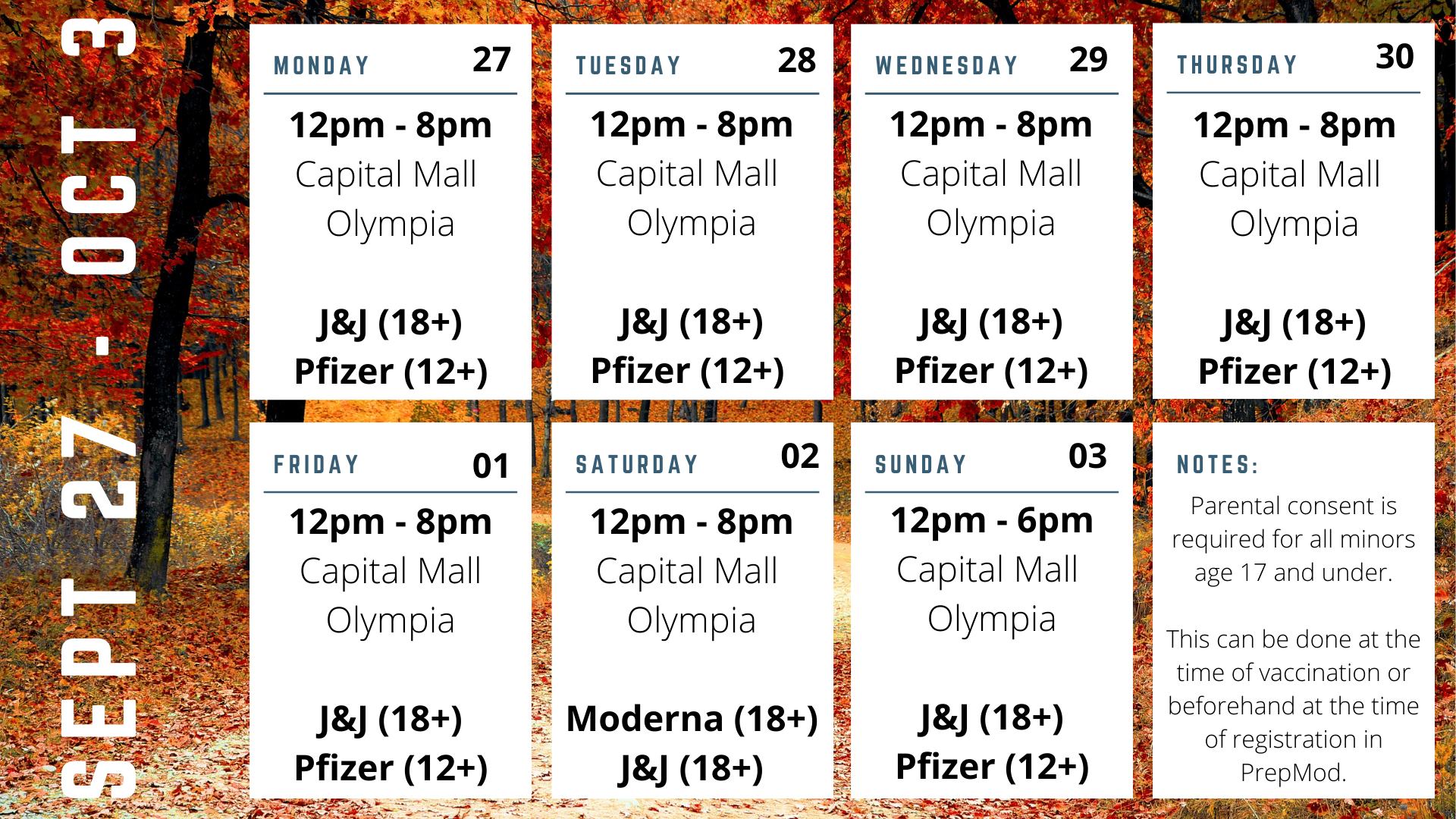 PUBLIC SERVICE ANNOUNCEMENT — If you are subject to the Washington state vaccine mandate and you have not yet been vaccinated at all, it's too late for Pfizer or Moderna shots if you want to be in compliance. You need to get a Johnson & Johnson shot by Monday, Oct. 4. As you can see from Thurston County Public Health and Services (above), J&J shots are available in Olympia, and by all indications across the state. Visit Washington state's Vaccine Locator to find vaccine appointments near you, and if you are having trouble finding a J&J vaccine appointment, contact the state Department of Health.
► From the Spokesman-Review — Some 50 Spokane Fire Department employees stand to be fired next month over COVID-19 vaccine objections — Nearly 50 unvaccinated Spokane firefighters will be fired next month if they do not receive a COVID-19 vaccine. The city says it could not make reasonable accommodations for them under an emergency proclamation issued by Gov. Jay Inslee that requires state employees and health care workers to be vaccinated. Tim Archer, the president of Spokane Firefighters Union Local 29, opposes the city's stance, which he said exceeds the requirements of the governor's mandate. Archer is among those who reject the vaccine on religious grounds – a choice he described as personal – and expects to lose his job in October.
► From the Oregonian — Thousands of Oregon healthcare workers remain unvaccinated as deadlines loom — A state vaccine mandate for healthcare workers will become effective on Oct. 18, but local hospitals have imposed their own deadlines.
► From Reuters — United Airlines ready to fire workers for defying vaccine mandate — United Airlines said on Tuesday that 593 of its 6,700 U.S.-based employees face termination after failing to comply with its vaccination policy. The workers can save their jobs if they get vaccinated before their formal termination meetings, company officials said.
► From the AP — AT&T to require vaccines for 90,000 of its union workers — AT&T has become one of the largest employers in the U.S. to mandate vaccines for a significant number of frontline workers. The telecom company said Wednesday that its employees represented by CWA will be required to be fully vaccinated by Feb. 1, "unless they get an approved job accommodation."
► From the NY Times — The Right to Health — Immunization mandates aren't new. One helped win the American Revolution.
► From KING 5 — 12% of Americans will still 'definitely not' get COVID-19 vaccine, survey finds
---
LOCAL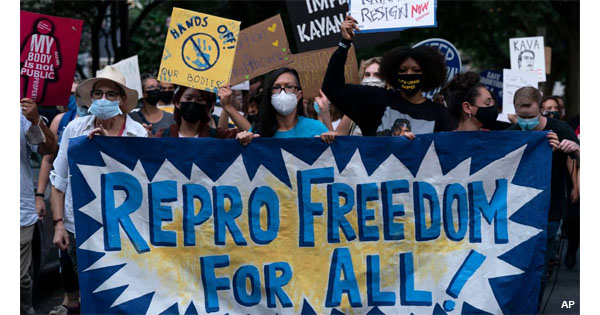 ► From the Bellingham Herald — Bellingham rally, march planned in support of abortion rights — Women's-rights activists are planning a weekend rally and march to show support for abortion access nationwide in light of recent legislation that effectively bans the procedure in Texas. It's part of more than 600 similar events sponsored by the group Women's March across the country using the social media hashtag #RallyforAbortionJustice to highlight the restrictive Texas measure and others being considered in several states, said local organizer Jessica Demorest of Bellingham.
TODAY at The Stand — Join Oct. 2 marches, rallies for reproductive rights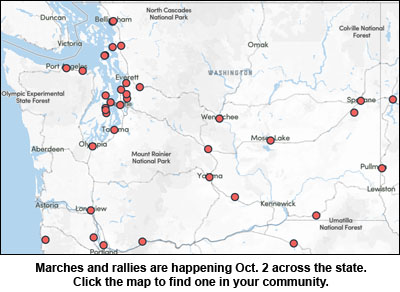 TAKE A STAND — The Washington State Labor Council, AFL-CIO urges union members to participate in the Oct. 2 actions. Click here to see a map of all the actions, including their times and locations. From Seattle to Spokane, Bellingham to Vancouver, thousands will be taking to the streets at more than 30 different events in Washington. To promote safety amid the pandemic, all actions are taking place outdoors, have a physical distancing plan, and attendees will be asked to wear masks.
EDITOR'S NOTE — With the 2019 passage of Resolution #31, "the Washington State Labor Council, AFL-CIO, affirms that reproductive rights are workers' rights and will defend and support efforts to obtain and maintain health care for working people covering all reproductive rights choices."
► From the Seattle Times — Amazon settles with two Seattle workers who say they were wrongfully fired for their advocacy — The settlement stipulates that Amazon is required to pay Costa and Cunningham lost wages, and notify all of its employees that they have the right to take collective action and make public statements about work-related issues.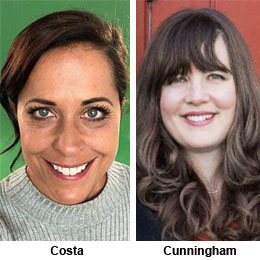 ► From UFCW 21 — Fired Amazon workers reach settlement with Amazon — In the early stages of the COVID pandemic, in the late spring of 2020, two Amazon workers, Emily Cunningham and Maren Costa, were fired from their jobs at Amazon. They were told it was due, in essence, to a violation of policies. They however believed it was in response to, and in retaliation for their protected and concerted activities in support of Amazon's warehouse workers. These two workers approached UFCW 21 to request assistance in filing an Unfair Labor Charge against Amazon. After consideration, that case was filed by UFCW 21 and the local union assigned the case to our legal counsel.
► From the PS Business Journal — Amazon diversity data shows divide remains between corporate, warehouse workers — Amazon's hiring in 2020 was largely focused on filling out its growing logistics network during the pandemic, as 4 in 5 new hires were categorized and laborers and helpers. That category is Amazon's most diverse as well. About 19% of Amazon employees at the executive level in 2020 were people of color, compared with a little over 73% in warehouse and fulfillment center roles.
► From KING 5 — Everett Community College erases $1.2 million in student debt — The one-time windfall comes from federal coronavirus relief funds.
► From the Oregonian — Portland firefighters to get bulletproof vests as risks increase
---
THIS WASHINGTON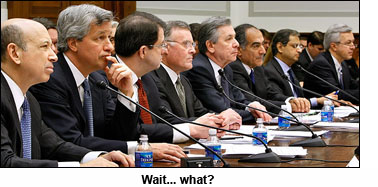 ► BREAKING from KOMO News — Washington justices unanimously OK new tax on big banks — The Washington Supreme Court has unanimously upheld a new tax on big banks aimed at providing essential services and helping improve the state's regressive tax system. The 1.2% business and occupation surtax — a tax added on top of other taxes — was passed by the Legislature in 2019. It applies to banks that make more than $1 billion in annual profits, but it is assessed only on their economic activity in Washington.
► From the Seattle Times — State Employment Security Department reviews hiring policies after former staffer charged with benefits fraud — Washington state's unemployment agency is reviewing its hiring and oversight policies after a former staffer with a criminal record was accused of using his agency position to defraud the state of at least $360,000 in jobless benefits.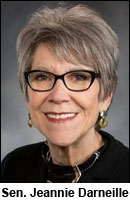 ► From the News Tribune — Jeannie Darneille fought to give criminals second chances. WA prisons are better for it. (by Matt Driscoll) — Over the last two decades, few have spent more time and effort advocating on behalf of Washingtonians behind bars and those with criminal records. From helping to end the practice of shackling incarcerated women during child birth to slowly chipping away at the callous inhumanity of the state's three-strikes law, Darneille has dedicated much of her career to waging battles on behalf of those too many of us would prefer to lock up and forget. No politician runs on a platform of providing second chances for convicted criminals, but that's precisely the work Darneille has consumed herself with. That takes guts, gumption and thick skin.
► From the (Everett) Herald — Ruling near on city of Lake Stevens worker safety violations — The city says the state erred in an inspection of the Public Works department, in one case blaming a "rogue" employee.
---
THAT WASHINGTON
► From The Hill — Congress poised to avert shutdown, but brawl looms on debt — Congress is moving to avert a government shutdown before Friday, leaving Democrats with a tough choice on how to raise the debt ceiling.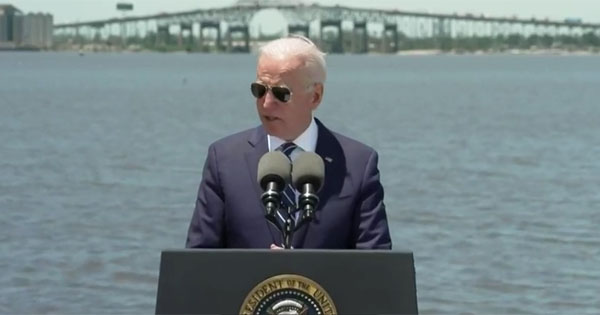 ► From the Washington Post — Biden, Pelosi embark on late scramble to save $1 trillion infrastructure bill — House Democrats had hoped to hold a vote Thursday to adopt the package and send it to the president's desk, though it increasingly remains at risk of faltering as a result of the party's fast-widening internal divisions. Democrats generally support the infrastructure bill, which includes major new investments in the country's aging roads, bridges, pipes, ports and Internet connections. But the proposal has become a critical political bargaining chip for liberal-leaning lawmakers, who have threatened to scuttle it to preserve the breadth of a second, approximately $3.5 trillion economic package — one that moderates, including Sens. Kyrsten Sinema (D-Ariz.) and Joe Manchin III (D-W.Va.), want to scale back.
► From the Hill — House appears poised to pull infrastructure vote amid stalemate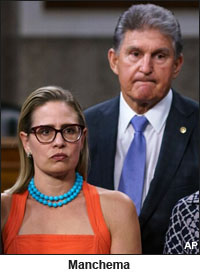 ► From the Washington Post — Waiting for 'Manchema': House liberals grow exasperated with two Democratic senators as Biden agenda struggles — Manchin and Sinema have said Biden's $3.5 trillion proposal for expanding heath care access, boosting education programs and fighting climate change is too expensive, but they have been reluctant to engage in detailed discussions about how they want it changed.
EDITOR'S NOTE — Name Echo, which posts comprehensive name meaning articles, says people named Manchema are "driven by their strong viewpoints, those who have 'M' as their initial will do anything but compromise. The letter 'A' is for great aspirations and being driven in life by personal motivations. 'N' means one is very self-aware and is prone to showcase, in most circumstances, a more emotional than rational position…"
► From the Politico — Democrats dial back drug-pricing plans to win over moderates — It's a sign the drug industry is bending a potential compromise in manufacturers' favor after spending more than $171 million lobbying in the first half of this year.
► From the Washington Post — Federal employee health-care premiums to rise an average of 3.8 percent for 2022
---
NATIONAL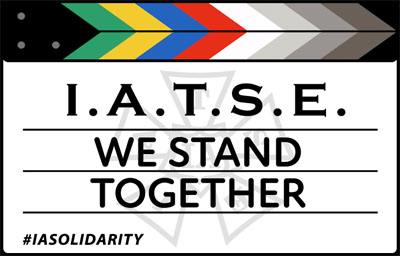 ► From the NW Labor Press — Hollywood strike could be coming — National contract negotiations between TV and film producers and the union IATSE are near impasse, and members are expected to take a strike vote any day.
The Stand (Sept. 29) — Sign petition urging fair deal for IATSE film, TV crews
► From Vancouver Is Awesome — 'Our crews deserve better': Seth Rogen and Ryan Reynolds share support for film industry workers
► From Inside Higher Ed — NLRB asserts that 'certain' college athletes are employees — "Players at academic institutions perform services for institutions in return for compensation and subject to their control," wrote NLRB general counsel Jennifer Abruzzo. Federal laws and NLRB policies, she continued, "fully support the conclusion that certain Players at Academic Institutions are statutory employees, who have the right to act collectively to improve their terms and conditions of employment."
► From The Hill — Jobless claims rise for third straight week after 6.2 million lose federal benefits
---
The Stand posts links to Washington state and national news of interest every weekday morning by 10 a.m.
Short URL: https://www.thestand.org/?p=102382
Posted by
David Groves
on Sep 30 2021. Filed under
DAILY LINKS
. You can follow any responses to this entry through the
RSS 2.0
. Both comments and pings are currently closed.