Get your shot | You're welcome | Burn the NWSL down | Brandi plays Purdy
Friday, October 1, 2021
---
COVID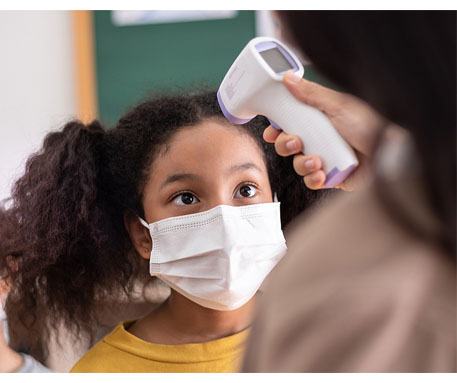 ► From the Tri-City Herald — Sharp increase in COVID cases in Tri-Cities kids — Cases in school-age children this month remains at 30% of new cases in Benton and Franklin counties. Currently, there are six active outbreaks in schools in the two counties. Three of those are from infections that spread in classrooms and the other three spread in other school settings, including within sports teams.
► From the Peninsula Daily news — Clallam Bay prison outbreak grows to 160-plus cases — Staff aren't consistently wearing masks, health officer says.
► From Reuters — Supreme Court Justice Kavanaugh tests positive for COVID-19
---
VACCINE MANDATES
► From the Yakima H-R — State officials hopeful health care workers won't quit, get fired — Citing rising vaccination rates, state public health officials are hopeful large numbers of health care workers will not quit or be fired once Gov. Jay Inslee's mandatory vaccination deadline is reached on Oct. 18.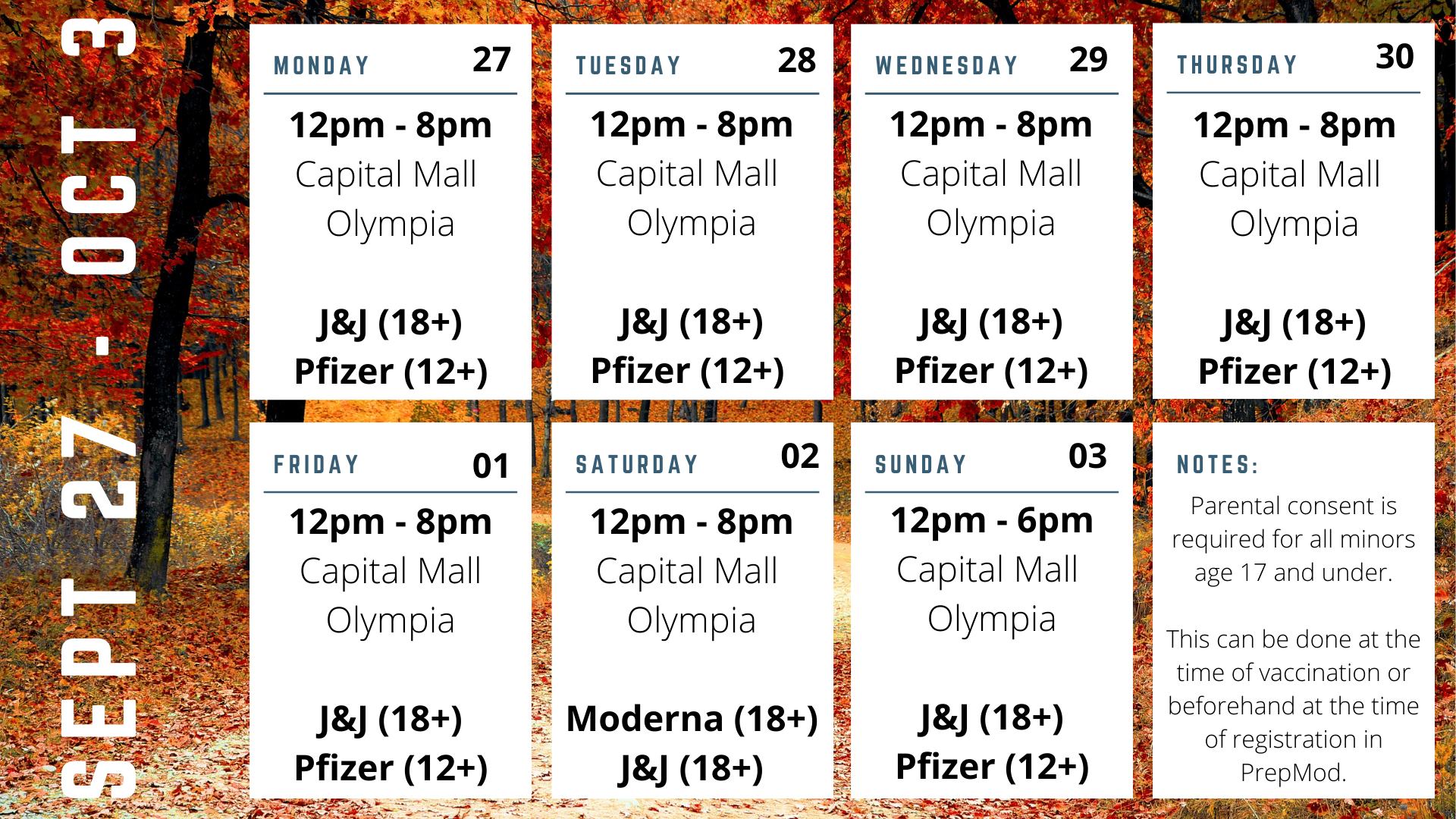 PUBLIC SERVICE ANNOUNCEMENT — If you are subject to the Washington state vaccine mandate and you have not yet been vaccinated at all, it's too late for Pfizer or Moderna shots if you want to be in compliance. You need to get a Johnson & Johnson shot by Monday, Oct. 4. As you can see from Thurston County Public Health and Services (above), J&J shots are available in Olympia, and by all indications across the state. Visit Washington state's Vaccine Locator to find vaccine appointments near you, and if you are having trouble finding a J&J vaccine appointment, contact the state Department of Health.
► From the Seattle Times — In policy shift, Alaska Air requires COVID-19 vaccine for employees — Alaska Air Group told employees Thursday evening they will be required to get a COVID-19 vaccination, with some exceptions — a shift from the policy laid out last month that only encouraged and rewarded vaccinated employees.
► From the Kitsap Sun — Shipyard commander: Workers must be vaccinated or exempted — or face removal — Workers at the Puget Sound Naval Shipyard, Kitsap County's largest employer, must be vaccinated against COVID-19 by Nov. 22 or will face the prospect of termination unless they can prove a medical or religious exemption.
► From the Washington Post — Lawsuit seeks to halt Biden's vaccination mandates for federal workforce — The new lawsuit comes as the individual service branches approach deadlines for troops to get vaccinated or face possible punishment. Active-duty Air Force officers are required to be vaccinated by Nov. 2.
► From the AP — United says some workers facing termination got vaccinated — United Airlines says the number of employees facing termination for refusing to get vaccinated against COVID-19 has dropped nearly by half, to 320, after more of its 67,000 U.S. workers provided evidence of vaccination.
► From the Washington Post — Turns out a lot of those never-vaxxers were really 'I'll get it if required'
---
THIS WASHINGTON



► From L&I — For 2022, Washington minimum wage rises to $14.49 per hour — The state Department of Labor & Industries on Thursday announced the state's minimum wage will rise to $14.49 per hour starting Jan. 1, 2022. State law mandates L&I calculate the minimum wage for the coming year based on the federal CPI for Urban Wage Earners and Clerical Workers. The result is the state's current minimum wage of $13.69 will go up 5.83 percent next year. BLS attributed the increase in the price index to more expensive gas, housing, household furnishings, and food.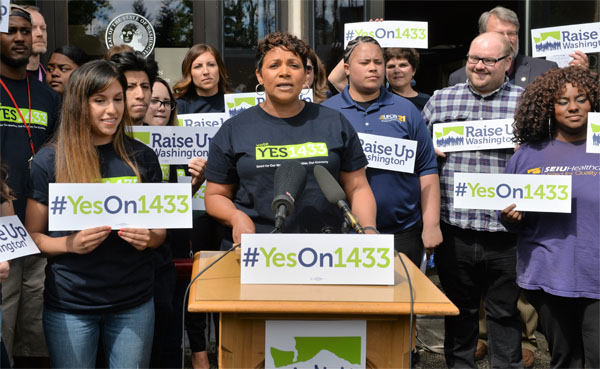 EDITOR'S NOTE — This wage increase is brought to you by Washington's labor movement. You're welcome.
► From Crosscut — Redistricting in Washington state: What's at stake in 2021 — Commissioners — two Democratic and two Republican appointees — just submitted their proposed new voting district lines… April Sims, the first woman of color to serve on the Redistricting Commission, said her map creates nine legislative districts that are majority people of color. That's a large increase from the 2011 redistricting process, which created only two districts made up mostly of people of color.
► From the Seattle Times — Access to mental health care is lacking in Washington's rural corners. Here's how people are finding help. — Finding a mental health provider, specialty care or an inpatient bed is particularly hard if you live in a less-populated corner of the state.
---
POSTAL SERVICE CUTS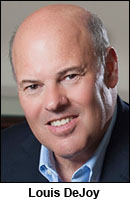 ► From the Washington Post — DeJoy's USPS slowdown plan will delay the mail. What's it mean for your Zip code? — The new delivery regimen, which takes effect Oct. 1, disproportionately affects states west of the Rocky Mountains and the country's mainland extremities. The proposed service standards, or the amount of time the agency says it should take to deliver a piece of first-class mail, represent the biggest slowdown of mail services in more than a generation, experts say.
TAKE A STAND — Union members and community supporters of the U.S. Postal Service are urged to join the Greater Seattle APWU on TODAY (Friday, Oct. 1) at 1 p.m. at the Redmond Post office at 7241 185th Ave. NE for the information picket against DeJoy's mail slowdown and plant closures. Participants will be masked up and practice social distancing.
► From the Oregonian — Portland leaders chide U.S. Postal Service as mail delivery permanently slows by 40%
---
THAT WASHINGTON
► From Politico — Congress averts shutdown, sends 9-week funding patch to Biden's desk — Top Democrats are keenly aware that, in averting one fiscal cliff, they have forfeited leverage in heading off another — the debt default.
► From The Hill — No deal: House delays infrastructure vote — Democratic leadership and the White House were hoping they could reach an agreement on a framework for the larger reconciliation bill that would convince House progressives to vote for the Senate-passed bipartisan infrastructure bill. Progressives worry that if they help pass the bipartisan bill before the reconciliation framework is agreed upon, centrists won't help them pass the reconciliation bill packed with progressive priorities.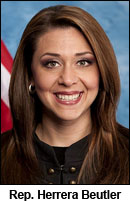 ► From the union-busting Columbian– Herrera Beutler says she'll vote against $1.2 trillion infrastructure bill — The Senate-approved bipartisan legislation includes new investments in transportation, water, power and broadband infrastructure. It also focuses on funding remedies for legacy pollution and climate change.
► From The Hill — Manchin throws down gauntlet with progressives — Manchin's announcement Thursday that he won't support any reconciliation bill costing more than $1.5 trillion served as a rude awakening to Democratic progressives who thought he could support a number much closer to the $3.5 trillion goal set by the Senate- and House-passed budgets.
► From The Hill — Sinema joins Manchin in doubling down against $3.5T
► From The Hill — Democrats grasping at straws on immigration — A second ruling by the Senate parliamentarian has Democrats grasping at straws over how to include some form of immigration relief in their sweeping reconciliation package, as activists pressure them to do more to change the upper chamber's rules.
► From Politico — U.S. trade chief: Biden will build on Trump-era tariffs to confront China
---
NATIONAL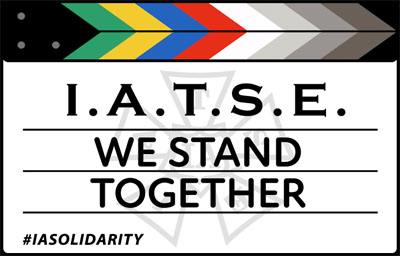 ► From Bloomberg — Hollywood labor strife raises threat of crippling new shutdown — One of Hollywood's most powerful unions, the International Alliance of Theatrical Stage Employees, is set to begin a strike-authorization vote Friday, a step toward a walkout that could cripple movie and TV studios still trying to come back from COVID-19 shutdowns. Labor leaders are seeking shorter work hours as part of a new contract. Production schedules have been particularly grueling since the industry began reopening from pandemic-related shutdowns.
► From the AP — Nation's most restrictive abortion law back in Texas court — A federal judge on Friday will consider whether Texas can leave in place the most restrictive abortion law in the U.S., which since September has banned most abortions and sent women racing to get care beyond the borders of the nation's second-most populous state.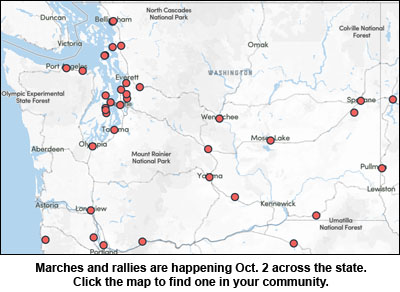 The Stand (Sept. 30) — Join Saturday, Oct. 2 marches, rallies for reproductive rights — From Seattle to Spokane, Bellingham to Vancouver, thousands will be taking to the streets at more than 30 different events in Washington to demand an end to the dangerous, escalating attacks on reproductive rights and freedoms in this country.
TAKE A STAND — The WSLC urges union members to participate in the Oct. 2 actions. Click here to see a map of all the actions, including their times and locations. To promote safety amid the pandemic, all actions are taking place outdoors, have a physical distancing plan, and attendees will be asked to wear masks.
► From the Washington Post — Inside America's broken supply chain — Fallout from the once-in-a-century health crisis is the chief culprit behind soaring freight bills and delivery delays. Americans trapped at home slashed spending at restaurants, movie theaters and sporting events and splurged on goods such as laptops and bicycles, triggering an import avalanche that has overwhelmed freight channels. But the pandemic also exposed weaknesses in the nation's transport plumbing: investment shortfalls at key ports, controversial railroad industry labor cuts, and a chronic failure by key players to collaborate.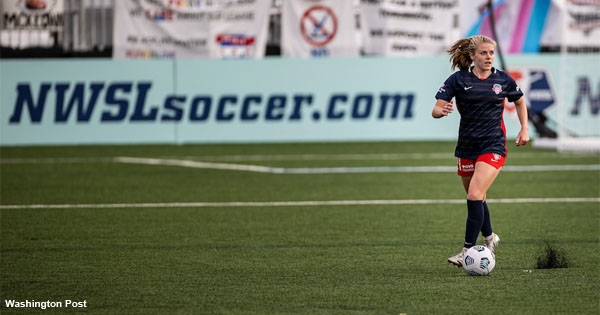 ► From the Washington Post — NWSL players speak out amid abuse claims: 'Burn it all down' — Current and former NWSL players have gone on the record to detail the abuse they said they have experienced. And on Thursday, a long list of NWSL players, including stars Alex Morgan and Megan Rapinoe, offered angry criticism of a league they said had failed to protect players. "Men, protecting men, who are abusing women," Rapinoe wrote on Twitter Thursday of the NWSL. "Burn it all down. Let all their heads roll."
► From the AP — Union jobs? Ford's plan for new EV factories raises question — Ford's blockbuster announcement this week that it would build four sprawling new factories in Kentucky and Tennessee by 2025 and hire nearly 11,000 workers raised a big unanswered question: Just how good will those jobs be?
► From the AP — Workers at Jeff Bezos' rocket company allege sexism, safety risks — A group of more than 20 current and former employees are accusing Jeff Bezos' Blue Origin rocket ship company of being a toxic work environment and not adhering to proper safety protocols.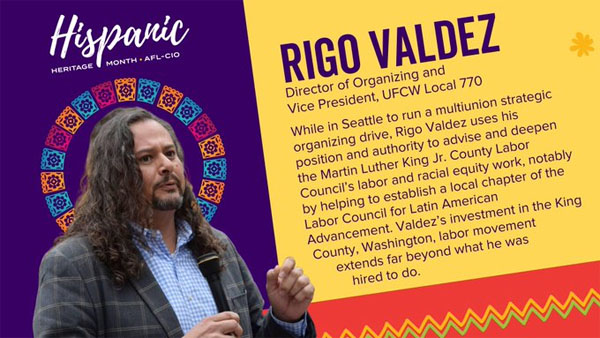 ► From the AFL-CIO — National Hispanic Heritage Month Profiles: Rigo Valdez — While in Seattle to run a multi-union strategic organizing drive, Rigo Valdez uses his position and authority to advise and deepen the Martin Luther King Jr. Country Labor Council's labor and racial equity work, notably by helping to establish a local chapter of the Labor Council for Latin American Advancement. Valdez's investment in the King County, Washington, labor movement extends far beyond what he was hired to do.
EDITOR'S NOTE — Tired of being disrespected? Get a union! Find out more information about how you can join together with co-workers and negotiate a fair return for your hard work. Or go ahead and contact a union organizer today!
---
T.G.I.F.
► Brandi Carlile, the Pride of Ravensdale, releases her 7th studio album today. By all accounts, In These Silent Days is another masterpiece. She's hit the big time now, but she hasn't forgotten her humble roots, dedicating money, time and energy to humanitarian pursuits via her Looking Out Foundation. It's partly funded by $2 from every concert ticket she sells, and these days she sells a lot of them.
Looking Out has awarded grants to organizations as diverse as Reverb, Honor the Earth, the Bridge School, Children in Conflict, Black Visions Collective, Campaign Zero, the Women's Funding Alliance, and Doctors Without Borders. It has helped launch numerous other grassroots campaigns including Fund Racial Justice, COVID-19 Relief Fund, Fight the Fear, and the IF Project, a collaboration of currently- and formerly-incarcerated adults and law enforcement focused on holistic intervention and the reduction and prevention of incarceration and recidivism. Here's Brandi making one of her annual pilgrimages to Purdy. Watch as she brings laughter and tears to some of the inmates at the Washington Correction Center For Women by performing "The Mother."
---
The Stand posts links to Washington state and national news of interest every weekday morning by 10 a.m.
Short URL: https://www.thestand.org/?p=102423
Posted by
David Groves
on Oct 1 2021. Filed under
DAILY LINKS
. You can follow any responses to this entry through the
RSS 2.0
. Both comments and pings are currently closed.