Time's up | Big win at DOC | 'Pandora' tax dodgers | New labor movement
Monday, October 4, 2021
---
COVID
► LIVE from the Seattle Times — Coronavirus daily news update, Oct. 4 — The latest count of COVID-19 cases in Washington totals 660, 910 infections (14-day average of cases per day: 2,884) and 7,765 deaths.
► From the Wenatchee World — 28 COVID-19 patients died in September at Central Washington Hospital, setting new record
► From the Tri-City Herald — Another tragic week for COVID deaths in Tri-Cities
► From KIRO — Memorial to be held for trooper who died of COVID-19 after contracting it on the job — A memorial service will be held Monday for Detective Eric T. Gunderson, a Washington State Patrol trooper who died from COVID-19.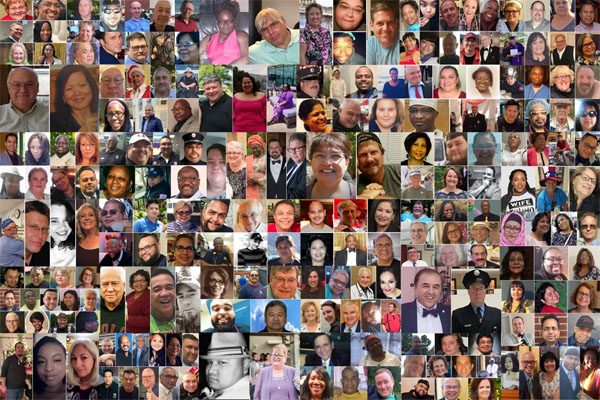 ► From the News Tribune — Here's who was hit hardest during a dramatic spike in WA COVID deaths in August 2021 (editorial) — COVID-19 claimed larger shares of men, whites and younger people in Washington state as it more than doubled its overall death toll in August 2021 compared with the same month last year. In August 2020, when there were no vaccines, 304 people died of COVID-19. Fast forward to August 2021 when 653 died of the disease caused by the coronavirus.
► From the Seattle Times — As childhood COVID infections hit pandemic highs, experts urge vaccination and testing — Now that schools have reopened, health officials are warning students, parents, teachers and staff to "do their part" in preventing another shutdown.
► From the Oregonian — OHSU forecast says hospitalizations, case levels likely to stay elevated into December as COVID-19 fatigue sets in
---
VACCINE MANDATE

► From the Spokesman-Review — Monday is the last day to comply with Washington's COVID-19 vaccine mandate for state and health workers – here's what might happen after that — Workers who receive the Johnson & Johnson single-dose shot on Monday will reach the two-week post-vaccination mark and therefore be considered fully vaccinated just by the deadline. How the vaccine mandate will impact your job largely varies, however. Many health care workers in Washington are represented by unions, which attempted to bargain the impact of the governor's mandate with employers.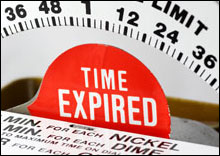 PUBLIC SERVICE ANNOUNCEMENT — If you are subject to the Washington state vaccine mandate and you have not yet been vaccinated at all, it's too late for Pfizer or Moderna shots if you want to be in compliance. You need to get a Johnson & Johnson shot by TODAY (Monday, Oct. 4). You can do this. For example, the Thurston County Public Health and Services has J&J shots available today from Noon to 8 p.m. at the Capital Mall in Olympia. (Sign up for an appt.)
Visit Washington state's Vaccine Locator to find vaccine appointments near you, and if you are having trouble finding a J&J vaccine appointment, contact the state Department of Health.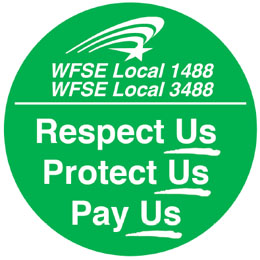 ► From WFSE — UW tentative agreements reached on wage increase, vaccine mandate — UW employees went without a raise in 2021 and many employees faced incredibly difficult working conditions, from adjusting to telework to the risk and strain of frontline essential work. Our UW bargaining team, backed by the power of our members, fought hard for significant wage increases in 2022. The tentative agreement reached on the UW vaccine mandate is based on the WFSE General Government agreement, recently ratified by General Government members. It will help guide employees through the vaccination mandate and/or medical or religious accommodation process.
The Stand (Sept. 16) — UW, Harborview workers rally for fair wage increase
► From the Seattle Times — Deadline nears for Washington state workers to get COVID vaccine under Inslee order — As deadlines draw near for tens of thousands of state workers to get vaccinated against COVID-19, some Washington agencies have started sending separation notices to employees who have not shown they are vaccinated. Meanwhile, other large agencies — like the Washington State Patrol, Department of Corrections, and the Department of Social and Health Services — are scrambling to determine who hasn't yet gotten their shots. Gov. Jay Inslee's emergency order requires roughly 63,000 state workers to be fully vaccinated by Oct. 18 or lose their jobs. Inslee has said workers must get their final shot by Oct. 4 — which is Monday — to be fully vaccinated.
► From the Olympian — Thousands gather in Olympia on Sunday to protest COVID-19 requirement for state workers — As many as 3,000 people descended on the state Capitol Campus Sunday afternoon, wanting to voice their opposition to Gov. Jay Inslee's vaccine mandate for state workers.
► From the union-busting Columbian — Legacy puts 794 workers on leave systemwide — Thursday marked the deadline for Legacy Health's employees to get vaccinated against COVID-19 or to get a medical or religious exemption request approved. Those who did not comply were placed on unpaid administrative leave beginning Friday and could lose their jobs Oct. 19.
► From the Peninsula Daily News — Hospital workers getting vaccines — More than 300 health care workers at the North Olympic Peninsula's three public hospitals remained unvaccinated against COVID-19 as of Friday.
► From the NY Times — 18,000 shots given to NYC school employees ahead of vaccine deadline — The mandate is the first full vaccine requirement for any group of city workers and affects well over 150,000 teachers and staff members.
► From the Washington Post — Several hundred Virginia health-care workers have been suspended or fired over coronavirus vaccine mandates
---
THIS WASHINGTON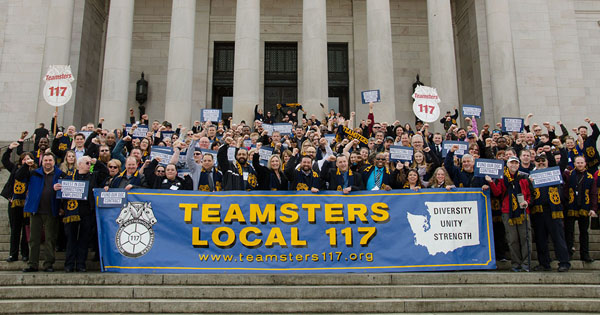 ► From Teamsters 117 — Arbitration award gives up to 19% raises for lowest paid Teamsters at DOC — Through our bargaining team's tough negotiations and the interest arbitration process, we turned a proposed 3% decrease into a 4% wage increase and a $1,500 bonus for all members effective July 1, 2022. We also achieved targeted range increases for 57 classifications, with a 19% increase for some of our lowest paid members.
EDITOR'S NOTE — Raises like that show the power of a union! Not a member? Get more information about how you can join together with your co-workers and negotiate a fair return for your hard work. Or go ahead and contact a union organizer today!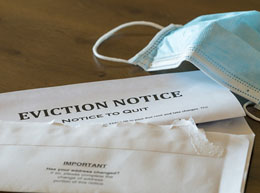 ► From the Seattle Times — In 'historic' move, free attorneys for tenants facing eviction to begin in a dozen Washington counties — In King, Snohomish, Pierce and Spokane counties, among others, attorneys will be prepared starting Monday to offer guaranteed free legal representation to low-income tenants facing eviction, one of the renter protections Washington's legislature mandated earlier this year in hopes of holding off a flood of evictions once state and local moratoriums are lifted.
► From the Seattle Times — How Washington state schools are using a historic amount of federal aid to operate during the pandemic — Already, some of it — around 13% of the roughly $2.6 billion — has been put to work in schools. In Seattle, 104 new school workers walk hallways, monitoring quarantine rooms and taking on lunchtime supervision duties. A few miles to the south, at Highline Public Schools, each campus now has its own counselor. At the state level, politicians have used some of the funds to finance laptops and internet for students, and in the form of grants to nonprofits offering services to families.
► From the Seattle Times — Education leaders decry 'ugly' behavior by attendees at Washington state school board meetings
---
LOCAL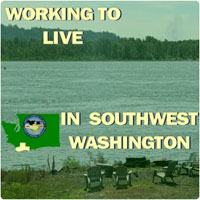 ► From Working to Live in SW Washington — Why does a Hollywood strike matter to Southwest Washington? — About 60,000 members of the International Alliance of Theatrical Stage Employees, including some here in the Pacific Northwest, are voting on whether or not to authorize a strike against the Alliance of Motion Picture and Television Producers. A strike, if it happens, would severely impact movie and TV production in the United States… but what would that mean for us here in Southwest Washington? IATSE Local 488 Business Agent cdavid cottrill sits down with Shannon and Harold to tell them the issues behind the strike vote, explain why there's more media production in Oregon than in Washington, and reveal what the heck a "Fraturday" is.
► From NBC New York — About 60,000 Hollywood union workers are voting on whether to authorize a strike — IATSE's contract with AMPTP, which went into place in 2018, ended July 31 and was extended until Sept. 10. The union is calling for a new, three-year basic agreement that would provide behind-the-scenes workers higher pay, larger contributions to health and pension plans, meal breaks, improved rest periods and a bigger cut of the profits from streaming productions.
► From the union-busting Columbian — Labor shortage still order of the day in Clark County — Clark County employers struggle to lure workers a month after federal government's jobless benefits end.
EDITOR'S NOTE — It's almost as if unemployment benefits were never the reason why employers couldn't find workers. Huh.
► From the News Tribune — 'We don't have time for games.' Port of Tacoma regulations should cut fossil fuels, add green jobs (editorial)
---
REPRODUCTIVE RIGHTS



► From the (Everett) herald — Hundreds rally for abortion rights in Everett Women's March — At least 400 people marched along Everett Mall Way on Saturday in support of women's reproductive freedom, fearful that those rights could soon be limited by conservative judges and lawmakers. One sign said, "If men could get pregnant, abortions would be available at Jiffy Lube." Another had the slogan, "We need to talk about the elephant in the womb," with an image of the Republican Party mascot inside a hand-drawn uterus.
► From the Yakima H-R — People rally in Yakima against Texas abortion law ahead of U.S. Supreme Court's opening — Dulce Gutierrez, a former Yakima city councilwoman, said while the Roe decision guarantees the right to choose an abortion, she said it is even more important to ensure access is guaranteed. "Roe is the floor, not the ceiling," Gutierrez said.
MORE local coverage in the Bellingham Herald, KOMO News (Seattle), and the Walla Walla Union-Bulletin.
► From the AP — Women's March targets Supreme Court, with abortion on line — The first Women's March of the Biden administration headed straight for the steps of the Supreme Court on Saturday, part of nationwide protests that drew thousands to Washington to demand continued access to abortion in a year when conservative lawmakers and judges have put it in jeopardy.
► From The Hill — Fate of abortion access looms over new Supreme Court term — The Supreme Court is slated to hear a number of hot-button issues in the new term that starts Monday, but one case looms largest: a clash over a Mississippi abortion law that directly challenges Roe v. Wade. Conservatives and anti-abortion activists hope the case will mark the culmination of nearly five decades of their concerted effort to narrow the constitutional right to abortion first recognized by the court in 1973.
---
THAT WASHINGTON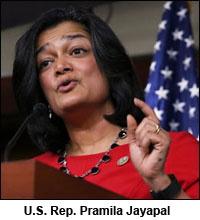 ► From The Hill — Democrats offer options for passing infrastructure, reconciliation bills — Some lawmakers said they were confident that they would be able to pass both measures while others, including some progressives who refused to vote for the bipartisan bill unless they could pass the larger reconciliation package first, suggested they'd be open to a smaller price tag or a shorter amount of years of funding social programs. "We are going to deliver both bills," leader of the Congressional Progressive Caucus Rep. Pramila Jayapal (D-Wash.) said.
► From the Washington Post — The Biden administration sends mixed signals to undocumented migrants (editorial) — In announcing new deportation guidelines Thursday, the Biden administration left ambiguous the question of whether its arrest priorities would exclude most noncitizens who have spent years in U.S. communities as neighbors, workers, and, in some cases, owners of businesses and homes. In effect, the guidelines amount to an ill-defined, ongoing negotiation with Immigration and Customs Enforcement, the government's deportation arm. With good reason, it will leave many unauthorized migrants concerned about their foothold in this country.
► From the NY Times — U.S. signals little thaw in trade relations with China — The Biden administration said it would not immediately remove the Trump administration's tariffs and would require that Beijing uphold its trade commitments.
---
NATIONAL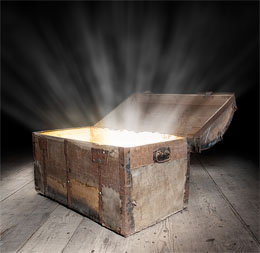 ► From the AP — Leaked 'Pandora' records show how the powerful shield assets — A new report sheds light on how world leaders, powerful politicians, billionaires and others have used offshore accounts to shield assets collectively worth trillions of dollars over the past quarter-century. The investigation published late Sunday involved 600 journalists from 150 media outlets in 117 countries. It's being dubbed the "Pandora Papers" because the findings shed light on the previously hidden dealings of the elite and the corrupt. "This is where our missing hospitals are," Oxfam said in a statement. "This is where the pay-packets sit of all the extra teachers and firefighters and public servants we need."
► From the NY Times — NWSL, reeling in scandal, cancels a weekend of games — Under pressure for its handling of abuse accusations, the top U.S. women's soccer league called off five games and announced its commissioner had resigned.
► From Reuters — Whistleblower says Facebook put profit before reining in hate speech — A Facebook Inc. whistleblower on Sunday accused the social media giant of repeatedly prioritizing profit over clamping down on hate speech and misinformation, and said her lawyers have filed at least eight complaints with the U.S. SEC.
► From Vox — Why this Facebook scandal is different — Internal evidence shared by a former Facebook product manager shows Facebook has ignored the harm it causes.
► From the Washington Post — During the 'Great Resignation,' workers refuse to accept the unacceptable (by Karla L. Miller) — We're seeing the results of these decisions as frontline workers in health care, child care, hospitality and food service industries, pushed to the brink of human endurance, decide that the grueling hours, inadequate pay, lack of balance and abuse by employers and clientele are no longer acceptable trade-offs for their mental and physical well-being.
---
TODAY'S MUST-READ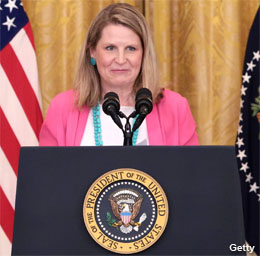 ► From Marketplace — Is a new labor movement brewing? — We've heard a lot about how workers have reevaluated their relationship with work during the pandemic. Between labor shortages across industries, a series of strikes and union organizing drives, and the shift toward remote work, workers are claiming greater control of their position in the economy. And public sentiment is with them. A recent Gallup poll found that 68% of Americans — and 77% of people age 18 to 34 — have a positive opinion of unions. Worker movements at high-profile corporations like Amazon, Nabisco, Starbucks and now Kaiser Permanente are building up to what may become a wave of labor unrest.
Liz Shuler, president of the AFL-CIO, argues that we are in the beginning stages of a modern labor movement. In an op-ed in the Chicago Sun-Times, she wrote that "a modern labor movement begins by putting good jobs and working people at the center of our national conversation — back where it used to be, when work was respected culturally and rewarded economically."
---
The Stand posts links to Washington state and national news of interest every weekday morning by 10 a.m.
WASHINGTON IS A UNION STATE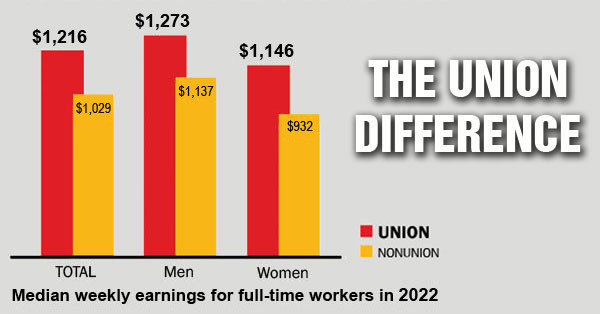 CHECK OUT THE UNION DIFFERENCE in Washington state: higher wages, affordable health and dental care, job and retirement security.
FIND OUT HOW TO JOIN TOGETHER with your co-workers to negotiate for better working conditions and respect on the job. Or go ahead and contact a union organizer today!