Approval of labor unions highest since 1965: Gallup poll
Labor leaders urge Congress to respond to public will, pass the PRO Act
WASHINGTON, D.C. (Sept. 3, 2021) — Americans' approval of labor unions has been trending upward in recent years and is now at its highest point in more than half a century, according to Gallup's annual poll. Sixty-eight percent of Americans now approve of labor unions, the highest Gallup has measured since 1965.
Approval of unions among Democrats, which is nearly unanimous at 90 percent, has risen seven points over the past year as President Joe Biden has said he expects his administration to be one of the most pro-union in history. At the same time, Republicans' (47%) and independents' (66%) approval is essentially unchanged.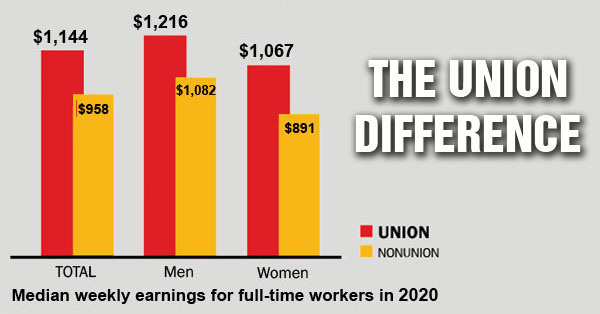 Union membership translate to higher wages and better benefits. Median weekly earnings for union members was $1,144 in 2020, according to the Bureau of Labor Statistics, compared to $958 per week for non-union workers. That's a nearly 20 percent higher pay rate on average for union members. In addition to earning higher wages, the BLS also reports that union members are far more likely to have employer-provided health care and retirement benefits
EDITOR'S NOTE — Want better pay and benefits? Form a union! Get more information about how you can join together with co-workers and negotiate a fair return for your hard work. Or go ahead and contact a union organizer today!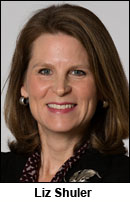 AFL-CIO President Liz Shuler attributes Americans' rising approval of unions to their members' hard work amid the COVID-19 pandemic and says Congress must respond by passing the Protecting the Right to Organize (PRO) Act to restore the freedom to join together in unions.
"It comes as no surprise that public support for unions continues to rise across the country. Union members have delivered for our communities throughout the country, as workers have finally been recognized as essential to our economy and society during the coronavirus pandemic," Shuler said. "This polling data should send a clear message to Congress that union jobs are vital as we re-emerge from this pandemic with a stronger economy that is built upon the principles of fairness and equality. The writing is on the wall, and it is time for Congress to respond to public opinion and the will of their constituents by passing the PRO Act."
Larry Brown, President of the Washington State Labor Council, AFL-CIO, agreed.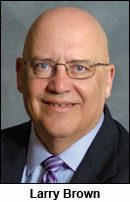 "Since this pandemic began, union members have been on the front lines at hospitals, grocery stores, on public transportation — you name it — serving the rest of us," Brown said. "These union members have stood together to demand the personal protective equipment and safer working conditions that have set a standard for the rest of the workforce. I think more Americans are recognizing the value and importance of unions, and so should the Republicans in Congress who are using arcane Senate rules to block a fair vote on the PRO Act."
The PRO Act, which also has the support of a strong majority of Americans, will:
●  Empower workers to exercise our freedom to organize and bargain.
●  Ensure that workers can reach a first contract quickly after a union is recognized.
●  End employers' practice of punishing striking workers by hiring permanent replacements. Speaking up for labor rights is within every worker's rights—and workers shouldn't lose our jobs for it.
●  Hold corporations accountable by strengthening the National Labor Relations Board and allowing it to penalize employers who retaliate against working people in support of the union or collective bargaining.
●  Repeal "right to work" laws — divisive and racist laws created during the Jim Crow era — that lead to lower wages, fewer benefits and more dangerous workplaces.
●  Create pathways for workers to form unions, without fear, in newer industries like Big Tech.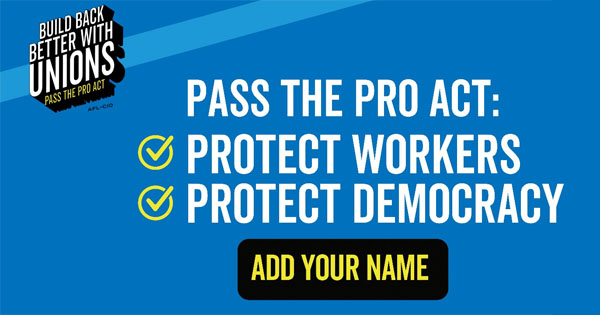 TAKE A STAND — Sign the petition urging senators to support unions, support working people, and support passage of the PRO Act!
The PRO Act passed the House on March 9 with bipartisan support, and President Biden has urged Congress to send it to his desk. But the U.S. Senate is the final obstacle, where no Republicans have declared their support of the bill and the body's arcane filibuster rules requires at least 10 of them to do so.
Both of Washington's U.S. Senators strongly support the PRO Act. Sen. Patty Murray is the legislation's lead sponsor in the Senate and U.S. Maria Cantwell is a co-sponsor.
Among Washington's delegation, Democratic Reps. Pramila Jayapal, Suzan DelBene, Rick Larsen, Derek Kilmer, Kim Schrier, Adam Smith and Marilyn Strickland — all co-sponsors of the bill — voted "yes" on the PRO Act. Republican Reps. Jaime Herrera Beutler, Dan Newhouse and Cathy McMorris Rodgers voted "no."
Short URL: https://www.thestand.org/?p=101728
Posted by
David Groves
on Sep 3 2021. Filed under
NATIONAL
. You can follow any responses to this entry through the
RSS 2.0
. Both comments and pings are currently closed.