Union community service for the holidays
(Dec. 22, 2021) — Most don't hear about the amazing community service work that local unions and their members routinely perform because it is often publicized only in internal newsletters and communications. That is particularly true during the holidays.
So the Washington State Labor Council, AFL-CIO wanted to share a few examples of the many community service projects and charitable contributions that its affiliated unions across Washington state are making during this holiday season:
► Laborers (LIUNA) Local 252 members Renee Lang, Naomi Pavlicek, Cody Andrews and Anthony Johnson installed a Super Power EZ Pool Lift chair earlier this month for a young child with disabilities in Gig Harbor. This wish was submitted to Make–A–Wish Foundation back in 2019, but due to COVID, it was delayed to this year. The existing concrete was demolished and a stable foundation for the lift was poured. A big shout out to Star Rentals of Tacoma for donating the rental of a cement mixer and a hot saw. At one point during installation, the family's dog even wanted to help, leaving its tiny paw prints in the concrete. In the end, these Local 252 members and their community supporters helped this young lady's wish of playing in the water come true.
► Pierce County Central Labor Council's Labor Community Services Agency does an "Adopt a Union Family for the Holidays" program each year. The council's affiliated unions nominate up to 3 of their members who could use a little help over the holidays. Thanks to donations from affiliates, the Pierce County Labor Community Services Agency provides Fred Meyer gift cards — $100 for food and $50 for each child in the household — to buy groceries and gifts for the children. On Dec. 8, they had already provided this service to 18 extremely grateful families with 28 children, with more to come. PCCLC administrative assistant Judy Sharnes oversees the great program.
► Southwest Washington Central Labor Council is also once again participating in Labor's Community Service Agency's Presents From Partners, which aids union families in need during the holiday season. This year's Presents From Partners was a "remote" event, with volunteers from unions throughout Southwest Washington delivering toys, gifts, and food to working families — with more than 500 children in all — in their region on Dec. 18.
► Washington Education Association steps up participation in its WEA Children's Fund during the holidays. The fund reimburses WEA members/public school educators who purchase items for needy students in their districts. Every dollar they raise goes right back into their communities, and with the pandemic still hanging over us, the need is higher than ever.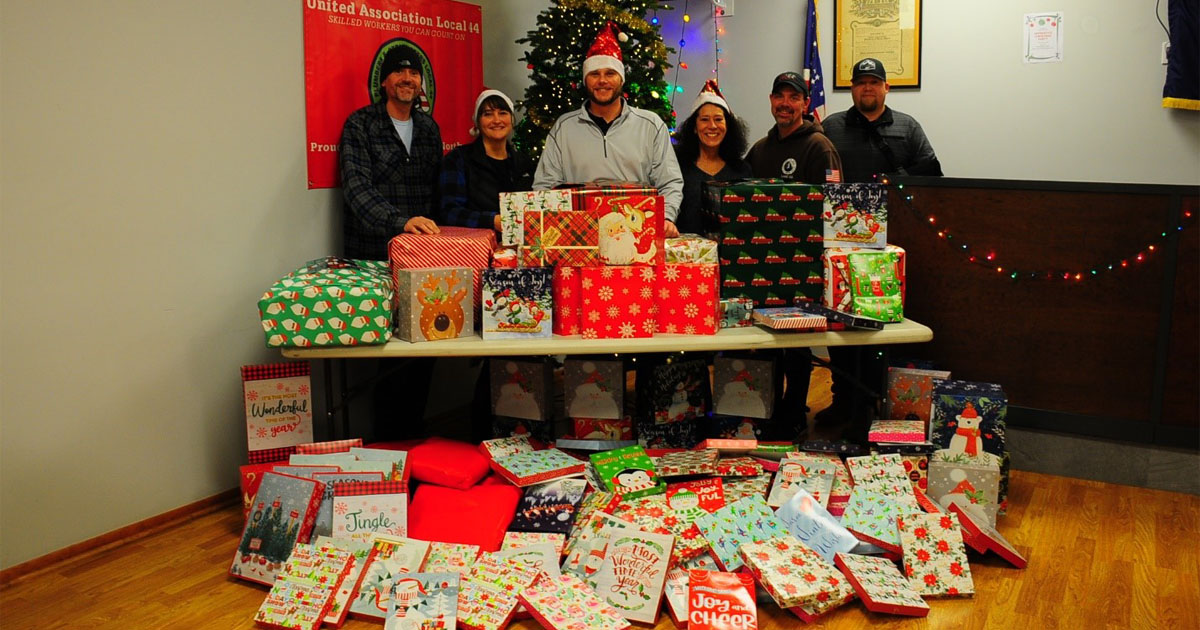 ► Spokane Plumbers and Steamfitters (UA Local 44) donated more than 300 gifts to the Spokane-area 2021 "Meals on Wheels" program. UA Local 44 members and staff are honored to continue to participate in this annual tradition that celebrates their community and people from all walks of life in the Inland Northwest.
► Machinists District 751 has a Turkey Drive each November to collect turkeys for the Rescue Mission in Tacoma to serve at their Thanksgiving meal and also donates turkeys to the Volunteers of America in Everett that supports area food banks. IAM 751 also hold a sock drive to provide new socks to three local charities: Mary's Place, the Rescue Mission and Catholic Community Services. In addition, the union provides volunteer support for the Salvation Army Toy & Joy charity as well as the Marine Corps Toys for Tots charity. IAM 751 volunteers help to pick up and sort toys and then distribute them to families that have been pre-screened by the two charities.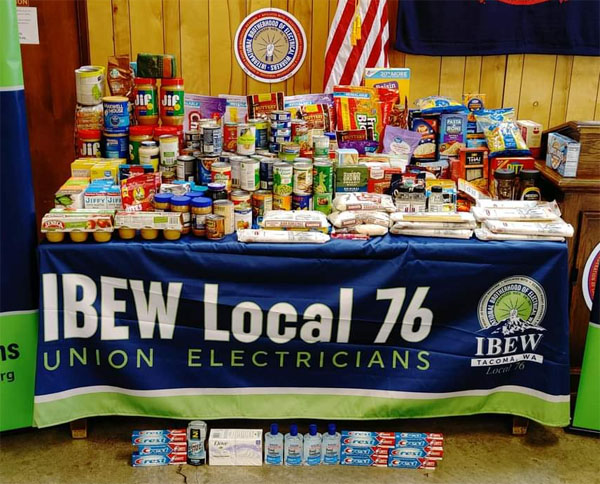 ► IBEW Local 76's RENEW Chapter (Reach out and Engage Next-gen Electrical Workers) recently held a food drive in support of the Emergency Food Network. They brought in more than 400 pounds of food and raised more than $2,000. This is in addition to the 500 pounds and $5,000 raised earlier in the year.
► IBEW Local 46 provides holiday meals for its members in need for both Thanksgiving and Christmas by anonymous nomination. Recipients receive either a turkey or ham plus a grocery gift card for the fixins'. The union also has an Angel Tree, where kids and families in need can put holiday requests/needs for the union's members to fill.
Union members also come together to assist families involved in labor disputes and work stoppages during the holidays.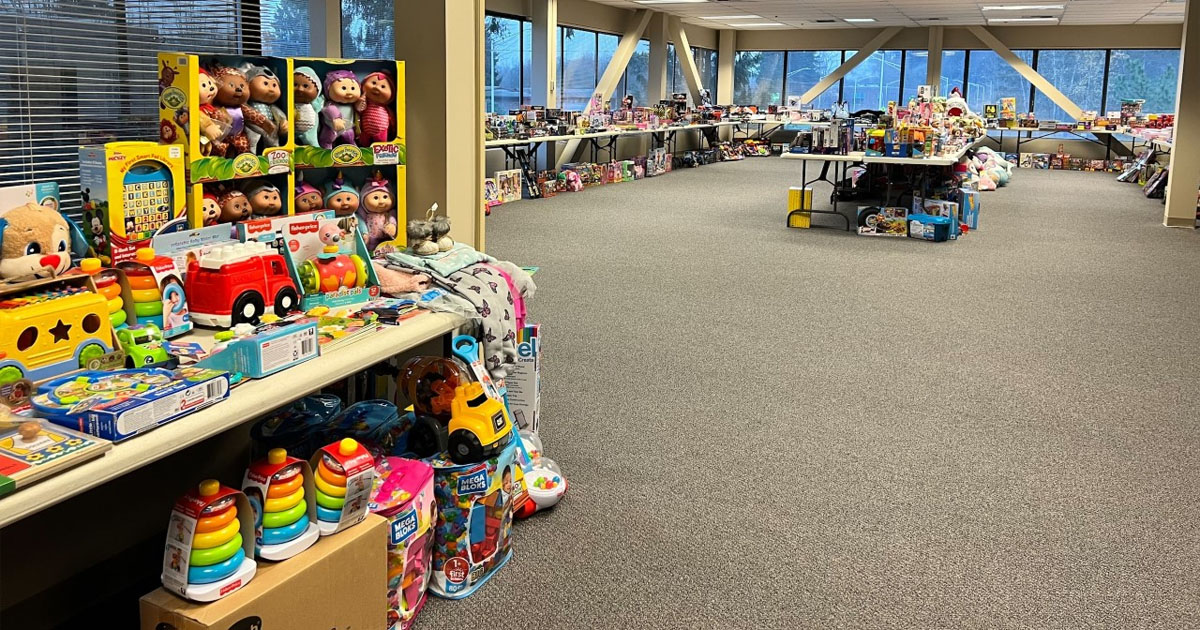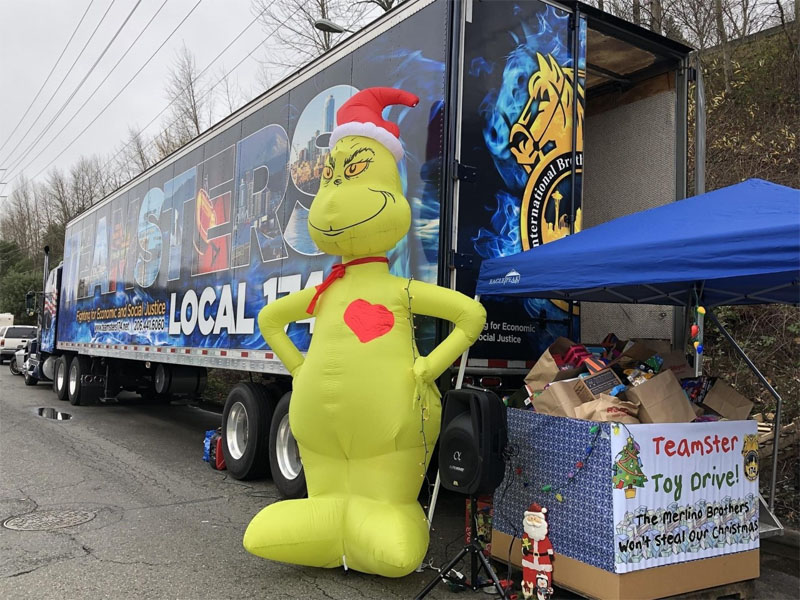 Union members, including the staff of the Washington State Labor Council, AFL-CIO, have donated hundreds of toys to the Teamsters Local 174 Holiday Toy Drive to benefit the families of striking workers at Gary Merlino Construction, Stoneway Concrete, Salmon Bay Sand & Gravel, Cadman, Lehigh Cement, and CalPortland. These toys will make sure that children in the affected families have a great holiday despite the hardship of the strike.
These are just a few examples of the many, many community service projects and charitable donations that these and other union organizations have made in their local communities during this holiday season. With 600-plus union organizations affiliated with the WSLC, there are too many events and community service projects to list them all.
The WSLC recognizes and thanks all union organizations for lifting up their communities and assisting those in need.
Short URL: https://www.thestand.org/?p=104371
Posted by
David Groves
on Dec 22 2021. Filed under
W.S.L.C.
. You can follow any responses to this entry through the
RSS 2.0
. Both comments and pings are currently closed.