'Democracy is fragile and must be protected'
On anniversary of violent Jan. 6 insurrection, AFL-CIO's Shuler urges passage of voting rights legislation
WASHINGTON, D.C. (Jan. 6, 2022) — One year ago today, supporters of President Donald Trump attempted to stop final recognition of the election of President Joe Biden. The mob burst through barricades, assaulted police officers, smashed doors and windows to gain entry into the U.S. Capitol, forced the temporary suspension of election certification as members of Congress and their staff fled for their lives, and then proceeded to vandalize the building.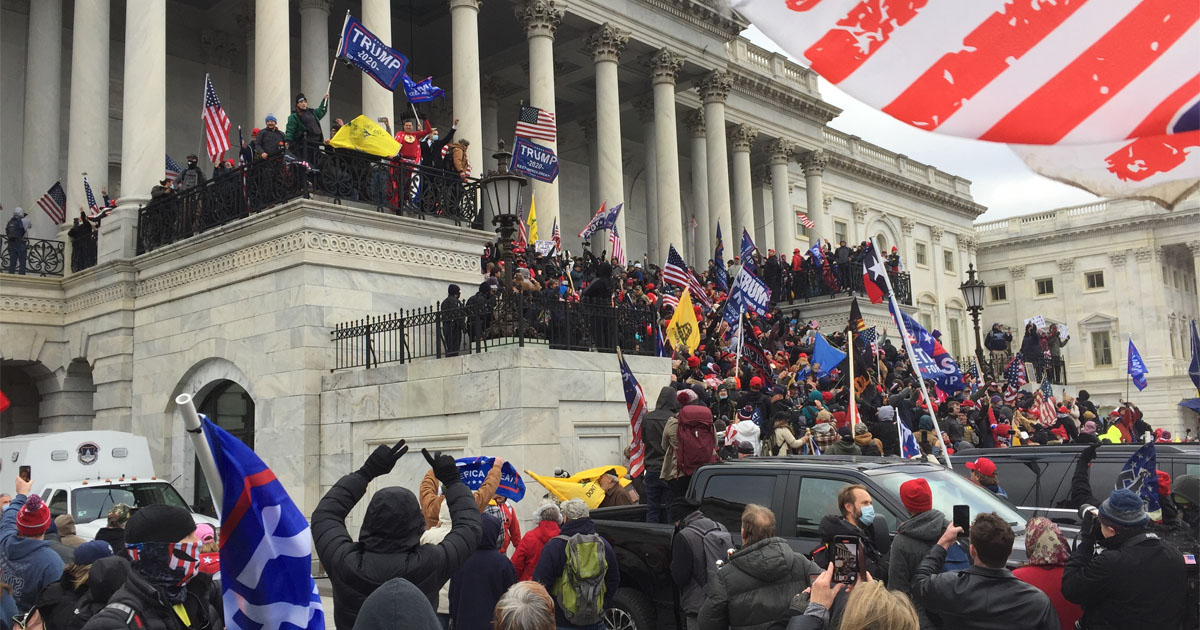 Five people died either shortly before, during, or following the event, including one who was shot by Capitol Police. Many were injured, including more than 100 police officers. Four officers who responded to the attack died by suicide in the ensuing months.
It was a violent insurrection from a mob incited by Trump himself and his most ardent supporters, including some Republican members of Congress, based on baseless claims that the election was "stolen" from him.
The following statement was released this morning from AFL-CIO President Liz Shuler on the one-year anniversary of the Jan. 6 violent insurrection by a pro-Trump mob at the U.S. Capitol:
"One year ago today, we watched in horror as a violent mob, many carrying banners proclaiming white supremacy and anti-government slogans, attempted to block the peaceful transfer of power by storming the U.S. Capitol. On that day, so many of us felt powerless watching the violence unfold. But we are not powerless, and the lesson of the Jan. 6 attack cannot be forgotten. The very people who witnessed firsthand our democracy under assault now have the opportunity to strengthen our system of government, not weaken it. Congress must pass the John R. Lewis Voting Rights Advancement Act of 2021 and the Freedom to Vote Act to protect the right of every American to cast our vote and have that vote counted so that every eligible voter has a say in who represents them.
"If we learned anything from that day a year ago, it is that democracy is fragile and must be protected. Our 12.5 million members are motivated, we are mobilizing and we are organizing to hold our elected officials accountable to defend voting rights and democracy for all."
TAKE A STAND — Sign the AFL-CIO pledge to protect voting rights.
President Biden and Vice President Kamala Harris delivered the following remarks this morning commemorating the anniversary.
---
PREVIOUSLY at The Stand: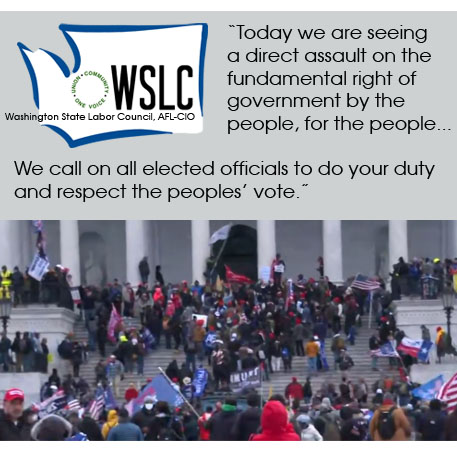 WSLC condemns assault on U.S. Capitol (Jan. 6, 2021) — President Larry Brown and Secretary Treasurer April Sims of the Washington State Labor Council, AFL-CIO: "Today we are seeing a direct assault on the fundamental right of government by the people, for the people. It is an assault on the people's representatives, on public servants, and on the working people that make the U.S. Capitol run… We call on all elected officials to do your duty and respect the peoples' vote. It is past time to work to contain the pandemic, deliver relief to working people, and move forward together. The labor movement stands ready to fight for all working people, and defend liberty and justice for all."
AFL-CIO decries 'attempted coup' at U.S. Capitol (Jan. 6, 2021)
Short URL: https://www.thestand.org/?p=104675
Posted by
David Groves
on Jan 6 2022. Filed under
NATIONAL
. You can follow any responses to this entry through the
RSS 2.0
. Both comments and pings are currently closed.