We must Sideline the Filibuster to protect our right to vote
Please take action TODAY by signing petition, calling senators
WASHINGTON, D.C. (Jan. 12, 2022) —  American democracy is under threat today. To save it, we need real democracy in the U.S. Senate. So the AFL-CIO and America's labor movement are calling on all U.S. Senators to sideline the filibuster and protect our right to vote.
TAKE A STAND — Please participate in this critical effort TODAY by signing this petition and making this call.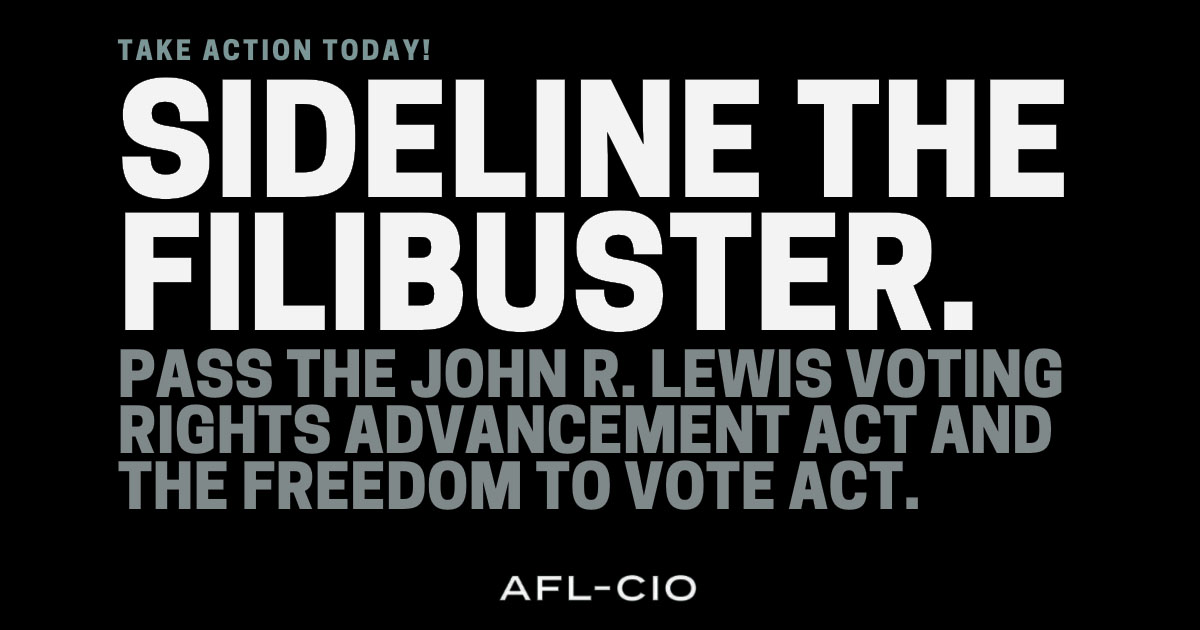 The right to vote is a fundamental cornerstone of our country's democracy. Ordinary men and women have fought—and even died—to gain voting rights and to protect people's right to vote without intimidation or obstruction. Yet states across the country continue to pass voter suppression laws designed to limit our voices.
That's why America's labor movement supports passing the John R. Lewis Voting Rights Advancement Act of 2021 and the Freedom to Vote Act. These landmark federal voting rights bills would restore key parts of the Voting Rights Act to protect the sacred right to vote. But standing in their way is an archaic Senate procedure that allows the minority to block the majority — the filibuster. It shouldn't be this hard to pass laws that help people. It should take a simple 50-vote majority, but this archaic procedure in the U.S. Senate is stopping us.
The AFL-CIO Executive Council calls the filibuster "an artifact of Jim Crow. A creature of white supremacy. A procedure that was said to encourage robust debate but has turned into an instrument of government paralysis. A tool used by those seeking to preserve the social, economic and political status quo, that the AFL-CIO has long opposed, as a matter of principle as undemocratic and rooted in racism."
The choice is clear: we must Sideline the Filibuster, not the hopes, aspirations and representation of America's people.
TAKE A STAND — Our democracy is under attack. The U.S. Senate must sideline the filibuster and make sure everyone can vote. Please take a moment to sign this important petition today: Sideline the filibuster and protect our right to vote. And then, fill out this form to make the call to our U.S. senators urging them to sideline the filibuster. You can also record a video explaining why it's so important to pass the John R. Lewis Voting Rights Advancement Act of 2021 and the Freedom to Vote Act.
Short URL: https://www.thestand.org/?p=104828
Posted by
admin
on Jan 12 2022. Filed under
NATIONAL
. You can follow any responses to this entry through the
RSS 2.0
. Both comments and pings are currently closed.