Survey: 78% of Kroger workers are food insecure
Multi-state survey of 36,000, including Fred Meyers and QFC working in Washington, finds 14% were homeless in the past year
LOS ANGELES (Jan. 13, 2022) — The Economic Roundtable this week released an independent research report, Hungry at the Table, analyzing the working and living conditions of over 36,000 Kroger workers in four states, including Washington. Workers in eight Kroger-owned brands provided data for the report: Fred Meyers, QFC, City Market, Food Company, Food 4 Less, Ralphs, King Soopers, and Smiths.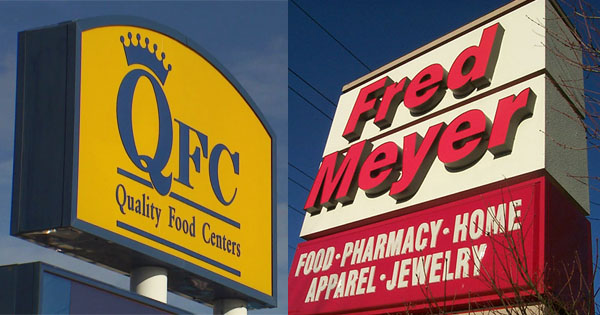 Although food surrounds Kroger workers, 78 percent report that they are food insecure — meaning that they run out of food before the end of the month, skip meals and are hungry sometimes — and 44 percent are unable to pay for rent and 14 percent are homeless now or in the past year.
"Every day is a struggle," said a Food Clerk at King Soopers in Colorado. "I'm a single father and live paycheck to paycheck to feed my kids. Times when I couldn't pay my rent, we ended up on the street. Thankfully I had my car so my family had …a somewhat safe place to sleep."
Some 17,000 King Soopers grocery workers represented by UFCW Local 7 are on a three-week Unfair Labor Practice strike. UFCW Local 555 members who work at Portland,Ore.-area Fred Meyers stores recently conducted a one-day strike before they won a contract offer members could accept.
"King Soopers is enjoying record profits while leaving its workers to struggle with low wages," said UFCW 7 President Kim Cordova. "Grocery workers ensure that our communities have access to food, but they cannot even afford to feed their own families. This is grossly unfair. King Soopers has chosen to enrich its bottom line, instead of protecting workers who have risked their lives on the front lines."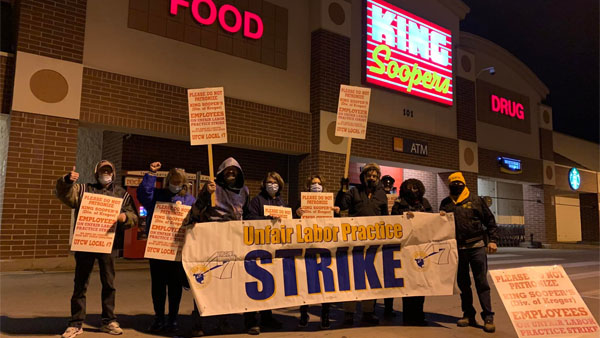 At the same time, workers surveyed in all four states report that Kroger management's cost-cutting practices have compromised personal, health and food safety in stores. Over three-quarters report there are not enough workers at their store to complete assigned work, impacting workplace security, food handling safety and staff protection from COVID impacts. About the same number of all workers report ongoing stress and anxiety from their work conditions.
The COVID pandemic caused significant challenges for Kroger's essential, front-line workers. Over two-thirds reported customer issues and abuse, and one quarter were confronted by customers who threatened violence. Workers said that store managers did not support them in a majority of these issues. Thirty-one percent reported manager retaliation if they raised customer and other issues.
"The Kroger CEO was given over $22 million in bonuses while worker bonuses and hazard pay were constantly cut or threatened," said a Section Lead at a Fred Meyers in Washington state. "Employees at some points had no basic supplies, including paper towels and Band Aids. The company was making money hand over fist and did everything in its power to screw lower-level employees in the middle of a pandemic."
Despite their workplace challenges, two-thirds express pride in the work they do. Sixty-seven percent identified their co-workers as the best part of their job. Many said they wanted more hours; however, Kroger's cost-cutting practices limit two-thirds of their workers to no more than part-time hours. Frequent schedule changes for over fifty percent of the workers further jeopardize their finding other part-time work.
"Kroger is the largest supermarket chain in the U.S. and one of the largest corporations in terms of revenues ($132.5 billion) and employees (465,000)," said Peter Drier, Occidental College Professor of Policy. "Even as workers struggle, Kroger has prospered during COVID and increased executives' pay by millions of dollars. Executives and other shareholders have also benefitted in 2021 from generous dividend increases and $1.3 billion stock buybacks, or four times workers' COVID hazard pay."
Recommendations for improving worker well-being are included in the independent research report, which was commissioned by UFCW Locals 7, 21, 324 and 770.
Key findings from the report on wage impacts, food insecurity, housing and homelessness, working conditions, and COVID impacts, include:
WAGE IMPACTS

The real value of worker wages has declined 6% since 2010. 90% of Kroger workers report that food and rent increases have far exceeded pay increases.
67% of Kroger workers say they do not earn enough money to pay for basic expenses every month. 29% are below or near the federal poverty level.

FOOD INSECURITY

78% of the workers report they are food insecure.  They run out of food before the end of the month, skip meals and are hungry sometimes.
85% of single parents who work for Kroger are food insecure.
Very low food security is a predictor of homelessness. 27% of Kroger workers with very low food security are, or recently have been, homeless.

HOUSING AND HOMELESSNESS

44% are unable to pay for rent and 36% worry about eviction.
14% are homeless now or have been in the past year. Even 9% of full-time workers have been homeless.
44% live in inadequate housing (overcrowded quarters, autos, etc.).

WORKING CONDITIONS

67% of the workers report that Kroger has increased their workload and 75% say they can't complete all of assigned tasks.
Over 58% have work schedules that change at least every week and 30% of the workers with young children are negatively impacted.

COVID IMPACTS

Over 67% reported COVID-related customer issues, 25% were confronted by customers who threatened violence.
Store managers did not support workers in 57% of cases where workers were confronted by abusive or violent customers.
45% of the workers report manager favoritism and 33% report managers retaliating against those who question or complain.
WASHINGTON IS A UNION STATE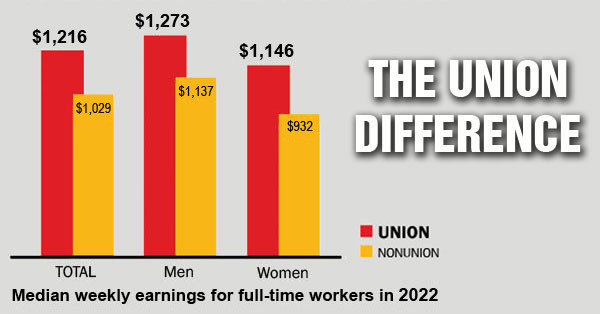 CHECK OUT THE UNION DIFFERENCE in Washington state: higher wages, affordable health and dental care, job and retirement security.
FIND OUT HOW TO JOIN TOGETHER with your co-workers to negotiate for better working conditions and respect on the job. Or go ahead and contact a union organizer today!