Power up Intalco | Patty's priority projects | Hotel workers await recovery
Monday, March 14, 2022
---
COVID
► LIVE from the Seattle Times — Coronavirus daily news update, March 14 — The latest count of COVID-19 cases in Washington totals 1,437,914 infections (14-day average of cases per day: 1,607) and 12,183 deaths.
► From KING 5 — This is where masks are still required in Washington state — tatewide, masks are still required in healthcare settings and on public transit. This falls in line with the CDC's guidance that says universal masking is still required in airports, on airplanes, buses and other forms of public transit.
Healthcare and medical facilities, including hospitals, outpatient, dental facilities and pharmacies
Long-term care settings
Public transit, taxis and rideshare vehicles (federal requirement)
Correctional facilities
EDITOR'S NOTE –Also:
Anywhere you want to demonstrate your respect for frontline public-facing workers who may have underlying health conditions, but have to expose themselves to people all day who might have COVID-19
► From KIRO — Mixed emotions from parents, teachers and students as masks now optional in Seattle schools — The Seattle teachers' union, the Seattle Education Association, is strongly encouraging all students and staff to continue wearing masks for now, particularly in crowded indoor spaces.
► From the AP — China battles multiple COVID-19 outbreaks, driven by stealth omicron
---
LOCAL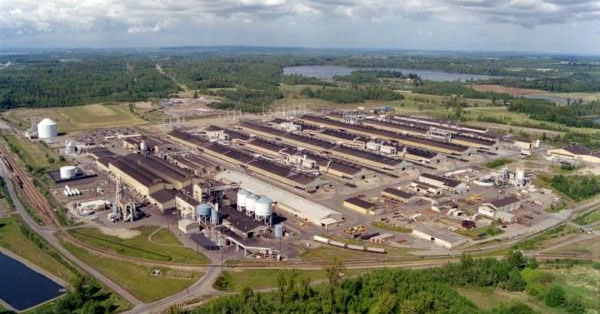 ► From the Bellingham Herald — Funding to improve Intalco finalized, but can it get a power agreement and reopen? — With $10 million in state funding to make environmental and safety improvements, a power contract is potentially the last hurdle to restarting the Intalco Works aluminum smelter facility in Ferndale. The state funding remained in the Washington state budget and awaits the governor's signature after being approved by the legislature. If the facility is restarted, it could mean around 700 living wage manufacturing jobs, providing a much-needed boost to the region that's still recovering from the pandemic, a restricted border and flooding. The facility was curtailed in summer 2020.
TODAY at The Stand:
BPA is the last hurdle to restarting Intalco (by Larry Brown)
Larsen to BPA: 'Work in good faith' to reach deal to restart Intalco
► From KOMO — Employer sentenced in 2016 construction worker death — A Seattle-area construction company owner is facing time behind bars after a trench collapsed and killed one of his workers. Prosecutors believe it's the first time an employer is being held criminally responsible for an on-the-job death. In what L&I is calling a "milestone case," Alki Construction Owner Phillip Numrich was sentenced in early March to 45 days in jail.
---
AEROSPACE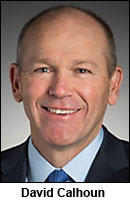 ► From the Seattle Times — Despite Boeing woes, executives get big paychecks — Boeing's annual proxy filing on Friday shows the company's top executives took home millions of dollars in cash pay, and the board granted them large stock awards that will pay millions more if performance improves in the years ahead. Boeing lost $4.2 billion in 2021 as the company struggled through the staggering COVID pandemic blow to the airline business. CEO Dave Calhoun's "take-home pay" last year was $7.4 million in salary, cash bonus and stock awarded when he became CEO that vested in 2021, the filing shows. In addition, Calhoun — CEO for just over two years — was granted new stock and option awards last year with a target value of $16 million.
---
THAT WASHINGTON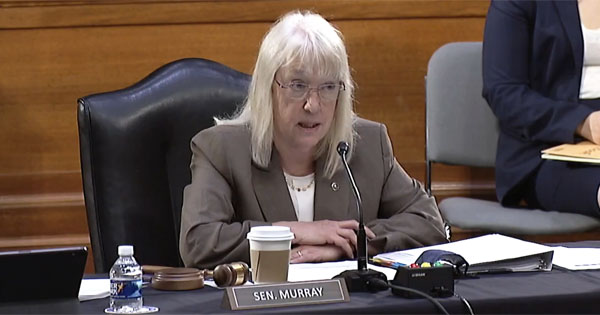 ► From the Seattle Times — Congressional spending bill will fund more than $200 million in projects for Washington state — The federal spending package that cleared Congress will finance dozens of Washington projects ranging from a bridge replacement in Everett to rebuilding a sewer system in the Whitman County town of Malden, which was gutted by wildfire in 2020. U.S. Sen. Patty Murray (D-Wash.) supported funding for more than 50 Washington projects, including $2.5 million for electrification of a Seattle ferry terminal, $1.975 million to construct an early learning center in Puyallup for the Samish Indian Nation, and $2.5 million for a new municipal sewer and wastewater treatment center for Port Hadlock.
► From the Tri-City Herald — Congress adopts record high budget to clean up Hanford nuclear contamination — The Hanford nuclear reservation budget for the current fiscal year will be nearly $128 million more than proposed by the Biden administration and about $25 million above the fiscal 2021 budget. But even that amount falls shy of cleanup costs, Sen. Patty Murray (D-Wash.) pointed out in budget hearings. Congress would need to budget for than $11 billion a year for the next 57 years to complete Hanford cleanup, she said.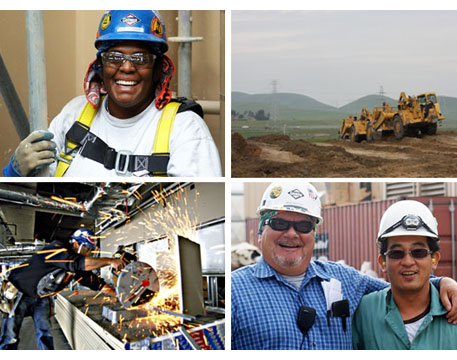 ► From the WSJ — Biden Administration pushes for higher construction-worker pay — The Biden administration is proposing changes designed to push up wages for workers at federally-funded construction projects such as interstates. The proposal would rewrite the rules around the Davis-Bacon Act, a 90-year-old law that applies to government contractors, in an attempt to better account for the increased earnings of construction workers over time, officials said.
► From the AFL-CIO — Biden rule will raise construction workers' wages — AFL-CIO President Liz Shuler: "The Davis–Bacon Act was first signed into law in 1931 to ensure fair wages for those who build our nation. Nearly a century later, President Biden continues to fulfill his campaign promise to be the most pro-union president in our nation's history. Today's expansion guarantees America's infrastructure will continue to be built by the best-trained, highest-skilled workers in the world."
► From Vice — A new Supreme Court case allows the justices to fix one of their worst anti-worker decisions (by Ian Millhiser) — Forced arbitration allows an employer to order its workers to sign away their right to sue the company, or lose their jobs. Instead, any disputes must be resolved in a private arbitration process that gives extraordinary advantages to corporate parties over individuals. In the final two weeks of March, the Supreme Court will hear three cases asking just how much power companies have to force their workers into arbitration.
---
NATIONAL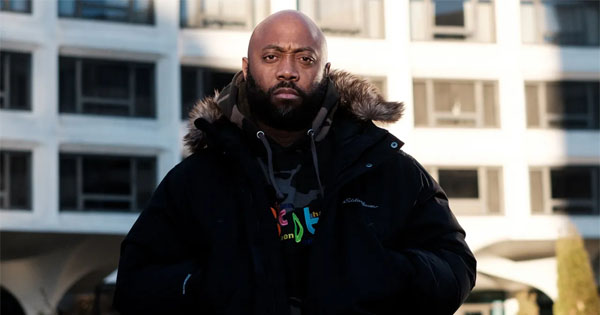 ► From HuffPost — For these hotel workers, the pandemic recession still hasn't ended — The pandemic hit leisure and hospitality harder than any other sector of the economy. As Americans stayed home and local governments instituted lockdowns, jobs in restaurants and hotels disappeared practically overnight. Those jobs have returned in fits and starts as dictated by variants and consumer demand, but they have not returned evenly. Now, nearly two years into the pandemic, Joseph Tolbert of Washington, D.C. still misses his work at the Hilton. He had a good union job that paid more than $24 per hour, thanks to raises through his collective bargaining agreement. He paid nothing for his health insurance plan and grew a defined-benefit pension through his union. Anything else available seems to be a downgrade.
► From MPR News — No deal in sight to end Minneapolis teachers' strike as new school week looms — Officials with the Minneapolis Public Schools and Minneapolis Federation of Teachers traded proposals and counter-proposals over the weekend, but a deal to end a strike by the MFT remains elusive.
► From NBC San Diego — Talks with Ralphs, Vons, Albertsons stall; grocery workers union authorizes strike vote — UFCW 770, one of seven locals representing some 60,000 grocery workers in more than 500 stores from the Central Valley to the Mexico border, will take a strike vote between March 21-26. A three-year-old labor contract between the unionized grocery workers and Southern California supermarkets expired March 7.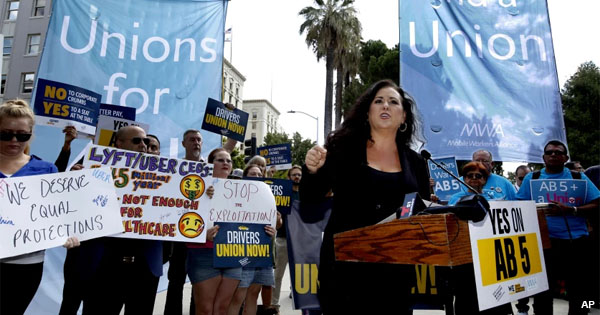 ► From the LA Times — Lorena Gonzalez is a foul-mouthed Latina troublemaker. That's good for California workers. (by Anita Chabria) — What she hates most are toxic employers. The kind who don't pay overtime, who bring on expensive lawyers to keep unions out, who laid off folks during the pandemic and tried to hire back cheaper workers when business picked up. When she talks about such predatory bosses, it's sometimes with an intense, no-holds-barred disdain that includes more than occasional F-bombs. Which is why a few weeks ago, she resigned from the state Legislature and her very important job as head of the Assembly Appropriations Committee and signed up to lead the California Labor Federation. She wanted to seize a chance to be true to herself and the values she's most passionate about — in a job that harnesses the might of 2.1 million workers across 1,200 unions.
---
The Stand posts links to Washington state and national news of interest every weekday morning by 10 a.m.
Short URL: https://www.thestand.org/?p=106773
Posted by
David Groves
on Mar 14 2022. Filed under
DAILY LINKS
. You can follow any responses to this entry through the
RSS 2.0
. Both comments and pings are currently closed.