Keep your mask on | Ghost scabs | Session ends | Get back, Vlad
Friday, March 11, 2022
---
COVID
► LIVE from the Seattle Times — Coronavirus daily news update, March 11 — The latest count of COVID-19 cases in Washington totals 1,434,783 infections (14-day average of cases per day: 1,851) and 12,133 deaths.
► From the Bellingham Herald — On 2nd anniversary of county's first reported case, Whatcom adds 4 COVID-related deaths
► From the Kitsap Sun — Washington's COVID-19 mask rules in schools, businesses are expiring on March 12 — The state's COVID-19 mask requirements will roll back in many settings on Saturday, roughly two years after the arrival of the virus brought much of life to a halt in Washington state. As of Saturday, mask rules will be removed for places like schools, childcare facilities, restaurants and bars, religious buildings, gyms, grocery stores and other retail establishments. Masks will still be required in settings like hospitals, doctors' offices and other medical facilities, jails, long-term care settings and public transit.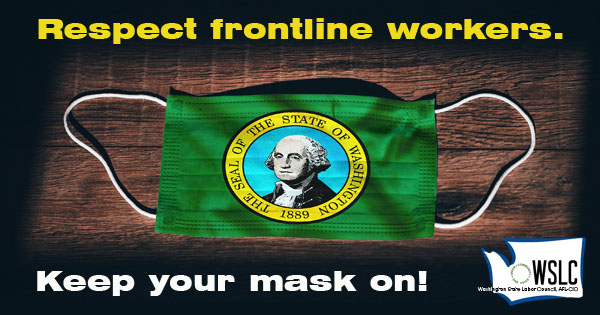 EDITOR'S NOTE — Just because it's not required, doesn't mean you shouldn't continue wearing a mask in public indoor spaces. For two years we have honored the risks and sacrifices that public-facing workers have faced. You can and should continue to show these frontline workers respect by staying masked up. You may only spend 10 minutes in a grocery store or other public space, but the people working there spend the entire day interacting with hundreds of people who may be spreading COVID-19. The pandemic is not over yet. It's no big deal. Keep your mask on!
► From KOMO — TSA extends federal mask mandate for travelers on planes, in transportation hubs — The federal mask mandate for travelers in the U.S. will now continue thru April 18.
---
LOCAL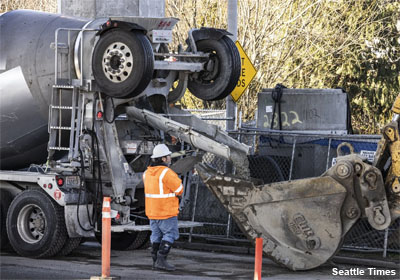 ► From the Seattle Times — Seattle-area contractors working for Sound Transit and others turn to 'ghost trucks' to dodge concrete strike — As a costly labor dispute between concrete mixer drivers and Seattle-area concrete suppliers has dragged on for months, local contractors are turning increasingly to nonunion drivers to get concrete to projects, including at several for Sound Transit. The use of "ghost trucks," as union members call them, began quietly and went largely unnoticed soon after the strike by 330 Teamsters drivers began in early December. But the controversial practice, which often involves bringing in out-of-area drivers to operate some of the estimated 300 local mixer trucks owned by several of the six local suppliers, has become evermore standard for contractors as talks between Teamsters and the companies have stalled. Said Brett Gallagher, a Teamsters bargaining committee member and a driver for a CalPortland:
"I don't think it's taking our bargaining power away. It shows me that these companies will do whatever it takes to keep us from having a fair contract."
EDITOR'S NOTE — Get more information about how these concrete companies' ghost trucks are putting the public at risk.
The Stand (March 10) — Strike continues after 'union busting' offer — Teamsters 174: In further proof of failure to bargain in good faith, Merlino Construction proposes contract offer that moves dramatically backwards from prior proposals.
---
THIS WASHINGTON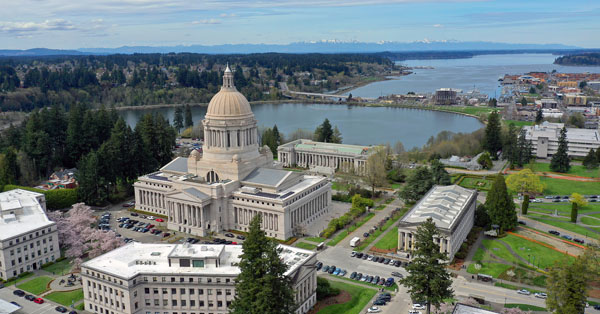 ► From the Spokesman-Review — Legislature adjourns for year, passing $64 billion budget, $17 billion transportation package — State lawmakers finished their work Thursday, passing the state budget on party lines and completing other important legislation. The two chambers spent the last day of their 60-day session passing a $64 billion supplemental budget, a new transportation package, a bill to allow legislative staff to begin collective bargaining in 2024 and a state student loan program. The budget does not include any tax increases nor does it include any broad tax cuts.
► From the Seattle Times — Highways, transit, bikes and more: What's in the new $17B WA transportation package
TODAY at The Stand:
'A major step forward' for Washington state — On the 2022 session's final day, the Legislature approves historic transportation package, state employee raises, progress toward bargaining rights for legislative staff, and job-creating tax incentives.
How pro-worker bills fared in Olympia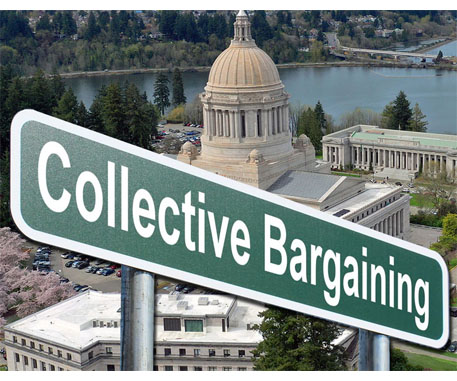 ► From the Spokesman-Review — Plan to allow legislative staff to unionize awaits Inslee's signature — Beginning in 2024, legislative staff can start the process of collective bargaining, if Gov. Jay Inslee signs a bill passed by the Legislature on Thursday. The bill passed 28-20 in the state Senate on Thursday, and changes made were OK'd in the state House of Representatives. The proposal received attention this session after more than 100 staffers called in sick to protest the bill originally dying. A different version was since revived.
► From The Stranger — A 'dream come true' for Washington's film industry — Twilight. Sonic the Hedgehog 2. The Killing. All are films or TV series set in Washington but shot out of state because our film incentives f—ing suck. Or, they did suck. After years of advocacy, Washington's film industry is about to get a lot more competitive. On Thursday, the Washington State Senate and House passed a bill that will majorly update and expand the state's Motion Picture Competitiveness Program, an initiative to attract more film productions to our sexy state.
► From the Seattle Times — State Sen. Tim Sheldon, Rep. Jesse Johnson won't return to Legislature — Sen. Tim Sheldon ("D"-Shelton), a conservative Democrat who in recent years has crossed the aisle to work with Republicans, is retiring. Meanwhile, Rep. Jesse Johnson (D-federal Way), who last year shepherded two of the biggest policing reform laws, announced he also wouldn't run for reelection.
---
THAT WASHINGTON
► From The Hill — Senate averts shutdown, passes $13.6B in Ukraine aid — The Senate passed a massive bill to fund the government and provide new Ukraine-related aid, sending the 2,741-page bill to President Biden's desk.  Senators voted 68-31 on the bill, which includes $1.5 trillion in government funding and $13.6 billion in aid tied to Ukraine.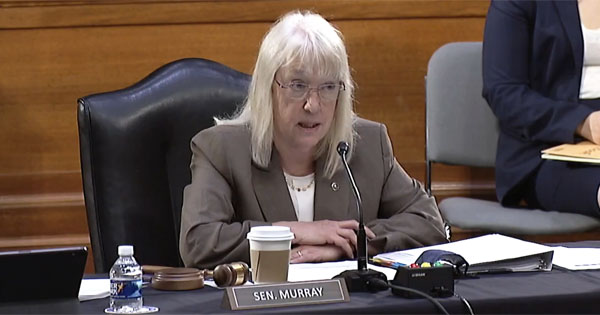 ► From Murray.senate.gov — Murray fights for Washington state in bipartisan federal funding bill — Among other major investments that will help people in Washington state, the funding bill includes several top priorities for Sen. Patty Murray (D-Wash.):
A 2.7% raise for Washington state servicemembers.
The biggest boost in funding to Washington state public schools, and schools across the country, in over a decade.
Historic funding for Head Start Programs and a $400 annual increase in the maximum Pell Grant for students.
A reauthorization of the Violence Against Women Act that includes Senator Murray's Survivors' Access to Supportive Care Act.
This bill includes $2.595 billion for the cleanup of the Hanford site—notably, this is $128 million above the President's Budget Request.
Investments in cutting edge research as a part of President Biden's cancer moonshot project.
Funding for projects greenlit by the Bipartisan Infrastructure law that will help create jobs everywhere in Washington state.
► From the Washington Post — Biden will seek to end normal trade relations between U.S. and Russia — The president's announcement, expected Friday, would make it much easier for the White House to impose tariffs on Russian imports.
► From the NY Times — Facing economic calamity, Putin talks of nationalizing Western businesses — Besieged by an onslaught of sanctions that have largely undone 30 years of economic integration with the West in the space of two weeks, President Vladimir V. Putin on Thursday opened the door to nationalizing the assets of Western companies pulling out of Russia and exhorted senior officials to "act decisively" to preserve jobs.
---
NATIONAL
► From Newsweek — Uber, Lyft to bear brunt of record-high gas prices, labor expert predicts — While some hourly workers can cut down their driving time or carpool to offset the costs, drivers for ride-sharing apps, like Uber and Lyft, have no choice but to cough up the money in order to keep earning. Inflation on things like gas are particularly troubling for workers in states that still abide by the federal minimum of $7.25 an hour. If a federal minimum-wage worker were to fill a 12-gallon tank of gas today, it would cost them almost an entire day's pay.
► From ESPN — MLB commissioner Rob Manfred, union chief Tony Clark hail new CBA as lockout ends — Major League Baseball and the MLB Players Association reached a new collective bargaining agreement Thursday afternoon, finally halting a 99-day owner-imposed lockout fraught with rampant tension and colored by heightened mistrust. Opening Day will come on April 7, a week later than originally scheduled, but 162 games will nonetheless be played.
► From the San Gabriel V-T — Southern California grocery workers schedule strike-authorization votes — After weeks of fruitless negotiations, some 43,000 Southern California grocery workers employed by Ralphs, Albertsons, Vons and Pavilions have scheduled strike-authorization votes that could signal a potential walkout at the supermarket chains. The employees, represented by the UFCW, saw their contract expire Sunday March 6. They have scheduled strike votes for the week of March 21.
► From In These Times — This is how Starbucks workers won a union in Mesa, Arizona — In Mesa, the company's retaliation against a cancer-afflicted manager drove workers into the arms of SWU and Workers United, the SEIU affiliate that has been supporting these union drives nationwide.
EDITOR'S NOTE — Tired of being disrespected? Get more information about how you can join together with co-workers and negotiate a fair return for your hard work. Or go ahead and contact a union organizer today!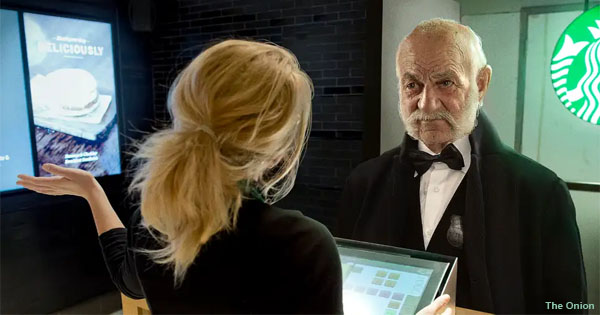 ► From The Onion — Starbucks fights unionization effort by hiring Pinkertons to order exhausting, hyper-specific drinks — A representative from the Pinkertons who spoke on condition of anonymity told reporters that Starbucks CEO Kevin Johnson had directed their agents to demoralize baristas and create a toxic situation in their workplace with drink orders that called for a minimum of 10 ingredients, including at least six pumps of an ingredient not listed anywhere on the menu.
EDITOR'S NOTE — But seriously folks…
The Stand (Feb. 14) — Tell Starbucks: Reinstate fired workers, stop union busting!
TAKE A STAND — Send Starbucks a message telling the company to reinstate its Memphis workers fired for supporting unionization, and stop union-busting!
---
T.G.I.F.
► He turns 80 in June, but Sir Paul McCartney is still touring. In fact, he's about to kick off what could be his final tour on April 28 at the Spokane Arena. (No surprise that people are paying a LOT of money to see the "cute one" in Spokane.) To celebrate, The Entire Staff of The Stand dug up this clip of McCartney performing in Kyiv (only Russians call it "Kiev"). This song was originally intended to be a satirical and critical look at racist attitudes towards immigrants among certain British politicians in the late 1960s. But in today's context, it could just as well be a message from the Ukrainian people to Vladimir "Jo Jo" Putin. Get back. Go home.
---
The Stand posts links to Washington state and national news of interest every weekday morning by 10 a.m.
Short URL: https://www.thestand.org/?p=106715
Posted by
David Groves
on Mar 11 2022. Filed under
DAILY LINKS
. You can follow any responses to this entry through the
RSS 2.0
. Both comments and pings are currently closed.