We're moving ahead | 6 of 7 at Starbucks | Jones Act targeted
Thursday, March 10, 2022
---
THIS WASHINGTON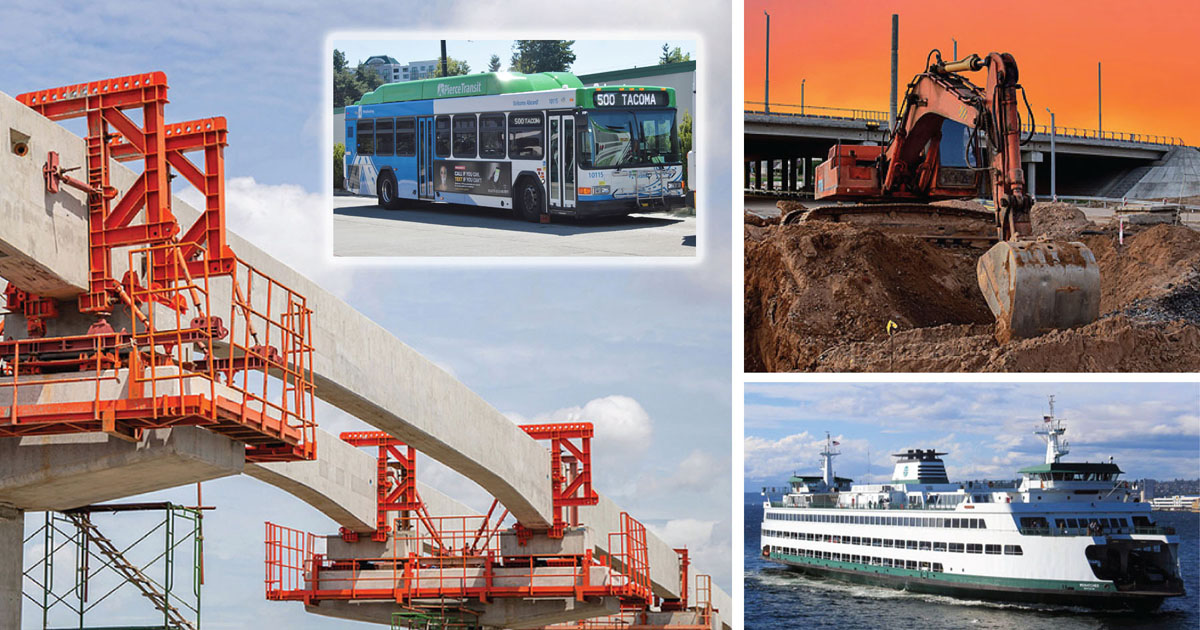 ► From the (Everett) Herald — Dems push through sweeping $17B state transportation package — Majority Democrats drove their ambitious $17 billion transportation spending plan to the finish line Wednesday amid continuing criticism from Republicans and ongoing questions bout how the money will eventually be spent. The final version of the 16-year package, dubbed Move Ahead Washington, emerged from a conference committee on a party-line vote. It will be voted on in the full House and Senate on Thursday, the final day of the 2022 legislative session.
The Stand (Feb. 9) — Coalition backs 'Move Ahead Washington' package — Labor, business and environmental interests support bold transportation effort.
► From the union-busting Columbian — I-5 Bridge project funding back to $1B in transportation package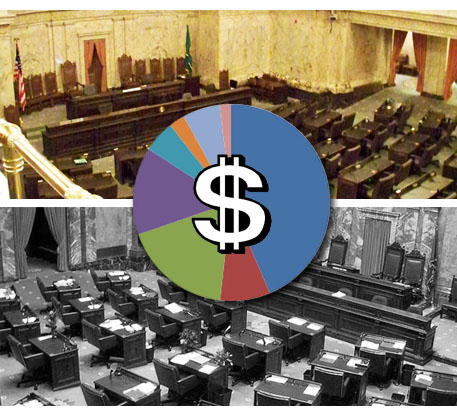 ► From the AP — Washington lawmakers reach budget agreements as adjournment nears — House and Senate budget negotiators reached agreement Wednesday on a $64.1 billion supplemental state budget, one day before the Washington Legislature is set to adjourn its 60-day legislative session. The compromise budget builds off of the $59 billion, two-year spending plan adopted by the Legislature last year and is similar to initial proposals released last month by both chambers, with significant spending in a variety of areas, including efforts on reducing homelessness, adding more social supports like nurses and counselors for students, and behavioral health.
► From the Spokesman-Review — Legislature passes capital budget — The Legislature has unanimously passed a $1.5 billion supplemental capital budget that includes funding for affordable housing and behavioral health resources in Spokane.
► From the Spokesman-Review — Washington's mask mandate is ending Saturday, but the choice will remain for schools — New guidance issued Tuesday from the Washington state Department of Health clears the way for school districts to make masks optional for students starting Monday. However, the final decision is up to each district, DOH reiterated.
► From the Seattle Times — Seattle Public Schools to lift mask mandate, but some say it's too soon — SPS's announcement that masks would be optional in classes and buses starting Monday was met with the threat of a walkout from students, while educators alleged the district was violating its contract with the teachers union.
---
STARBUCKS

► From the Olympian — Olympia Starbucks joins nationwide union push, citing 'abysmal working conditions' — Baristas at a Starbucks in west Olympia have filed to join a union, as stores across the country band together for employee rights. In the letter, signed by at least 20 people, employees at the Cooper Point Village Starbucks referenced the company's record-breaking $8.1 billion in revenue reported in the first quarter of 2022. Despite the uptick, employees said they've continued to experience "abysmal working conditions" that have made it difficult for them to be proud of who they work for.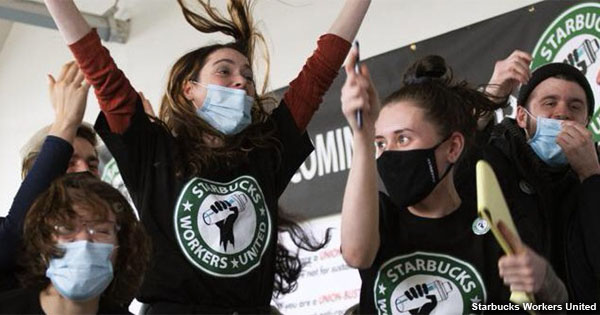 ► From NPR — Three more Starbucks locations in Buffalo area vote to unionize — The number of unionized Starbucks stores has doubled after employees at three more locations in the Buffalo area voted to join Workers United, a union affiliated with the SEIU. The tallies at all three stores were close, with one location voting 8-7 and the other two voting 15-12 in favor of a union. "It's been a slog of a legal process," says Colin Cochran, an employee at one of the stores, noting that his location first petitioned for a vote six months ago. "It shouldn't be this hard… but at the end of the day, winners win."
EDITOR'S NOTE — Ready to win? Find out more information about how you can join together with co-workers and negotiate for better working conditions and a fair return for your hard work. Or go ahead and contact a union organizer today!
---
JONES ACT



► From Roll Call — U.S. shipping rules complicate bid to ban Russian oil and gas — As pressure builds to end the flow of Russian oil and gas into the United States, some lawmakers are pointing to a century-old shipping law as a potential hurdle. A section of the Merchant Marine Act of 1920 — commonly referred to as the Jones Act — requires that merchandise transported by water between U.S. ports be shipped solely aboard vessels that are U.S.-built and owned and crewed mostly by Americans. Following Russia's invasion of Ukraine, Jones Act critics have blamed the law for why parts of the United States, such as Hawaii, import oil and gas from Russia rather than using domestic supplies.
EDITOR'S NOTE — In yet another case of turning a crisis into an opportunity, the Jones Act is under attack (again) by certain politicians and media interests. Although Russia's invasion of Ukraine has caused gas prices to spike recently, the underlying cause of high gas prices even before this conflict was the pandemic and its disruptions to global supply and demand. Although President Biden recently reaffirmed his longtime support of the Jones Act, outside interests will continue to try to undermine the law, as they have for decades. We must protect the Jones Act, which AFL-CIO Maritime Trades Department President Michael Sacco calls "a pillar of not only the United States maritime industry, but also our country's national, economic and homeland security."
The Stand (June 5, 2020) — AFL-CIO Maritime Trades celebrate 100 years of Jones Act
---
THAT WASHINGTON
► From The Hill — House passes sweeping $1.5 trillion omnibus spending bill — The House passed a sweeping $1.5 trillion omnibus spending package on Wednesday night to fund the government, hours after lawmakers scrapped billions in funding to combat the COVID-19 pandemic amid resistance from Democrats upset about plans to yank already allocated relief from states.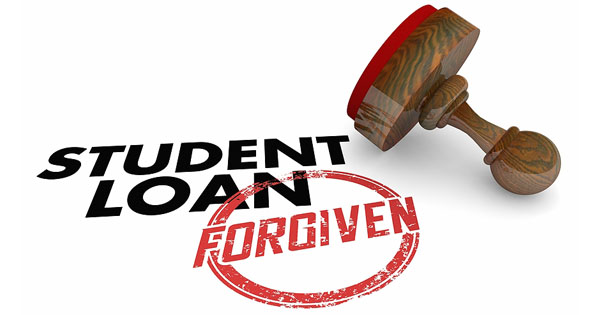 ► From CNN — Public Service Loan Forgiveness: 100,000 borrowers are eligible so far under new rules — The Department of Education said Wednesday that it has so far identified 100,000 borrowers who are eligible for student debt cancellation due to the changes the agency made to the Public Service Loan Forgiveness program in October. The cancellations for those people are expected to total about $6.2 billion in federal student debt relief. Not all of the eligible borrowers have been notified of their debt relief yet. They are being notified on a rolling basis, and the Department of Education could not provide a date when all of them will have been contacted.
The Stand (Jan. 24) — SB 5847 would improve access to Public Service Loan Forgiveness — SB 5847 would publicize the existence of this potentially life-changing program to all public service employees in Washington state, improve the process for PSLF applicants' certification of public employment, and importantly, ensure that the time that part-time college faculty spend performing additional duties outside of the classroom counts toward their PSLF qualification as public service employees.
UPDATE — SB 5847 passed both the House and Senate, and is now headed to Gov. Inslee's desk for signature.
► From Politico — Biden officials signal they might extend student loan payment freeze — Education Department officials instructed the companies that manage federal student loans to hold off on sending required notices to borrowers about their payments starting
► From HuffPost — Federal COVID-19 relief saved child care for millions, report says — If you are in a working family and have managed to hold on to your child care during the past two years, you may have the federal government to thank, according to a new report.
► From the AP — Texas flagged 27,000 mail ballots for rejection in primary — It puts the rate of rejected mail ballots in Texas on track to significantly surpass previous elections.
► From Politico — Local election officials are exhausted, under threat and thinking about quitting — A new poll of election administrators showed nearly 8 in 10 think threats against them are on the rise.
► From the AFL-CIO TTD — BIL delivers green transit and good union jobs — In this video, Transportation Trades Department President Greg Regan and Congressman Rick Larsen (D-WA, 2nd) break down the provisions in the Bipartisan Infrastructure Law that will boost green transit and create good union jobs.
---
NATIONAL
► From the Minneapolis Star-Tribune — Minneapolis teachers union pushes support-staff raises; district questions how much it can afford — Wages for support staffers have proven a key issue in the negotiations between the Minneapolis teachers union and the school district. The city's educators began their strike Tuesday after union and school officials were unable to reach an agreement on that matter as well as class-size caps, increased mental health support for students and "competitive" salaries for teachers.
► From the AP — MLB cancels 93 more games, gap narrows in bargaining — On the 98th day of the lockout, MLB Commissioner Rob Manfred announced two additional series had been canceled through April 13. That raised the total to 184 games wiped out from the 2,430-game regular season, or 7.6%.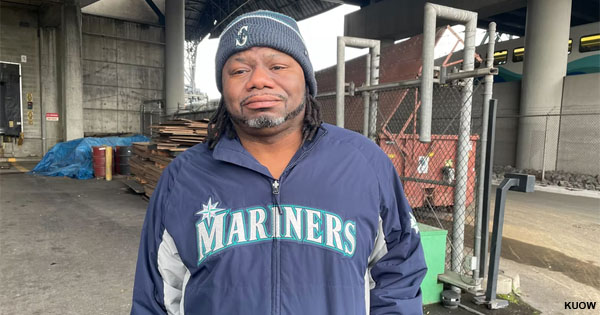 ► ICYMI yesterday from KUOW — 'It's been a rough two years.' Seattle MLB stadium workers have some demands of their own — Stadium employees say they are concerned about health insurance coverage, bleeding through their savings, and some not qualifying for unemployment. As negotiations persist, workers represented by UNITE HERE Local 8, have demands of their own. They are asking for a fair contract for the baseball employees, a $22 minimum wage similar to the workers at nearby Lumen Field, health care coverage for employees that lost coverage during the lockout and pandemic, and they also want tip lines at all concessions.
The Stand (March 4) — Players launch $1 million fund for workers affected by MLB lockout
► From the Washington Post — Forgotten tipped workers like hotel maids and airport skycaps were already hit hard by a cashless economy. Then came the pandemic. — While the pandemic has led to a surge in tipping for restaurant servers and food delivery workers, millions of other tipped workers have been largely excluded from this newfound generosity. These often-overlooked workers — hotel housekeepers, bellhops, carwash jockeys, airport skycaps and wheelchair escorts among them — have been hit hard by an increasingly cashless economy and new pandemic work rules that chip away at tipping opportunities.

► From The Guardian — 'It's not worth it': Rising gas prices force drivers to work for less than minimum wage — Rising prices are hitting gig workers particularly hard as fuel makes up a large part of their daily costs. Uber and Lyft drivers already struggling after the pandemic hit both wages and working conditions say paying more at the pump means they have to spend more time driving in order to achieve the same level of pay. Some are spending more than 60 hours a week working, and some say driving is simply no longer profitable.
► From NPR — Nurses are waiting months for licenses as hospital staffing shortages spread — Courtney Gramm waited seven months for her nurse practitioner license at a time when COVID-19 cases were skyrocketing across the U.S. and hospitals were desperate to keep nurses on staff. Her story is a familiar one for nurses throughout the country. Nursing boards, meant as a safeguard, have become an obstacle, preventing qualified nurses from getting into the workforce for months when basic vetting should take only weeks.
► From Reuters — United Airlines to let unvaccinated employees return to jobs March 28: memo
---
The Stand posts links to Washington state and national news of interest every weekday morning by 10 a.m.
Short URL: https://www.thestand.org/?p=106670
Posted by
David Groves
on Mar 10 2022. Filed under
DAILY LINKS
. You can follow any responses to this entry through the
RSS 2.0
. Both comments and pings are currently closed.