Larry Brown: 'It's been the honor of a lifetime to serve you'
WSLC President Larry Brown announces he's not running for re-election
By LARRY BROWN
---
(March 8, 2022) — Since the start of 2019, I have had the extraordinary honor of serving as President of the finest AFL-CIO state federation in the country. I've worked alongside Secretary Treasurer April Sims — one of the most dynamic, inspiring labor leaders I've ever known — and been blessed to have an engaged Executive Board and a truly talented, dedicated staff.
But after careful consideration, I have made the decision to retire at the end of 2022 and not seek re-election as President of the Washington State Labor Council, AFL-CIO. It has been the honor of a lifetime to serve Washington's working people in this role, but it is time to clear the way for the next generation of leaders.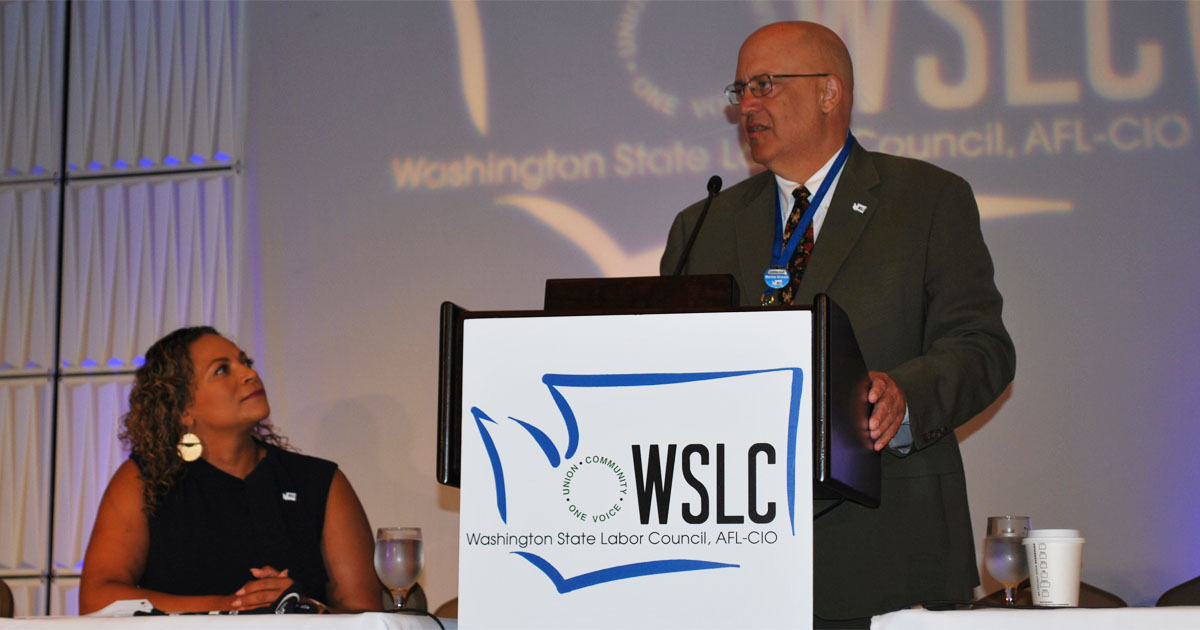 When I decided four years ago to run for WSLC President, my goal was to focus on building out economic opportunity across the state — rural, suburban and urban. I wanted to build stronger connections between our regional and central labor councils and the WSLC. And I wanted to continue and build upon the WSLC's ground-breaking work on equity, opportunity and inclusion.
We've made great progress in all of those areas during my term.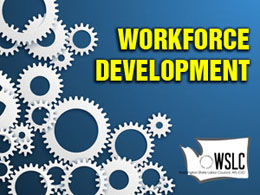 The WSLC's Workforce Development Department has long been known for providing rapid response assistance when there are plant closures or mass layoffs in Washington state. But it has expanded its focus on ensuring that Washington's workforce training system is meeting the workers' needs, including actively supporting the creation of more apprenticeship opportunities that lead to family-wage careers.
This focus on building out economic opportunity has also been a priority for the WSLC's exceptional legislative lobbying team. I've been proud of our role in helping advance Washington workers' rights by winning overtime pay for farmworkers, expanding collective bargaining, protecting public employee privacy, and guaranteeing rest and meal breaks for healthcare workers, to name just a few. We have helped set the state on a path to cleaner and greener energy while insisting upon strong labor standards as we create these new clean energy jobs. And this year, although the session's not over yet, I'm optimistic we will achieve tremendous new gains promoting apprenticeship and creating good jobs in every part of this state with a robust transportation investment package.
This real progress for Washington working families has been aided by the WSLC's innovative political program, which supports the election of pro-worker candidates, and recruits/trains union members and community allies on how to successfully seek political office. It has also been bolstered by a WSLC communications team that, among other things, keeps us all informed right here with The Stand. And all this progress is being achieved while maintaining core WSLC services like the Project Help program for injured workers and the Foundation for Working Families to assist union families in need.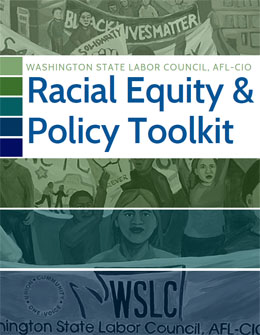 During my tenure, I'm proud that the WSLC hired a first-in-the-nation Director of Racial and Gender Justice to make sure that the fight for equity and fairness informs all of the work we do. Our ground-breaking Race and Labor educational program has reached thousands more union members, and we recently launched the WSLC Racial Equity & Policy Toolkit to better integrate racial equity into our legislative and public policy advocacy. Similarly, we have continued to advocate for immigrant rights and recently launched a Immigrant and Worker Justice Toolkit to provide resources and support for that critical effort.
But more than anything else, my time as WSLC President has been defined by this tragic COVID-19 pandemic and the efforts of our union movement to protect the frontline workers who have always been essential to keeping our economy and society functioning. It has been a time of personal hardship and tragedy for many, for unprecedented public policy challenges, and for a national reassessment of our work, our lives, and what is truly important.
That reassessment has led to a surge in union popularity and activity, with more and more working people joining together to demand better working conditions and fair pay. Here in Washington, union membership is on the rise. With an additional 72,000 workers joining the ranks last year, there are now an estimated 629,000 union members in Washington, making us the third most unionized state in the nation behind only Hawaii and New York.
Although I have decided not to seek re-election, my work at the WSLC is far from done.
As soon as we get the WSLC's important legislative priorities across the finish line, we need to immediately begin mobilizing for the critical mid-term elections. This work is essential for continued progress on creating good jobs and expanding workers' rights. I also will continue working to promote rural economic development, such as the work I've been doing to promote the sale of the Intalco aluminum smelter near Ferndale and the restoration of more than 700 family-wage union jobs to a community that needs them.
I'm looking forward to continuing to pursue these goals alongside Secretary Treasurer Sims and the WSLC staff, and I have confidence we will achieve them. Then I will fulfill my most fundamental wish for my term as your President: to hand off an even stronger Washington State Labor Council to the next generation of labor leaders.
Thank you for giving me the honor to do this important work, and thank you to the labor leaders and WSLC Executive Board whose solidarity with each other is an example to the nation of how to build power on behalf of workers.
---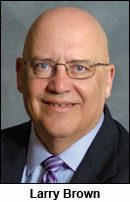 Larry Brown is President of the Washington State Labor Council, AFL-CIO.
Short URL: https://www.thestand.org/?p=106523
Posted by
admin
on Mar 8 2022. Filed under
TAKE A STAND!
,
W.S.L.C.
. You can follow any responses to this entry through the
RSS 2.0
. Both comments and pings are currently closed.