Puget Sound-area grocery workers vote on tentative deal
The following is from UFCW 3000:
(April 26, 2022) — After months of preparation, and workers taking action to prepare for a strike if necessary, marathon bargaining sessions throughout April led to Tentative Agreements with Albertsons/Safeway and Kroger. Planned Informational Pickets that had been set for today (Tuesday, April 26) have been cancelled and voting on the Tentative Agreements began Monday. This historic agreement is a direct result of our actions and commitment to fighting for essential frontline grocery store workers and serving the communities in which we live.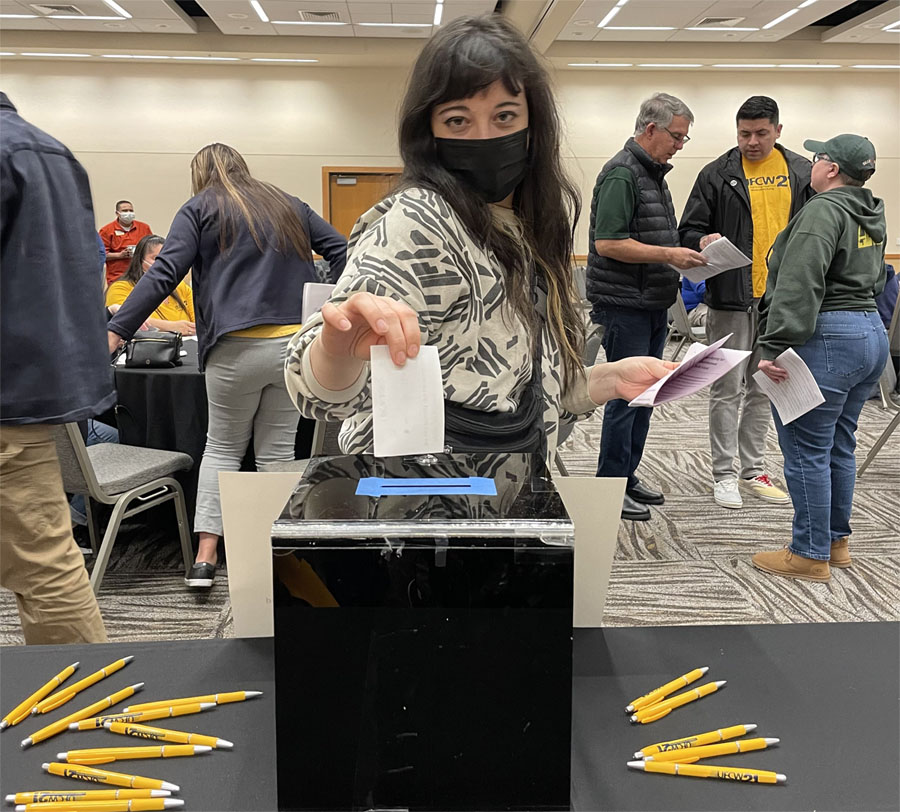 The Union Member Bargaining Team that reached this Tentative Agreement recommends a YES VOTE to accept the proposal from the employers. This Tentative Agreement is not final until grocery store workers vote to accept it. Full details of the agreement will be provided at each vote location.
CONTRACT VOTE MEETINGS TIMES AND LOCATION
All vote meetings will be open between the hours of 8 a.m.to noon and from 4 to 8 p.m. (Voting began in Lynnwood on Monday.)
Tuesday, April 26 in SEATAC — Hilton Seatac, 17620 International Blvd.
Wednesday, April 27 in BELLEVUE — Meydenbauer Center, 11100 NE 6th St.
Thursday, April 28 in BREMERTON — Kitsap Conference Center, 100 Washington Ave.
Thursday, April 28 in OLYMPIA — The Olympia Center, 222 Columbia St NW.
Friday, April 29 in SEATTLE — UFCW's Joe Crump Hall, First Floor Conference Room, 5030 First Ave. S.
Vote Results will plan to be released after all voting is completed and ballot counts are verified
Some top-line information:
► WINNING HIGHER WAGES — This agreement includes the best wage increases in our union's history — Increases that make permanent, and in many cases exceed the hazard pay workers got in the pandemic.
► ADDRESSING PAY EQUITY ACROSS DEPARTMENTS — For years we have been working toward fundamentally changing pay scales so that underpaid departments are paid more equitably. This Tentative Agreement has significant wage increases for all perimeter departments such as Deli, Coffee, Bakery, E-Commerce, Floral, GMHBC, and Fuel, with integration onto a higher paid All Purpose Clerk scale.
► PROTECTING OUR HEALTH PLAN — For another three years there will be no increased costs for members for our quality, affordable health care. At the same time, we were able to negotiate improvements to health, vision, and dental insurance.
► KEEPING OUR PENSION SECURE — Our pension continues to be well-funded and secure into the future, including increases in employer contributions to our pension as our wages go up.
► IMPROVING SAFETY — We won mandates for our Master Safety Committee Meetings so we have pre-scheduled meeting dates where our employer will discuss our safety concerns directly with worker representatives.
"This new scale moves us one step closer to having a single pay scale for everyone in the store," said Albertsons employee Kyong Barry. "An hour of work is an hour of work, regardless of what department you are in, and we deserve to be compensated equally."
"This contract is a historic deal," said Fred Meyer employee Jeff Smith. "No one in this region has seen wage increases like this ever and it will go a long way to address inequities in Fred Meyer stores."
"I'm very excited about this agreement," said QFC employee Amy Dayley. "It is the best contract in my career. Come to the vote meetings to see the details and vote!"
BACKGROUND: Essential grocery store workers from UFCW in Colorado, California and now here in our State of Washington are gaining some of the respect, pay and protections we deserve. A 10-day strike in Colorado and a near-strike in Southern California preceded the bargaining here in Washington. The strategic coordination between the UFCW grocery store workers across these three western states began in early 2020 as COVID hit our communities and stores. Efforts to gain some important safety protections, access to vaccines, and hazard pay were made possible by this coordinated effort.
After months of preparation and workers taking action here in Washington, marathon bargaining sessions have led to Tentative Agreements with Albertsons/Safeway and Kroger. Our Union Member Bargaining Team reached this Tentative Agreement and recommends a YES VOTE to accept the proposal from the employers. These votes are open to all active members of UFCW 3000 Grocery Store Workers in King, Snohomish, Kitsap, Mason, and Thurston Counties at the big chains (Safeway, Albertsons, Fred Meyer and QFC) and independent stores covered by this Tentative Agreement.
For more information, visit UFCW3000.org.
Short URL: https://www.thestand.org/?p=108054
Posted by
admin
on Apr 26 2022. Filed under
LOCAL
. You can follow any responses to this entry through the
RSS 2.0
. Both comments and pings are currently closed.