Teamsters concrete strikers offer unconditional return to work
The following is from Teamsters Local 174:
SEATTLE (April 9, 2022) — For months, the companies controlling Seattle's concrete industry have stonewalled negotiations and rejected nine different proposals from Teamsters Local 174 that would support working families. On Friday, the 300+ ready-mix concrete and dump truck drivers and support staff offered an unconditional return to work starting on Monday for the people of Seattle. Meanwhile, negotiations for a new contract will continue.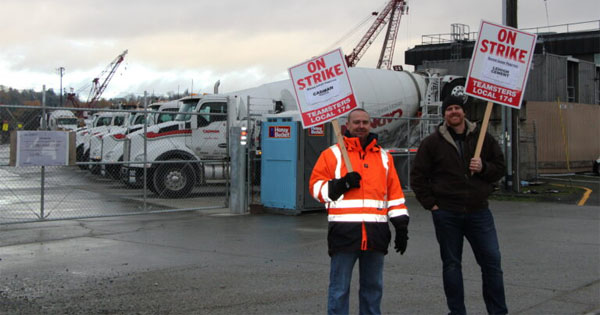 "For months, the concrete companies have used their control over Seattle's concrete industry to drag out negotiations, and it has been devastating for our community and for our sisters and brothers in the Building Trades," said Teamsters Local 174 Secretary-Treasurer Rick Hicks. "Our members love our community and are returning to work for the people of Seattle. We hope this very gracious offer means that the greedy concrete companies start negotiating in good faith and stop stonewalling negotiations, as they have for months. Teamsters are tough and returning to work will not keep us from continuing the fight to protect our community, the other Building Trades' unions and good jobs in Seattle."
---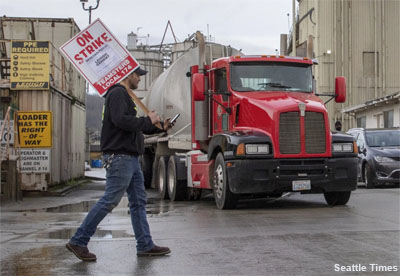 ► From the Seattle Times — Teamsters say they will end Seattle-area concrete strike, but still no deal with employers — Hundreds of striking Seattle-area concrete mixer drivers will return to work without a deal, ending a work stoppage that has upended construction projects across the region. Teamsters Local 174 said Friday afternoon that all of the more than 300 striking drivers, who work for six local companies, have "offered an unconditional return to work starting on Monday." The union had previously sent a portion of its drivers back to work. Brett Gallagher, a mixer driver and member of the union bargaining committee, said:
"This won't stop the negotiations. It will just stop people thinking we're to blame and we're the bad guys. We have a lot of mud to get done and a lot of people to get back to work."
PREVIOUSLY at The Stand: 
Teamsters 174 offers limited return to work in concrete strike (March 16)
Concrete strike continues after Merlino's 'union busting' offer (March 10)
Rep. Smith: Concrete employers must return to bargaining table (Feb. 14)
Teamsters' concrete strike enters 3rd month with no progress (Feb. 4)
In strike's 6th week, Teamsters shut down Port of Everett (Jan. 12)
Stop Grinch bosses from stealing Christmas for Teamsters families (Dec. 15)
AFL-CIO's Fred Redmond visits Teamsters picket (Dec. 8)
Concrete solidarity: Strike grows in King County (Dec. 6)
Gary Merlino drivers' ULP strike continues (Nov. 29)
Short URL: https://www.thestand.org/?p=107592
Posted by
David Groves
on Apr 9 2022. Filed under
LOCAL
. You can follow any responses to this entry through the
RSS 2.0
. Both comments and pings are currently closed.