LaborLab tracks union-busting, empowers workers to unionize
WASHINGTON, D.C. (May 12, 2022) — Recent headlines have described the high-profile union-busting activities of Starbucks and Amazon, but the unfortunate truth is that U.S. employers routinely hire consultants and attorneys to prevent their employees from joining together in unions. This "union-avoidance" industry rakes in hundreds of millions of dollars every year and the businesses that hire them often engage in coercion, threats and firings of union supporters in violation of the National Labor Relations Act, likely because the enforcement and penalties are so weak.
Until federal labor laws are reformed and updated to truly protect Americans' labor rights, the union movement is increasingly focused on publicly calling out union-busting activities on social media and in other communications to shame corporations that prevent their employees from exercising their freedom to unionize.
That's where LaborLab comes in.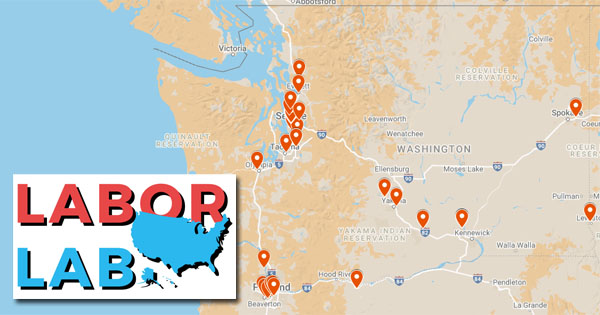 LaborLab is a nonprofit watchdog organization that monitors, researches, and reports on the union-busting industry. It has built comprehensive databases to document anti-union activities and you might be surprised to learn which businesses in your community are hiring union-busters. For example, in Washington state, LaborLab's Union-Busting Tracker reports:
●  Cannabis & Glass in Spokane hired Labor-Management Associates LLC, a Kentucky-based union-avoidance consultant, in August 2020 to discourage its employees from joining together with UFCW. Cannabis & Glass agreed to pay them $1,500 per day plus reasonable and customary travel expenses.
●  Linage Logistics in Richland hired Government Resources Consultants of America, an Illinois-based union-busting firm, in December 2021 to discourage its drivers from organizing with Teamsters Local 839.
●  Country Doctor Community Heath Centers in Seattle hired the "union avoidance" firm Davis Grimm Payne & Marra in January 2022 to discourage its employees from joining together with SEIU Healthcare 1199NW.
In addition to reporting union-busting activities across the nation through that tracker and its blog The Steward, LaborLab provides information to workers about their rights and how they can build power in the workplace through unions and protected concerted activities. It empowers workers to start, join and support unions and connecting them with union organizers.

TAKE A STAND — LaborLab is a nonprofit organization that relies on donations to do this important work. You can donate to LaborLab to help expose the union-busting industry and empower more workers to start, join and support unions.
Short URL: https://www.thestand.org/?p=108479
Posted by
David Groves
on May 12 2022. Filed under
NATIONAL
. You can follow any responses to this entry through the
RSS 2.0
. Both comments and pings are currently closed.