NLRB sues Starbucks, demands reinstatement of Memphis 7
Meanwhile, Starbucks workers continue to vote Union YES; another store in Bellingham files for a union election
The following is from the National Labor Relations Board (NLRB):
NEW ORLEANS (May 11, 2022) — On Tuesday, NLRB Region 15-New Orleans Regional Director Kathleen McKinney petitioned in U.S. District Court for injunctive relief for seven former Starbucks employees in Memphis, Tenn., who were unlawfully fired for exercising their right to form a union. Section 10(j) of the National Labor Relations Act authorizes the National Labor Relations Board to seek injunctions against employers and unions in federal district courts to stop unfair labor practices where, due to the passage of time, the normal Board processes are likely to be inadequate to effectively remedy the alleged violations.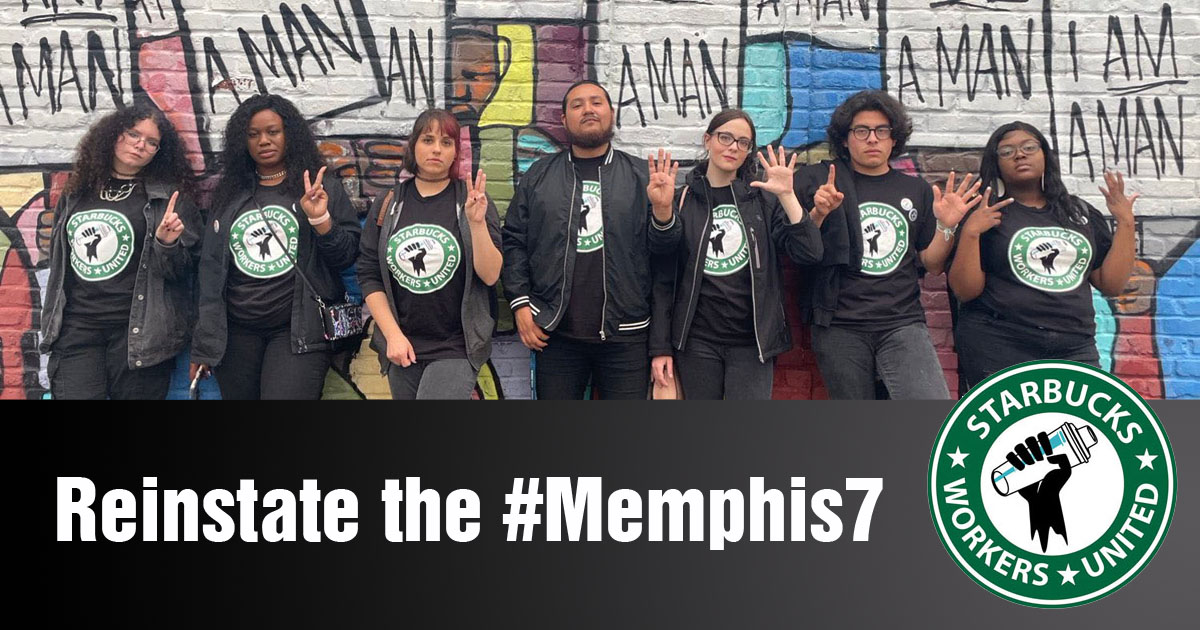 The petition explains that after learning about the organizing effort, Starbucks directed a wide variety of coercive measures at its employees, including disciplining the employee responsible for starting the campaign; more closely supervising its employees; closing the area of the store on days organizers had previously invited the public and customers to come to show support for the campaign; and removing all pro-union materials from the community bulletin board inside the store, including notes authored by customers expressing support for the employees and their campaign. Then, following increased media coverage and public support for the campaign, Starbucks terminated seven Union activists all on the same day, including five of the six members of the union organizing committee.
The Regional Director is asking the Court to order Starbucks to, among other things, cease and desist from committing unfair labor practices in violation of the Act, and to reinstate the seven former employees who were unlawfully terminated.
"Given Starbucks' egregious conduct interfering with the federally protected rights of its employees, we are asking the Court to swiftly grant the injunction," said Region 15 Regional Director Kathleen McKinney. "Without immediate interim relief from this Court, Starbucks could irreparably harm the campaign in Memphis, and send a chilling message to its employees across the country that they too will suffer the same fate as the terminated Memphis employees if they dare to exercise their right to engage in protected activities. It is crucial that these seven employees be reinstated and that Starbucks cease its unlawful conduct immediately so that all Starbucks workers can fully and freely exercise their labor rights."
PREVIOUSLY at The Stand:
Tell Starbucks: Reinstate fired workers, stop union busting! (Feb. 14)
Starbucks workers 'burnt out, sick and tired' (March 30)
---
Meanwhile, despite Starbucks' illegal campaign of retaliation against its pro-union employees, Starbucks workers continue to join together with Starbucks Workers United. Five more stores won their union elections on Tuesday.
There are now 61 Starbucks stores where workers have voted to unionize, and every day more stores petition for union elections — including another one in Bellingham yesterday:
Short URL: https://www.thestand.org/?p=108457
Posted by
David Groves
on May 11 2022. Filed under
NATIONAL
. You can follow any responses to this entry through the
RSS 2.0
. Both comments and pings are currently closed.