Still winning at Starbucks | Longshore talks | Majority wants more unions
Monday, June 6, 2022
The Stand was on hiatus last week so there's a lot to catch up on… 
---
STARBUCKS

► From the (Everett) Herald — Workers at an Everett Starbucks vote to unionize — Baristas at an Everett Starbucks voted 13-1 to form a union on Wednesday, joining more than a hundred Starbucks stores that have unionized across the country since December.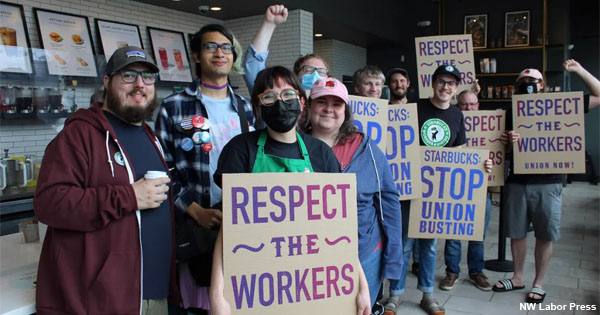 ► From the NW Labor Press — How Starbucks is turning a new generation on to unionism — Unionized Portland-area Starbucks stores are part of a burgeoning nationwide movement. Since December, in a store-by-store campaign led by young frontline workers, 102 Starbucks stores have voted to unionize, and elections are pending at 163 more. With crucial mentorship from Workers United, Starbucks workers are becoming a new generation of grassroots labor organizers. Isabelle Loverich, a 21-year-old shift supervisor at the Jantzen Beach Starbucks, said:
"If you had asked me six months ago if I had wanted to work in the labor movement, I would have said 'no,' not knowing what that meant. Whereas now it's something I'm so passionate about."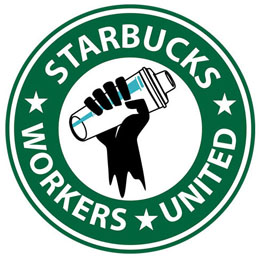 ► From the AP — New Orleans Starbucks store's employees vote to unionize — Employees at a Starbucks store in New Orleans voted to form a union, becoming the first of the coffee giant's locations in Louisiana to unionize. The New Orleans vote is the latest in a series of wins for labor at Starbucks stores across the nation, and comes about a week after workers in Birmingham, Alabama, voted 27-to-1 to become that state's first unionized Starbucks.
► From NPR — Starbucks union says the coffee giant is closing a store to retaliate — Starbucks is closing a store in Ithaca, N.Y., in what Starbucks union organizers are calling an illegal move of retaliation after workers at the location voted to unionize. The coffee giant gave the employees at the College Ave. location near Cornell University a one-week notice of the closure, the union says, with the store slated to permanently close on June 10.
► From Reuters — Starbucks' Schultz to remain interim CEO until March — Starbucks said on Monday Howard Schultz would remain the coffee chain's interim chief executive officer until the end of March, as it looks for a permanent successor.
---
LOCAL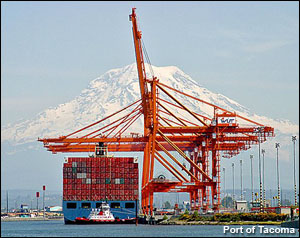 ► From the LA Times — Workers want raises. Shippers want robots. The supply chain hinges on reaching a deal — The immediate future of the global supply chain rests on a bargaining table in San Francisco, where the union representing all West Coast dockworkers is hashing out a new contract with the assembled bosses of maritime shipping. The current contract, which covers the International Longshore and Warehouse Union's more than 22,000 workers at the 29 ports dotting the Pacific coast of the U.S., is set to expire July 1. At stake is the continuing flow of goods into the country, after two years of disruptions to the supply chain from pandemic lockdowns, material shortages, soaring fuel prices and the occasional giant ship getting stuck in the Suez Canal. Forty percent of all U.S. maritime imports pass through the West Coast ports.
► From the News Tribune — MultiCare set to pay $42M in wage-and-hours settlement — A Tacoma health system is set to pay millions in a class-action settlement over lost wages regarding meals and rest breaks in a lawsuit brought by two former workers. The settlement covers approximately 18,000 hourly employees at MultiCare during the period between Oct. 22, 2017, and March 31, 2022, and is set to be finalized in August.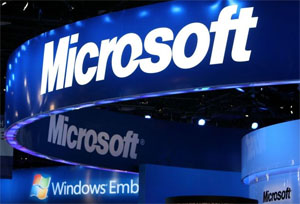 ► From the Washington Post — Microsoft tries collaborating with unions to avoid 'public disputes' –Microsoft on Thursday announced a new strategy for dealing with organized labor, attempting to set itself apart from other Big Tech firms like Google and Amazon that have clashed publicly with employees seeking union representation. In a blog post, Microsoft President Brad Smith wrote that the company will respect workers' rights to unionize and plans to work collaboratively with organized labor organizations to "make it simpler rather than more difficult" for employees to unionize if they so choose.
► From the Seattle Times — Microsoft president says employees 'will never need to' unionize — Stepping into the labor conversation, Microsoft said Thursday it recognized employees' right to form and join a union but believed its own workers "will never need to organize" to facilitate conversations with executives and leaders.
---
AEROSPACE
► From the Seattle Times — Supply chain issues slowing Boeing 737 MAX production — Delays in the supply of parts are causing a slowdown in production of the 737 MAX in Renton, impeding Boeing's push toward a target rate of building 31 of the jets per month. Boeing Chief Financial Officer Brian West previously noted then that "one particular wiring connector … has us slowing things down… It's a reflection of a crazy supply chain world that we live in right now."
► From the Puget Sound Business Journal — Boeing CEO: Design work on new commercial jet at least 2 years away — The company has faced rising criticism that it's failing to address a widening market gap with European rival Airbus in the narrow-body segment. But first, CEO David Calhoun said the company will focus on developing the digital tools it will use to design its next-generation plane.
---
THIS WASHINGTON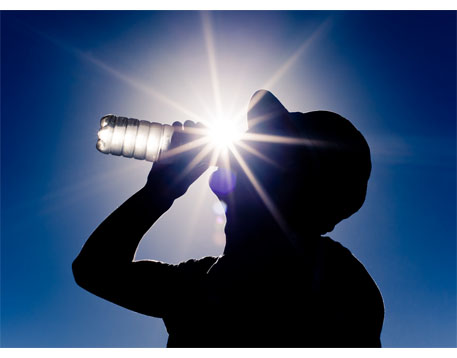 ► From the Bellingham Herald — These new WA emergency rules increase heat, wildfire smoke protections for outdoor workers — Washington is increasing its heat and wildfire smoke protections for outdoor workers this summer, the state Department of Labor & Industries announced on June 1. The stronger emergency rules, in place from June 15 through end of September, come in the wake of last summer's extreme weather — an unprecedented heat wave in June had a death toll of over 100 and wildfires brought hazy skies and poor air quality to the state.
TODAY at The Stand — UFW: State's new heat protections 'strong'
► From the Spokesman-Review — Nursing programs statewide see new funding from Legislature but some existing programs were left out — Some schools, like Eastern Washington University, got funding to create a new four-year program while others, including Washington State University, didn't receive any to bolster their current programs. Legislators and university officials say that's just because of what funding each school requested this year.
---
SOUTH OF THE BORDER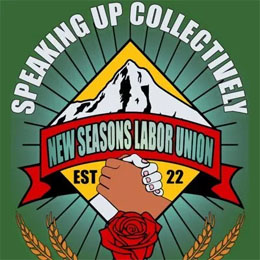 ► From the NW Labor Press — Union drives launch separately at two New Seasons stores — Union campaigns developed independently at two Portland-area New Seasons grocery stores, and in a remarkable coincidence, representatives of both efforts showed up at the Portland National Labor Relations Board office May 27 within minutes of each other to file petitions asking the agency to hold union elections.
► From the Portland Business Journal — Union apprenticeship programs reduce social inequalities in Oregon's construction industry (by NACA / IBEW Local 48) — Construction is the third fastest growing industry in Oregon, and union-led apprenticeship programs are empowering women and people of color to build skillsets to join the industry.
---
THAT WASHINGTON
► From the AP — Biden's challenge: Inflation overshadows robust job gains — President Joe Biden came before the television cameras Friday to celebrate yet another month of healthy job growth and low unemployment and the fastest pace of hiring in four decades under his watch. "The job market," the president declared, "is the strongest it's been since just after World War II." Yet just as it often does, the subject soon turned to the rampant inflation that has emerged as the economic issue most on Americans' minds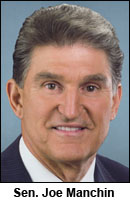 ► From Roll Call — Resurrected budget package no slam dunk as negotiations heat up — Democrats face big obstacles and a deadline measured in weeks as they attempt to salvage a scaled-down tax, climate and health care package that could give them a boost ahead of the November elections. Conversations have been underway between Sen. Joe Manchin III (D-W.Va.) and Senate Majority Leader Charles E. Schumer to negotiate a budget reconciliation bill — which only requires a simple majority for passage — that would meet Manchin's demands without losing support from other Democrats.
► From Roll Call — Biden administration announces railroad infrastructure grants — The administration is billing the funding as a way to help fight inflation in the shipping business.
---
NATIONAL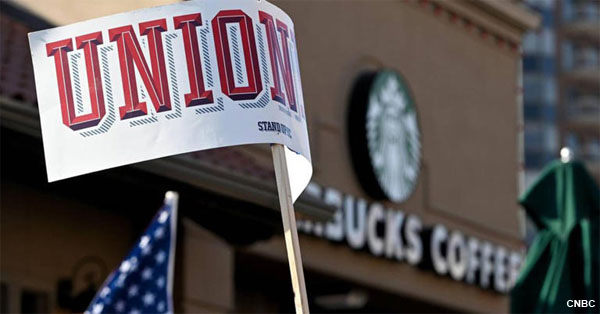 ► From MSN — Majority of American workers support more unionization at their companies — From Starbucks to Amazon to Apple, the recent headlines show that the biggest companies in the world can't duck the union issue. But the issue isn't isolated to a few iconic companies operating in retail. While union membership remains at a multi-decade low, a CNBC survey finds that a majority (59%) of workers across the U.S. and across all sectors say they support increased unionization in their own workplaces.
EDITOR'S NOTE — Ready for a voice at work? Get more information about how you can join together with co-workers and negotiate a fair return for your hard work. Or go ahead and contact a union organizer today!
► From the Guardian — 'People are stressed': Apple workers set to begin first in-person union election — Workers at an Apple store in Towson, Maryland, are set to begin their in-person union election on 15 June and, if successful, the store would be the first to unionize at the U.S. tech company.
► From Vice — Internal documents show Amazon's dystopian system for tracking workers every minute of their shifts — The documents provide new clarity about a much-talked-about but until now opaque process Amazon uses to punish associates it believes are wasting time.
► From In These Times — These baristas have been on strike for over 3 months to get their union recognized — At Great Lakes Coffee, workers are on the picket line demanding their rights — part of a growing national movement to organize the cafe industry.
► From the Hollywood Reporter — Vox media union takes next step toward potential strike — The council at the Writers Guild of America East, which represents hundreds of editorial and video staffers at the company, voted unanimously authorize a strike.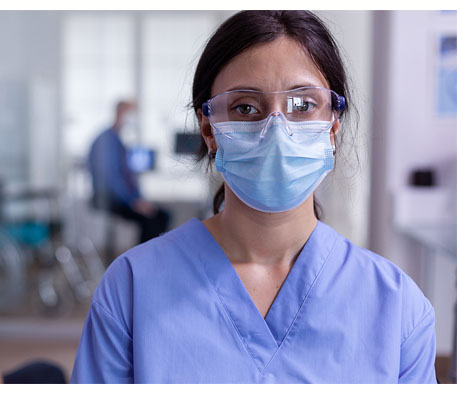 ► From Vox — The way the United States pays for nurses is broken (by Dylan Scott) — Most U.S. hospitals run under a fee-for-service system: They make money by billing for individual services. Doctors, in this universe, are a revenue generator. They order tests to be run, imaging to be taken, medication to be administered. Nurses are essential to each of those services. But because hospitals don't bill insurers for the care that nurses provide to support a doctor's orders, they end up on the other side of the balance sheet as a labor cost. Patients end up charged for nurses' work in the same way they are for housekeeping or Jell-O, as part of the cost of a hospital room. The result: hospital systems have an economic incentive to keep their nursing staff as small as possible. This failure to value nurses affected the quality of care that patients received before the pandemic, and will outlast it unless hospitals and policymakers decide to fix it.
► From Roll Call — Many hospitals don't fully comply with price transparency rules — Data that some hoped would help drive down costs is often incomplete and difficult to compare.
► POINT from the AP — Ford plans to add 6,200 jobs in Ohio, Michigan and Missouri — Ford will add 6,200 factory jobs in Michigan, Missouri and Ohio as it prepares to build more electric vehicles and roll out two redesigned combustion-engine models.
► COUNTERPOINT from CNBC — Elon Musk feels 'super bad' about economy, needs to cut 10% of Tesla jobs — Musk's email to executives came two days after the billionaire told staff to return to the workplace or leave.
---
TODAY'S MUST-READ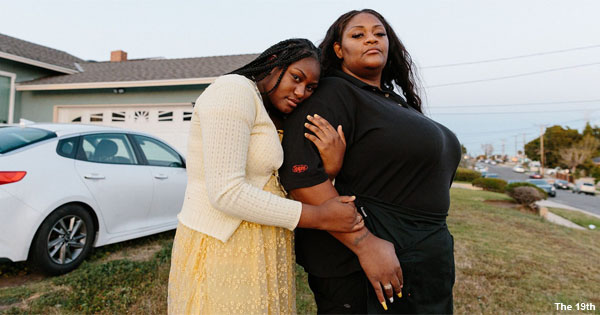 ► From The 19th — 'This is our time': How women are taking over the labor movement — Kroger workers are part of a surge in organizing led by women, women of color and low-wage workers impelled by this once-in-a-century pandemic. Many said they feel the pandemic has unmasked the hypocrisy of some employers — they were "essential" workers until their employers stopped offering protections on the job, good pay and commensurate benefits. Among them, a deep recalibration is happening, dredging up questions about why they work, for whom, and how that work serves them and their families. For many it's the chance to define the future of work.
---
The Stand posts links to Washington state and national news of interest every weekday morning by 10 a.m.
WASHINGTON IS A UNION STATE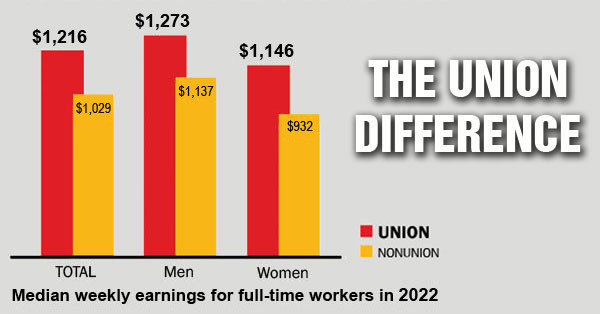 CHECK OUT THE UNION DIFFERENCE in Washington state: higher wages, affordable health and dental care, job and retirement security.
FIND OUT HOW TO JOIN TOGETHER with your co-workers to negotiate for better working conditions and respect on the job. Or go ahead and contact a union organizer today!