WSLC decries overturning of Roe v. Wade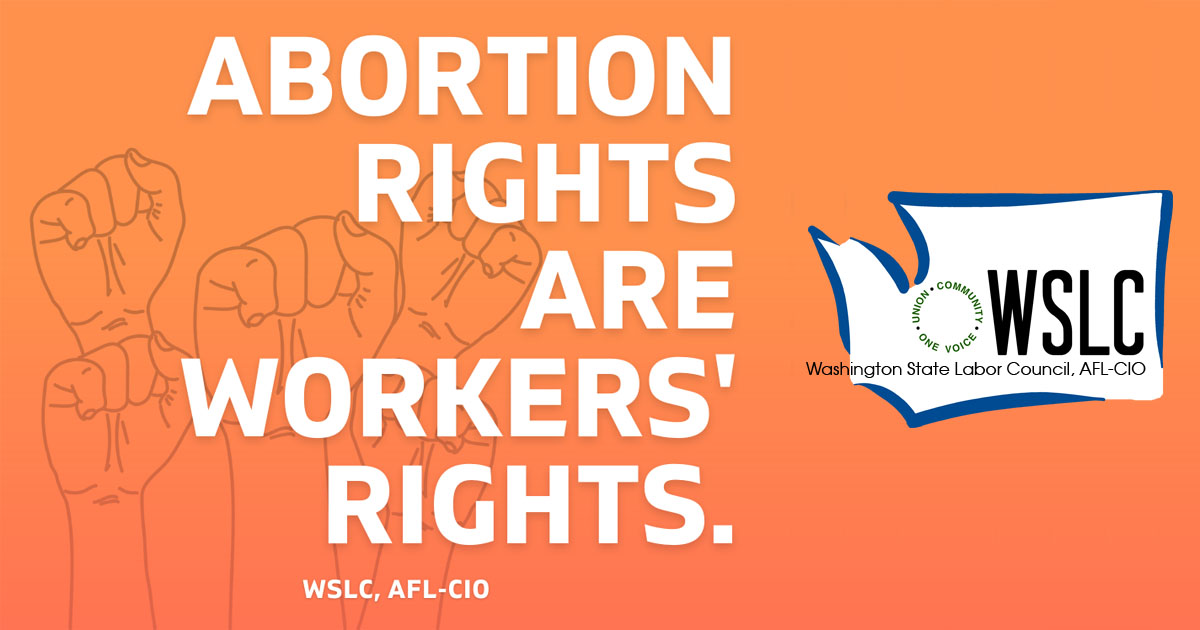 SEATTLE (June 24, 2022) — The following statement from President Larry Brown and Secretary Treasurer April Sims of the Washington State Labor Council, AFL-CIO was released today regarding the U.S. Supreme Court's decision in the case of Dobbs v. Jackson Women's Health Organization, which overturns Roe v. Wade:
Abortion rights are workers' rights. The Washington State Labor Council, AFL-CIO forcefully opposes attacks on the bodily autonomy and rights of working people and threats to the safety of our families and communities. We will not be silent in the face of attempts to curtail the freedoms of people who can become pregnant, and to undermine the basic principle of equal treatment under the law that underpins our democracy and our movement. 
The decision if or when to have a family is an economic decision that impacts wages, benefits, and working conditions. Our labor movement includes working people who have abortions, whose loved ones have had abortions, and who provide abortion care. These workers and their families — particularly Black & Indigenous folks and people of color — face serious harm when access to reproductive health care is limited or denied. These restrictions fall heaviest on our BIPOC siblings, but they are a threat to all of us.
Workers' rights — the right to fair compensation, equal treatment, and bodily autonomy — are not negotiable. Attacks on these rights are attacks on working people and our families, as WSLC affiliates have affirmed in resolutions supporting reproductive health access in 2019 and 2016. 
Our movement fought for our rights as working people long before the government decided to protect them. We will continue to defend these rights now.
To working people grappling with the implications of today's Supreme Court opinion: know that you are not alone. Our movement is prepared with the tools we need to defend working people at the bargaining table, in the halls of power, and in the streets.
---
Following are links to some additional statements from union organizations affiliated with the WSLC:
MLK Labor
OPEIU 8
SEIU Healthcare 1199NW
Teamsters 117
UAW 4121
Washington State Nurses Association
---
WASHINGTON, D.C. (June 24, 2022) — The following statement from AFL-CIO President Liz Shuler was released this morning regarding the U.S. Supreme Court's decision in the case of Dobbs v. Jackson Women's Health Organization:
Today's decision by the Supreme Court to overturn Roe v. Wade is a devastating blow to working women and families across this country. We strongly believe that everyone should have control over their own bodies, including decisions over their personal reproductive health care. At a time when we should be focused on expanding equity for all working people, particularly for marginalized communities disproportionately impacted by the pandemic, this ruling will only deepen racial and economic disparities. The burden of this decision will undoubtedly fall on low-income women and gender-oppressed people, and no one should be forced into financial insecurity because they have been denied reproductive health care. Our government also must prioritize overdue and necessary investments in our child care system, and family and medical paid leave; it must end the gender wage gap and increase access to jobs with high wages and good benefits.
This is just the latest in a harmful string of attacks on our fundamental rights, including the right to vote and to collectively bargain in the workplace, and points to an alarming trend that other well-settled rights like marriage equality may be taken away. The current conservative majority of the Supreme Court is bent on limiting bodily autonomy, freedom and self-determination to a select few, and that is fundamentally undemocratic. America's unions remain committed to the fight for gender justice and economic equity for all people.
---
Following are some links to additional statements from international unions and national AFL-CIO constituency groups:
Short URL: https://www.thestand.org/?p=109500
Posted by
admin
on Jun 24 2022. Filed under
W.S.L.C.
. You can follow any responses to this entry through the
RSS 2.0
. Both comments and pings are currently closed.