Strike updates | Emergency ending | $31M for Laxman | 4 insane boys
Friday, September 9, 2022
---
EDUCATION
► From KOMO — Seattle Public Schools classes canceled for a third day as teachers strike marches on — As they did on Thursday, teachers plan to picket again Friday around Seattle as contract negotiations continue between the union and the district.
The Stand (Sept. 8) — 6,000 Seattle educators strike for fair contract
TAKE A STAND — Show your support for Seattle educators by joining a picket line at public schools throughout the city, joining SEA's community email list for updates on the strike status, and by sending a message to the Seattle School Board urging a fair contract for our teachers.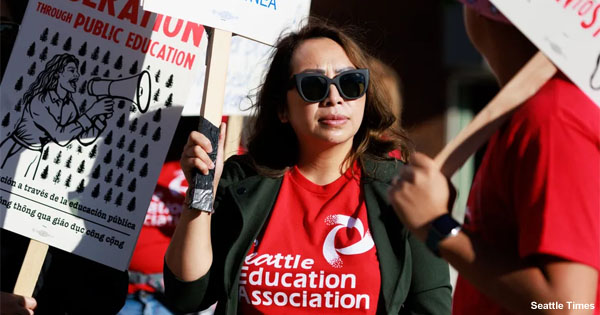 ► From the Seattle Times — Seattle superintendent optimistic educator strike could end soon — Although Seattle educators are still on strike in a push for smaller class sizes and caseloads, and more pay, both sides have recently agreed to a few changes in the contract. It's a sign that negotiations are inching forward. School is canceled Friday, marking day three of the Seattle Education Association strike. Superintendent Brent Jones said, ideally, schools would start Monday — but he couldn't give a definitive projection.
► From the union-busting Columbian — No deal reached, Ridgefield teachers to strike Friday — Teachers in Ridgefield will go on strike starting Friday after the Ridgefield School District and the Ridgefield Education Association failed to reach a deal on a tentative contract on Thursday night. Schools in the Ridgefield School District will be closed Friday and until a deal can be reached.
TODAY at The Stand — Ridgefield teachers strike, demand contract addressing student needs — REA Co-President Elizabeth Stamp:
"None of us want to be on strike, but ignoring our dysfunctional intervention program, unsafe staffing levels and the need for more counselors when the district has the money to do something about it is unacceptable. We are united with the Ridgefield community demanding what our students deserve and we're calling on the district to do the right thing."
TAKE A STAND — Support Ridgefield educators by sending a message to the Ridgefield School Board to offer them a fair contract.
► From the News Tribune — Classes on hold as Eatonville teachers strike (video) –Teachers in the Eatonville School District held out from what should have been the first day of school as contract bargaining team was unable to reach an agreement with the district before Wednesday.
TAKE A STAND — Sign and share petition for Eatonville educators.
► From the Olympian — Tumwater school paraprofessionals authorize strike Sept. 12 if contract not reached — The Tumwater School District paraprofessionals have voted to authorize a strike if a contract agreement isn't reached by Sunday, Sept. 11. The strike would start Monday.
► From Crosscut — WA teachers strikes highlight school funding, staffing woes — Educators in Seattle, Kent and elsewhere in Washington are calling for better pay and classroom support, which have stretched district budgets.
---
LOCAL



► From the Olympian — Tumwater Starbucks workers announce they will strike Friday and Saturday — Starbucks workers from the store at Capitol Boulevard and Trosper Street announced Thursday evening that they are going on a two-day strike to protest Starbucks' anti-union tactics. Workers from the store at 5300 Capitol Blvd. SE — who voted 12-3 in favor of unionizing earlier this year — will withhold their labor on Friday and Saturday. Starbucks workers and their supporters will picket outside the store from noon to 3 p.m. Friday.
The Stand — Join rally outside Starbucks HQ in Seattle on Sept. 13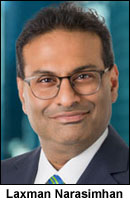 ► A related story in the PS Business Journal — Here's how much the new Starbucks CEO could make in his first year — In his first year on the job, Laxman Narasimhan could receive up to nearly $31 million in compensation, including a signing bonus, according to a filing with the Securities and Exchange Commission.
► From the Seattle Times — Cash America to pay Seattle workers nearly $380K over wage violations — Seattle's Office of Labor Standards and two pawn-loan companies have settled allegations of wage violations for more than $383,000. From that total, $379,126 will go to 253 employees and $4,748 to the city of Seattle.
► From the Tri-City Herald — Darigold breaks ground on $600M Tri-Cities milk processing plant. 100s of jobs to come
---
ORGANIZING

► From the Portland Mercury — New Seasons workers at SE Portland's Seven Corners Market vote to unionize — Workers at New Seasons' SE Division store have voted to unionize, forcing the grocery chain's management to formally recognize the New Seasons Labor Union. A total of 62 workers voted to unionize, with 15 voting against it.
EDITOR'S NOTE — Ready for a voice at work? Get more information about how you can join together with co-workers and negotiate a fair return for your hard work. Or go ahead and contact a union organizer today!
---
THIS WASHINGTON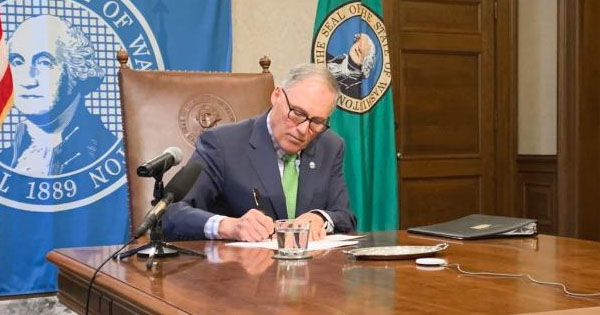 ► From the Olympian — Gov. Inslee will rescind remaining COVID-19 emergency orders effective Oct. 31 — After more than two years of emergency proclamations related to COVID-19 in Washington state, Gov. Jay Inslee announced Thursday that all remaining orders will be rescinded on Oct. 31. Only 10 emergency orders are currently still in effect, including proclamation 21-14 on vaccines, which requires state workers, staff at educational facilities, and health care employees to be fully vaccinated against COVID-19. While most Washington state agencies will continue to have vaccination mandates in place after the governor's order is rescinded, workers in health care and education settings will no longer be required to be vaccinated. However, employers can still choose to have vaccination requirements in place if they wish to do so.
---
THAT WASHINGTON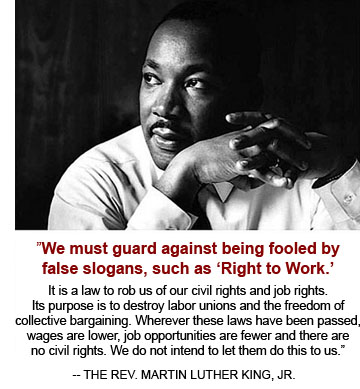 ► From HuffPost — Elizabeth Warren proposes bill to ban 'Right-To-Work' laws — Sen. Elizabeth Warren (D-Mass.) plans to reintroduce a bill on Thursday that would ban anti-union "right-to-work" laws that are now on the books in a majority of states. Such laws forbid employers and unions from entering into agreements stipulating that every worker covered by the contract pay fees to the union. In doing so, they allow workers to opt out of paying any dues while still enjoying the benefits of a union contract and representation.
► From Politico — Same-sex marriage bill teeters on verge of GOP filibuster — The same-sex marriage bill that won over nearly 50 House Republicans is now at risk of falling to a Senate Republican filibuster — with its vote count largely hinging on how it addresses religious liberty.
► From Roll Call — Biden administration finalizes end of Trump-era 'public charge' rule — The Biden administration released its finalized immigration policy Thursday on the so-called "public charge" criteria for green card applicants, part of a years-long legal battle to undo efforts in the prior administration to limit eligibility for permanent residency.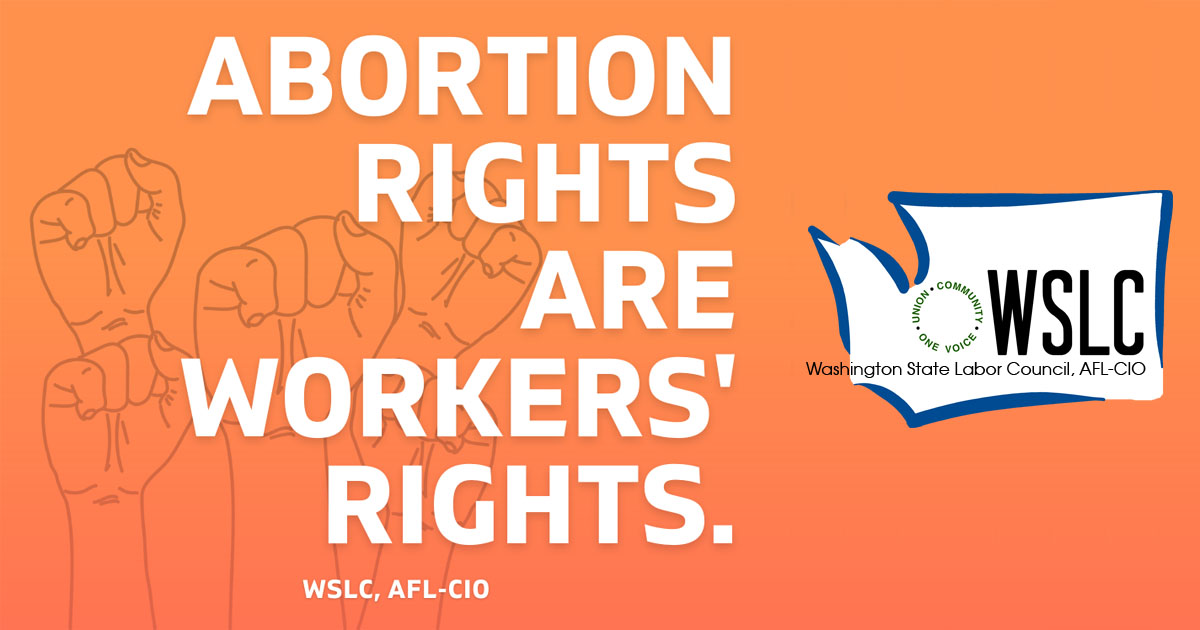 ► From the Guardian — Revealed: Ginni Thomas's links to anti-abortion groups who lobbied to overturn Roe — Ginni Thomas, the self-styled "culture warrior" and extreme rightwing activist, has links to more than half of the anti-abortion groups and individuals who lobbied her husband Clarence Thomas and his fellow U.S. Supreme Court justices ahead of their historic decision to eradicate a woman's right to terminate a pregnancy.
► From the AP — Michigan's high court puts abortion question on Nov. ballot
► From the AP — South Carolina senators reject a near-total abortion ban
EDITOR'S NOTE — At the 2022 Convention of the Washington State Labor Council, AFL-CIO, union delegates from across the state voted to approve Resolution 2022.25 on abortion rights. In the wake of the U.S. Supreme Court's Dobbs v. Jackson Women's Health Organization opinion, this resolution affirms that the WSLC "will defend the reproductive freedom of working people including the right to safe, accessible abortion, recognizing that attacks on reproductive rights are attacks on workers' rights."
The Stand (June 27, 2022) — Amid attacks on abortion rights, unions must fight back (by Shaunie Wheeler James and Cherika Carter) — We have the tools to transform protests into concrete actions defending bodily autonomy.
---
NATIONAL
► From the Washington Post — Labor activists on how workers are shaping the future of work — Join Washington Post Live for a special series that explores how the labor market is responding to dramatic disruptions brought on by inflation, automation, gigification and the pandemic. Part two of the series looks at what structural changes mean for the future of the workforce and how workers are shaping the relationship between their jobs and their lives, featuring Ai-jen Poo, president of the National Domestic Workers Alliance, Liz Shuler, president of the AFL-CIO, Michelle Miller, co-founder of Coworker.org, and Jaz Brisack, organizing committee member of Starbucks Workers United.
---
T.G.I.F.
► On this date in 1965, an ad appeared in the Hollywood trades reading: "Madness folk & roll musicians, singers wanted for acting roles in new TV show. Parts for 4 insane boys." Among the hundreds of people who unsuccessfully auditioned to join what would become The Monkees: Stephen Stills, Harry Nilsson, Paul Williams, and Danny Hutton of Three Dog Night. Contrary to urban legend, Charles Manson did not audition. The winners: Davy Jones, Michael Nesmith, Peter Tork, and Micky Dolenz. Last week, Dolenz (the last surviving member of the group) sued the FBI for access to the agency's file linked to the band's "anti-U.S. messages on the war in Vietnam." At press time, we couldn't confirm whether the file was among those on the floor of the Mar-a-Lago Resort in Palm Beach.
---
The Stand posts links to Washington state and national news of interest every weekday morning by 10 a.m.
Short URL: https://www.thestand.org/?p=111147
Posted by
admin
on Sep 9 2022. Filed under
DAILY LINKS
. You can follow any responses to this entry through the
RSS 2.0
. Both comments and pings are currently closed.