Strike updates | WFSE members rally | Railroad greed
Wednesday, September 14, 2022
---
WEYERHAEUSER STRIKE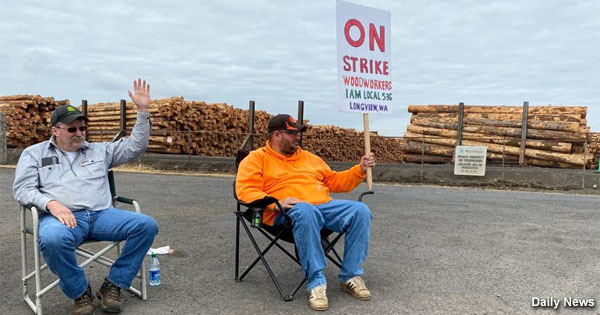 ► From the (Longview) Daily News — Weyerhaeuser woodworkers in Longview strike for first time in 36 years — In a city built on the backs of lumber employees, unionized Weyerhaeuser woodworkers are striking for the first time in 36 years, saying Longview's once family-focused company is now more concerned about money. Dean Dryden, 61, of Kelso said he has worked for the company since 1979. Back then, the company held annual family picnics and provided livable wages; now, contract negotiations "have been deteriorating over the years," with the last four-year company proposal offering a net loss after raises and medical costs, he said.
TODAY at The Stand — IAMAW members on strike at Weyerhaeuser
► From the (Centralia) Chronicle — Weyerhaeuser woodworkers go on strike — Dozens of woodworkers picketed outside the Weyerhaeuser Co. gate at the intersection of Industrial Way and Washington Way in Cowlitz County on the first day of the union's strike Tuesday morning. The group was one of several along Industrial Way and local Weyerhaeuser tree farms.
► From the AP — Weyerhaeuser timber company employees strike over wages
---
TEACHER STRIKES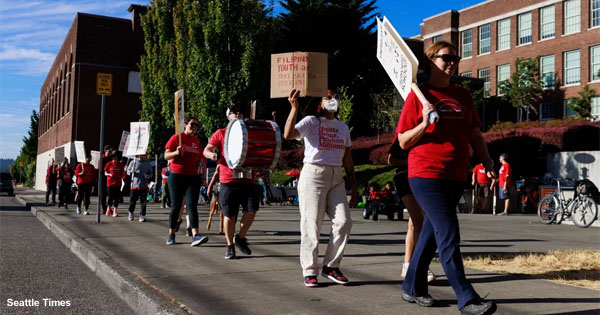 ► From the Seattle Times — Seattle teacher strike suspended, students to return Wednesday — Seattle Public Schools educators voted Tuesday to suspend their five-day strike, pending a ratification of a full contract between the district and union. A suspension means that educators will return to work Wednesday, and school will begin for all students. The vote follows an announcement late Monday night that the union and district had reached a tentative agreement. Union members still need to vote on the agreement, likely later this week. If members reject the full agreement, the strike could start up again.
The Stand (Sept. 8) — 6,000 Seattle educators strike for fair contract
Hi SEA,
We came together and showed our strength on the picket lines and in our community, and now the membership has made our voices heard that we're ready to get back to our students.

78% of the members voted and by 57% approved a motion to suspend our strike.

— SeattleEdAssoc (@SeattleEdAssoc) September 14, 2022
► From Q13 — Eatonville teachers remain on strike
► From KING 5 — Eatonville teachers send no confidence vote in Superintendent Gary Neal — This is the first teacher strike in Eatonville's history, and the EEA claims a lack of good faith in the negotiations from the district. Among the complaints in the statement was a "failure" to meet stated goals on K-3 class sizes, as well as failing to meet state K-3 compliance ratios, which apparently cost the district over $400,000 in state allocation.
► From the union-busting Columbian — Ridgefield schools to be closed again Wednesday as bargaining continues — Tuesday marked the third day of school closures amid a teacher strike in Ridgefield, as the district has failed to reach a deal on a new contract with the Ridgefield Education Association.
---
THIS WASHINGTON



See more rally pics at WFSE.org.
The Stand — WFSE members, supporters rally across state for fair contract — Public sector workers — the very people who risked their lives to get us through the pandemic — are negotiating their 2023-25 contracts. The state and our higher ed institutions continue to willfully ignore the staffing crisis playing out across the state and the budget surplus that could be used to address it.
---
STARBUCKS
In front of @Starbucks HQ now!
"What do we want? Union contact!
When do we want it? NOW!"

Sign the #NoContactNoCoffee pledge in support of workers fighting for a seat at the table today at investor day. https://t.co/e7dgvqMpx2 pic.twitter.com/exJx040Xmd

— Starbucks Worker Solidarity (@VentiSolidarity) September 13, 2022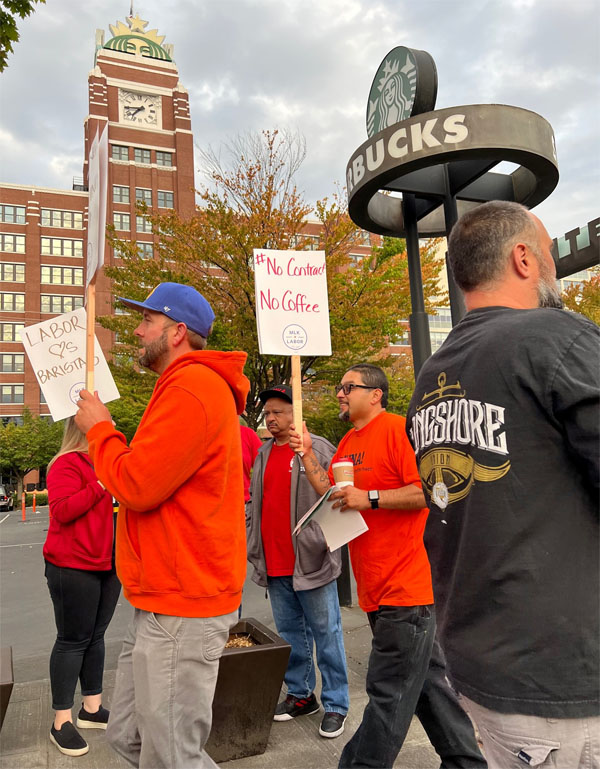 ► From KING 5 — Demonstrators gather outside Starbucks headquarters in Seattle to protest 'Investor Day' event — Hundreds of protesters gathered outside Starbucks headquarters in Seattle's SODO neighborhood Tuesday morning demanding employees be invited to the company's "Investor Day" event. Organizers with Starbucks Workers United, the group seeking to unionize U.S. Starbucks stores, said they are also asking the company to "end its ruthless union-busting campaign."
► From the Seattle Times — As Starbucks pitches investors 'Reinvention', workers demand change — As current and prospective investors gathered inside the red brick building, about 400 people joined a protest organized by Starbucks Workers United, the labor union most active in the organizing push. Protesters rallied against what many view as union-busting by Starbucks. The union and federal labor officials contend Starbucks has wrongly fired union supporters, denied them raises and committed other anti-union practices.
EDITOR'S NOTE — Ready for a voice at work? Get more information about how you can join together with co-workers and negotiate a fair return for your hard work. Or go ahead and contact a union organizer today!
---
LOCAL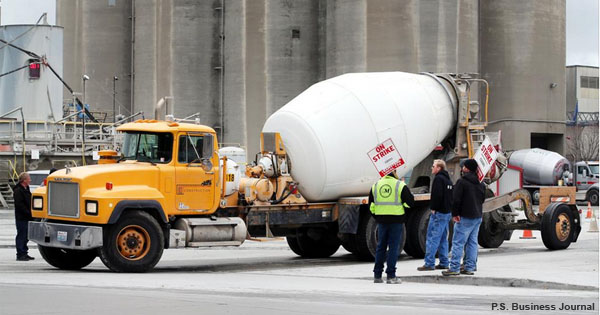 ► From the PS Business Journal — Concrete drivers dropped key demand as cost of bitter Seattle strike rose — The end of the bitter strike by Seattle-area concrete delivery truck drivers came after the head of Teamsters Local 174 said the union backed off a key demand as the cost of the protracted fight continued to escalate. On Monday, the Teamsters said 77% of the those who cast ballots voted to ratify the contract, ending the strike that began 13 months ago with the expiration of the old contract.
EDITOR'S NOTE — Teamsters Local 174 Secretary-Treasurer Rick Hicks said:
"Yesterday's ratification is a victory for the Teamsters, one truly earned through blood, sweat, and tears. In the end, we got significantly more than they ever wanted to give, and we proved once again that the members of Teamsters Local 174 are militant, strong, and will not be bullied into submission by any Employer – even groups of companies that run King County construction like a cartel."
► From the Seattle Times — Seattle Pacific University is imploding, lawsuit argues — SPU's policy against hiring people in same-sex relationships is not only discriminatory, it is causing the institution to implode, according to students, faculty members and staff members who filed a lawsuit against trustees of the Christian school this week.
---
RAILROADS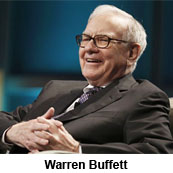 ► From the Guardian — U.S. railroad workers prepare for strike as rail companies see record profits — Freight railroad workers are close to striking over claims that grueling schedules and poor working conditions have been driving employees out of the industry over the past several years. Workers argue the industry is in crisis. Between November 2018 and December 2020, the railroad industry lost 40,000 jobs in the U.S., federal data show. The cost-cutting has contributed to big windfalls at BNSF and Union Pacific, the two largest railroad corporations in North America, which reported record profits in 2021. BNSF is owned by billionaire investor Warren Buffett's Berkshire Hathaway conglomerate. U.S. railroads have paid out $196 billion in stock buybacks and dividends to shareholders since 2010.
Railroading is a demanding, tireless career. It's also ESSENTIAL to the day-to-day operations of our country. These workers deserve dignity, respect & quality of life. It's time to put an end to the corporate greed that's come at the expense of workers' livelihoods for too long.

— Liz Shuler (@LizShuler) September 14, 2022
► From the Seattle Times — Some Seattle Amtrak trips canceled as railroad workers strike looms — Amtrak's Seattle-Chicago and Seattle-California trips were among those canceled in preparation for a threatened Friday strike.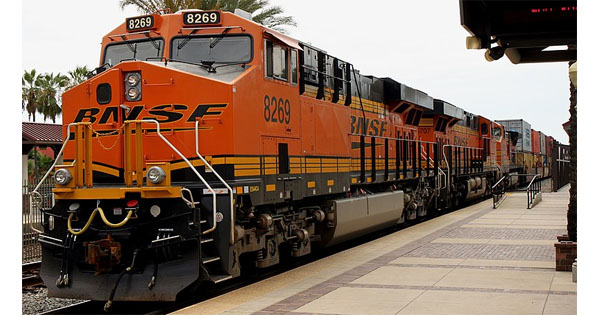 ► From The Hill — Congress prepares to act on rail strike amid fears of 'economic catastrophe' — The Brotherhood of Locomotive Engineers and Trainmen and the SMART Transportation Division, which together represent 57,000 conductors and engineers, are demanding that the contract allows workers to take unpaid time off for routine medical appointments or family emergencies without being penalized under railroads' attendance policies. The unions say that railroads are refusing to negotiate over the issue, knowing that Congress would likely give railroads the terms they want in the event of a strike. They're accusing railroads of disrupting service before a strike has been approved to force Congress's hand.
EDITOR'S NOTE — A joint statement released by SMART-TD and BLET on Sunday reads:
"These self-appointed titans of industry complain constantly about government regulation and interference — except now when it comes to breaking the backs of their employees. It's time for the federal government to tell the CEO's who are running the nation's railroads into the ground that enough is enough. Congress should stay out of the rail dispute and tell the railroads to do what other business leaders do — sit down and bargain a contract that your employees will accept."
► From The Hill — Biden, White House officials get involved in railway talks in bid to avert strike — President Biden and his Cabinet have been directly involved in trying to broker an agreement between rail companies and worker unions. The companies that operate railways for freight trains and the unions who work those rails have until Friday to agree to a new contract. Without a deal, workers could go on strike, crippling supply chains that depend on freight trains.
---
THAT WASHINGTON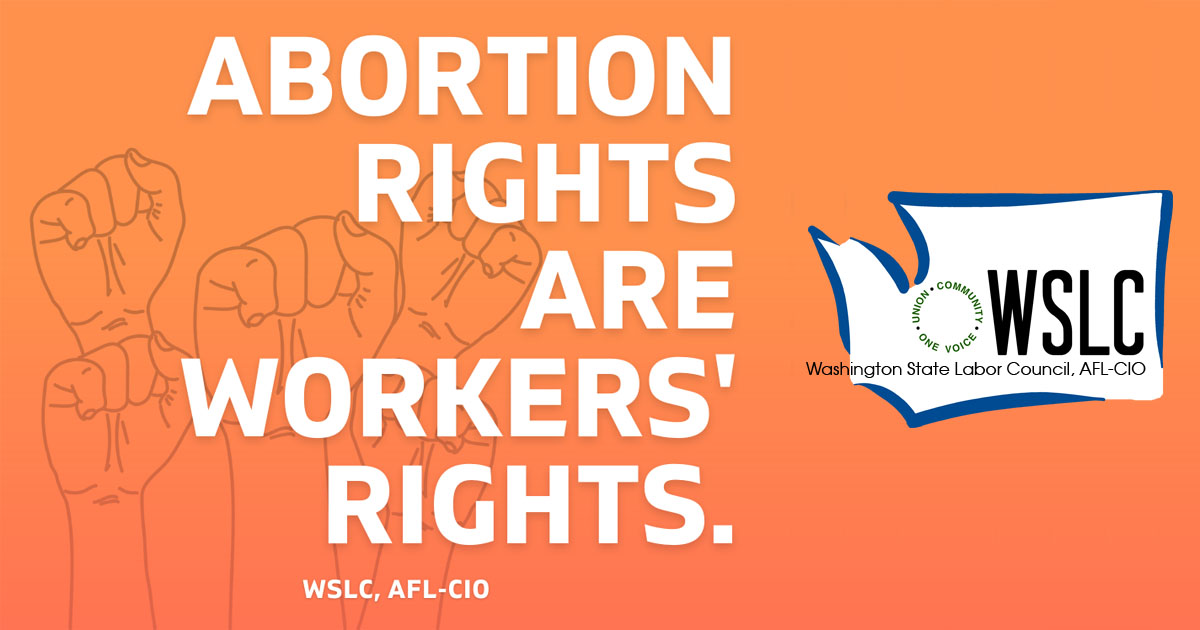 ► From Politico — Republican Graham introduces bill that would restrict abortions nationwide — Senate Republicans led by Lindsey Graham (R-S.C.) introduced federal anti-abortion legislation on Tuesday — the first of its kind since the Supreme Court overturned Roe v. Wade in June. Graham said the bill is an effort to identify what Republicans stand for.
The Stand (June 27, 2022) — Amid attacks on abortion rights, unions must fight back (by Shaunie Wheeler James and Cherika Carter) — We have the tools to transform protests into concrete actions defending bodily autonomy.
EDITOR'S NOTE — Sen. Patty Murray (D-Wash.) responds:
"I have been warning since the day Roe fell that Republicans will not stop there. Republicans want a national abortion ban—for everyone, in every state. They want to force women to stay pregnant: no matter what they want, no matter their circumstances, no matter where they live.

"All their talk of 'returning the issue to the states' clearly isn't worth a single cent, because Republicans have made crystal clear with this bill that they are coming for abortion rights in every single state—doesn't matter if they have strong abortion protections like my home state of Washington. Regardless of who you are or where you live, Republicans think they know best when it comes to your health care decisions.

"This is chilling—and I'll be fighting back at every step of the way."
---
NATIONAL
► From Bloomberg — Tech workers say salaries have not kept pace with inflation — Most technology professionals say their pay isn't keeping up with inflation, raising pressure on employers to meet growing demand for remote work. Some 82% of employees living close to their place of work and 64.5% of remote workers noted a squeeze on their salaries, even as average pay in the industry increased from last year, according to a new report.
---
INTERNATIONAL
► From the AP — EU moves to ban products made with forced labor — The European Union unveiled plans Wednesday to ban products made with forced labor, in an effort to crack down on a modern-day form of slavery that a U.N. agency estimated affects more than 27 million people worldwide.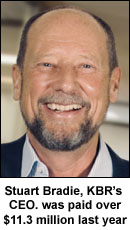 ► From the Washington Post — Hundreds of Filipino workers stranded on island amid dispute with U.S. contractor — The Philippine government alleges that Kellogg Brown & Root, also known as KBR, has canceled regular charter flights from the Camp Thunder Cove base on Diego Garcia to the Philippines since the start of this year as a form of "emotional blackmail." Philippine officials, who have told KBR that it must raise employee pay to meet the U.S. federal minimum wage rate, says the company is pressuring employees to continue working at current wages.
► From the Guardian — Redundancies for King Charles's staff during mourning period 'heartless', says union — Up to 100 employees at the King's former official residence, including some who have worked there for decades, received notification that they could lose their jobs following his accession to the throne.
---
The Stand posts links to Washington state and national news of interest every weekday morning by 10 a.m.
WASHINGTON IS A UNION STATE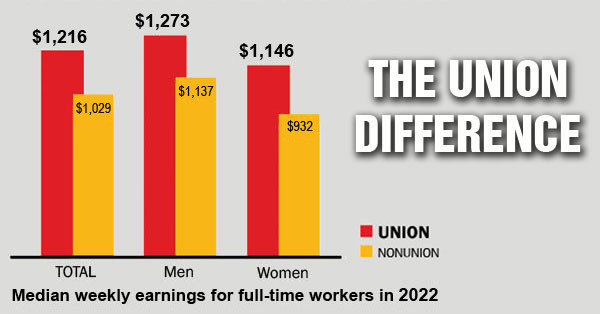 CHECK OUT THE UNION DIFFERENCE in Washington state: higher wages, affordable health and dental care, job and retirement security.
FIND OUT HOW TO JOIN TOGETHER with your co-workers to negotiate for better working conditions and respect on the job. Or go ahead and contact a union organizer today!