Traffic safety crisis | Nurse robots | Alright fellas… let's go!
Friday, January 27, 2023
---
THIS WASHINGTON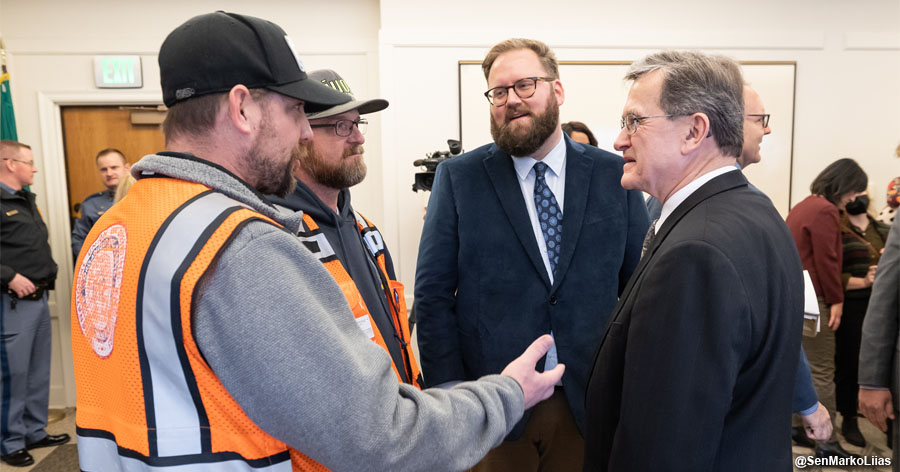 ► From the Seattle Times — Washington traffic safety is 'a crisis that we can't ignore,' lawmakers say — Lawmakers from both sides of the aisle, alongside Gov. Jay Inslee, pledged Thursday to throw their weight behind solving Washington's traffic safety crisis, a show of bipartisan solidarity that the legislators said reflected the urgency of the need. The event at the state Capitol was billed as a Democratic unveiling of safety-themed legislation, but Republican transportation leaders joined as well, standing beside law enforcement, construction workers and family members of people killed on the roads.
EDITOR'S NOTE — SB 5272, sponsored by Sen. Marko Liias (D-Everett), is part of this package of traffic safety bills. This bill would protect road workers by authorizing the use of speed safety camera systems in state highway work zones. It is strongly supported by multiple unions, including the Plumbers & Pipefitters, Operating Engineers, Laborers, Carpenters, Washington State Building & Construction Trades Council and the Washington State Labor Council, AFL-CIO. (See Sen. Liias' testimony on SB 5272 above.)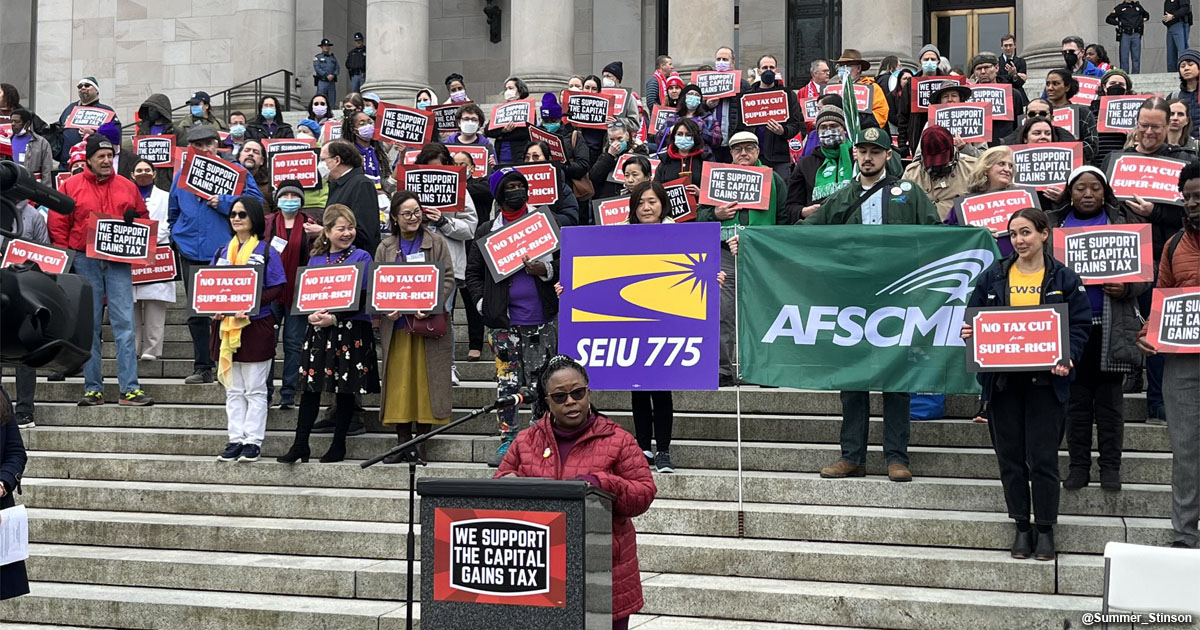 ► From the AP — Justices weigh effort to balance Washington state's tax code — An effort to balance what is considered the nation's most regressive state tax code came before the Washington Supreme Court on Thursday, with justices hearing arguments about whether they should overturn a prohibition on income taxes that dates to the 1930s. The Legislature sought to begin addressing Washington's regressive tax code, which falls disproportionately on low- and middle-income people, in 2021 by enacting a 7% capital gains tax on the sale of stocks, bonds and other high-end assets, with exemptions for the first $250,000 each year and gains from sales of retirement accounts, real estate and certain small businesses.
MORE coverage from (Everett) Herald, KIRO, Olympian, Q13, Seattle Times, and the Spokesman-Review.
► From KING — State AG sues Providence hospitals over 'unfair' medical billing practices — Washington state Attorney General Bob Ferguson said a hearing is set for Friday, Jan. 27 in a legal case alleging Providence hospitals used "unfair and deceptive" medical billing practices for low-income patients. He argues that 36,000 patients who were eligible for charity care were wrongfully sent to debt collectors.
---
LOCAL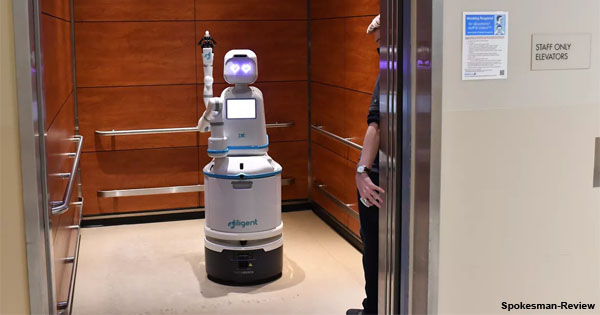 ► From the Spokesman-Review — Deaconess rolls out nurse robots amid staff shortages to deliver medications, lab work, supplies — MultiCare Health Systems on Thursday deployed four of the Moxi units at Deaconess as errand-runners. The "nurse robots" won't interact with patients or go into their rooms but rather will do basic chores normally handled by nurses, from delivering lab samples and PPE supplies to picking up a patient's medicine. The Moxi unit costs are contract-based, so the robots aren't purchased as a capital expense, said a hospital executive: "In terms of the cost, we are not at liberty to share the financial details of our contract."
► From KUOW — Families push back on Bellevue Schools' consolidation plans — The Bellevue School District announced this month that it's planning to close three elementary schools because of declining enrollment. The PTAs at the schools up for consolidation are raising questions of equity and disproportionate impacts on Black and Latino students, and low-income students.
---
AEROSPACE

► From KOMO — Boeing pleads not guilty in case over deadly 737 MAX crashes — Boeing pleaded not guilty Thursday to a charge that it misled regulators who approved its 737 MAX, the plane that was involved in two crashes that killed 346 people. Family members of passengers who died gave emotional testimony, calling for criminal prosecution of top Boeing officials.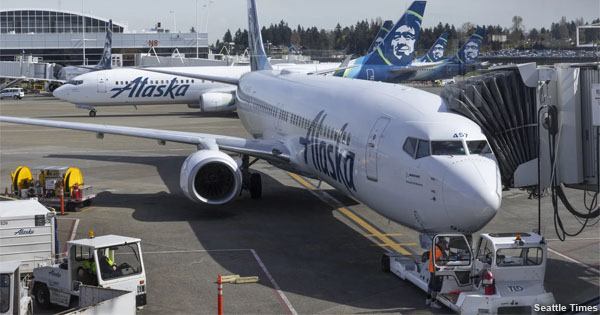 ► From the Seattle Times — Despite setbacks, Alaska Air is profitable, plans to hire and grow — A difficult year for air travelers in 2022 was a lucrative one for the airlines, including Alaska Air Group, the parent company of Alaska Airlines and regional carrier Horizon Air. Alaska executives outlined Thursday aggressive growth plans for 2023, including hiring thousands more people and taking delivery of dozens of new airplanes.
► From Reuters — Airbus plans to recruit more than 13,000 people in 2023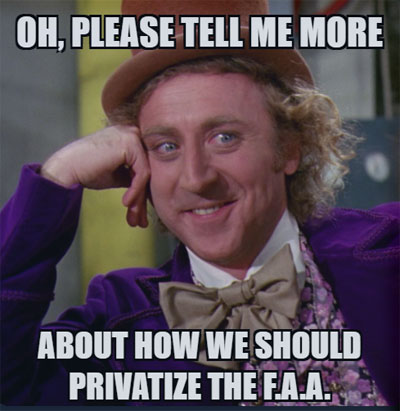 ► From the Washington Post — FAA identifies contractor involved in outage that led to ground stop — An outage of the FAA's Notice to Air Missions system began when contract workers with Bethesda-based Spatial Front inadvertently deleted data, leading to a nationwide halt to air traffic on Jan. 11 for the first time since the Sept. 11, 2001, attacks. "I don't understand how trained people can do that," said Rep. Rick Larsen (D-Wash.), a member of the Transportation and Infrastructure Committee who was briefed on the incident.
EDITOR'S NOTE — Hey, Boeing CEO Dave Calhoun: Tell us more about how the FAA should be privatized because of this incident caused by private contractors. You know, the one that happened just days after Southwest Airlines canceled more than 16,700 flights over an 11-day span because of a complete operational breakdown.
---
THAT WASHINGTON
► From the NY Times — As the Colorado River shrinks, Biden administration prepares to spread the pain — The seven states that rely on water from the shrinking Colorado River are unlikely to agree to voluntarily make deep reductions in their water use, negotiators say, which would force the federal government to impose cuts for the first time in the water supply for 40 million Americans.
► From the Guardian — How should you fight inflation? (Spoiler alert: not with interest rate rises) (by Joseph Stiglitz) — U.S. inflation is mainly supply-side driven so further rate hikes will have little to no effect — and cause deep problems of their own.
EDITOR'S NOTE — And speaking of what's driving inflation…
► From Reuters — Chevron annual profit doubles to record $36.5 billion
---
NATIONAL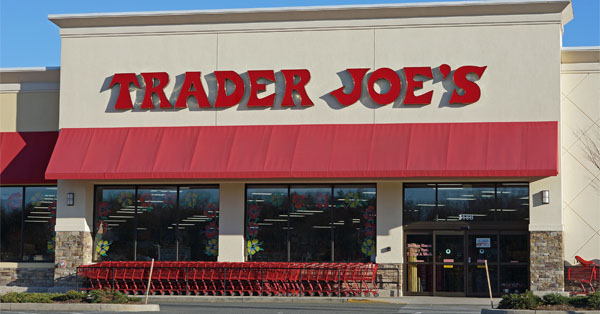 ► From HuffPost — Trader Joe's workers in Kentucky form union — Workers at a Trader Joe's store in Louisville, Kentucky voted 48 to 36 in favor of unionizing this week, adding fuel to a labor campaign that seeks to organize the California-based grocery chain. The union, Trader Joe's United, has won elections at three stores so far. In early 2022, Trader Joe's reduced its discretionary 401(k) contribution for the year by half for most employees, a cut some explicitly cited in their decision to unionize.
EDITOR'S NOTE — Get it in writing! Find out more information about how you can join together with co-workers and negotiate for better wages and working conditions and protect your gains with a union contract. Or go ahead and contact a union organizer today!
► From the Washington Post — Half Moon Bay shooting unmasks poor living conditions for farmworkers — Monday afternoon's mass killing — which left seven people dead at California Terra Garden and another nearby mushroom farm — was the latest in a series of problems, including a prior shooting, a destructive fire, and a multiday coronavirus outbreak in 2020.
► From the Washington Post — 5 fired Memphis officers charged with second-degree murder in beating death of Tyre Nichols — The arrest of the ex-officers sets the stage for this evening's public release of surveillance and body-camera footage of their interaction with Nichols, which local officials have said could spark violence in Memphis.
► From The Hill — Kemp declares state of emergency in Georgia after protests erupt in Atlanta — Protests stepped up in the city last week in response to a police shooting of an activist, 26-year-old Manuel Teran, during an operation to clear a construction site of a new public safety training facility.
► From the Pittsburgh Union Progress — NLRB judge rules Post-Gazette violated federal labor law; must bargain with union and restore previous contract
► From the AP — HarperCollins, striking workers agree to federal mediation
---
T.G.I.F.
► The actual Ballroom Blitz occurred 50 years ago tonight. On Jan. 27, 1973, the British glam rock group Sweet was performing at the Grand Hall in Kilmarnock, Scotland, when they were driven offstage by a barrage of bottles. The incident inspired one of their biggest hits. Fun fact: Quentin Tarantino considered using this song in the Reservoir Dogs scene when Mr. Blonde tortures the cop, but in the end he went with "Stuck in the Middle With You" by Stealer's Wheel. A month after the film's 1992 release, a different movie — Wayne's World — prominently featured "Ballroom Blitz" (along with "Bohemian Rhapsody") creating a new generation of fans. Enjoy.
---
The Stand posts links to Washington state and national news of interest every weekday morning by 10 a.m.
Short URL: https://www.thestand.org/?p=113954
Posted by
admin
on Jan 27 2023. Filed under
DAILY LINKS
. You can follow any responses to this entry through the
RSS 2.0
. Both comments and pings are currently closed.