The new North Line | IAM: save Intalco | Why no M3GAN
Tuesday, January 31, 2023
---
AEROSPACE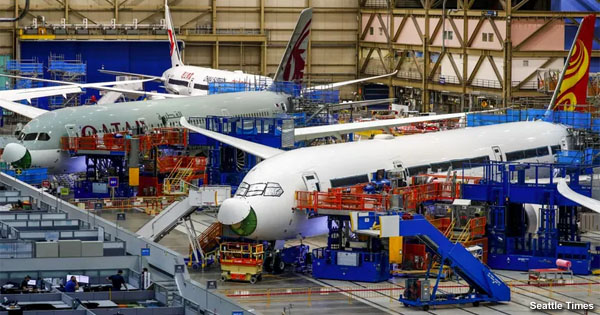 ► From the Seattle Times — Boeing to set up a fourth 737 MAX assembly line in Everett — Boeing announced internally Monday morning that it will set up an additional fourth 737 MAX assembly line inside its increasingly empty widebody jet plant in Everett. The move, adding to the three existing MAX assembly lines in Renton, will make use of the space freed up in Everett by ending the 747 and 787 production. It's a lifeline for Everett workers, who have seen job prospects steadily shrink. Stan Deal, CEO of Boeing Commercial Airplanes, told employees that the new assembly line, known as the North Line, will be established "beginning in the second half of 2024."
► From KIRO — Labor unions, residents see economic impact with new Boeing assembly line coming to Everett in 2024 — Jon Holden, President of the Machinist Union District 751, sees this as a win-win situation for more than future Boeing workers:
"We can own homes. We can save for our families to get a higher education or go into trade school. We can do a lot in our community with these jobs."
TODAY at The Stand — IAM 751 applauds Boeing plan to add 737 MAX line in Everett
MORE coverage from the Associated Press, (Everett) Herald, KING, and PSBJ.
► From the NY Times — The last Boeing 747 leaves the factory — The plane known as "Queen of the Skies" helped make air travel more affordable, but it has been supplanted by smaller, more efficient aircraft.
► From Teamster.org — Teamsters ratify industry-leading contract at United Airlines — Teamsters at United Airlines have ratified an agreement that includes significant wage increases and added job protections for more than 8,200 technicians and related classifications nationwide.
EDITOR'S NOTE — Ready for a raise? Get more information about how you can join together with co-workers and negotiate a fair return for your hard work. Or go ahead and contact a union organizer today!
---
LOCAL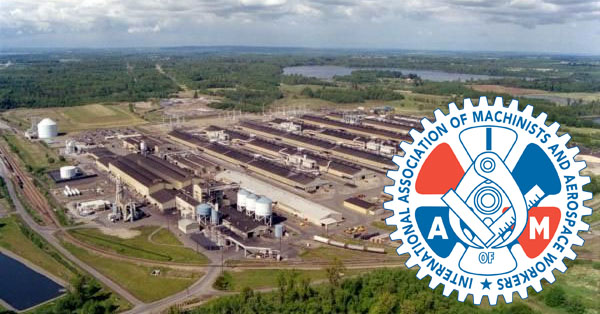 ► From KING — Union: Alcoa to demolish shuttered Ferndale smelter —  Ferndale's Alcoa Intalco smelter closed in 2020, taking hundreds of jobs with it. Since then there have been reports of new investors — only to bring dashed hopes of reopening the plant. There is still a skeleton crew maintaining the shuttered smelter. Representatives of the International Association of Machinists and Aerospace Workers say insiders have told them Alcoa is quietly moving equipment off the property and preparing to tear the place down. The IAMAW is urging Alcoa keep the facility standing.
EDITOR'S NOTE — Thanks a lot, BPA.
Today, AFL-CIO President Liz Shuler tweeted: "If we want America to lead in global production, we must protect USA manufacturing jobs, including those at the ONLY aluminum smelter west of the Mississippi River."
► From the (Everett) Herald — Voters have role in providing strong schools (editorial) — A third levy failure for Marysville schools will cause even deeper cuts to what students are owed.
---
THIS WASHINGTON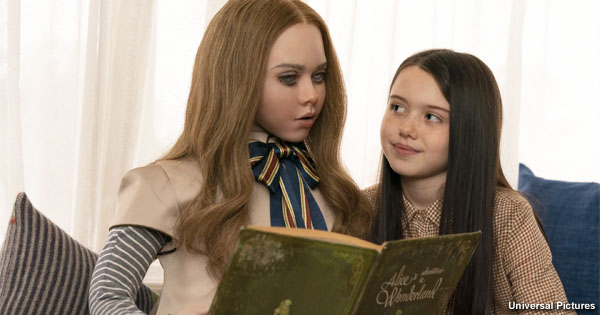 ► From KNKX — Movies set, but not filmed, in Washington are common. That might start changing. — Studios want the aesthetics of Washington, but get more tax breaks elsewhere. Even though Washington was an early adopter of film incentives in the 2000s, it was outpaced by other states and the neighboring Canadian province, according to Amy Lillard, executive director of Washington Filmworks. The Legislature increased the state's incentive pool. As of January, $15 million is available in tax breaks for studios.
EDITOR'S NOTE — From the WSLC's 2022 Legislative Report​: Tax-break accountability advanced this year as the inclusion of strong labor standards became the norm when industries seek incentives. The Washington Motion Picture Competitiveness program, managed by Washington FilmWorks with entertainment trades unions and employers, has been a trailblazer in this regard. Jobs with good wages, quality health care and retirement benefits are ensured before any rebates are issued. That program was greatly expanded this year and will be able to secure more investments to support our state's creative economy.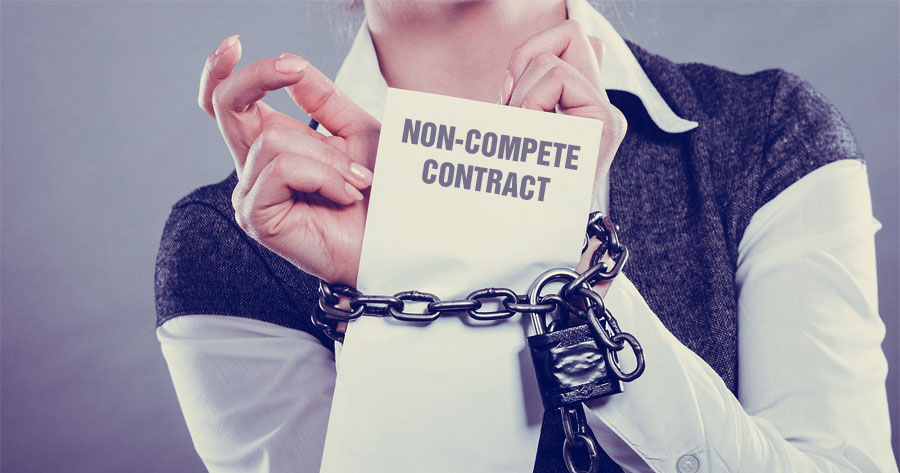 ► From the Seattle Times — Noncompete agreements cost Seattle-area man a new job, lawsuit says — Ian Morgan is suing both Dealer Tire and Lexus of Bellevue over practices he said penalized him for nothing worse than "trying to get a living wage and move into a higher position." … Under a 2020 state law, noncompetes are no longer enforceable for workers making less than around $116,600 or for contractors making less than around $291,500. (Both thresholds are adjusted for inflation by the state Department of Labor and Industries.) Noncompetes also can only last 18 months, versus the two or more years that some employers have demanded.
► From the union-busting Columbian — Missing middle housing bills back on Legislature's table — HB 1110, filed by Rep. Jessica Bateman (D-Olympia), aims to lift zoning laws prohibiting multiunit dwellings and, in effect, provide more middle housing options for Washington residents. Middle housing refers to units like duplexes, cottage clusters and townhomes intended to fill the gap between low-income and high-income housing options.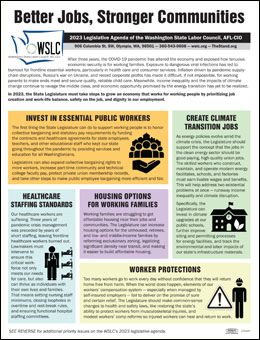 The Stand (Jan. 5) — WSLC announces 2023 agenda for state legislature — The Washington State Labor Council, AFL-CIO supports HB 1110/SB 5190 to reform exclusionary zoning that blocks construction of more affordable, denser housing. We need more housing options for wage-earning workers and their families.
► From Crosscut — Homeless services could face cuts in WA's 2023 legislative session — Advocates have outlined steps to ease the housing crisis — but it all depends on how legislators divvy the budget.
---
THAT WASHINGTON
► From the Washington Post — Biden to end COVID national emergencies in May — The expiration of the orders marks a new phase of the pandemic response, as U.S. officials prepare to remove some of the flexibilities that were instituted during the earliest and most dire days of the pandemic.
► From The Hill — Wage growth slows as Fed set to ease up on rate hikes — Wages and benefits rose at a slower rate during the final three months of 2022, according to data released Tuesday, giving the Federal Reserve room to ease up its fight against inflation.
EDITOR'S NOTE — Mission accomplished! Meanwhile, in inflation news the Fed ignores…
► From the Guardian — Exxon posts record $56 billion profit for 2022 in historic high for western oil industry — Other oil companies are also expected to break their own annual records on high prices and soaring demand, pushing their combined take to near $200 billion. The scale has renewed criticism of the oil industry and sparked calls for more countries to levy windfall profit taxes on the companies.
---
NATIONAL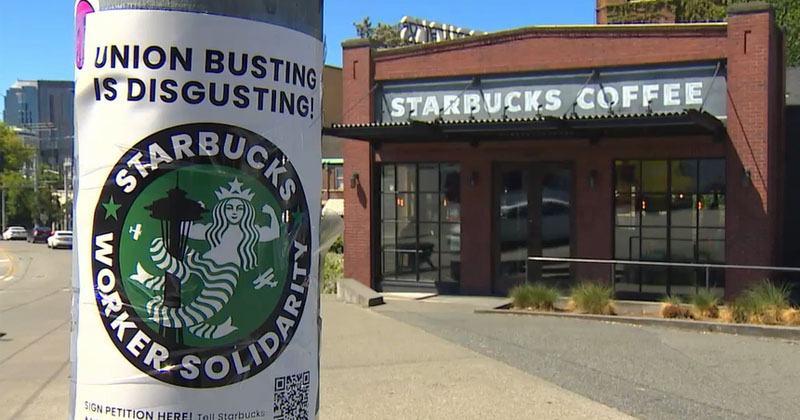 ► From the Guardian — 'It can be scary': how corporate America is hitting back against unions — Intense pushback against unionization is becoming the norm in the U.S. – and it is having an impact. The intense opposition from many major U.S. employers to workers who are trying to unionize is a major factor in the recent decline in labor union density in the U.S., with the US having among the lowest union densities compared with other industrialized countries.
EDITOR'S NOTE — Nothing worth having comes easy. If you want better wages, benefits and working conditions, demand a Union Contract! Get more information about how you can join together with co-workers and negotiate a fair return for your hard work. Or go ahead and contact a union organizer today!
The Stand (Jan. 19, 2023) — Washington remains the 3rd most unionized state
► From the Level — Fear and loathing among union-busters — At a gathering of the National Restaurant Association's legal arm, lawyers and executives grappled with a worker uprising.
► From the LA Times — How 'crunch' time and low pay are fueling a union drive among video game workers — Video game workers have long decried so-called crunch periods, many of them dreading the months-long gantlet that leads up to a game's release. Some workers describe sleeping at their desks or missing out on time with family and friends during this period; others struggle with anxiety and burnout.
NEW: Ahead of major contract negotiations with @Teamsters, UPS announced it will buy back $5 billion of stock & increase dividend payments to wealthy shareholders.

UPS made $13 billion in profit last year, but won't pay for A/C in trucks and forces drivers to work 12+ hour days.

— More Perfect Union (@MorePerfectUS) January 31, 2023
► From Reuters — UPS beats quarterly profit target — United Parcel Service Inc on Tuesday beat expectations for quarterly adjusted profit, as it prioritized lucrative shipments and kept a tight lid on costs.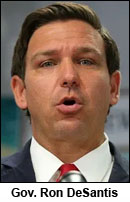 ► From the Washington Post — Hide your books to avoid felony charges, Florida schools tell teachers — Students arrived in some Florida public school classrooms this month to find their teachers' bookshelves wrapped in paper — or entirely barren of books — after district officials launched a review of the texts' appropriateness under a new state law. Breaking the law is a third-degree felony, meaning that a teacher could face up to five years in prison and a $5,000 fine for displaying or giving students a disallowed book.
► From the (Longview) Daily News — Staffing shortages, crushing workloads make public defenders' jobs 'impossible' — Staff shortages and decades of underfunding have created public defense systems crises across the West. Public defenders say they're unable to serve clients effectively as they grapple with crushing caseloads, few resources, burnout, student debt and low pay.
► From HuffPost — When this pilot quit her job, her employer billed her $20,000 — Struggling to find a good job, Kate Fredericks signed a "training repayment" agreement with her new airline. She soon came to regret it.
EDITOR'S NOTE — And a related story…
► From Deadline — WGA East members threaten to strike HuffPost unless given a fair contract by midnight Tuesday
---
The Stand posts links to Washington state and national news of interest every weekday morning by 10 a.m.
WASHINGTON IS A UNION STATE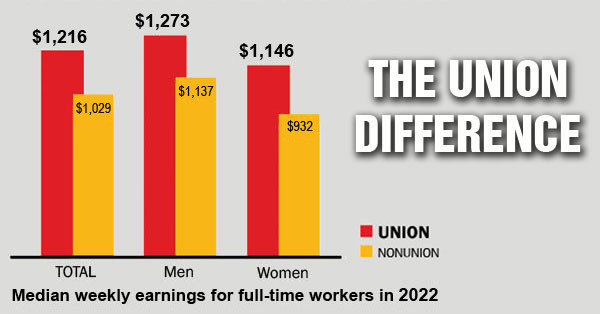 CHECK OUT THE UNION DIFFERENCE in Washington state: higher wages, affordable health and dental care, job and retirement security.
FIND OUT HOW TO JOIN TOGETHER with your co-workers to negotiate for better working conditions and respect on the job. Or go ahead and contact a union organizer today!