Sea-Tac organizing | Nurses with PTSD | Relevant unions
Monday, February 13, 2023
---
LOCAL
Victory News: SSP workers at Seatac organize and make huge gains in first contract! SSP Lead and Local 8 member Lily who organized for her union and the contract shares her thoughts on the victory.

"We won so much with our contract at SSP, and it's meant so much to everyone." pic.twitter.com/4w6j2e8kIw

— UNITE HERE! Local 8 (@UniteHereLocal8) February 10, 2023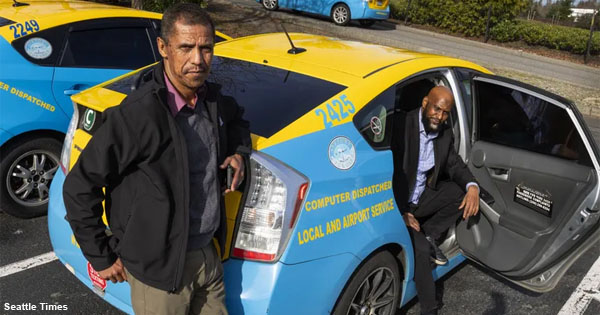 ► From the Seattle Times — As taxi business wanes at Sea-Tac, drivers want a say in their future — As the taxi industry has faced near extinction in the past decade due to rideshares like Uber and Lyft, the airport has become a last stand for taxi drivers in the Puget Sound region. They say they want more oversight from the Port of Seattle Commission and for drivers to have more voice at work. Teamsters Local 117 is the union for the 409 taxi drivers who work at Sea-Tac, the majority of whom are immigrants. Drivers showed up in force at a Port of Seattle Commission meeting in December to ask commissioners to take action.
► From the Tri-City Herald — Feds get more time to destroy dangerous chemicals that can sicken Hanford workers — Hanford will be allowed years more time to test and start using technology to capture and destroy chemical vapors that have sickened workers. As a concession for allowing more time for testing with the hope of then using chemical-destroying technology, the plaintiffs in a 2015 lawsuit are requiring more transparency in reporting possible vapor incidents at the nuclear reservation.
► From the Seattle Times — Sea-Tac's legacy of PFAS chemicals: 'foam showers,' sick firefighters and contaminated water — Regulators are trying to figure out the best approach to a cleanup that is likely to stretch on for decades. The foam also poses risks to firefighters, three of whom at the Port of Seattle developed pancreatic cancer, which in animal tests has been associated with exposure to small amounts of PFAS.
► From the Seattle Times — UW aims to expand abortion provider workforce as more patients head to WA — Abortion training in the U.S. has been uneven and spotty for decades. A team of UW nurses and midwives is about to introduce a program that aims to change that.
---
THIS WASHINGTON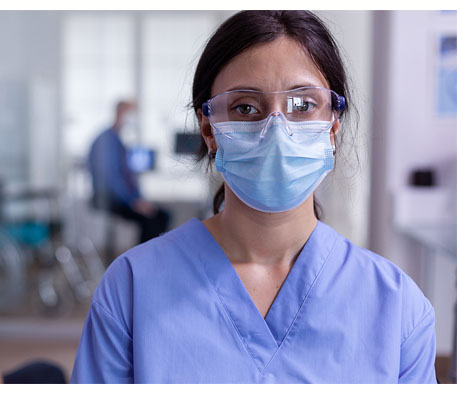 ► From the (Everett) Herald — Nurses' work can lead to PTSD; provide care they need (by Autumn Dennistoun) —  Since the COVID-19 outbreak, the number of nurses with PTSD has increased. My work as a labor and delivery nurse exposed me to traumatic stress after I witnessed the death of a newborn in his father's arms. In my role as a nurse, I was responsible for carrying the infant through the hospital to the morgue under a blanket so that no one would know. There was nothing in nursing school that prepared me for such an event… State HB 1593 and SB 5454 propose amending industrial insurance coverage for PTSD among direct care nurses and classifying it as an occupational disease.
EDITOR'S NOTE — The Washington State Labor Council, AFL-CIO strongly supports this legislation. And speaking of bills the WSLC supports…
► From the (Everett) Herald — Nursing homes face staffing crunch — State lawmakers are considering several bills to bolster the nursing staff in long-term care facilities, so that more of the licensed beds could be used to care for patients. One bill in particular, SB 5526, would increase the Medicaid rate that the state pays to skilled nursing facilities.
► From Crosscut — All former WA prisoners can now vote. So far, few have — Of the 24,000 residents with felony records now able to vote, just 414 used it last fall. Advocates hope to increase registration and voter education.
---
SOUTH OF THE BORDER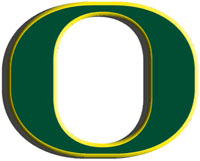 ► From the Nation — Inside the campaign to unionize the University of Oregon — Student workers at the University of Oregon are trying to build a wall-to-wall union—uniting their resident assistants, dining hall staff, and all other undergraduate workers in a massive labor campaign. If the Oregon undergraduates are successful, they believe they will be the nation's largest undergraduate student union at a public university, representing—by the organizers' estimates—approximately 3,000 workers.
► From the Oregonian — Container shipping rebounds at Port of Portland after infamous labor dispute — Shipping container traffic through the Port of Portland has roared back over the past three years, a remarkable recovery from an infamous labor dispute that had essentially shut down container traffic at the port. Terminal 6 now employs 50 more longshore workers each day than in 2020, and regional businesses have another shipping option close to home.
► From the Oregonian — OR senators want taxpayers to stop paying for remote workers' commutes — Oregon lawmakers are wrestling with whether to continue paying state workers who've chosen to live in far-flung states to travel back to the state for periodic in-person check-ins. SEIU 503 says it would be unfair for the public to stop picking up the cost of remote out-of-state workers' travel back to Oregon for work because "management created this policy and then workers decided to follow the policy. … They then made life changes based off management's policy."
---
AEROSPACE



► From the (Everett) Herald — Shortage of skilled airplane workers slows aerospace recovery — The tight labor market could get even tighter for scores of Boeing suppliers hoping to add new workers. In the quest to hire, they face greater competition from the aerospace giant that butters their bread, The Boeing Co.
---
THAT WASHINGTON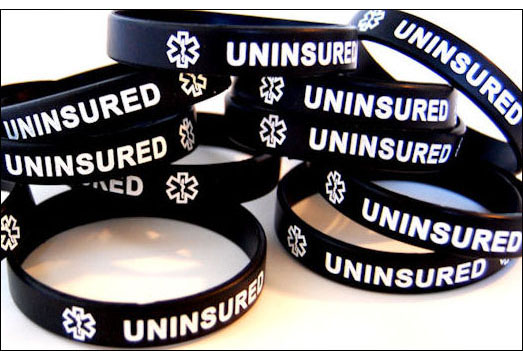 ► From Vox — Millions of people are about to get kicked off Medicaid — Over the past three years, under an emergency pandemic measure, states have stopped double-checking if people who are enrolled in Medicaid are still eligible for its coverage. If you were enrolled in Medicaid in March 2020, or if you became eligible at any point during the pandemic, you have remained eligible the entire time no matter what, even if your income later went up. But in April, that will end — states will be re-checking every Medicaid enrollee's eligibility, an enormous administrative undertaking that will put health insurance coverage for millions of Americans at risk.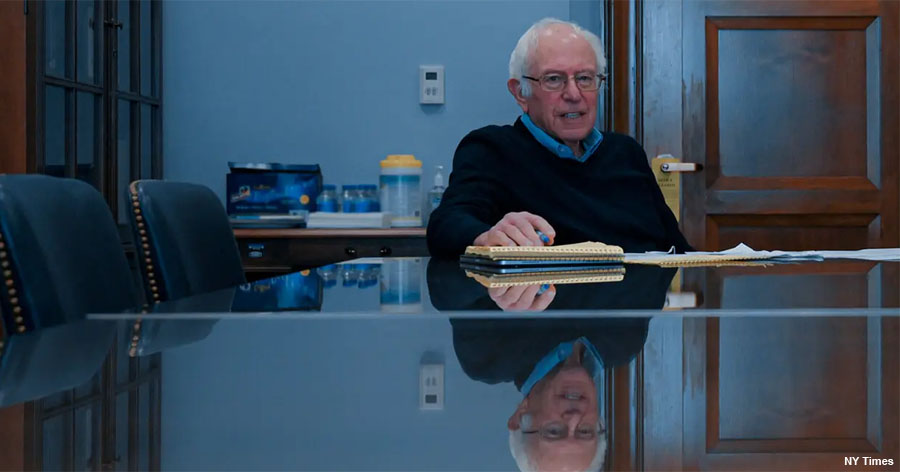 ► From the NY Times — Bernie Sanders has a new role. It could be his final act in Washington. — In two unsuccessful bids for the White House, Sen. Bernie Sanders (I-Vt.) made no secret of his disdain for billionaires. Now, in what could be his final act in Washington, he has the power to summon them to testify before Congress — and he has a few corporate executives in his sights. He is the new chairman of the Senate Committee on Health, Education, Labor and Pensions. The job gives him sweeping jurisdiction over issues that have animated his rise in politics, such as access to health care, the high cost of prescription drugs and workers' rights.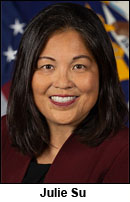 ► From APALA — APALA urges the Biden Administration to support Julie Su as next U.S. Secretary of Labor — The Asian Pacific American Labor Alliance strongly supports elevating current Deputy Secretary of Labor Julie Su to be the next U.S. Secretary of Labor. She brings invaluable lived experience as a woman of color and daughter of immigrants with decades of leadership experience in workers' rights.
► From NPR — Rail workers never stopped fighting for paid sick days. Now persistence is paying off. — The freight railroad CSX announced last week that it had made a deal to provide paid sick leave to roughly 5,000 rail workers. The White House and lawmakers are pushing other railroads to follow suit.
---
NATIONAL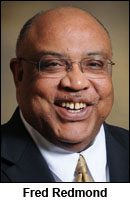 ► From Word in Black — Unions are more relevant today than ever (by Fred Redmond) — This week marks 55 years since the Memphis sanitation strike began following the deaths of two sanitation workers, Echol Cole and Robert Walker, who were crushed by a faulty garbage truck. Organizers and activists rallied the community so that Black sanitation workers who had long experienced low wages and an unsafe work environment would finally gain respect on the job. The strike was a watershed moment in the struggle for economic and racial justice. Dr. Martin Luther King Jr. visited Memphis to support the workers and was assassinated 12 days before they won their union with AFSCME. The strike is an enduring reminder of the crucial role that unions play in rectifying the impact of discrimination and racism against Black people. Many of the same issues that the sanitation workers faced five decades ago persist, and in some cases, worsened, and the need for unions has never been more urgent.
► From the Guardian — DeSantis's corporate donors under fire for 'hypocrisy' over Black History Month — Companies such as Amazon, Disney and Walmart funded Florida governor who has imposed curbs on teaching about race in schools.
► From the Seattle Times — What's so scary about teaching racial realities in schools? (by Naomi Ishisaka) — With the majority of students now people of color, we should be looking for opportunities to tell a more complete and accurate story of our history and how it manifests today in our systems and institutions.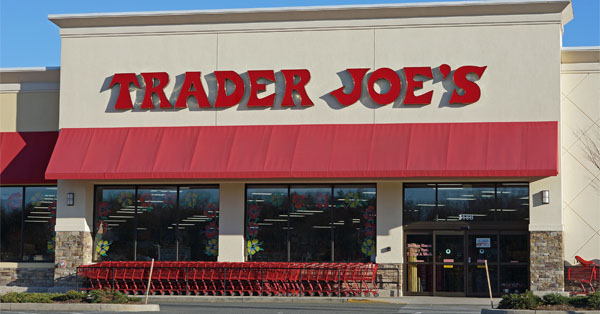 ► From Jacobin — Trader Joe's workers in Louisville just voted for a union. We spoke to one of the workers. — A third Trader Joe's store location has just voted to unionize, this one in the notoriously anti-union South. "If a Trader Joe's in Louisville, Kentucky, can do this," says an organizer, "any Trader Joe's across the country can do this."
EDITOR'S NOTE — You can do this. Get more information about how you can join together with co-workers and negotiate for better wages and working conditions. Or go ahead and contact a union organizer today!
► From Jacobin — Workers at an eBay-owned company are trying to organize a union. eBay is trying to bust it. — Workers with TCGPlayer, a trading card game marketplace owned by eBay, filed for a union election in late January. Employees have accused TCGPlayer of illegal union busting since, including unlawful surveillance and captive audience meetings.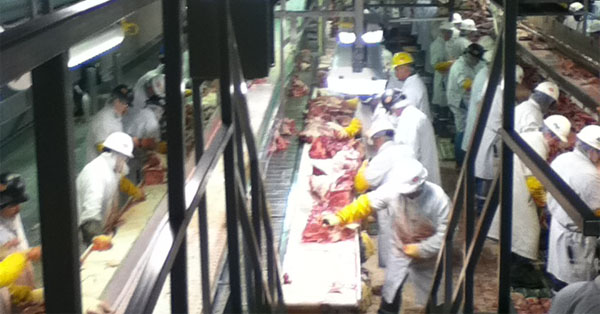 ► From the Washington Post — In a tight labor market, some states look to another type of worker: children — As local economies grapple with a tightening labor market, some state legislatures are looking to relax child labor protections to help employers meet hiring needs. It's part of a persistent trend in labor economics, experts say. When employers struggle to find talent, many prefer to hire younger, cheaper workers rather than increase pay and benefits to attract adults.
EDITOR'S NOTE — Although Washington doesn't have a legislative effort to allow minors to work in meatpacking or construction, as other states do, we are dipping our toes in this water. Citing a "worker shortage," state Rep. Kevin Waters (R-Stevenson) has introduced HB 1730 to lower the age restrictions for working in bars and taverns from 21 to 18.
► From NPR — ERs staffed by private equity firms aim to cut costs by hiring fewer doctors — While diagnosing and treating patients was once doctors' domain, they are increasingly being replaced by nurse practitioners and physician assistants, collectively known as "midlevel practitioners," who can perform many of the same duties and generate much of the same revenue for less than half the pay.
Shout out to @IATSE for this ? halftime show with Rihanna pic.twitter.com/LHwH4rWwlA

— Dripped Out Trade Unionists (@UnionDrip) February 13, 2023
---
The Stand posts links to Washington state and national news of interest every weekday morning by 10 a.m.
WASHINGTON IS A UNION STATE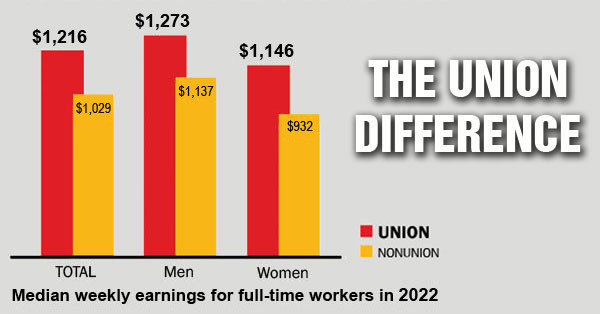 CHECK OUT THE UNION DIFFERENCE in Washington state: higher wages, affordable health and dental care, job and retirement security.
FIND OUT HOW TO JOIN TOGETHER with your co-workers to negotiate for better working conditions and respect on the job. Or go ahead and contact a union organizer today!