Starbucks egregious | UI 'overpayments' | Unions destroy pay gaps
Thursday, March 2, 2023
---
STARBUCKS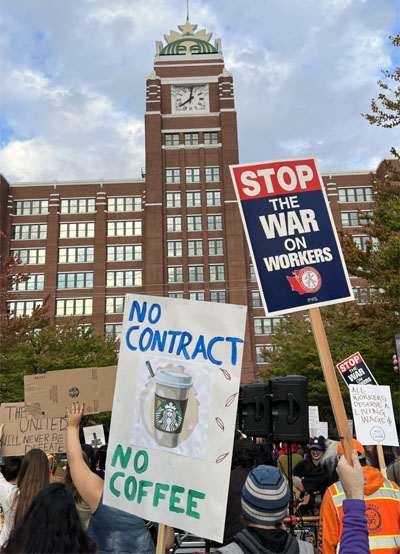 ► From the Washington Post — Starbucks committed 'egregious' violations in battling union, judge rules — Starbucks committed "egregious and widespread" violations of federal labor law while trying to halt union campaigns, ruled a federal administrative law judge, who ordered the coffee giant to reopen closed stores and reimburse backpay and damages to employees who launched a nationwide organizing drive at the company. Starbucks showed "a general disregard for the employees' fundamental rights," Judge Michael A. Rosas wrote in a 220-page order released Wednesday. A Starbucks spokesman said the company is considering "all options to obtain further legal review." Gary Bonadonna Jr., manager of the Workers United Rochester (NY) regional joint board said:
"This ruling proves what we have been saying all along — Starbucks is the poster child of union-busting in the United States. We are thrilled that the company is being held accountable for their actions and we will continue to fight until every Starbucks worker wins the right to organize."
► From the AP — Judge finds Starbucks violated worker rights 'hundreds of times' in union fight — The order also requires Starbucks' interim CEO Howard Schultz to read or be present at a reading of employees' rights and distribute a recording of the reading to all of Starbucks' U.S. employees.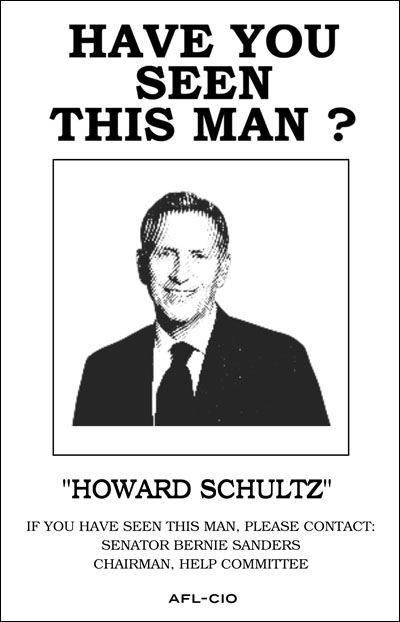 ► From Reuters — U.S. Senate panel to vote to subpoena Starbucks CEO to testify — A U.S. Senate committee will vote next week on issuing a subpoena for Starbucks CEO Howard Schultz to testify at a hearing on the company's compliance with federal labor law, its chairman Sen. Bernie Sanders said on Wednesday. The Senate Health, Education, Labor and Pensions Committee also will vote on authorizing the panel to investigate labor law violations by major corporations.
TAKE A STAND — Starbucks Workers United Seattle is asking union members and community supporters to email Sen. Patty Murray, who serves on the Senate HELP Committee, and urge her to vote to #SubpoenaSchultz!
► ICYMI from Bloomberg — Starbucks faces new front in its labor disputes: White-collar workers — Dozens of white-collar Starbucks Corp. employees and managers have signed an open letter protesting the company's return-to-office mandate and its alleged union-busting, writing: "We love Starbucks, but these actions are fracturing trust in Starbucks leadership. Morale is at an all-time low, and the brand reputation and financial value of this publicly traded company are at risk."
The Stand (Mar. 1) — Richard L. Trumka PRO Act reintroduced in Congress — WSLC President April Sims: "Corporations like Starbucks and Amazon routinely break weak labor laws and a multibillion-dollar union-busting industry works nonstop to block workers from exercising their rights. By passing the Richard L. Trumka PRO Act, we can restore the freedom to join together in unions, raise our working and living standards, and address the racial and gender income gaps in this country."
TAKE A STAND — Please sign this AFL-CIO petition and add your name to the list of supporters of the Richard L. Trumka PRO Act.
---
OREGON NEWS

---
THIS WASHINGTON




► From the Seattle Times — Thousands of WA workers may have to repay millions of dollars in pandemic benefits — For the tens of thousands of Washingtonians being asked to repay more than $1 billion in pandemic unemployment benefits, state plans to cancel some of that debt are getting complicated. In January, Employment Security said it will review the cases of around 136,000 Washingtonians collectively on the hook for $1.2 billion in "overpayments," or jobless benefits ESD says they shouldn't have received. Under a federal waiver program, ESD will be able to cancel some of those overpayment debts.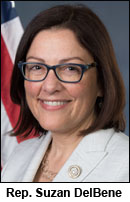 EDITOR'S NOTE — This week, Republicans in Congress are considering a bill that would empower states to send bills to families for unemployment insurance overpayments that were submitted in good faith by applicants and states approved in error. Rep. Suzan DelBene (D-WA, 1st) introduced an amendment in committee that would have protected parents from receiving these surprise bills, but it was unanimously rejected by Republicans. Said DelBene:
"On one hand, Republicans are opposing increased IRS enforcement to protect wealthy tax cheats by conjuring up this image that thousands of IRS agents would be pounding on your door. While on the other, they are advancing this bill that would send a new bill to hardworking Americans who filled out unemployment insurance applications honestly and received benefits that their state said they qualified for."
► From the Seattle Times — Seattle Schools notifying employees of possible layoffs — About 30 employees in the Seattle Public Schools central office received notices this week that they might be laid off in the 2023-24 school year. And it's possible another 38 employees working in school buildings could be cut. The district has seen dramatic enrollment losses since the start of the pandemic, a situation that sparked conversations last month about consolidating some of its 106 schools and laying off some staff as a way to save money.
► From the Tri-City Herald — Richland school official wants all recall button-wearing employees 'immediately fired' — A Richland School Board Vice Chair Audra Byrd says she will seek to fire any district employees seen on school property with petitions or wearing buttons in support of the recall. Signatures are currently being gathered by a recall group to oust Byrd and two other board members from office.
The Stand (update today) — Status report on pro-worker bills in Olympia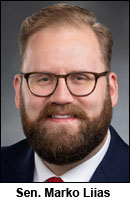 ► From the Spokesman-Review — Washington may add automated cameras on highways to catch speeders in construction zones — A bill that passed the state Senate last week would allow the Washington state Department of Transportation to add automated speed safety cameras in work areas to capture speeding when workers are present. Bill sponsor Sen. Marko Liias (D-Everett) said he was motivated to sponsor the bill by his own experiences as the child of a carpenter, who was hospitalized due to workplace injuries.
► From Senate Democrats — Bill to increase housing near transportation centers passes Senate — SB 5466, also sponsored by Sen. Marko Liias, will create more opportunity for housing near transit centers passed the Senate Wednesday on a bipartisan 40-8 vote. 
► From House Democrats — Fosse passes workforce & child care bill from House — The state House of Representatives unanimously passed HB 1525 on Wednesday. Sponsored by Rep. Mary Fosse (D-Everett), it would address the lack of affordable childcare faced by those in state registered apprenticeship programs.
► From KUOW — Two bills to protect abortion rights move forward in Olympia — One, known as a "shield law," seeks to protect people who travel to Washington seeking abortions. The second bill would require insurance coverage of abortion care without co-pays or deductibles.
► From the Seattle Times — WA legislators scrap plan for free school lunch for all students — House Democrats have considerably narrowed the bipartisan proposal, citing budget constraints, but say the legislation would still make free meals available to about 90,000 additional kids.
► From the (Everett) Herald — To solve home care aide shortage, Washington may expand who can be one — Mae Hochstetler can pay the bills because the state pays her to care for her adult son, with a pandemic pay bump.
---
THAT WASHINGTON
► From CNBC — Rail unions tell Biden officials that workers have fallen ill at Norfolk Southern derailment site — The presidents of U.S. railroad unions told Biden administration officials that rail workers have fallen ill at the Norfolk Southern derailment site in East Palestine, Ohio, in a push for more train safety. Norfolk Southern rail workers who have worked or continue to work the cleanup site have reported experiencing "migraines and nausea." The unions also say workers are not being provided appropriate personal protective equipment such as respirators, eye protection or protective clothing.
► From the NY Times — Student loan case could redefine limits of presidential power — It is not the first time that the Supreme Court has suggested that President Biden has overstepped his authority, but the case could curtail his ambitions.
---
NATIONAL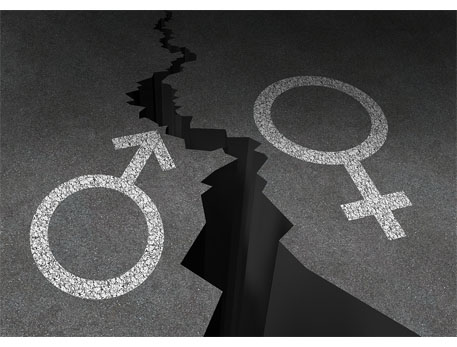 ► From the Washington Post — Women's pay was starting to catch up. Now progress has stopped. — The gender pay gap has hit a glass ceiling of its own. The long-standing pay disparity between the genders has barely improved in the past 20 years, a new analysis from Pew Research shows, raising difficult questions about why women's recent gains in higher education and workplace opportunities haven't put them on more equal financial footing. Women in 2022 made 82 percent of men's pay. Researchers say the steps that improved women's earnings in the '80s and '90s have largely been exhausted.
EDITOR'S NOTE — AFA-CWA President Sara Nelson tweets: "This article misses one crucial point: women in unions make MORE than non-union men. Unions DESTROY the pay gap. Women, join unions and run unions."
► From the AP — Delta pilots approve contract to raise pay by more than 30% — Pilots at Delta Air Lines easily approved a new contract that will raise their pay by more than 30% over four years and likely lead to similar agreements covering union pilots at other major U.S. airlines.
EDITOR'S NOTE — Ready for a raise? Get more information about how you can join together with co-workers and negotiate for better wages and working conditions. Or go ahead and contact a union organizer today!
► From Inside Higher Ed — Lacking collective bargaining rights, but organizing anyway — Public university employees in states lacking collective bargaining rights aren't letting that exclude them from the current wave of union organizing and action in higher education. Unlike for private employers, which are regulated by the NLRB, states decide whether to offer public university workers collective bargaining rights.
► From Politico — Labor leaders urge DNC to spike Atlanta — As New York, Chicago and Atlanta are considered to host the 2024 Democratic National Convention, labor leaders argue that Atlanta doesn't have nearly enough union hotels. That alone should be disqualifying for the "party of labor" under a president who has "proven himself the most pro-union president in history," they wrote.
---
INTERNATIONAL

► From the Guardian — UN urged to intervene over destruction of U.S. abortion rights — Top human rights organizations are calling on the United Nations to intervene over the destruction of abortion rights in the United States. In a letter by nearly 200 organizations and experts, the authors detail how, since the overturning of the federal constitutional right to abortion in June 2022, some 22 million women and girls of reproductive age live in states where abortion access is now either banned or inaccessible.
► From the Washington Post — The U.K. is experiencing historic strikes. These stories explain why. — Britain is in the midst of its largest wave of workers' strikes in decades. The demonstrations have been notable for their size: On a single day last month, over half a million people joined a day of mass action. But the strikes are also remarkable for how they cut across society. They involve nurses, doctors, teachers, civil servants, university lecturers, firefighters, ambulance staff, bus drivers, postal workers, baggage handlers and more.
---
The Stand posts links to Washington state and national news of interest every weekday morning by 10 a.m.
Short URL: https://www.thestand.org/?p=114859
Posted by
admin
on Mar 2 2023. Filed under
DAILY LINKS
. You can follow any responses to this entry through the
RSS 2.0
. Both comments and pings are currently closed.