Richard L. Trumka PRO Act reintroduced in Congress
Sign AFL-CIO petition supporting the landmark labor law reform
WASHINGTON, D.C. (Mar. 1, 2023) — America's working families have called upon Congress to restore the right of workers to freely and fairly join together in unions so they can bargain for better wages and working conditions. In the last Congress, legislation known as the PRO Act passed the House with bipartisan support, but despite President Joe Biden's strong support, Senate Republicans used arcane filibuster rules to block it from coming to a vote.
Workers don't give up that easily.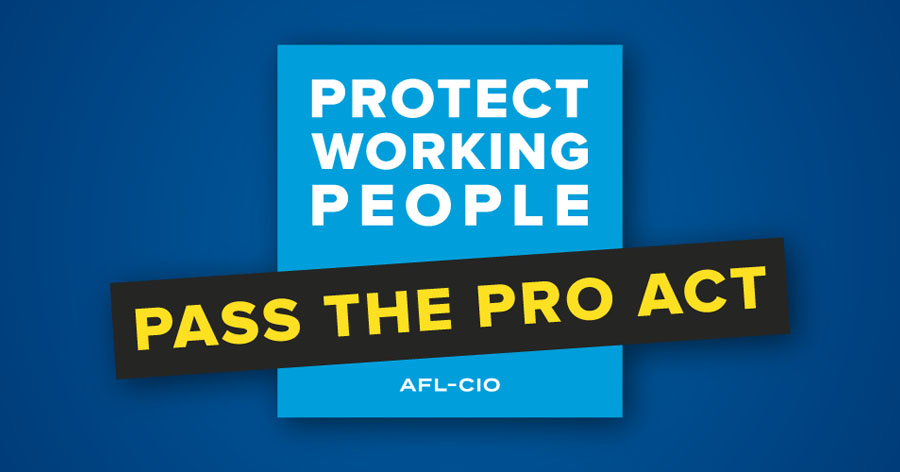 On Tuesday, Sen. Bernie Sanders (I-Vt.) and Reps. Bobby Scott (D-Va.) and Brian Fitzpatrick (R-Pa.) introduced the Richard L. Trumka Protecting the Right to Organize (PRO) Act. This landmark worker empowerment, civil rights and social justice legislation, named after the AFL-CIO president who passed away in 2021, is an essential component to ensuring the economy works for all of us.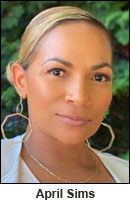 "America is in the midst of an unprecedented surge in union organizing and, because of that, our woefully outdated labor laws are being exposed for their failure to protect working people," said April Sims, President of the Washington State Labor Council, AFL-CIO. "Corporations like Starbucks and Amazon routinely break weak labor laws and a multibillion-dollar union-busting industry works nonstop to block workers from exercising their rights.
"By passing the Richard L. Trumka PRO Act, we can restore the freedom to join together in unions, raise our working and living standards, and address the racial and gender income gaps in this country."
TAKE A STAND — Please sign this AFL-CIO petition and add your name to the list of supporters of the Richard L. Trumka PRO Act.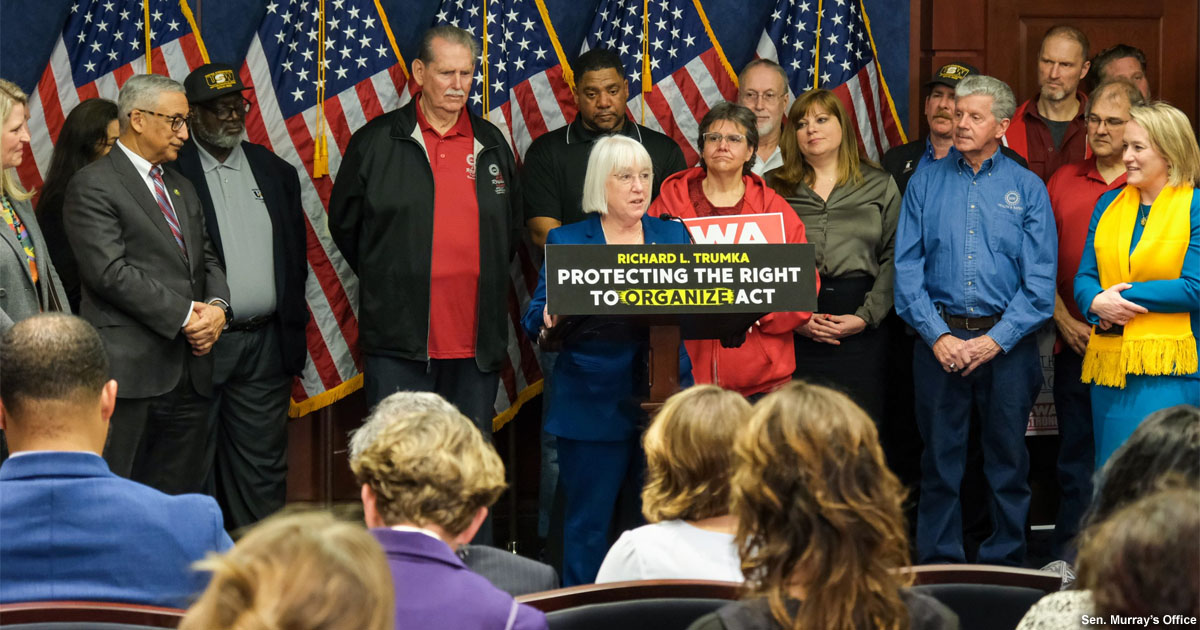 Sen. Patty Murray (D-WA), who was a lead sponsor of the PRO Act in the last Congress, joined this year's lead sponsors and other supporters of the PRO Act at a press conference Tuesday announcing its reintroduction.
"We have made really important progress recovering from the pandemic and building a better, fairer economy over the last few years—but the fact is too many workers are still getting left behind while the biggest corporations make a killing," Murray said on Tuesday. "That's why I'm glad to join my colleagues today in reintroducing the PRO Act to protect every worker's right to organize and fight for better pay, quality health care, a safer workplace, and a secure retirement. Unions give workers a powerful voice to demand better. It's far past time we pass this critical legislation to build a stronger and fairer economy—and ensure workers get their fair share of the wealth they help create."
Both Sens. Murray and Maria Cantwell (D-WA) sponsored the 2021 version of the PRO Act. Every Democratic member of Washington's House delegation — Reps. Suzan DelBene, Rick Larsen, Derek Kilmer, Pramila Jayapal, Kim Schrier, Adam Smith, and Marilyn Strickland — co-sponsored and voted to pass the PRO Act that year.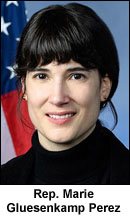 Since then, Washington has added another Democratic House member, Rep. Marie Gluesenkamp Perez, in southwest Washington's 3rd District. On Tuesday, she expressed her strong support of the Richard L. Trumka PRO Act.
"Working people are the backbone of the middle class and the entire country. It's essential that these heroes can fight for better wages and working conditions without fear of retaliation or losing their jobs altogether," Rep. Gluesenkamp Perez said. "The PRO Act cracks down on union-busting by wealthy corporations and CEOs while strengthening protections for workers everywhere, and I'm proud to join my colleagues in this bipartisan effort."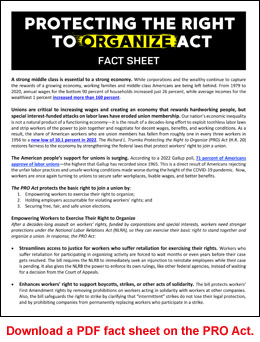 Here's how the PRO Act would protect the basic right to join a union (download/share a fact sheet):
Empower workers to exercise their right to organize
Streamline access to justice for workers who suffer retaliation for exercising their rights;
Enhance workers' right to support boycotts, strikes, or other acts of solidarity;
Give workers the power to override so-called "right-to-work" laws that prevent unions from collecting dues from the workers they represent; and
Authorize a private right of action for violations of workers' rights.
Hold employers accountable for violating workers' rights
Authorize meaningful penalties for companies and executives for violating workers' rights;
Close loopholes in labor law, such as worker misclassification and via "joint employer" status, that erode workers' rights; and
Prevent companies from denying workers' access to justice by overturning Justice Gorsuch's assault on workers in Epic Systems v. Lewis. The bill clarifies that employers may not force employees to waive their right to engage in collective or class-action litigation.
Secure free, fair, and safe union elections
Prevent employers from interfering in union elections, including by requiring workers to attend meetings designed to persuade them against voting in favor of a union;
Facilitate initial collective bargaining agreements by requiring mediation and arbitration to settle disputes; and
Require employers to be transparent with their workers and inform workers of their rights under the National Labor Relations Act and to disclose contracts with consultants hired to persuade employees on how to exercise their rights.
In addition, the PRO Act will promote racial justice and eradicate all kinds of discrimination. The decline in U.S. unionization rates has played a significant role in the expansion of the racial wage gap over the past four decades, and an increase in unionization would help reverse this trend.
A union contract is the single best tool we have to close racial and gender wage gaps, and to ensure dignity and fair treatment for all workers, regardless of where we were born, who we are, or what industry we work in. More than 65% of union members are either women or people of color, and Black workers are the most likely of any demographic group to be union members (13.5%).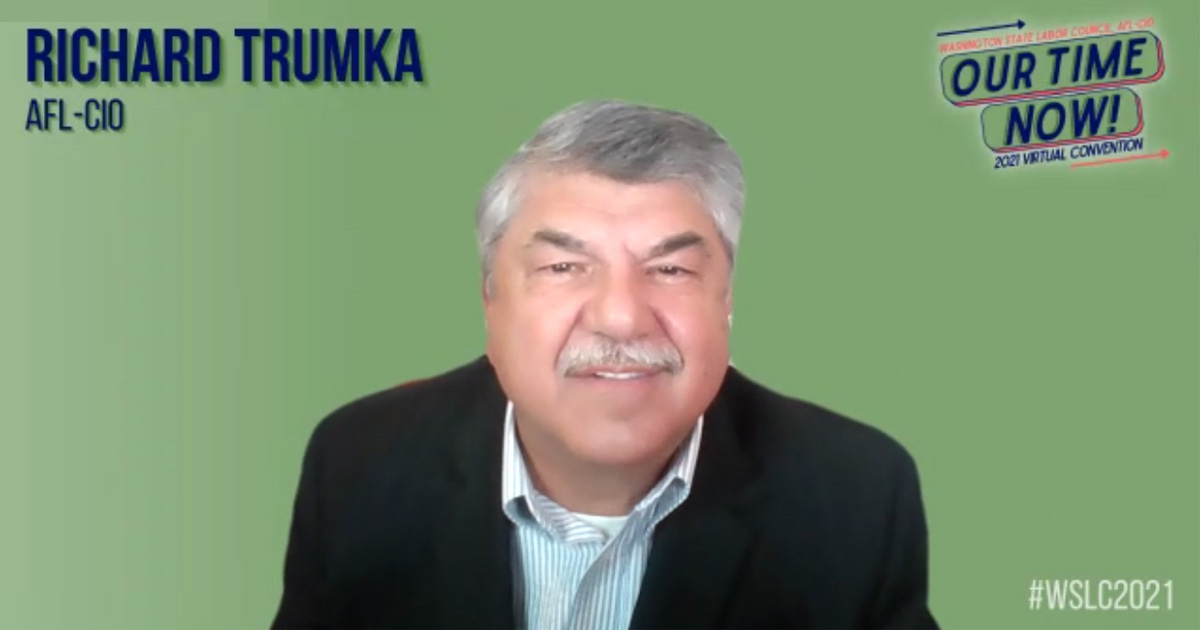 Just two weeks before he passed away, the WSLC had the honor of hosting AFL-CIO President Richard Trumka to its 2021 Convention. Meeting virtually amid the pandemic, Trumka delivered a passionate call to action in support of the PRO Act:
"This is our moment. This is our calling. To provide a better life for our families… because that's what labor unions have always done. I've lived it. I'm here because of it. We know who we are and we're ready for our date with destiny."
"The WSLC will honor President Trumka's remarkable legacy by continuing the fight to pass the landmark labor law reform that he championed," Sims said. "This remains our calling: to provide better lives for our loved ones. Passing the PRO Act will help us accomplish that."
Short URL: https://www.thestand.org/?p=114777
Posted by
admin
on Mar 1 2023. Filed under
NATIONAL
. You can follow any responses to this entry through the
RSS 2.0
. Both comments and pings are currently closed.