Unaware in Sunnyside | Targeting chronic injuries | Confirm Su
Monday, March 13, 2023
---
LOCAL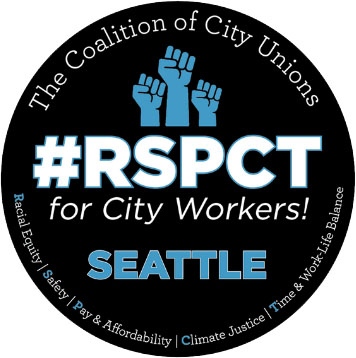 ► From Axios Seattle — Seattle city workers frustrated with raise offer — Seattle city workers are circulating a petition objecting to the city's latest contract offer, which they say included a 1% cost-of-living raise for this year. The Coalition of City Unions, which represents more than 6,000 city of Seattle employees, says in its petition that the city needs to offer wages that "reflect the historic inflation that is grossly escalating the cost of living."
TODAY at The Stand — Sign petition: RSPCT for Seattle city workers
TAKE A STAND — Please sign this petition urging Mayor Bruce Harrell and the Seattle City Council to act with the necessary urgency to provide a fair contract that shows tangible respect for city employees. Every day that they work under expired contracts, the city continues to widen the affordability gap for their communities.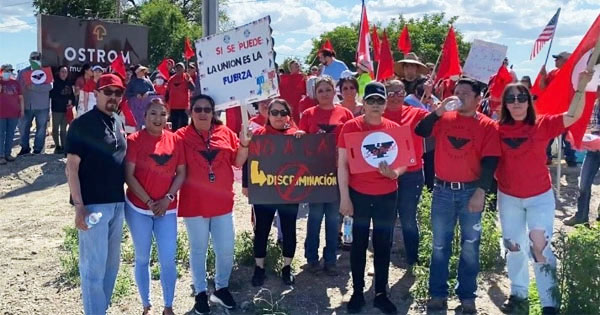 ► From the Yakima H-R — Windmill CEO outlines plans after purchase of Ostrom Mushroom Farms in Sunnyside, but UFW is wary — Windmill Farms, which recently purchased Ostrom Mushroom Farms in Sunnyside, plans to increase training and support for staff, invest in maintenance and expand production, the company's CEO says. But an organizer for the United Farm Workers, which represents farmworkers at the Midvale Road plant, says the union is concerned by the sale. The UFW said workers at the plant were terminated and then offered new contracts as a part of the sale. UFW's Antonio De Loera said the new contracts came with lower wages in less desirable jobs, and he alleged that workers were given little time to make a decision. UFW organizers were also concerned by an arbitration agreement included in the new contract, he said. Workers voted to unionize with UFW in 2022. When asked whether Windmill Farms would recognize a workers union, CEO Clay Taylor said he could not comment because he was unaware of the situation.
EDITOR'S NOTE — Unaware. Riiiight.
► From the Spokesman-Review — Spokane public transit a lifeline for many, though ridership slow to recover from pandemic slump — Recovery has been steady but slow. By April 2021, ridership increased by about 34% and by another 21% by the same time in 2022. By January 2023, ridership levels were at about 77% of what they were three years prior.
► From Q13 — Firefighters climb Seattle's Columbia Center building to support cancer research — Thousands of firefighters climbed to the top of Seattle's tallest building Sunday for a good cause. Men and women came from three different countries to take part in the 32nd annual Firefighter Stairclimb. It's a fundraising event that benefits the Leukemia and Lymphoma Society.
---
THIS WASHINGTON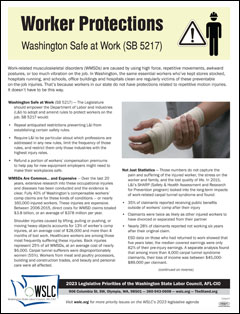 ► From the Seattle Times — Hurt at work? WA lawmakers revive stalled push targeting chronic injuries — Some Washington businesses could face more safety regulations if lawmakers in Olympia succeed in reversing a 20-year-old prohibition on new regulations targeting common workplace injuries. The state Senate this month passed legislation meant to lower the risk of musculoskeletal disorders for workers. Also known as MSDs, musculoskeletal disorders range from wrist sprains to lower back injuries to carpal tunnel syndrome. "I just think we have to make sure that people aren't getting injured on the job." said state Sen. Manka Dhingra (D-Redmond), who sponsored SB 5217. "These are issues that follow individuals for life, and it's challenging for them and it's challenging for employers."
The Stand (Jan. 5) — WSLC announces 2023 agenda for state legislature — Worker Protections: Too many workers go to work every day without confidence that they will return home free from harm. When the worst does happen, elements of our workers' compensation system — especially when managed by self-insured employers — fail to deliver on the promise of sure and certain relief. The Legislature should make common-sense changes to health and safety laws, like restoring the state's ability to protect workers from musculoskeletal injuries and protecting warehouse workers from dangerous production quotas, and modest workers' comp reforms so injured workers can heal and return to work.
The Stand (March 9) — Status report on pro-worker bills in Olympia
► From the Peninsula Daily News — Peninsula hospitals exempt from bill — Hospital beds in rural Washington will go untouched by mandatory state reporting requirements for nurse staffing that will apply to larger, more urban hospitals, according to legislation cobbled together by traditional foes — labor unions and a hospital trade group — which advanced this week to the House.
EDITOR'S NOTE — ICYMI… here's WA Safe + Healthy's statement on the compromise version of the safe staffing bill advancing in Olympia.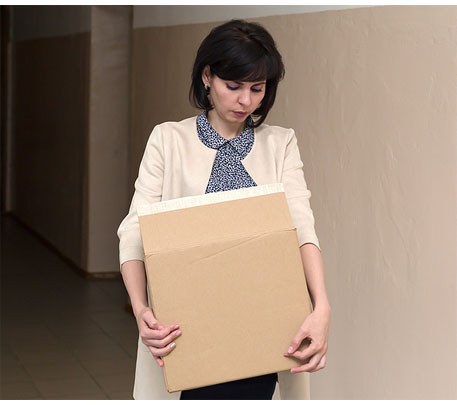 ► From KUOW — WA teacher turnover hits new high as students struggle to recover from pandemic disruptions — The number of teachers leaving Washington state classrooms has hit a nearly four-decade high. The rate of Evergreen State educators leaving the profession climbed to nearly 9% between the end of the 2021-22 school year and the start of 2022-23, according to a new report.
► From the Seattle Times — WA college-going rate dropped sharply during pandemic — The number of Washington students going to college within a year of graduating from high school took a sharp hit during the pandemic, a concerning trend that could exacerbate racial inequities in higher education, a new study shows.
---
AEROSPACE



► From Reuters — FAA approves restarting Boeing 787 deliveries this week — The agency halted 787 deliveries on Feb. 23 due to a data analysis error related to the jet's forward pressure bulkhead, which Boeing found after reviewing certification records. The FAA said Boeing had addressed those concerns.
► From Reuters — Biden faithful to Air Force One paint job, Air Force says — A red, white and blue paint scheme for the presidential aircraft was proposed by Donald Trump when he was president, but was scuttled after a study showed it would create too much heat.
---
THAT WASHINGTON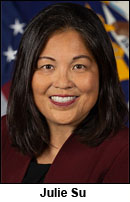 ► From the Guardian — 'Hard to ignore Julie Su': Biden's labor secretary pick fights for confirmation — Her nomination was vigorously cheered by many labor, immigrant and women's groups, while a few business groups – but not many – opposed the nomination. Now some supporters fear that she might have a hard time mustering the needed votes in the Senate to be confirmed.
► From Bloomberg — Labor Chief Walsh backs Su succession, exits with few regrets — Labor Secretary Marty Walsh, who officially stepped down on March 11, said that businesses shouldn't be concerned about his successor Julie Su, and that he was encouraging groups potentially opposed to her nomination to meet with her.
► From the AP — AP sources: Biden OKs huge Willow oil project in Alaska — The Biden administration is approving the major Willow oil project on Alaska's petroleum-rich North Slope. ConocoPhillips says Alaska's Willow project could produce up to 180,000 barrels of oil a day, create up to 2,500 jobs during construction and 300 long-term jobs, and generate billions of dollars in royalties and tax revenues for the federal, state and local governments.
► From Roll Call — House Republicans' attempt to block staffer unions may have missed mark — A report from a congressional watchdog argues that Republicans' attempt to nix staffer unions in the House rules package isn't valid, and recent testimony from the agency that oversees Hill worker protections seems to confirm that analysis.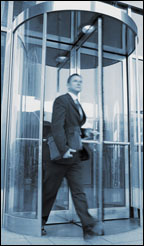 ► From Jacobin — Rail-lobbyist-turned-senator John Thune is set to block new railroad safety measures — Sen. John Thune (R-SD), a former railroad lobbyist, is positioning himself to help kill rail safety legislation meant to prevent disasters like the recent East Palestine derailment. It's one of many examples of the rail industry's "revolving door" in D.C.
► From The Hill — Biden says 'our banking system is safe' amid Silicon Valley Bank fallout — President Biden on Monday expressed confidence that the U.S. banking system is safe and Americans can access their deposits after regulators closed two banks in recent days, Silicon Valley Bank and Signature Bank of New York.
► From the NY Times — Silicon Valley Bank is gone. We know who is responsible. (by Sen. Elizabeth Warren) — These bank failures were entirely avoidable if Congress and the Fed had done their jobs and kept strong banking regulations in place since 2018. S.V.B. and Signature are gone, and now Washington must act quickly to prevent the next crisis.
---
NATIONAL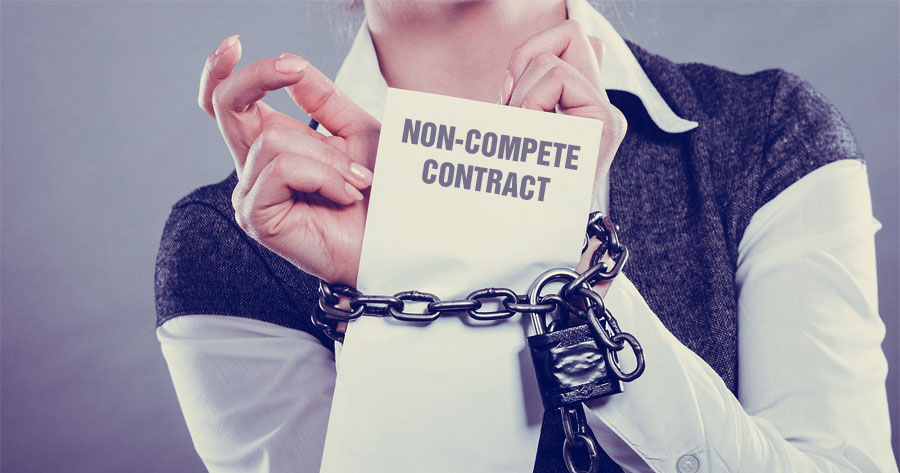 ► From the Washington Post — Noncompete clauses are everywhere, even for dancers and hair stylists — Disputes over noncompetes — clauses in employment contracts that restrict workers from taking jobs at rival companies — are hardly new. What has changed is the fresh focus on the proliferation of noncompete agreements in relatively low-wage work, raising questions over whether they are necessary for jobs that seemingly involve few trade secrets or even specialized training.

EDITOR'S NOTE — In 2019, labor-backed legislation was approved in Washington state that limits the application of non-compete contracts to workers who earn more than $100,000 per year (now adjusted for inflation to $116,593), $250,000 for independent contractors (now $291,483), and limits the length of time they can be in effect. If employers lay off workers and enforce the non-compete, they must continue paying those workers. Musicians and other performers are also protected from long blackout dates before and after shows, which prohibit them from earning a living.
► From the Washington Post — Quiet on Set | The hidden dangers of movie and TV production — Hollywood's glitz and glamour often obscures the crews tirelessly toiling behind the scenes to produce the movie magic that rakes in billions of dollars every year. Contractors frequently work long, uncertain hours for low pay under high pressure to keep the films and shows on schedule — and the work is often dangerous.
► From NBC News — 'Indentured servitude': Nurses hit with hefty debt when trying to leave hospitals — Requiring nurses to repay for training programs has become increasingly common, with some hospitals sending $15,000 bills.
► From Vox — Child labor protections are the latest Republican target — Arkansas is leading the charge against laws that protect kids — despite revelations of dangerous child labor nationwide.
On the @PittsburghPG's assault of a striking worker at the South Side distribution center last night 👇

We'll have more info on how you all can support our hospitalized @Teamsters brother soon. pic.twitter.com/dq0ZbwA5to

— Newspaper Guild of Pittsburgh 🗞 (@PGHGuild) March 12, 2023
► From NBC Pittsburgh — Union says striking Post-Gazette worker was assaulted while picketing — Allegheny-Fayette Central Labor Council President Darrin Kelly will hold a press conference at today after the union says a striking Pittsburgh Post-Gazette worker was assaulted while picketing.
► From ABC Chicago — Chicago Field Museum staff votes to unionize — In a 175-66 vote, workers at Chicago's Field Museum have voted to unionize with the American Federation of State, County and Municipal Employees. The vote means nearly 300 employees at the museum will become union members. Leaders of the organizing drive said the lopsided vote came despite an aggressive anti-union campaign from museum management.
EDITOR'S NOTE — Meanwhile in Tacoma…
The Stand (March 3) — Join Tacoma Art Museum 'Recognition Rally' on March 23 — Despite over 80% support, TAM management refuses to recognize the union.
► From ABC Chicago — United Center concessions workers reach tentative agreement with Levy to avoid strike
---
INTERNATIONAL
► From the Washington Post — German airport strikes force hundreds of flight cancellations — Airport staff across northern Germany are on strike on Monday, forcing the cancellations of hundreds of flights, with tens of thousands of passengers expected to be impacted.

---
The Stand posts links to Washington state and national news of interest every weekday morning by 10 a.m.
WASHINGTON IS A UNION STATE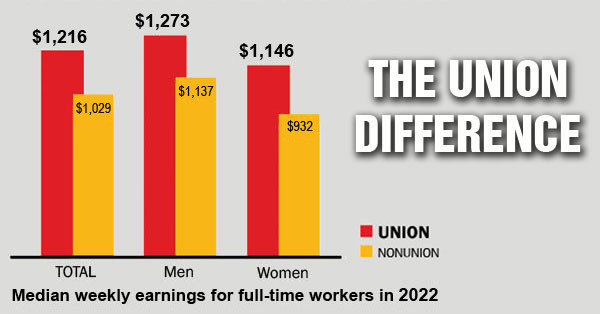 CHECK OUT THE UNION DIFFERENCE in Washington state: higher wages, affordable health and dental care, job and retirement security.
FIND OUT HOW TO JOIN TOGETHER with your co-workers to negotiate for better working conditions and respect on the job. Or go ahead and contact a union organizer today!