Join Tacoma Art Museum 'Recognition Rally' on March 23
Despite over 80% support, TAM management refuses to recognize union 
TACOMA — In October 2022, workers at Tacoma Art Museum (TAM) went public with their intention to form a union, TAM Workers United, with the Washington Federation of State Employees/AFSCME Council 28.
Despite more than 80 percent union support among workers, large rallies, 1,000-plus community members signing letters demanding union recognition, and statements of support from artists, museum members, community activists, and local politicians, the TAM Board of Directors has refused to voluntarily recognize the union.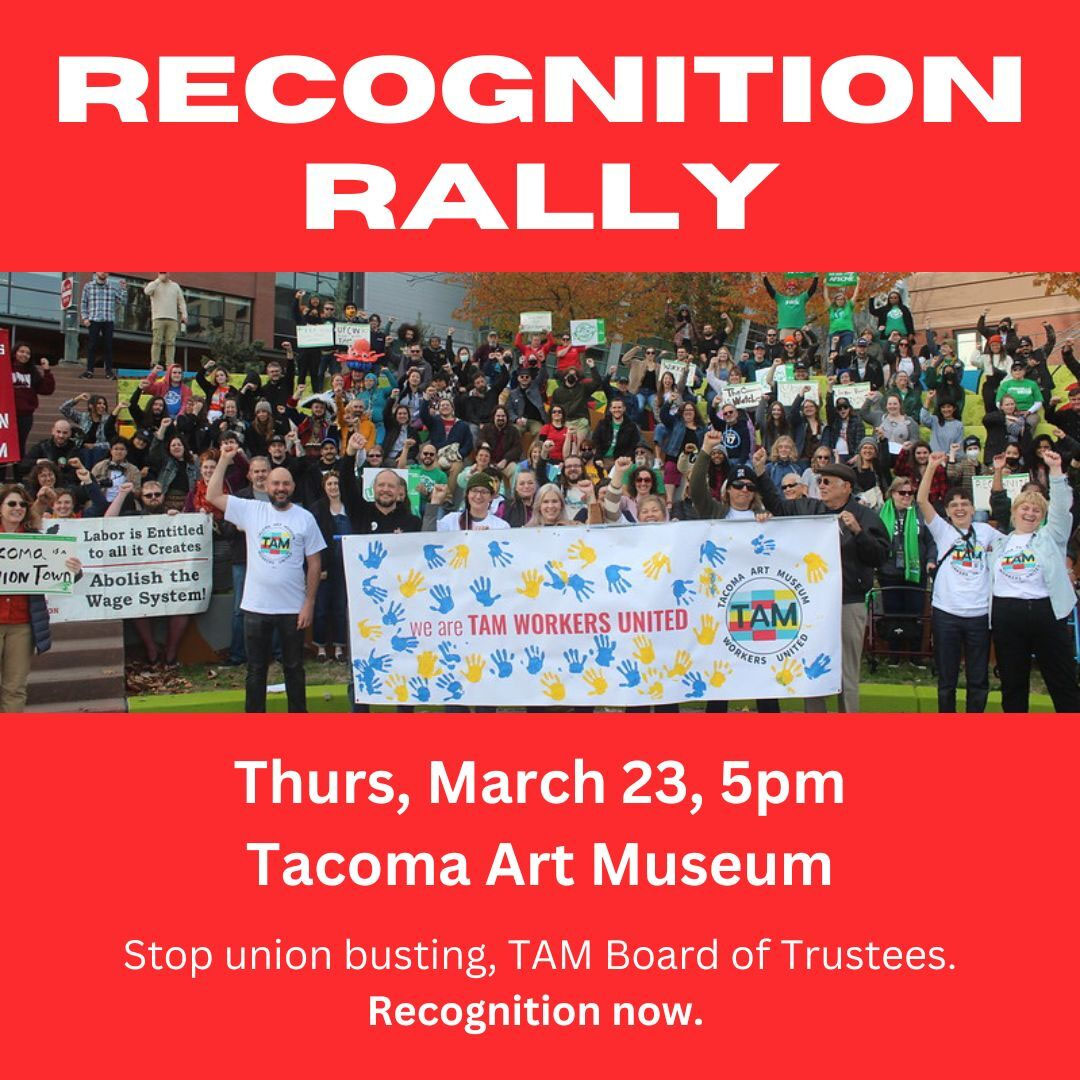 TAKE A STAND — All union members and community supporters are encouraged to attend TAM Workers United's Recognition Rally at 5 p.m. on Thursday, Mar. 23 outside the Tacoma Art Museum, 1701 Pacific Ave. The rally will take place while the Trustees meet inside. Get details and RSVP here.
Due to an arcane, discriminatory section of the National Labor Relations Act (NLRA) that states that security workers cannot be in the same union as the rest of their coworkers if the union is created via a National Labor Relations Board (NLRB) election, voluntary recognition is the only way for all eligible workers at TAM to be in one union together.
After the Board's most recent refusal in January, Board President Jeff Williams doubled down on his attempt to split the union, arguing that those in Development do not share the same working conditions as part-time workers in Visitor Services.
This classist, racist, and sexist separation of supposedly "professional" workers from "non-professional" workers is exactly what those who passed the NLRA in 1935 relied on to benefit "professional" white, higher-income, male workers at the expense of "non-professional" Black and brown, lower income, female and transgender/non-binary workers.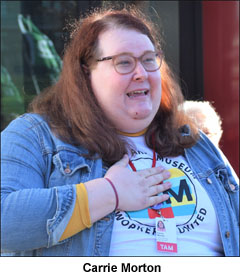 "Being granted voluntary recognition is the most equitable way to start a union at TAM," added Carrie Morton, TAM's Museum Store Manager.
"I'd like to come to work and not worry about being assaulted," said Jon Garza, a Security Officer at TAM, when asked why he supported the union effort. "I feel anxious every day that something will happen and I'll have to be on the frontlines dealing with that. I want a safe work environment."
On Dec. 5, TAM Workers United voted unanimously to forgo an NLRB election despite having the numbers to win comfortably. They intend to continue pressing for voluntary recognition in order to not leave one worker behind, which is rare among the many union drives at cultural institutions across the country.
If certified as a union, TAM Workers United would be the first wall-to-wall museum workers union in the state of Washington.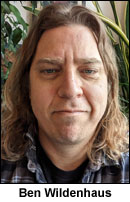 "We have shown our commitment to and love for TAM by forming this union," said Ben Wildenhaus, TAM's Exhibition Designer and Head Preparator. "We ask TAM leadership and the board to show that they too are committed to TAM with voluntary recognition. Anything else is a commitment to another decade of high turnovers, dwindling staff, programs, community engagement, fundraising, and exhibitions."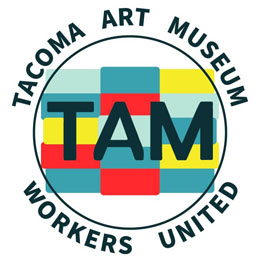 Staff at Tacoma Art Museum are choosing to form TAM Workers United to improve wages, working conditions, transparency and accountability from management, and to ensure an equitable future for the museum and their community. AFSCME represents more cultural workers than any other union, including 10,000 museum workers at 91 cultural institutions in the public and private sector, and more than 25,000 library workers at 275 public and private libraries.
Short URL: https://www.thestand.org/?p=114912
Posted by
admin
on Mar 3 2023. Filed under
LOCAL
,
TAKE A STAND!
. You can follow any responses to this entry through the
RSS 2.0
. Both comments and pings are currently closed.