NW Center Kids organizing | Safe staffing update | R.I.P. Aida
Thursday, March 16, 2023
---
LOCAL
► From KUOW — SIFF employees file petition to unionize — A group of year-round employees at the Seattle International Film Festival have filed a petition with the National Labor Relations Board to form the SIFF Cinema Workers Union. The employees, who work at SIFF Cinema Uptown and SIFF Cinema Egyptian, said in a press release that they unanimously voted to file for unionization. They are seeking living wages, stable hours and scheduling, just-cause protections, and greater input into SIFF's long-term sustainability as an organization.
EDITOR'S NOTE — Ready for a voice at work? Get more information about how you can join together with co-workers and negotiate a fair return for your hard work. Or go ahead and contact a union organizer today!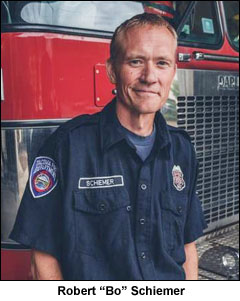 ► From the News Tribune — A beloved Tacoma firefighter died from cancer he got on the job. He's more than a stat (by Matt Driscoll) — Last Saturday, hundreds of people gathered at the Tacoma Dome Exhibition Hall to pay tribute to Bo Schiemer, whose sickness and untimely death, like so many in the dangerous profession, have been attributed to the job he performed. Occupational cancer — a result of repeated exposure to burning buildings and other synthetic plastics and chemicals — is now the leading cause of death among firefighters, according to the International Association of Fire Fighters. Schiemer, a father of four who grew up in Edgewood and attended Puyallup High School before finding his way to a profession he seemed ready-made for, is the latest to fall victim.
► From the NW Labor Press — Carpenters international union dissolves eight Northwest locals — United Brotherhood of Carpenters dissolved eight locals in Oregon and Washington effective March 1, and transferred more than 19,000 members into five newly chartered locals. No explanation was given. The terminated locals were 30, 41, 70, 129, 146, 271, 816, and 1503. New locals include:
Local 206 includes carpenters in King and Kitsap Counties in Washington.
Local 360 includes carpenters in Mason, Grays Harbor, Thurston, Pierce, Pacific, and Lewis counties in Washington.
Local 425 includes carpenters in Whatcom, Skagit, Snohomish, San Juan, Island, Clallam, and Jefferson Counties in Washington.
EDITOR'S NOTE — The UBC is not affiliated with the AFL-CIO or WSLC.
► From KUOW — Bellevue School Board to vote on school closures — As school districts across the region and state face declining enrollment and budget shortfalls, the Bellevue School Board will decide the fate of two elementary schools on Thursday.
► From the Seattle Times — BNSF train derails on Swinomish Reservation in Anacortes area — There were no injuries, but about 5,000 gallons of diesel fuel had reportedly leaked as of 6 a.m.  There could be up to 10,000 gallons of diesel on the derailed train.
---
THIS WASHINGTON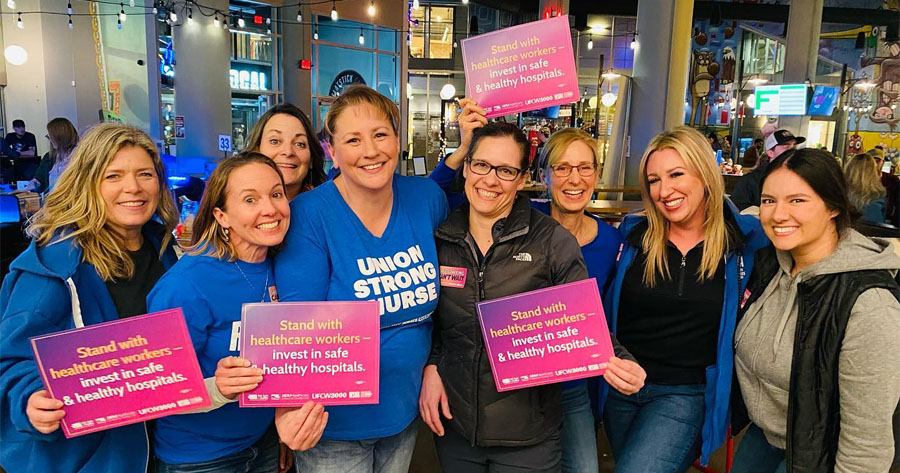 ► From the Olympian — Safe staffing for hospitals bill makes its way through Legislature. Does it go far enough? — The proposed legislation passed the Senate on March 6 with a 35-15 vote, with all no votes coming from Republicans. While the bill was overwhelmingly supported during Wednesday's public hearing, some argued that the legislation doesn't go far enough. Sara Gering, a critical care nurse in Washington, said:
"I've advocated for months for this legislation because I've been at the bedside as conditions have deteriorated over the past few years, watching patients suffer needlessly and then die avoidable deaths due to the unsafe staffing conditions which hospitals refuse to address and seek to normalize. Unfortunately SB 5236 has been stripped of most language related to studying statewide minimum safety staffing standards."
Nonetheless, Gering said, the bill remains a "critical" piece of legislation.
EDITOR'S NOTE — WA Safe + Healthy is the coalition of SEIU Healthcare 1199NW, UFCW 3000, and the Washington State Nurses Association that is supporting SB 5236. See WA Safe + Healthy's statement supporting the compromise version of the bill advancing in Olympia.
► From the (Everett) Herald — A forecast for spending, a new maximum for campaign contributions — Tax collections between Feb. 11 and March 10 were $110 million above expectations. Revenue is up nearly $200 million above projections in the November revenue forecast. It will provide majority Democrats in the House and Senate with the numbers they need to fill the final blanks of their respective two-year operating budget proposals. Those plus transportation and capital spending plans will be released next week.
EDITOR'S NOTE — WSLC: Honor collective bargaining and statutory pay requirements by funding the contracts and healthcare agreements for state employees, teachers, and other educational staff who kept our state going throughout the pandemic. Legislators can also increase pay for part-time community and technical college faculty, paraeducators and other low-wage education professionals.
The Stand (March 9) — Status report on pro-worker bills in Olympia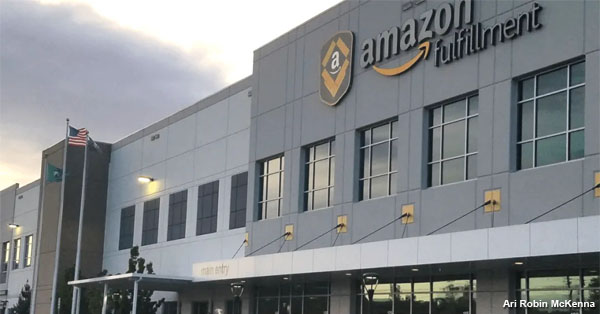 ► From the Seattle Times — Seattle court to Amazon: Time to improve safety at Kent warehouse — Amazon may be on the hook to make changes to improve worker safety at a Kent warehouse following a new court ruling. After state regulators cited Amazon for failing to create a safe work environment, Amazon sued the Department of Labor and Industries in October. Amazon argued the department had stacked the system against employers, in part because the company is expected to implement some of the proposed changes even while Amazon appeals the citation. A federal judge in Seattle ruled Tuesday against Amazon, finding the department did not violate Amazon's due process rights.
► From the PS Business Journal — Kitsap County wages growing at the second fastest rate in U.S. — Kitsap County's 12.7% wage increase from Q3 2021 to Q3 2022 is the second-highest in the country. Average weekly wages in Kitsap County grew from $1,167 to $1,313 during that time frame. It was more than the national average wage increase of 6.7% and Washington state's 5.2% rise.
► From Crosscut — Washington's first carbon auction sold pollution for $300 million — Under the Climate Commitment Act, the money will go toward funding climate solutions and investing in communities that face environmental injustice.
---
OREGON NEWS



► From the NW Labor Press — Rest in power, Sister Aida (by Oregon AFL-CIO President Graham Trainor) — The Oregon labor movement suffered a great and devastating loss on Feb. 27 when our sister and Oregon AFL-CIO secretary-treasurer, Aida Aranda, passed away suddenly. To say that she was a trailblazer or that she touched the lives of countless workers would be an understatement. To share how her warm smile, calm presence, and bold leadership made organizations she worked with better wouldn't tell the full story either.
► Her obituary from NE Labor Press — Aida Aranda, 1962-2023
EDITOR'S NOTE — A Celebration of Life for Aida Aranda will be held from 11 a.m. to 2 p.m. Saturday, March 25 at the Oregon and Southern Idaho Laborers Training Center, 17242 NE Sacramento St., Portland, OR 97230. Please RSVP here by Wednesday, March 22.
► From the NW Labor Press — Techs win first contract at hospital in The Dalles — Hospital techs at Mid-Columbia Medical Center in The Dalles have ratified their first-ever union contract, almost 18 months after they voted 45 to 4 to join Oregon Federation of Nurses and Health Professionals in September 2021.  The contract covers around 75 workers, including respiratory therapists, MRI radiology techs, surgical techs, ultrasound echo sonographers.
► From the NW Labor Press — New leadership at Bricklayers and Allied Crafts Local 1 — Shawn Lenczowski, who was serving as secretary-treasurer and apprenticeship coordinator, has been appointed president to replace Matt Eleazer, who left office to work for the international union.
EDITOR'S NOTE — For more great labor news in Oregon and Southwest Washington, subscribe to the Northwest Labor Press!
---
AEROSPACE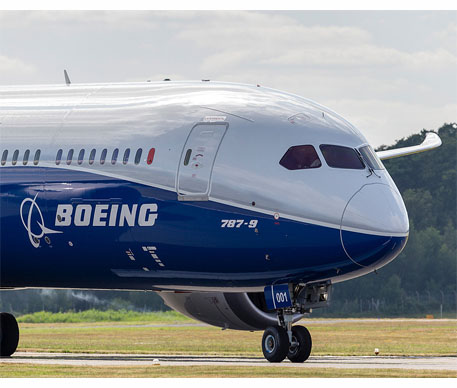 ► From Reuters — After strategic 787 wins, Boeing jet battle shifts to factory floor — The latest orders fill out Boeing's backlog at a time when the company aims to boost production to 10 787s a month by 2026 – a target that would take "supersonic" growth given that Boeing is still working to increase production back to three a month, said Vertical Research analyst Robert Stallard. The 787 faces multiple strains on its supply chain, several of which are shared broadly across the aviation industry, such as forgings and castings for engines. Planemakers are also grappling with the after-effects of the pandemic, which forced waves of layoffs and retirements of skilled workers.
---
NATIONAL
► From the Michigan Advance — Workers flock to see 'right to work' reversal, prevailing wage restoration pass Michigan Senate — A committee room and both lobbies of the Michigan Senate's office building were jammed to the brim early Tuesday morning, as more than a hundred workers — many sporting union jackets — watched a Democratic-led Senate panel debate and then adopt several landmark pro-union bills.
TODAY at The Stand — Why 'right-to-work' is wrong in Michigan—and everywhere
► From the Minneapolis Star-Tribune — MIA union workers and management agree to a new 2½-year contract — After five months of negotiations, OPEIU members at the Minneapolis Institute of Art and management Tuesday struck a new labor agreement for 152 employees in administrative services, art services, specialists and building services.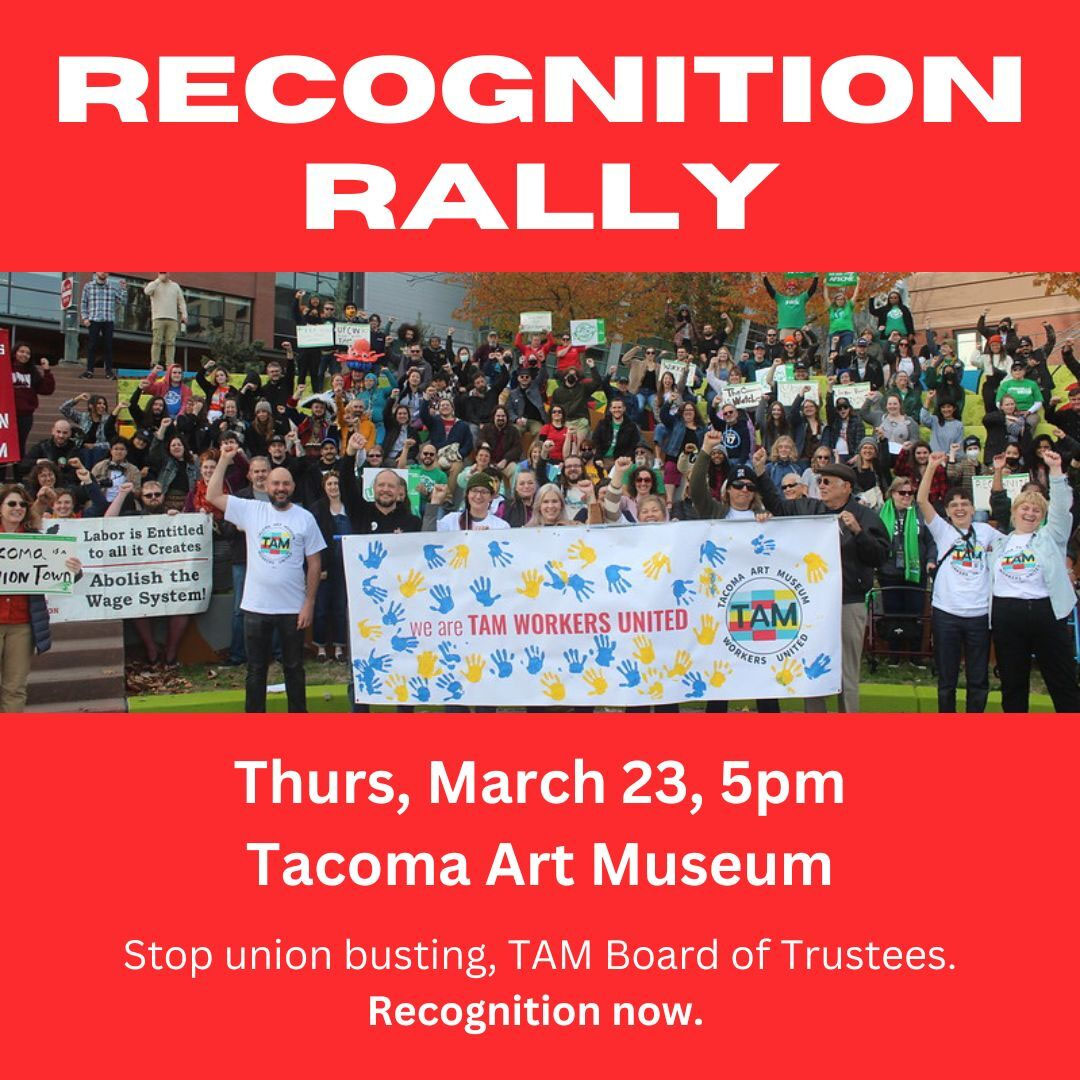 EDITOR'S NOTE — Meanwhile in Washington, despite more than 80 percent union support among workers, large rallies, 1,000-plus community members signing letters demanding union recognition, and statements of support from artists, museum members, community activists, and local politicians, the Tacoma Art Museum's Board of Directors has refused to voluntarily recognize the union.
TAKE A STAND — All union members and community supporters are encouraged to attend TAM Workers United's Recognition Rally at 5 p.m. on Thursday, Mar. 23 outside the Tacoma Art Museum, 1701 Pacific Ave. The rally will take place while the Trustees meet inside. Get details and RSVP here.
► From the LA Times — Massive three-day LAUSD teacher and staff strike set for Tuesday, closing all schools — A three-day strike that would shut down Los Angeles public schools is scheduled to start Tuesday, union leaders announced Wednesday during a massive downtown rally by the district's two largest employee groups (SEIU 99 and United Teachers Los Angeles). Union leaders say they are looking out for the long-term interest of students as well as workers through their demands for higher pay and improved working and learning conditions.
► From Reuters — Paid time off is not part of workers' 'salary,' U.S. court rules — Paid time off that workers accumulate is not a part of their salary under U.S. wage law, meaning employers can take away paid leave when salaried workers do not meet productivity quotas, a federal appeals court ruled on Wednesday.
► From the AP — Train hauling corn syrup derails in Arizona; no injuries
---
INTERNATIONAL
► From the AP — Macron shuns parliament to enact French retirement bill — French President Emmanuel Macron shunned parliament and opted to push through a highly unpopular bill that would raise the retirement age from 62 to 64 by triggering a special constitutional power on Thursday. The risky move is expected to trigger a quick no-confidence motion in Macron's government.
---
The Stand posts links to Washington state and national news of interest every weekday morning by 10 a.m.
Short URL: https://www.thestand.org/?p=115334
Posted by
admin
on Mar 16 2023. Filed under
DAILY LINKS
. You can follow any responses to this entry through the
RSS 2.0
. Both comments and pings are currently closed.