Join Jesse's return to work at Verizon on March 20
Illegally fired for union organizing, Jesse Mason has been reinstated at Verizon Wireless. Union supporters will walk with him to his first shift back.
SEATTLE (March 14, 2023) — Last April, as workers at two area Verizon Wireless stores were joining together to unionize, the company illegally fired Jesse Mason, a former Specialist at Verizon Wireless' Seattle Northgate and Aurora Village retail store locations, who was supporting the union organizing efforts. Under the National Labor Relations Act, it is illegal for employers to retaliate against workers for "concerted activity" to improve pay or working conditions.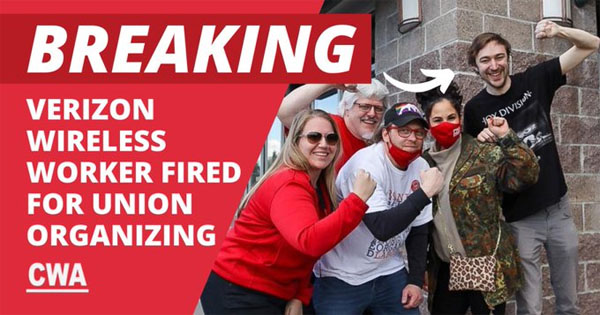 The Communications Workers of America (CWA) filed an Unfair Labor Practice complaint with the National Labor Relations Board (NLRB), alleging that Mason was terminated from his position after attempting to organize his colleagues and attending Verizon Wireless workers' union vote count for nearby Everett and Lynnwood stores in solidarity. The NLRB agreed, ruled that Verizon Wireless had broken the law, and sought Mason's reinstatement.
On Monday, March 20, Jesse Mason will return to his first shift back at Verizon Wireless — and YOU are invited to celebrate this victory.
TAKE A STAND — All union members and community supporters are invited to join CWA members as they celebrate Jesse Mason winning his job back. Gather at the Northgate light rail station, 10200 1st Ave. NE in Seattle (ground level on the north side) at 8:30 a.m. on Monday, March 20 and then walk with Mason to the nearby Verizon store to start his shift at 9:30 a.m.
Following is firing last April, Mason knew Verizon's actions were illegal.
"Verizon management targeted me for organizing a union," Mason said at the time. "It's illegal to do that, and I'm confident that I will eventually be reinstated. I'm not scared because I know that there's a growing movement of retail workers — from Verizon Wireless, to Starbucks, to Apple — who are joining together to demand a voice on the job. They can fire me, but they can't fire all of us, and we won't stop fighting until every worker who wants a union has a union."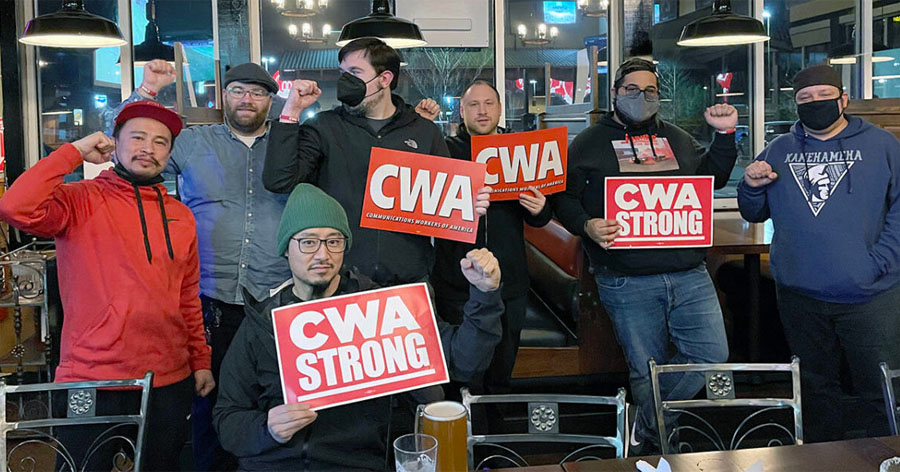 Verizon's illegal retaliation didn't deter Verizon workers from organizing. Months later, they successfully ratified their first union contract, marking a major milestone for workers who had to overcome years of poor working conditions, including understaffing and unlivable wages, along with aggressive union-busting efforts from Verizon. Inspired by the victory in Everett and Lynnwood, Verizon Express workers in Portland, Ore. and ​​Verizon Wireless Retail Workers in Flint, Mich. soon organized with CWA, and filed for an official NLRB election.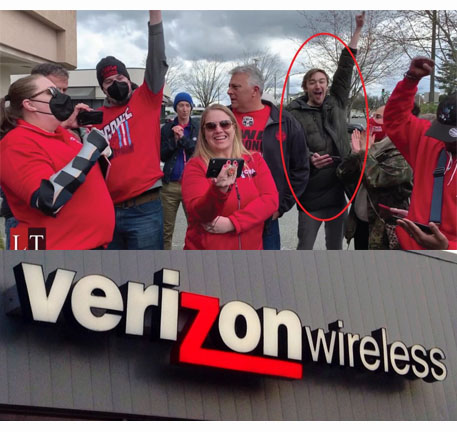 Eventually, the NLRB's proposed remedy for Verizon's illegal actions was to reinstate Mason, provide him with compensation for lost wages and consequential damages, and issue a letter of apology for terminating his employment in an act of retaliation. The complaint also found evidence that management at Mason's retail location misled and intimidated workers in an effort to discourage them from organizing, including threatening to withhold benefits from employees if they voted for a union.
Although Verizon dragged the legal process out for nearly a year, Mason is excited that that justice is finally being served.
"I'm excited to get back to work in the stores where I belong," he said. "The feeling of walking back in after being illegally fired will be amazing. Workers have rights, including the right to organize, and this will show Verizon and every other union-busting mega-corporation that their illegal actions have consequences. The union movement won't be stopped by petty corporate law-breaking and bullying."
Join him on March 20 as he returns to work!

The Communications Workers of America represents working people in telecommunications, customer service, media, airlines, health care, public service and education, and manufacturing.
Short URL: https://www.thestand.org/?p=115265
Posted by
David Groves
on Mar 14 2023. Filed under
LOCAL
. You can follow any responses to this entry through the
RSS 2.0
. Both comments and pings are currently closed.