CWA: Verizon reinstates illegally fired worker with back pay
The following is from the Communications Workers of America (CWA):
SEATTLE (March 17, 2023) — In a major victory for workers, Verizon Wireless has reached a settlement with Seattle-based retail worker Jesse Mason following the company's illegal termination of Mason last year. The settlement includes Mason's reinstatement at his Seattle and Shoreline stores as well as compensation for back pay and damages.
The Communications Workers of America (CWA) filed an Unfair Labor Practice charge with the National Labor Relations Board (NLRB) against Verizon Wireless in April 2022 after the company illegally fired Mason for his engagement in union activities. In November 2022, the NLRB formally issued a complaint alleging the telecom giant broke labor laws and terminated Mason as an act of retaliation for his union activity.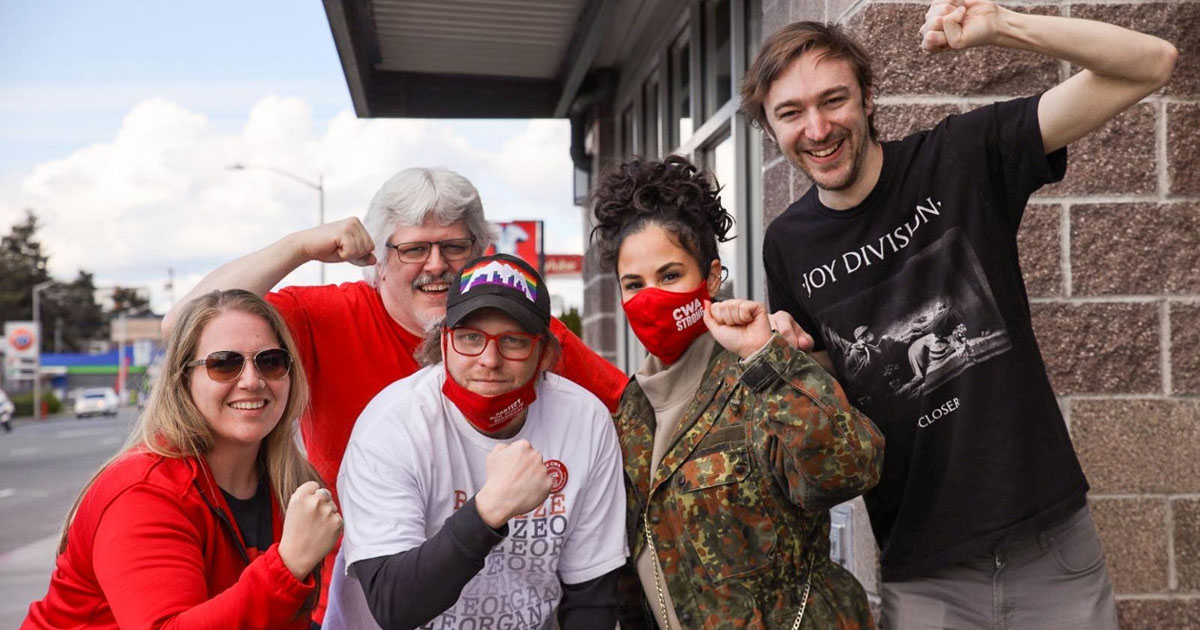 In addition to offering Mason (pictured above at right) immediate and full reinstatement to his former position, the settlement provides nearly $15,000 in back pay and about $8,000 in stock, 401(k) contributions, and other compensation. The settlement also requires Verizon Wireless to put up posters at the Northgate and Aurora Village locations informing employees of their rights to form a union, along with commitments to not interfere with these rights or terminate employees who engage in union activity. Mason is scheduled to return to work on March 20.
TAKE A STAND — All union members and community supporters are invited to join CWA members as they celebrate Jesse Mason winning his job back. Gather at the Northgate light rail station, 10200 1st Ave. NE in Seattle (ground level on the north side) at 8:30 a.m. on Monday, March 20 and then walk with Mason to the nearby Verizon store to start his shift at 9:30 a.m. Get details here.
"Verizon thought that they could shut me up by firing me. Not only am I getting my job back, but I get to walk into my old stores with my head held high, knowing I beat Verizon's union-busters," Mason said. "Between all the money Verizon spends on union-busters, lawyers, and the $23,000 in compensation they're giving me, they could have saved a lot of money and hassle by firing those union-busters instead of me."
"This isn't just a win for me, it's a win for everyone across the country who is organizing," he added. "To anyone who wishes they had a union, but doesn't want to get fired for organizing: don't be afraid. One way or another, you will win."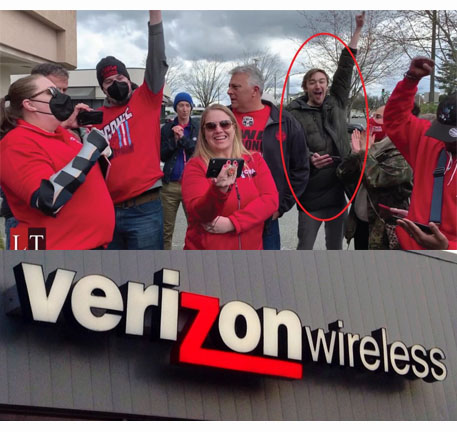 Verizon Wireless terminated Mason from his position as a Specialist after Mason attempted to organize his colleagues and attended Verizon Wireless workers' union vote count at nearby Everett and Lynnwood stores in solidarity. Mason had received no prior disciplinary actions during his time working at the Northgate and Aurora Village retail locations. His return to work marks another major victory for Verizon Wireless workers, who have been organizing at stores across the country to secure living wages, better working conditions and staffing levels.
Verizon retail workers first organized at three stores in Brooklyn, NY, in 2014 and have since been gaining momentum, organizing and forming unions in Washington, Oregon and Illinois.  In August 2022, Verizon Wireless retail workers in Everett and Lynnwood successfully ratified their first union contract after facing years of poor working conditions, including understaffing and unlivable wages, along with aggressive union-busting efforts.
The settlement serves as an example of the importance of watchdog agencies like the NLRB to enforce labor laws and hold major corporations accountable. Since his unlawful termination in April, Mason has been an advocate for labor rights and has been speaking out about the importance of a fully funded NLRB and has called on the Senate to bolster worker rights by passing the PRO Act, which would would make it easier for workers who want to form or join a union to do so.

The Communications Workers of America represents working people in telecommunications, customer service, media, airlines, health care, public service and education, and manufacturing.
Short URL: https://www.thestand.org/?p=115375
Posted by
admin
on Mar 17 2023. Filed under
LOCAL
. You can follow any responses to this entry through the
RSS 2.0
. Both comments and pings are currently closed.