What'd we miss? A big week in review for Mar. 20-24
(March 27, 2023) — So… what'd we miss?
The Entire Staff of The Stand was out last week, and the answer is: a lot. Jesse Mason returned to Verizon Wireless (with back pay), thousands of Starbucks workers went on strike and rallied to end the company's union-busting, workers organizing a union at the Tacoma Art Museum got some good news, and the Washington State Supreme Court upheld the new tax on extraordinary capital gains. All of that, plus Michigan officially became the first state in decades to repeal its so-called "right to work" law.
Here's a quick review of the week: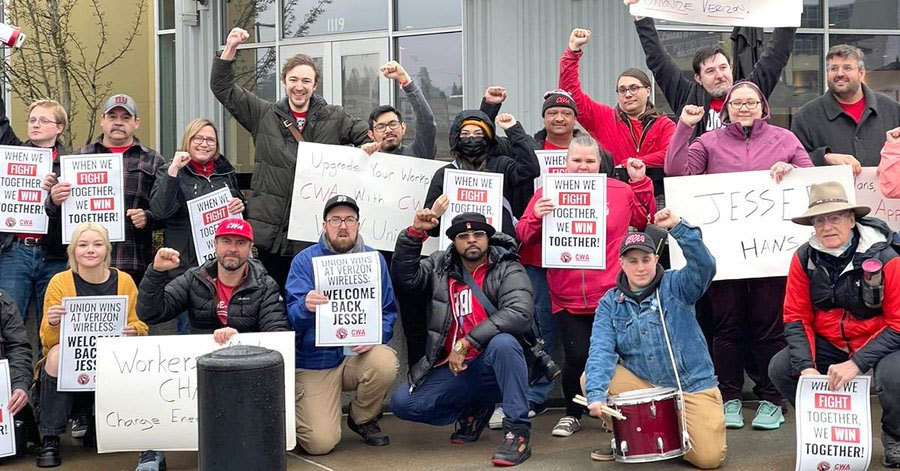 JESSE RETURNS TO VERIZON — On Monday, workers rallied in Seattle to celebrate Verizon Wireless employee Jesse Mason's return to work. Verizon illegally fired Mason in early 2022 in retaliation for his union organizing activity. In response, CWA filed an Unfair Labor Practice charge with the National Labor Relations Board against Verizon Wireless.
In a win for Mason, his co-workers, and fellow organizers, the NLRB formally issued a complaint alleging the company's actions broke the law. After months of back and forth, Mason and Verizon Wireless reached a settlement that includes Mason's reinstatement at his Seattle and Shoreline stores, as well as compensation for back pay and damages.
"As soon as I heard about the settlement, I was jumping up and down calling everyone I know. The whole reason I was insistent on getting my job back was I wanted to show everyone you have the right to organize," Mason told The Guardian.
---
STARBUCKS WORKERS RALLY, STRIKE — One day before Starbucks' annual shareholder meeting, thousands of the company's baristas went on strike Wednesday in scores of cities from coast to coast and more than 1,000 marched on the company's Seattle headquarters to demand basic rights like livable wages with consistent scheduling, safe and respectful workplaces, and the right to organize free from fear and intimidation.
Waving signs that read "Baristas, yes, Billionaires, no,"  and chanting "No contract, no coffee," the Starbucks workers loudly welcomed the company's new chief executive, Laxman Narasimhan, and sent him a message that the transition in the C-Suite provides an opportunity for the company to stop its unprecedented campaign of union busting and instead partner with its workers and their union to build a company that truly lives up to its stated progressive values.
"Starbucks prides itself on being a company that provides good benefits, good pay, consistent hours and a sense of community. Maybe they used to be, but they aren't anymore and we deserve better," said Haily Cribbs, a Bellingham Starbucks partner of six years. "And that's why we're here. If they cared about us and our communities, they would stop union-busting and show up to the bargaining table. They would stop firing workers and closing stores. I hope this can be a new beginning for Starbucks with Howard Schultz leaving. A company that will work with its workers and not against them."
Meanwhile, despite the company's illegal union-busting campaign, more and more Starbucks stores continue to file for union elections. The latest in Washington: the Plaza Way store in Walla Walla.
---
TACOMA ART MUSEUM WORKERS — Dozens of Tacoma-area union members and community supporters rallied Thursday at the Tacoma Art Museum to support recognition of the TAM Workers United union while the Trustees met inside. Despite more than 80 percent union support among workers, large rallies, 1,000-plus community members signing letters demanding union recognition, and statements of support from artists, museum members, community activists, and local politicians, the TAM Board of Directors has so far refused to voluntarily recognize the union.
However, in response to the broad public support of the museum's workers, it was announced at Thursday's rally that the Board has agreed to hear from the workers and make a decision this Friday, March 31.
TAKE A STAND — Send the Board a message here and urge them to vote to voluntarily recognize TAM Workers United.
---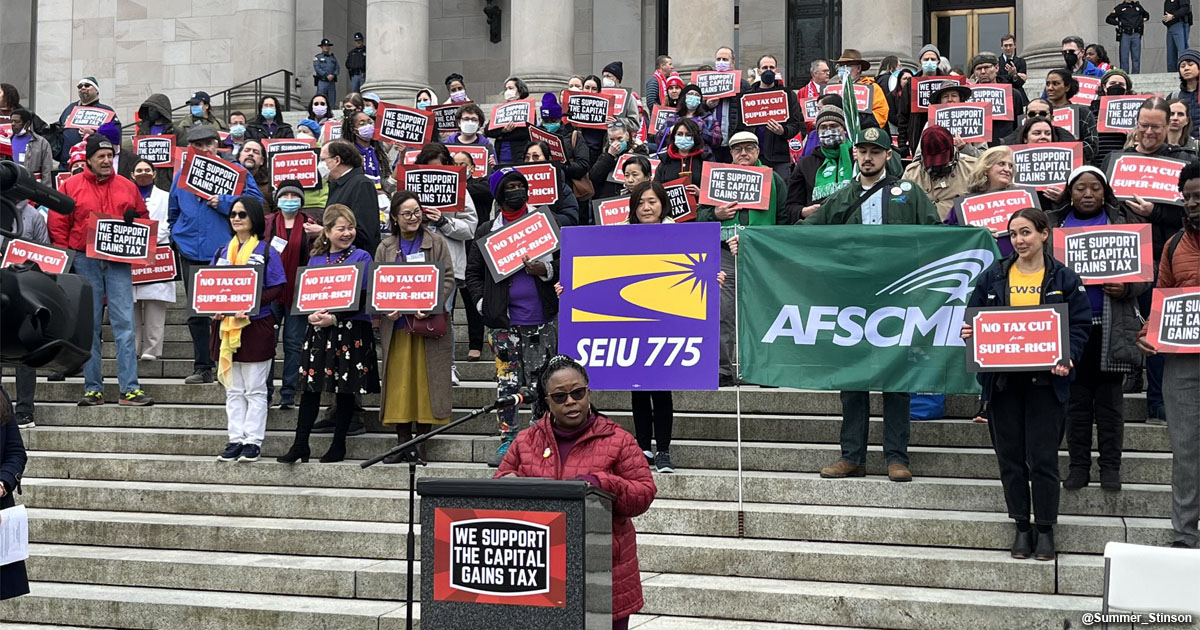 A STEP TOWARD TAX FAIRNESS — On Friday, the Washington State Supreme Court ruled in a strong 7-2 decision that the state's new excise tax on extraordinary capital gains approved by the Legislature in 2021 is constitutional – and that the critical funding it provides for early learning and schools is secure. The Washington State Labor Council, AFL-CIO and its affiliated unions have strongly supported this tax as a step toward making the state's upside-down tax system more fair for working families. 
Signed into law by Governor Inslee in 2021, the modest 7% excise tax on annual capital gains above $250,000 is exclusively paid by the wealthiest 0.2% of Washingtonians, whose incomes average $2.6 million per year. Sales of real estate, retirement assets, small businesses, and farms are exempted. The tax generates more than $500 million per year in new revenue that is dedicated to K-12 schools, a major expansion of child care and early learning supports for young children, and building new schools across the state. 
In poll after poll, voters nationwide want the super-rich to pay their fair share of taxes and Washingtonians support the capital gains tax of 7% on extraordinary stock market profits greater than $250,000 (KING 5/Survey USA, Topos, GBAO, PPP, GBAO).
Read more about this victory from the Washington State Budget and Policy Center.
Short URL: https://www.thestand.org/?p=115430
Posted by
admin
on Mar 27 2023. Filed under
LOCAL
. You can follow any responses to this entry through the
RSS 2.0
. Both comments and pings are currently closed.