Ensuring our workforce 'meets the moment'
As the economy shifts, workforce development professionals are making sure workers are prepared for challenges, opportunities ahead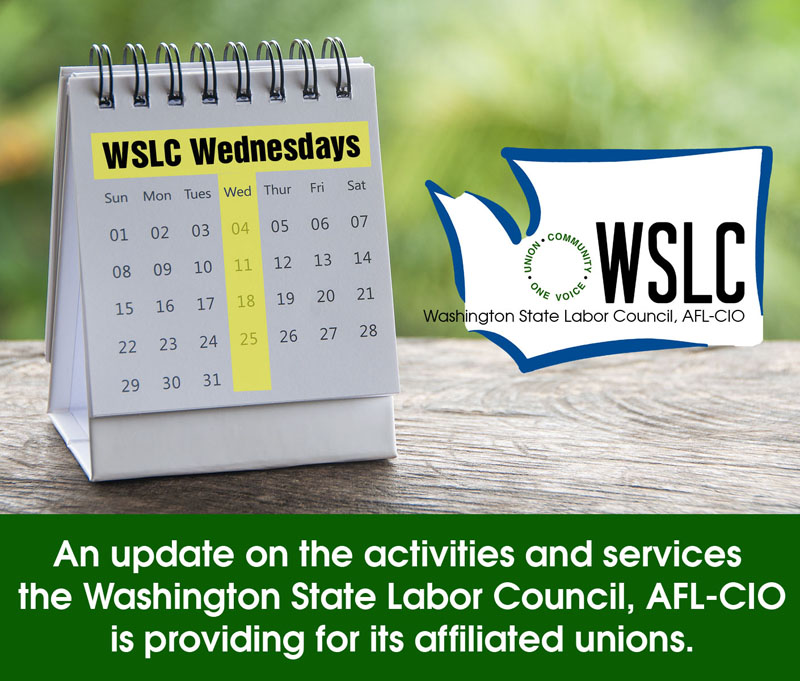 OLYMPIA (April 26, 2023) — Whether you are first entering the workforce, or making a career transition or facing job loss, there are many government services, union programs and workforce systems designed to assist you. But those programs and services can be confusing to navigate, especially in a rapidly changing economy.
The professionals who provide and promote those services, including the team that comprises the Washington State Labor Council's Workforce Development Department, continually educate themselves on the best practices and evolving landscapes of those systems so they can serve as many workers as possible.
Earlier this month, the WSLC and a number of its affiliated unions in Washington sent delegations to the Building Workforce Partnerships conference hosted by the California Labor Federation, AFL-CIO in San Diego. The event drew a diverse group of union leaders, policymakers, community advocates, educators, and job training and economic development professionals to share best practices and to discuss the critical issues of the economy.
Among the conference highlights:
Machinists Institute — Among the programs that was prominently featured at the conference as a national model for training and career development was the Machinists Institute. This Seattle-based nonprofit educational institution, established by the International Association of Machinists District 751, helps current and future machinists advance their careers in the aerospace, manufacturing, automotive and other industries.
Machinists Institute Executive Director Shana Peschek and IAM 751 President Jon Holden described how they developed the institute to provide cutting-edge training and build a highly skilled and diverse workforce to meet employer demand. This work/panel was also supported by representatives of the Alliance for American Manufacturing and Progress Worx, in partnership with the AFL-CIO's Working for America Institute.
"The Machinists Institute is proud to partner with WSLC to remove barriers, such as lack of child care, so more people have access to family-sustaining careers and world-class education programs like registered apprenticeship and recognized pre-apprenticeship," Peschek said.
Rapid Response — With the increase in tech industry layoffs, a key focus of the conference was the network of programs and services designed to help workers and businesses with the effects of layoffs and plant closures. WSLC Workforce Development Director Emmanuel Flores participated in a panel of West Coast experts to discuss changes in Rapid Response services, including the Department of Labor's suspension of new petitions for Trade Adjustment Assistance services.
Flores highlighted the WSLC's Race and Labor program as "vital to making quality union jobs accessible in the workforce system for workers who do not have access to consistent economic resilience."
Rebuilding America — While some industries are facing job loss, others have tremendous employment opportunities ahead — including for good union jobs — thanks to major public investments championed by the Biden administration. Workforce development professionals at the conference strategized how they can ensure that a skilled and diverse workforce is ready to do this work and fill the millions of jobs created by these investments:
●  Infrastructure Investment and Jobs Act — The IIJA is a $110 billion investment of new funds for roads, bridges, and major infrastructure projects. Washington state is receiving billions of dollars for highway and bridge maintenance/construction job-creating projects, and for transportation projects like expanding the Port of Seattle's Terminal 5, building a new terminal at the Pullman-Moscow Regional Airport, expanding the industrial rail corridor at the Port of Longview, and building a new hybrid Lummi Island ferry.

●  CHIPS and Science Act — This law aims to catalyze investments in domestic semiconductor manufacturing and incentivize research and development in leading-edge technologies, from quantum computing to AI, from clean energy to nanotechnology. It also aims to build a bigger, more inclusive science, technology, engineering, and math (STEM) workforce. This will be a boon for Washington state, and particularly for Clark County's semiconductor industry supply chain partners, microelectronics, and integrated circuit manufacturers.
●  Inflation Reduction Act — In addition to reducing the budget deficit and confronting rising healthcare and prescription drug costs, this sweeping bill included the nation's biggest-ever investment in climate solutions and clean energy. It will create jobs in renewable energy manufacturing, development and deployment, such as wind, solar, geothermal, biomass, hydropower, municipal waste, and marine and hydrokinetic projects. It also includes tax credits for energy storage projects, like the pumped hydro facilities being planned in Washington state.
The Building Workforce Partnerships conference covered lots of other territory, including promoting labor-management partnerships and job-quality initiatives. But the over-arching theme was that our apprenticeship and training programs, services for dislocated workers, and other career development efforts need to be nimble in this economy.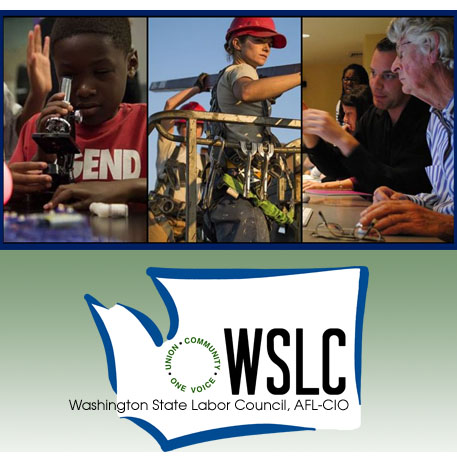 "The landscape for employment opportunities in this state and country are rapidly shifting," said Rachel McAloon, WSLC Workforce Development Director, who attended the Building Workforce Partnerships conference. "The WSLC and its affiliated unions are working hard to ensure that our existing and future members meet this moment and are ready for the challenges and opportunities that lie ahead."
To learn more, follow the WSLC Workforce Development Department on LinkedIn and Facebook or visit the WSLC Workforce Development Department webpage.
---
WSLC Wednesdays is a feature of The Stand where different departments of the Washington State Labor Council, AFL-CIO describe their recent activities and the services they are providing to WSLC-affiliated unions.
Short URL: https://www.thestand.org/?p=116412
Posted by
David Groves
on Apr 26 2023. Filed under
W.S.L.C.
. You can follow any responses to this entry through the
RSS 2.0
. Both comments and pings are currently closed.