Vaccine mandate facts | 'Free trade' still dead | Everyday cleaning
Monday, May 15, 2023
---
THIS WASHINGTON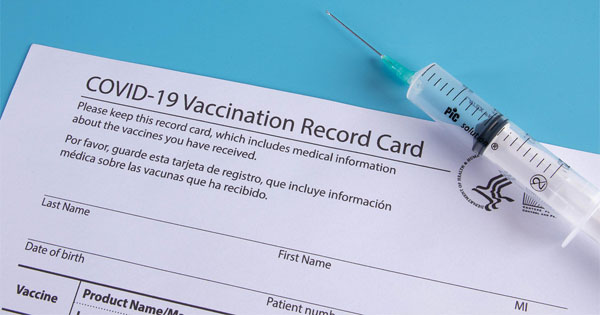 ► From WFSE — Vaccine mandate rescinded: Get the facts — Gov. Jay Inslee has rescinded the COVID -19 vaccination mandate for state employees that required all state agency employees to be vaccinated against COVID-19 by Oct. 18, 2021. The rescission is effective May 11, 2023, aligning with the end of the federal COVID-19 Public Health Emergency Declaration. As the Washington Federation of State Employees/AFSCME Council 28 did before the vaccine mandate went into effect, our union will file a demand to bargain over the rescission of the mandate and will negotiate the impacts on our members.
► From L&I — Proposed wildfire smoke rules would protect workers from dangers of aggravated asthma, heart failure, early death — To protect people who work outdoor jobs like construction, agriculture, roofing, roadwork, and certain other industries, this week the state Department of Labor & Industries filed proposed permanent wildfire smoke rules and launched a formal process for public input.
► From the WA State Standard — How a plan to improve work conditions in strip clubs faltered — The legislation called for allowing liquor sales, among other changes. But opposition to it materialized late in this year's legislative session.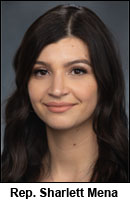 ► From KNKX — Washington's freshman class of lawmakers — the largest in a long time — makes itself heard — In the third part of a KNKX series about first-term legislators, Rep. Sharlett Mena (D-Tacoma) passes her first bills, and comes into conflict with her party's leaders.
► From KOMO — Public Lands Commissioner Hilary Franz announces run for governor — The video announcement for her candidacy touted her success in getting a $500 million investment from the state Legislature to prevent and fight wildfires and in generating hundreds of millions of dollars to build schools and fund libraries and hospitals across the state.
► From McClatchy — Yakima physician Dr. Raul Garcia announces bid for 2024 governor's race — Garcia, a Republican, is currently the medical director of Toppenish Hospital, south of Yakima.
► From the Seattle Times — What to know about WA Cares payroll tax as premiums are set to resume — After a two-year delay, premiums for Washington's fledgling long-term care insurance program will resume in July.
---
LOCAL
► From the union-busting Columbian — Volunteers happy to help Stamp Out Hunger in Clark County — Volunteers came from near and far Saturday to lend hands and wheels to collect donations for Vancouver's 31st annual Stamp Out Hunger Food Drive. Local organizer Don Young said: "It's this time of the year when kids are starting to get out of school, it's a good time to do it, to replenish the food bank, because it's depleting."
► From the Stranger — SIFF Cinema Workers Union wants a fair contract — SIFF's year-round, part-time employees voted to unionize in March, and they say their working conditions haven't improved since their walkout during the festival last year. But despite their concerns, they remain hopeful that a unionized SIFF can emerge stronger and lead a new post-pandemic film boom in the Pacific Northwest.
► From the (Aberdeen) Daily World — Aberdeen School District lays off 21 teachers in first round of staff cuts — In addition to those 21, four other positions will be cut by way of attrition — when a district leaves vacant the position of any employee who plans on leaving anyway.
► From the (Everett) Herald — Marysville schools serving layoff notices for up to 45 teachers — Marysville is the latest Snohomish County district to grapple with a multi-million dollar budget shortfall.
► From Crosscut — Washington psychologist accused of $125K in wage theft — Synergia CEO Philip Hirsch has a decades-old history of allegedly shortchanging workers, who say part of the problem was a lack of oversight.
► From the Bellingham Herald — Whatcom County contractor bought cars, horses instead of paying employees' taxes
---
THAT WASHINGTON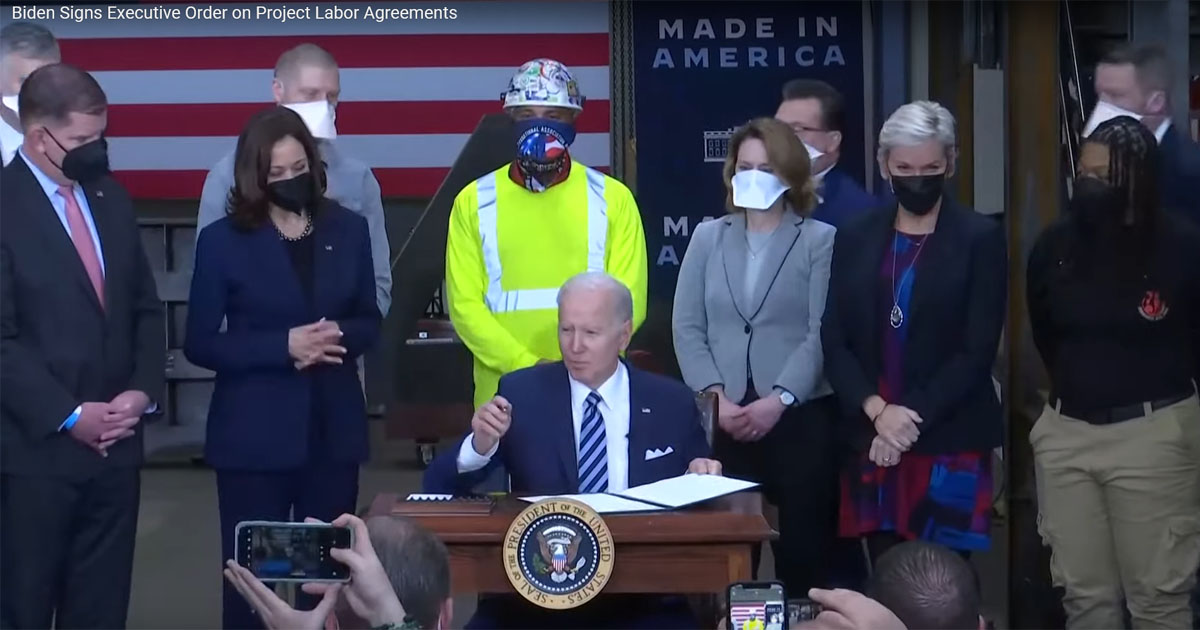 ► From The Hill — Democrats signal growing frustration with globalization — Democrats are sounding increasingly fed up with free trade agreements and some of the basic tenets of globalization that have defined the last several decades of U.S. trade policy. Officials in the Biden administration — along with top Democrats in Congress — have sounded notes of economic nationalism and domestic renewal ahead of the 2024 election.
The Stand (July 1, 2021) — 'Free trade' died this week – with a whimper (by David Groves) — New ITC assessment of 40 years of trade deals: They didn't help much. Our assessment: Their economic and political consequences are incalculable.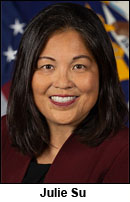 ► From the Washington Post — Pressure mounts to confirm Julie Su to be Labor Secretary — Now that Sen. Dianne Feinstein (D-Calif.) is back in Washington and Senate Democrats have a full roster, pressure is mounting to confirm labor secretary nominee Julie Su. It's possible that Senate Majority Leader Charles E. Schumer (D-N.Y.) could move to advance Su's nomination this week if it's clear she has the votes.
TAKE A STAND — Sign the petition and make the call urging Senators to confirm Julie Su's nomination.
► From Politico — Biden world goes to the mat to get Julie Su confirmed — The Biden White House is ramping up its pressure on Senate Democrats to confirm Labor nominee Julie Su and deploying some big guns to get her nomination over the line.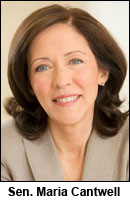 ► From the Seattle Times — Rail-safety bill with stricter rules passes out of Senate committee — The Railway Safety Act of 2023, a batch of regulations motivated by this winter's conflagration in East Palestine, Ohio, passed out of committee Wednesday and is on its way to a full Senate vote. The bipartisan bill would require at least one engineer and one conductor per train, stronger inspections of railcars carrying hazardous materials, "hotbox detectors" within the tracks to locate overheating train wheels, and compensation for local firefighters, according to the Committee on Commerce, Science, and Transportation, chaired by Sen. Maria Cantwell (D-Wash.)
► From The Hill — Biden on debt ceiling talks: 'I'm a congenital optimist' — The president said on Sunday that he believes that he will be able to come to a debt ceiling agreement with GOP lawmakers as the deadline to prevent a default looms.
---
NATIONAL
► From the NY Times — Flush with federal money, strings attached, a deep South factory votes to unionize — Friday's victory by the United Steelworkers at a factory building electric school buses was a test for Democratic hopes that clean-energy funding from Washington could bolster organized labor.
EDITOR'S NOTE — Ready for a voice at work? Get more information about how you can join together with co-workers and negotiate a fair return for your hard work. Or go ahead and contact a union organizer today!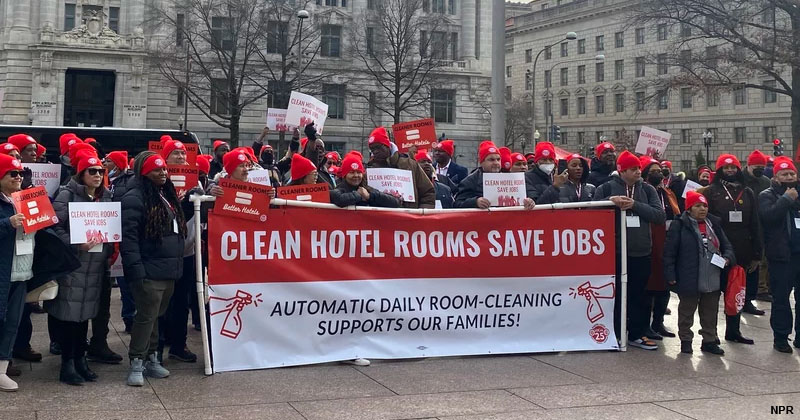 ► From NPR — Want your hotel room cleaned every day? Hotel housekeepers hope you say yes — More than a hundred hotel workers and their supporters marched on a grey day last February, wearing bright red knit hats and carrying signs with a message: CLEAN HOTEL ROOMS SAVE JOBS. In the tourism heart of Washington, D.C., ringed by posh hotels and globally famous landmarks, they marched to a familiar beat, chanting "What do we want? Clean rooms! When do we want it? Every day!" Their demand may have sounded simple: that the D.C. council extend a temporary ordinance that in effect required hotels to clean rooms daily, unless a guest opts out. (The council complied just days later.)
► From CNBC — 'I got a check the other day for $8': TV and film writers share why they're on strike — In the last decade, median weekly writer-producer pay declined 4%, or 23% after adjusting for inflation, according to the WGA. Screenwriters' pay declined 14% in the last five years after inflation as well.
► From WESA — Carnegie Museums workers union announces tentative contract agreement — The United Museum Workers Union announced it had reached a tentative contract agreement with the Carnegie Museums of Pittsburgh. The more-than-500 union members are scheduled to vote this week on whether to ratify the contract.
► From Vice — Amazon delivery drivers unionized. Now they have to prove they work for —  The Teamsters say that Amazon is in "complete control" of the conditions which caused drivers to organize. Amazon has declined to bargain.
► From NPR — Hospitals create police forces to stem growing violence against staff — Groups representing nurses and hospitals argue that new laws can help address the daily reality of aggressive or agitated patients who sometimes become violent. Still, such interventions are relatively new. Critics worry that establishing hospital police forces will escalate violence in health care settings and could have unintended effects.
► From the AP — US Postal Service taking new steps to prevent carrier robberies, stolen mail — The U.S. Postal Service is replacing tens of thousands of antiquated keys used by postal carriers and installing thousands of high-security collection boxes to stop a surge in robberies and mail thefts, officials said Friday.
► From the AP — GOP state lawmakers try to restrict ballot initiatives, partly to thwart abortion protections
---
TODAY'S MUST-READ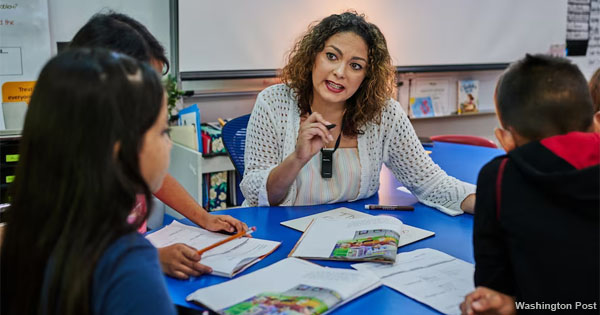 ► From the Washington Post — To fight teacher shortages, states send people to college for free — Lina Horton is part of a grand experiment to see what happens when the apprenticeship model — used to train generations of plumbers, electricians and carpenters — is applied to teaching, allowing trainees to earn money while they learn their craft and earn their credentials. In exchange, many of the programs require graduates commit a certain numbers of years of service in high-needs schools. Apprenticeships have also been hailed as a way to alleviate a persistent teacher shortage that has threatened student achievement, diversifying and broadening the teacher ranks, especially as interest in teaching plummets among undergraduates. And they give people like Horton, promising educators who can't afford to return to college, a path to a higher-paying career.
---
The Stand posts links to Washington state and national news of interest every weekday morning by 10 a.m.
Short URL: https://www.thestand.org/?p=116980
Posted by
admin
on May 15 2023. Filed under
DAILY LINKS
. You can follow any responses to this entry through the
RSS 2.0
. Both comments and pings are currently closed.