'Biden is making good on his promises to workers'
Washington's Building Trades unions gather in Seattle, spotlight job creation under Biden Administration
SEATTLE (June 29, 2023) — Hundreds of union delegates representing the unions that comprise the Washington State Building and Construction Trades Council (WSBCTC) are gathering this week at the Seattle Convention Center for the organization's 65th Annual Convention. The trade unions are celebrating the good construction jobs created in every corner of Washington state thanks to renewed federal infrastructure investments under the Biden Administration.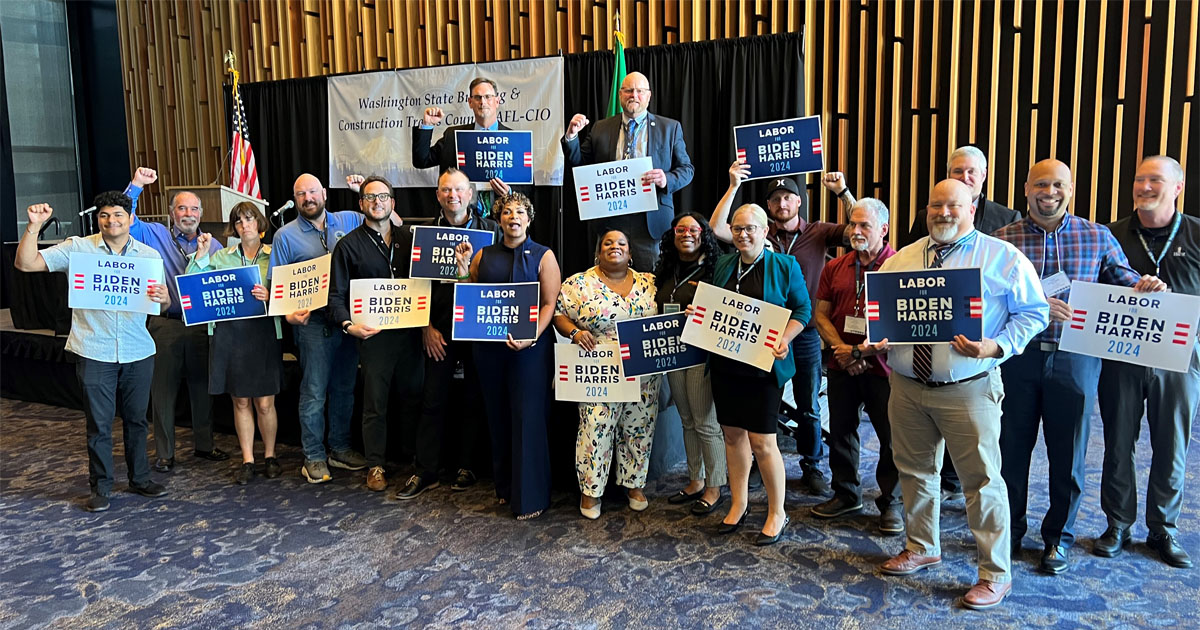 "We're literally rebuilding Washington state and America. In every sense during the Biden Administration, winning for the American worker — for all union members — has become business as usual," said WSBCTC Executive Secretary Mark Riker. "With all of that being said, it is our responsibility now to cut through the noise our members hear and deliver the truth. We must explain the actual policies that are creating job opportunities so our affiliates can grow."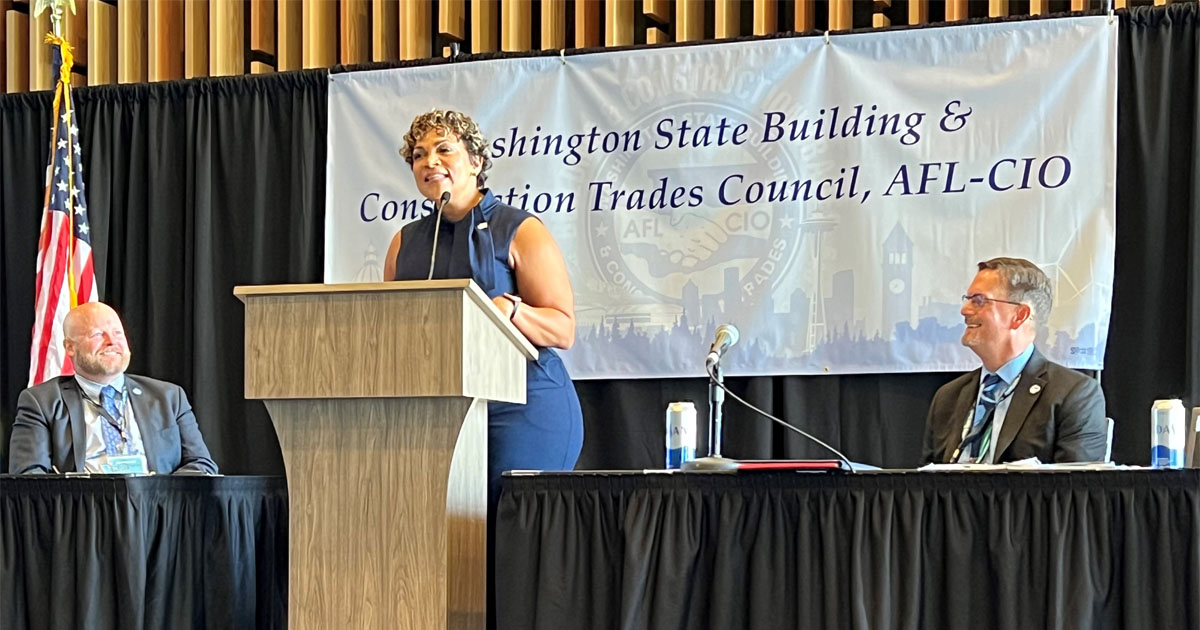 "The Biden administration has shown up for workers since Day 1," said April Sims, President of the Washington State Labor Council, a state federation of the AFL-CIO, which has officially endorsed President Biden for re-election. "From nominating a union member for Secretary of Labor, to moving forward significant job-creating infrastructure projects, President Biden is making good on his promises to working Americans."
Multiple union and political leaders who spoke at the WSBCTC convention on Tuesday cited the local projects now underway — or scheduled to begin soon – throughout Washington state thanks to the Bipartisan Infrastructure Law, the Inflation Reduction Act, the CHIPS and Science Act, and other federal initiatives. (See a one-pager listing some of those investments in Washington.)
"Congress was able to make historic investments in revitalizing and expanding our nation's infrastructure, accelerating our transition to a cleaner and more affordable energy system, and bringing manufacturing jobs back to the U.S." said U.S. Senator Maria Cantwell (D-WA). "Now, we are counting on the men and women of the unions that form the Washington State Building and Construction Trades Council to help build these vital projects, and with it a stronger and more prosperous America. That's why I fought to make sure all these federal investments maintained local hire provisions and Davis-Bacon protections – so that workers are paid the fair wages they deserve."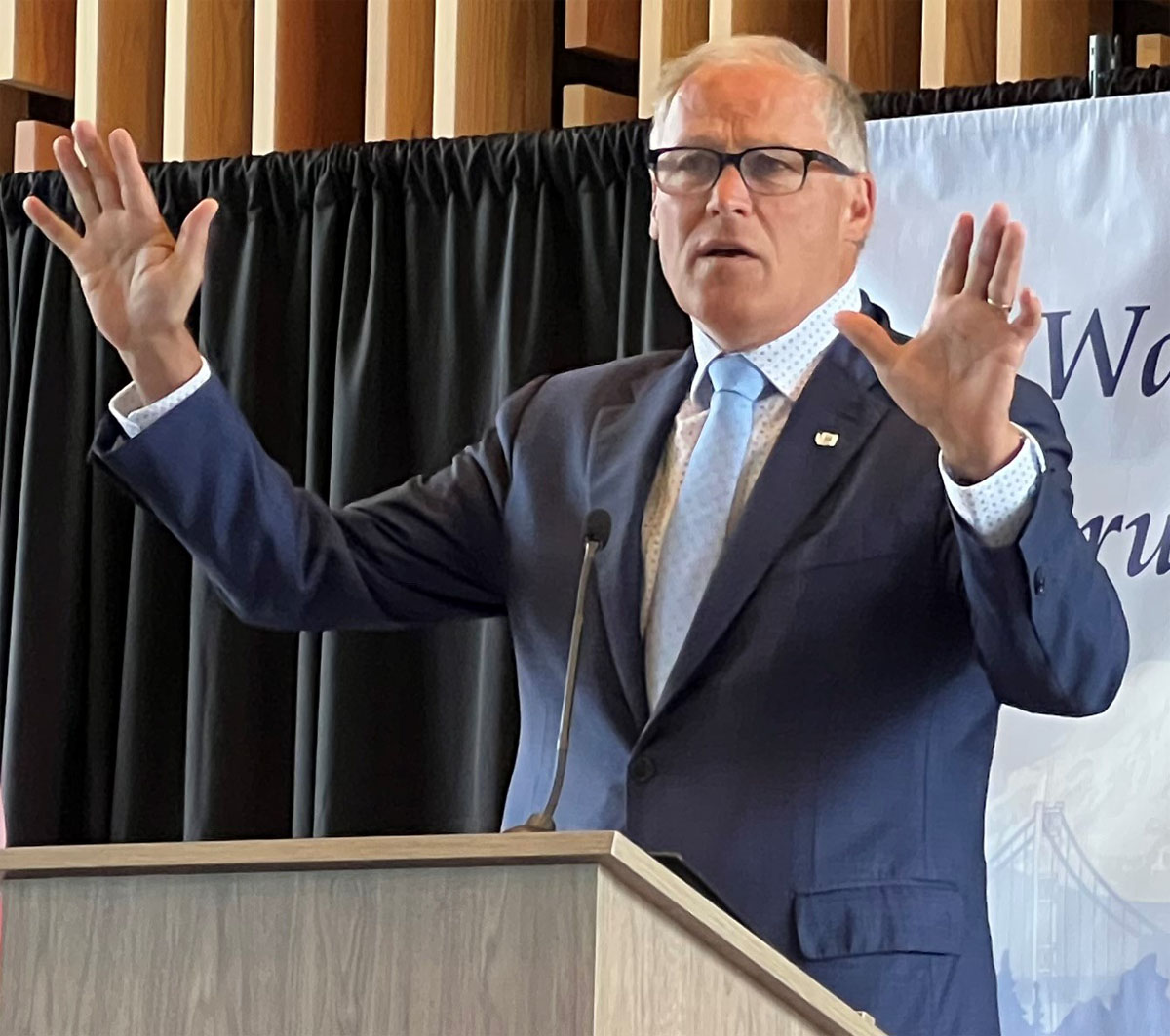 Governor Jay Inslee told building trades delegates on Tuesday that federal and state incentives to create climate jobs have recently attracted hundreds of millions of dollars in investments to Washington. Dutch company SkyNRG announced in May that it has chosen Washington state to locate a new $800 million plant to produce sustainable aviation fuel. Meanwhile, California-based clean energy startup Twelve plans to set up an industrial facility in Moses Lake to make jet fuel from electricity, water and air, and ZeroAvia, a sustainable aviation pioneer working on hydrogen-powered flight, will expand its facility in Everett.
"World-leading innovators are building the next generation of sustainable aviation fuels and zero-emission engines right here in Washington," Inslee said. "President Biden's administration has stepped up in a big way to support this effort, and we're thrilled that the new facilities we have lined up will be built and maintained by folks working good paying union jobs."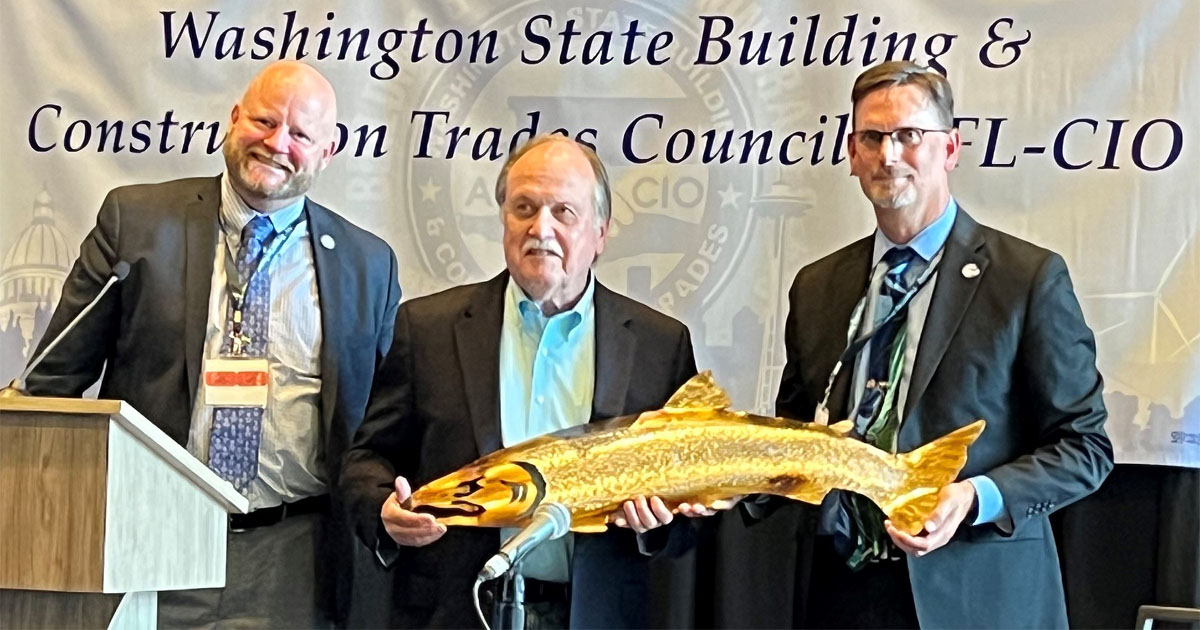 Also on Tuesday at the WSBCTC convention, delegates heard from Seattle Mayor Bruce Harrell, Commissioner of Public Lands Hilary Franz, King County Executive Dow Constantine, House Speaker Laurie Jinkins, and former state Rep. Mike Sells (D-Everett) was presented with a special piece of salmon sheetmetal artwork in recognition of decades of advocacy for Washington's workers.
The WSBCTC convention in Seattle continued Wednesday and Thursday as delegates heard from U.S. Representatives Marilyn Strickland, Pramila Jayapal and Kim Schrier, Washington State Attorney General Bob Ferguson and multiple state legislative leaders, and representatives of the Seattle Kraken, Sound Transit, the Helmet to Hardhats program, and others.
Learn more about the WSBCTC at www.wabuildingtrades.org.
Short URL: https://www.thestand.org/?p=118030
Posted by
admin
on Jun 29 2023. Filed under
LOCAL
. You can follow any responses to this entry through the
RSS 2.0
. Both comments and pings are currently closed.