Big Tech vs. you | Amazon 'hazardous by design' | Strike summer
Monday, August 7, 2023
---
LOCAL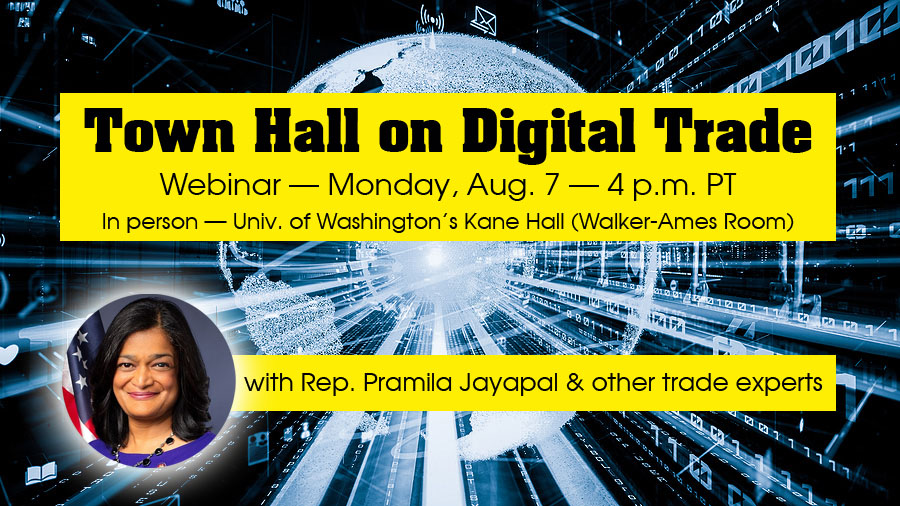 ► From the WA News Service — Town hall highlights impacts of Big Tech's trade priorities — Rep. Pramila Jayapal (D-Wash) is hosting a town hall at the University of Washington today to discuss the negative impacts of trade policies championed by technology companies. Her event coincides with Asia Pacific Economic Cooperation meetings taking place in Seattle this summer.
The Stand — Join Jayapal, Carter on Aug. 7 for Town Hall on Digital Trade
► From the Seattle Times — UW study finds racial bias in rideshare driver deactivations — A University of Washington study evaluating a first-in-the-nation system to help Seattle rideshare drivers challenge deactivations found patterns of racial bias in which drivers were kicked off the apps.
TODAY at The Stand — UW study: Widespread racial bias in Uber, Lyft driver terminations — Eighty-percent of terminated Uber and Lyft drivers reinstated after receiving union representation under nation's first just-cause protections.
► From the NW Labor Press — No surprise to employees of Clark County: Study shows they're underpaid — A recent compensation study for Clark County, Washington, validated what union representatives have been saying for many years: The county's wages lag other surrounding public sector employers. The study paves the way for raises for county employees, and the four unions representing the bulk of the workers in the county have started bargaining for those boosts.
---
AMAZON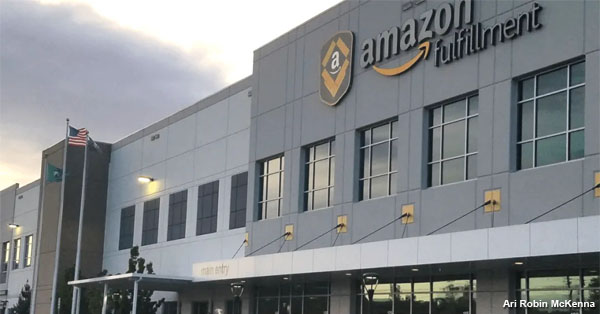 ► From the Seattle Times — 'Hazardous by design'? After pandemic boom, Amazon faces safety reckoning — When L&I safety investigator Rose Kracht arrived at Amazon's warehouse in DuPont in August 2021, just hours after she had left the night before, she was blocked. It wasn't the first time Amazon blocked inspectors. But the act teed up a high-stakes legal battle between Washington's workplace safety regulators and one of the state's largest employers, a fight now playing out before a state board that adjudicates appeals of L&I decisions. L&I claims Amazon created an unsafe work environment in three Washington warehouses, and has fined Amazon four times for failing to keep workers safe. After a series of appeals by Amazon, the department and the company went to trial in July, kicking off a weekslong contest that could determine the future of work at Amazon. If L&I prevails, Amazon will have to make changes to its operations at the department's behest. If the court rules for Amazon, state regulators' hands may be tied going forward.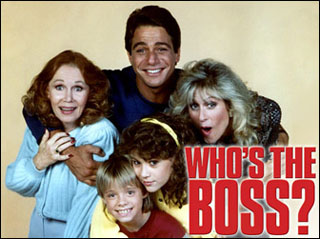 ► From Vice — Amazon says it doesn't 'employ' drivers, but records show it hired firms to prevent them from unionizing — Amazon hired at least two union-busting consulting firms specifically to prevent its drivers from joining the Teamsters over the course of 2022, according to DOL reports. This is notable because Amazon claims that the drivers who deliver its packages are not its employees. 
► From Jacobin — Amazon worker: "If UPS wages go up, Amazon should do the same" — UPS Teamsters used a strike threat to win big wage increases in their tentative agreement. Amazon workers are looking at the pay gains as proof they can do the same.
The Stand (July 25) — Teamsters announce historic contract at UPS
---
THIS WASHINGTON




► From the Washington State Standard — 'Severe violator': Dollar Tree fined again for breaking worker safety rules — Dollar Tree is a recurring violator of Washington's worker safety regulations and is getting hit with financial penalties as a result, the state Department of Labor and Industries said this week. The major discount retail chain faces $132,000 in fines after the state's latest inspection of a store in Tacoma revealed "three repeat willful violations — issued when a business repeatedly puts their employees at risk when they knew or should have known relevant safety requirements."
► From McClatchy — It's important to observe construction zone speed limits. Here's why. (by Doug Dahl) — Highway construction is a dangerous job, and the safety of those workers hangs on the driving behaviors of strangers in multi-ton projectiles. Thank you for respecting the speed limit and those workers.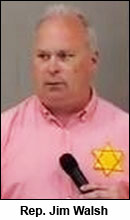 ► From the WA State Standard — Conservative lawmaker poised to be Washington's next state Republican party leader — Aberdeen Rep. Jim Walsh, heavily favored to grab the torch as party chair, is already plotting the GOP's path to winning in 2024.
EDITOR'S NOTE — Among many other things, Rep. Walsh has a history of "aggressive" and disruptive behavior on the House floor, wore a yellow Star of David to protest COVID restrictions, banned constituents from his Facebook page for disagreeing with him, and pushed the election fraud narrative after Trump lost in Washington by 785,000 votes.
► From the (Everett) Herald — Marysville schools to ask state for help in solving $18M shortfall — "Binding financial conditions" occur when a school district fails to submit a balanced budget because spending has exceeded revenues. The district is then required to work with the state to get back into shape financially.
---
THAT WASHINGTON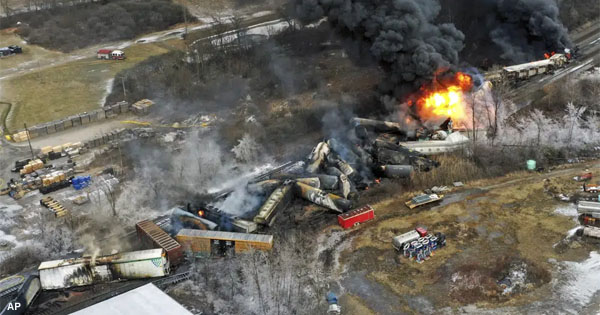 ► From the People's World — Top AFL-CIO official says rail safety within one GOP vote of Senate OK — Six months after the Norfolk Southern freight derailment released a mushroom cloud of fumes over the small town of East Palestine, Ohio, the U.S. Senate is within one Republican vote of passing a bipartisan and comprehensive freight rail re-regulation bill, AFL-CIO Transportation Trades Department President Greg Regan says. The Senate's 48 Democrats, three independents, and eight of the 49 Republicans apparently favor re-regulation. But the freight rail safety bill needs 60 votes to pass—and now has 59.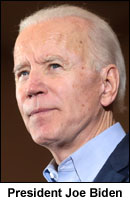 ► From Politico — Businesses brace for deluge of new regs from Biden's labor cops — President Joe Biden's appointees are poised to dramatically reshape the work lives of tens of millions of workers and the businesses that employ them. The DOL, NLRB and EEOC — each operating on a separate track — are readying to push out new regulations and rules on everything from overtime pay to who counts as an employee.
► From Politico — House GOP worries that hardliners actually want a shutdown — Speaker Kevin McCarthy insists Congress will avoid a government shutdown in the fall. But some members of his right flank seem to be embracing that outcome.
---
NATIONAL
► From the Washington Post — Strikes spiked in July, as workers seek higher wages to keep up with inflation — July was one of the busiest months for strikes in three decades, reflecting growing public support for unions and increased worker leverage in an era of low unemployment, as tens of thousands of workers have pushed employers for higher wages to keep up with high inflation.
EDITOR'S NOTE — Ready for higher wages? Get more information about how you can join together with co-workers and negotiate a fair return for your hard work. Or go ahead and contact a union organizer today!
► From the Washington Post — Over 11,000 L.A. workers plan to strike, hoping to 'shut down' city — City of Los Angeles workers (SEIU 721) are joining the hotel employees, Hollywood actors and TV and movie writers who have walked off their jobs this summer. Thousands of them plan to strike Tuesday, potentially grinding municipal operations to a halt for 24 hours and adding to the flurry of organized labor activity across the city and country.
► From Morningstar — As Hollywood strikes continue, unions call out excessive CEO pay — This year's AFL-CIO report, which is based on companies' publicly reported executive compensation for 2022, shows that chief executives of S&P 500 companies received an average $16.7 million in total compensation last year. The average pay of the CEOs of the entertainment companies that are members of the Alliance of Motion Picture and Television Producers was higher: $35 million.
TODAY at The Stand — CEO pay remains egregiously high amid use of AI
► From the Hollywood Reporter — Writers blast latest AMPTP efforts to resume negotiations: "Insulting and out-of-touch" — Members of the striking WGA voiced their frustrations about the AMPTP's latest attempts to resume negotiations following a meeting Friday that was designed to determine if there was a path forward. The guild informed members Friday — day 95 of the strike — that the talks with the group that represents the studios and streamers produced no agreement.
► From the Washington Post — Auto workers demand 40 percent raise as contract talks heat up — New leadership at the United Auto Workers is aiming high in contract talks, determined to claw back concessions made in the past.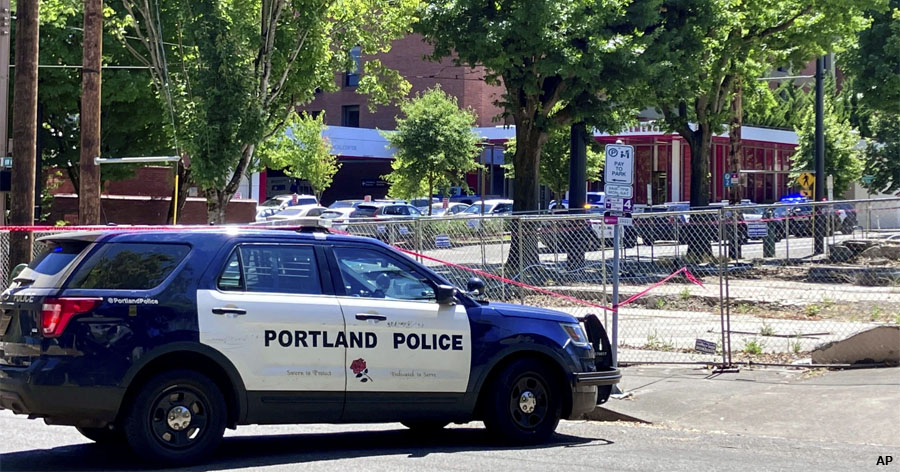 ► From the AP — Attacks at U.S. medical centers show why health care is one of the nation's most violent fields — The shooting at Legacy Good Samaritan Medical Center in Portland was part of a wave of gun violence sweeping through U.S. hospitals and medical centers, which have struggled to adapt to the growing threats.
► From The Hill — Back-to-school sales boom as teachers dig into their own pockets for classroom supplies — From fundraisers to a "student supply fee," teachers and schools are finding ways to try to cover the cost of classroom supplies as more than 90 percent of educators use their own money for it, according to an NEA survey.
► From the NY Times — Yellow, 99-year-old trucking firm that got bailout, declares bankruptcy — The downfall of the company, which received $700 million from the government, will lead to the loss of 30,000 jobs and could affect supply chains.
► From the NY Times — The NBA player who might see his mom at union meetings — Jaren Jackson Jr. is active in the N.B.A. players' union. His mother, Terri, works for the W.N.B.A. players' union. When he was elected vice president, she did her best not to embarrass him.
---
The Stand posts links to Washington state and national news of interest every weekday morning by 10 a.m.
Short URL: https://www.thestand.org/?p=118758
Posted by
David Groves
on Aug 7 2023. Filed under
DAILY LINKS
. You can follow any responses to this entry through the
RSS 2.0
. Both comments and pings are currently closed.