New union at Walla Walla CC | Restoring Davis-Bacon | Shutting L.A. down
Tuesday, August 8, 2023
---
STARBUCKS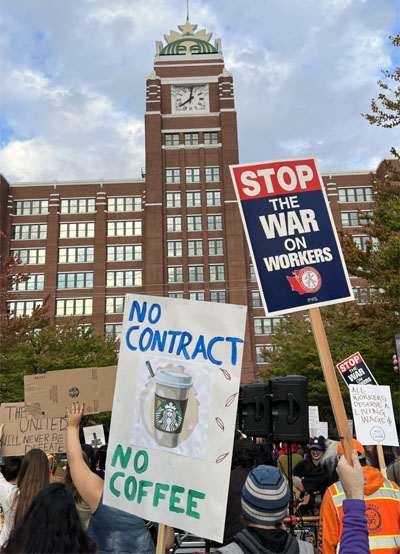 ► From KOMO — Two more Seattle Starbucks locations file for unionization — Starbucks workers at two Seattle stores filed petitions with the NLRB to unionize with Starbucks Workers United. One location is at 3rd Avenue & Madison and the other is inside the Seattle Center Armory Food and Event Hall. Workers sent letters to Starbucks CEO Laxman Narasimhan to announce their organizing campaign. In the letters, workers explained they were unionizing because they "have seen the company value keeping the store running over the health and safety of partners, who were put at risk in unsafe working conditions."
TODAY at The Stand — Starbucks solidarity at 'Strike Place Market' — Starbucks Workers United's 'Union Is Calling' bus tour arrives in Seattle as workers rally nationwide to call for end to company's union-busting. Meanwhile, more workers are organizing.
---
LOCAL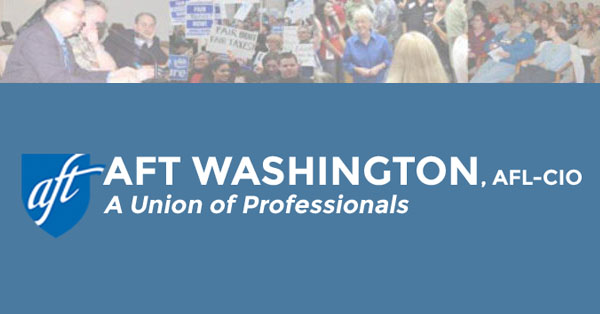 ► From the Walla Walla Union-Bulletin — New union approved for Walla Walla Community College professional salaried workers — A third union — this time for professional salaried workers — has been approved at Walla Walla Community College, and officials said the new group could be finalized by the end of this year. Talks of the new union began in March. The group of about 50 employees at the time now includes about 70 union members. The college is working with the American Federation of Teachers to iron out the union's makeup. Two other unions already on campus include one for academic faculty and one for classified staff members, who are hourly workers.
EDITOR'S NOTE — Ready for a voice at work? Get more information about how you can join together with co-workers and negotiate a fair return for your hard work. Or go ahead and contact a union organizer today!
► From the Olympian — Child-care workers and teachers on strike at Lacey preschool over wages, other issues — About a dozen workers were on strike Monday against Cadence Academy preschool in Lacey, continuing an effort they launched Friday to improve wages and training. Rose Bayer, 21, who has worked at the school for about a year, said she earns $16 per hour, just 26 cents per hour more than the state minimum wage of $15.74 per hour.
► From KXLY — Spokane City councilmembers, corrections officers union asks for delay in jail ballot measure — Spokane City Council President Lori Kinnear and Councilmember Zack Zappone, in partnership with AFSCME Local 492 Corrections Officers, are requesting a delay in the proposed jail ballot measure. The measure asks voters to approve a 0.2% sales tax over 30 years.
► From KUOW — Understaffing leads to safety problems at King County juvenile detention, draft report finds — The county commissioned a safety and security analysis following a sharp uptick in assaults by young people at the jail. In draft recommendations, consultants found that ongoing staffing shortages, a lack of structure, and interrupted programming lead to behavior problems and fights at the jail.
---
AEROSPACE

► From the Seattle Times — Boeing reveals 737 MAX sales breakdown for the first time — The breakdown shows the substantial sales success of the largest MAX, the MAX 10, designed for up to 230 seats. That jet won't be certified by the FAA to enter service until next year yet has already booked just over 800 unfilled orders as of the end of July. That makes clear how critical it is for Boeing to get that jet certified as soon as possible.
---
THIS WASHINGTON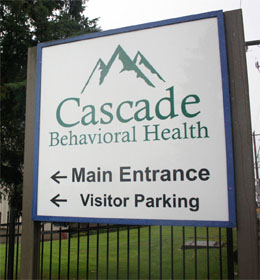 ► From the Seattle Times — Washington buys closed Tukwila psychiatric hospital for nearly $30 million — DSHS is expected to pay $29.95 million for Cascade Behavioral Health Hospital, which was one of the state's largest privately owned psychiatric hospitals until Tennessee-based owner Acadia Healthcare laid off staff (SEIU Healthcare 1199NW), discharged its patients and shuttered the hospital doors at the end of July. Contract workers will staff the hospital until permanent positions are created, a DSHS spokesperson said. It's unclear whether some of the hospital's former workers might be rehired.
---
THAT WASHINGTON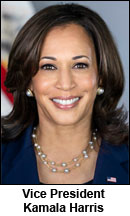 ► From the AP — Harris says new rule means 'thousands of extra dollars' for workers on federal construction projects — Vice President Kamala Harris on Tuesday announced changes to labor rules that could give higher wages to construction workers on federal projects. Harris says the Labor Department has provided the first update in decades to the Davis-Bacon Act of 1931, a law that requires the payment of prevailing local wages on public works. The new rule is something of a return to the past in that it will use the definition of prevailing wage that the Labor Department previously used from 1935 to 1983, likely raising the hourly earnings of contractors and subcontractors. The new rule would tie wages to "the wage paid to at least 30% of workers." The current standard for prevailing wages, set during the Reagan administration, is 50 percent, and the new rule is sure to face legal challenges.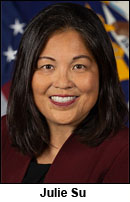 ► From The Cut — The Labor Nominee Making Sure Staffers Get Home for Bedtime — While her confirmation has stalled in the Senate — if confirmed, Julie Su would be the first Asian American secretary in President Biden's cabinet — she's continued to work as acting secretary and focus on notching wins for workers rather than on what the headlines say. Su is also a mother of two college-age daughters, so she's made a point of cultivating an office culture that allows fellow parents to spend time with their kids. When she's not working, she's watching her daughter's basketball games or exploring Washington, D.C.
► From the AP — Judges halt Biden rule offering student debt relief for those alleging colleges misled them — Career Colleges and Schools of Texas, an association of for-profit higher learning institutions, filed a lawsuit against the rule in February.
---
NATIONAL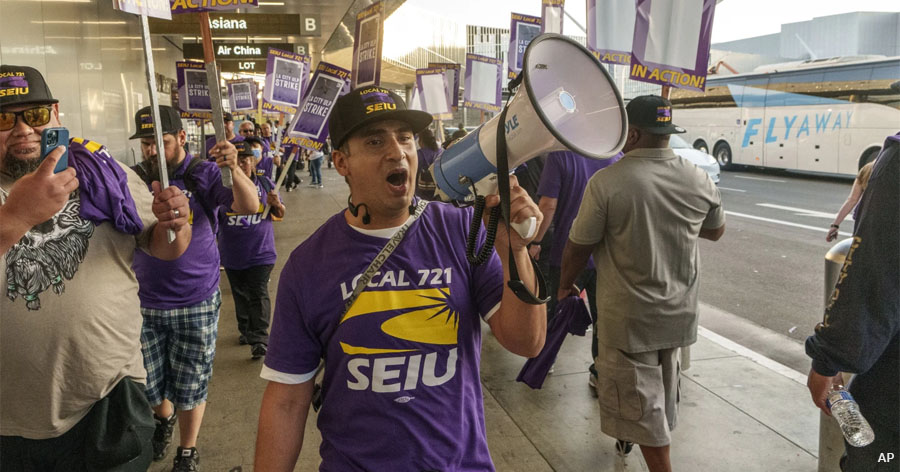 ► From the AP — Thousands of Los Angeles city workers walk off job for 24 hours alleging unfair labor practices — Thousands of Los Angeles city employees, including sanitation workers, lifeguards and traffic officers, walked off the job Tuesday for a 24-hour strike alleging unfair labor practices. The union said its members voted to authorize the walkout because the city has failed to bargain in good faith and also engaged in labor practices that restricted employee and union rights.
► From the LA Times — 'More work for less money': Strikers picket at LAX as thousands walk off the job — Thousands of Los Angeles city workers hit the picket lines Tuesday for a massive one-day strike that could impair services across the city. At Los Angeles International Airport, which employs at least 1,000 union members, dozens of strikers were marching before dawn. Most were mechanics and custodians. "If we don't get it, shut it down," the workers chanted.
► From Reuters — Disney creates task force to explore AI and cut costs — Walt Disney has created a task force to study artificial intelligence and how it can be applied across the entertainment conglomerate, even as Hollywood writers and actors battle to limit the industry's exploitation of the technology. Launched earlier this year, before the Hollywood writers' strike, the group is looking to develop AI applications in-house as well as form partnerships with startups.
EDITOR'S NOTE — Disney CEO Bob Iger says striking SAG-AFTRA members' demands for better pay from streaming content and limits on the use of AI are "unreasonable." Iger made that comment when at a gathering known as the "Billionaire's Camp." The day before Billionaire Bob said that, Disney extended HIS contract to 2026. He stands to make $31 million a year.
► A related story from Variety — Marvel VFX workers vote to unionize — Visual effects (VFX) crews at Marvel Studios have voted to unionize, IATSE announced on Monday. The unionization effort marks the first time VFX professionals have banded together in such a fashion, as this segment of the industry has largely remained non-union.
EDITOR'S NOTE — Disney owns Marvel Entertainment.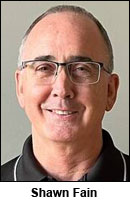 ► From the NY Times — Automakers face a labor showdown as the EV era looms — The United Auto Workers union has made a bold opening bid in negotiations for new four-year collective bargaining agreements with General Motors, Ford Motor and Stellantis. Its new president, Shawn Fain, has declared that the 150,000 hourly workers employed by the companies are prepared to strike to achieve the union's goals.
► From the AP — UPS lowers 2023 revenue expectations, citing tentative labor deal with 340,000 unionized workers — Revenue declined at UPS in the second quarter and the package delivery company lowered its full-year revenue expectations by $4 billion, primarily due to a tentative labor contract reached late last month with its 340,000 unionized workers.
► From Jacobin — Newly unionized Amazon delivery drivers say the company is hiding behind subcontractors — Like many corporations, Amazon has used subcontractors to avoid responsibility for working conditions and pay. A group of Palmdale, California, subcontracted workers wants to force Amazon to change that.
► From the AP — A proposed constitutional change before Ohio voters could determine abortion rights in the state — Voters in Ohio on Tuesday are weighing whether to make it more difficult to change the state's constitution, a decision that will have national implications in the debate over the future of abortion rights in the United States.
---
The Stand posts links to Washington state and national news of interest every weekday morning by 10 a.m.
Short URL: https://www.thestand.org/?p=118799
Posted by
David Groves
on Aug 8 2023. Filed under
DAILY LINKS
. You can follow any responses to this entry through the
RSS 2.0
. Both comments and pings are currently closed.