More educators strike | 'Simply overt racism' | More union influence
Wednesday, August 30, 2023
---
LOCAL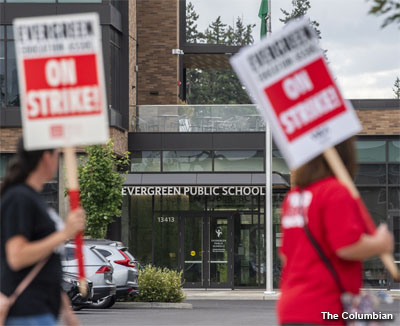 ► From the union-busting Columbian — Evergreen Public Schools teachers will strike Wednesday; Battle Ground schools will be open — The Evergreen Education Association will strike Wednesday, closing schools on what was scheduled to be the first day of the school year. The teachers union — the largest in Southwest Washington — is now the second union leading a strike in Clark County. The Camas Education Association continued its strike Tuesday; schools in the Camas School District will be closed again Wednesday. Battle Ground Public Schools will be open Wednesday for the first day of school despite not yet reaching a deal with the Battle Ground Education Association. The union voted not to strike Tuesday evening but will return to the bargaining table Wednesday to continue seeking a deal on a new contract.
TODAY at The Stand — Vancouver educators go on strike; talks continue in Camas
TAKE A STAND — All union members and community supporters are invited to join Evergreen and Camas educators on the picket lines at all public school sites in their respective districts from 9 a.m. to 3 p.m. on Wednesday. Also, send a message of support for the teachers to the Evergreen School Board and the Camas School Board.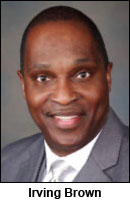 ► From the Tri-City Herald — 'Simply overt racism.' Tri-City leaders rally behind targeted Pasco councilman — The message was clear from a crowded basement in the Teamsters Local Union No. 839 hall. "We're not going to take it anymore," Irving Brown Sr. said to vigorous applause. Religious, labor and civic leaders rallied in Pasco on Monday evening to defend one of their own from a racist attack. Brown, 56, an incumbent candidate for the city council, was the target of a racist message left near one of his vandalized campaign signs. Brown, a Black man who works as an Human Resources manager, discovered the message Friday.
The Stand (Aug. 28) — Teamsters, labor rally in support of Pasco's Irving Brown
---
THIS WASHINGTON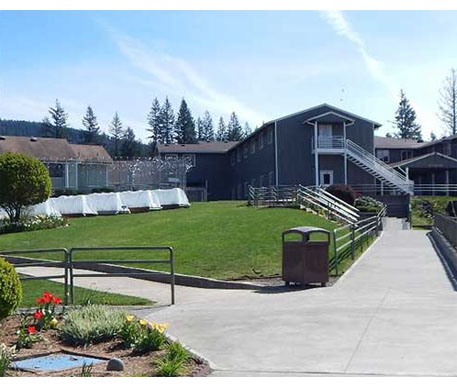 ► From the Washington State Standard — Prison closure plan stokes wildfire response worries in southwest Washington — There are nearly 80 prisoners at the Larch Corrections Center in southwest Washington who assist the state with wildland firefighting. In recent years, incarcerated people there have been dispatched to dozens of fires annually, with some laboring on hand crews and others assigned to cooking duties. That's why Washington Lands Commissioner Hilary Franz said it was a shock when the state Department of Corrections said in June it would close the facility by Oct. 1. "There is a lack of partnership in the sense of really understanding how significant these crews are," Franz said.
The Stand (Aug. 17) — Clark County legislators: Keep Larch Correctional Center open
The Stand (July 26) — Larch is a shining success. Don't close it. (by John Scearcy)
TAKE A STAND — Please send a message to Olympia and the DOC: Keep Larch open! Keep local communities together! Also, Teamsters who provide services at Larch have set up an online petition at Change.org calling on the DOC to keep Larch open. Please sign it to keep Larch open!
---
AEROSPACE



► From the Wenatchee World — NASA exploring possibility of supersonic flights with help of Boeing — A flight to London from New York City takes around eight hours, but NASA and other industry leaders are exploring whether it'd be possible for that commercial flight to clock in at 90 minutes. Boeing is among the group of companies tasked with finding out.
---
THAT WASHINGTON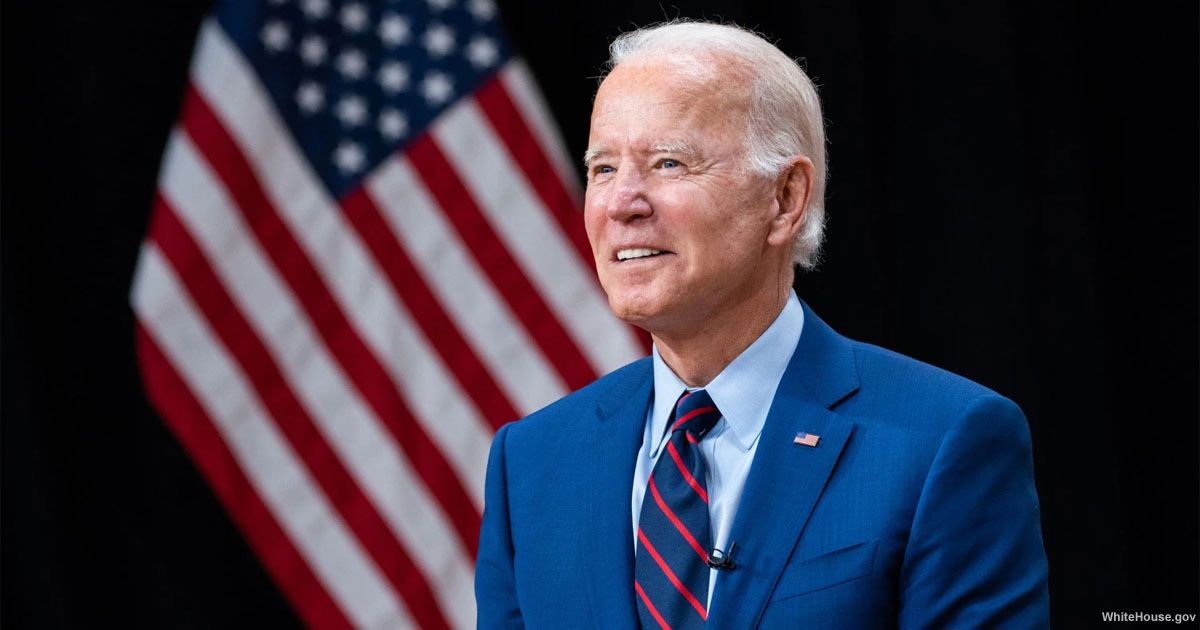 ► From the AP — Millions more workers would be entitled to overtime pay under a proposed Biden administration rule — The Biden administration will propose a new rule Wednesday that would make 3.6 million more U.S. workers eligible for overtime pay, reviving an Obama-era policy effort that was ultimately scuttled in court. The new rule, shared with The Associated Press ahead of the announcement, would require employers to pay overtime to so-called white collar workers who make less than $55,000 a year. That's up from the current threshold of $35,568 which has been in place since 2019.
EDITOR'S NOTE — In Washington state, the 2023 minimum salary for exempt employees working for small employers (1-50 employees) is already 1.75 times the minimum wage. That means an employee exempt from overtime pay must earn at least $1,101.80 a week ($57,293.60 a year). For large employers (51 or more employees), the threshold is 2 times the minimum wage. Those employees must earn at least $1,259.20 a week ($65,478.40 a year). If you make less than those thresholds, but aren't being paid overtime, a worker rights complaint can be filed online.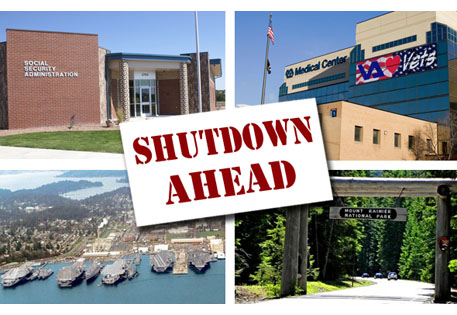 ► From The Hill — House conservatives flirt with shutdown: 'So be it' — Congress is racing the clock to fund the government ahead of a Sept. 30 deadline as the threat of a shutdown looms — but to some House conservatives, a shutdown isn't much of a threat at all. A handful of hard-line Republicans are brushing off — or even embracing — the possibility of a shutdown.
► From Government Executive — USPS eyes expansion of a potentially major insourcing initiative — The U.S. Postal Service has begun insourcing some of its trucking operations, opening the possibility of bringing back in house thousands of jobs that are currently contracted out.
EDITOR'S NOTE — The American Postal Workers Union tweets: "This is good news for drivers, and good news for the USPS."
---
NATIONAL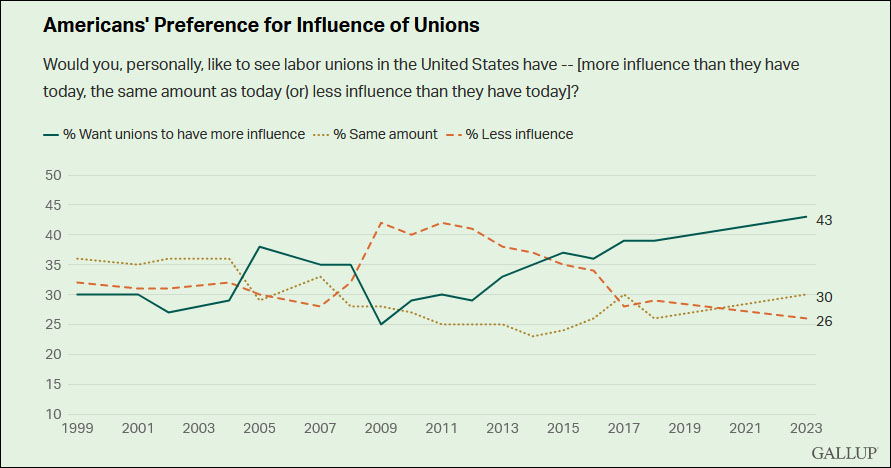 ► From Gallup — More in U.S. see unions strengthening and want it that way — Labor unions continue to enjoy high support in the U.S., with 67% of Americans approving of them, similar to the elevated level seen in recent years after more than a decade of rising support. Mirroring this trend, Americans have gradually become more likely than a decade ago to want unions' influence to strengthen and to believe unions benefit various aspects of business and the economy. In contrast to the incremental changes seen in U.S. adults' support of unions over time, the new poll documents an unprecedented uptick since the prior measure, in 2018, in perceptions that unions in the country will become stronger in the future than they are today. A third of Americans (34%) believe this today, compared with 19% five years ago and no more than 25% at any time in the trend since 1999.
TODAY at The Stand — AFL-CIO's 2023 State of the Unions: Strong — Shuler and Redmond highlight record public support, unprecedented activism and organizing, this Labor Day.
EDITOR'S NOTE — Join the party! Get more information about how you can join together with co-workers and negotiate for better wages and working conditions. Or go ahead and contact a union organizer today!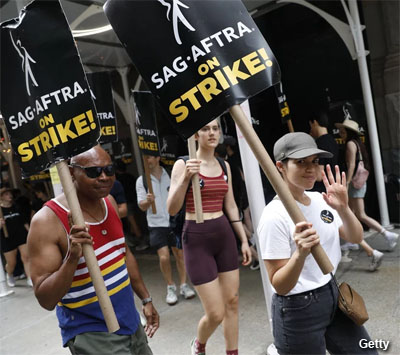 ► From NPR — Hollywood union health insurance is particularly good. And it's jeopardized by strike. — The issues dominating the dual Hollywood strikes by actors and writers are artificial intelligence, residual payments and job protections. But one topic that's often a contentious point in labor negotiations – health insurance – has slipped under the radar. A-list stars have been out in force snapping selfies on picket lines in the bright California sun, but it's the people who may have never walked the red carpet who are forgoing a paycheck and potentially their health insurance as the negotiations drag on and work dries up.
► From the AP — Hollywood's working class turns to nonprofit funds to make ends meet during the strike — Props assistant and documentary filmmaker Shawn Batey — who used her grant to pay her rent, phone bill and electric bill, and other expenses — is one of 2,600 film or television workers that the Entertainment Community Fund has helped during these strikes, granting $5.4 million as of Aug. 25. The fund, formerly known as The Actors Fund, is one of several nonprofits that have long supported workers who make the entertainment industry run, but who were essentially gig workers long before the term was coined. That includes both unionized and nonunionized workers, and those on strike as well as those who've lost work because of it.
EDITOR'S NOTE — Please consider making a contribution to the Entertainment Community Fund. You can also support striking workers by donating to the SAG-AFTRA Foundation, an emergency assistance program available to SAG-AFTRA members in urgent financial need due to the strike.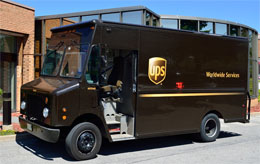 ► From CBS News — Veteran UPS driver dies days after working in North Texas heat — UPS driver Christopher Begley, 57, became sick and later died after working in the heat on Aug. 23. Teamsters Local 767 President Dave Reeves said this is the second heat-related death of a UPS worker in North Central Texas in the last two years. He added that multiple workers go to the hospital every week for treatment for heat-related ailments.
► From the Guardian — 'He was dripping with sweat': Kroger worker dies in hot work conditions in Memphis — A Kroger distribution center employee has died on the job in Memphis amid hot working conditions, adding to a national debate in the US over the risk to workers during heatwaves. He died on a dock in front of his co-workers. His death comes after his union had been asking the company for more breaks, cooler temperatures, and drinks other than just water.
► From Jacobin — Indoor workers need protection from the heat, too — Rising temperatures and strict productivity standards make a brutal combination for Amazon warehouse workers. In Southern California, these workers are fighting to end the exclusion of indoor workers from basic workplace protection from the heat.
► From Reuters — Cleveland-Cliffs, USW union reach tentative labor agreement — U.S. steel producer Cleveland-Cliffs Inc. said on Tuesday it had reached a tentative agreement with the United Steelworkers (USW) union on a new 3-year labor agreement for its Northshore mining operations.
► From Reuters — Walmart cuts pharmacist pay, hours while workload piles up — Walmart is asking some of its 16,000 pharmacists across the U.S. to voluntarily take pay cuts by reducing their working hours in a bid to lower costs.
---
The Stand posts links to Washington state and national news of interest every weekday morning by 10 a.m.
Short URL: https://www.thestand.org/?p=119413
Posted by
David Groves
on Aug 30 2023. Filed under
DAILY LINKS
. You can follow any responses to this entry through the
RSS 2.0
. Both comments and pings are currently closed.