Relief and gratitude | GOP eyes shutdown | Thumbs up for 'The Equalizer'
Tuesday, September 12, 2023
---
LOCAL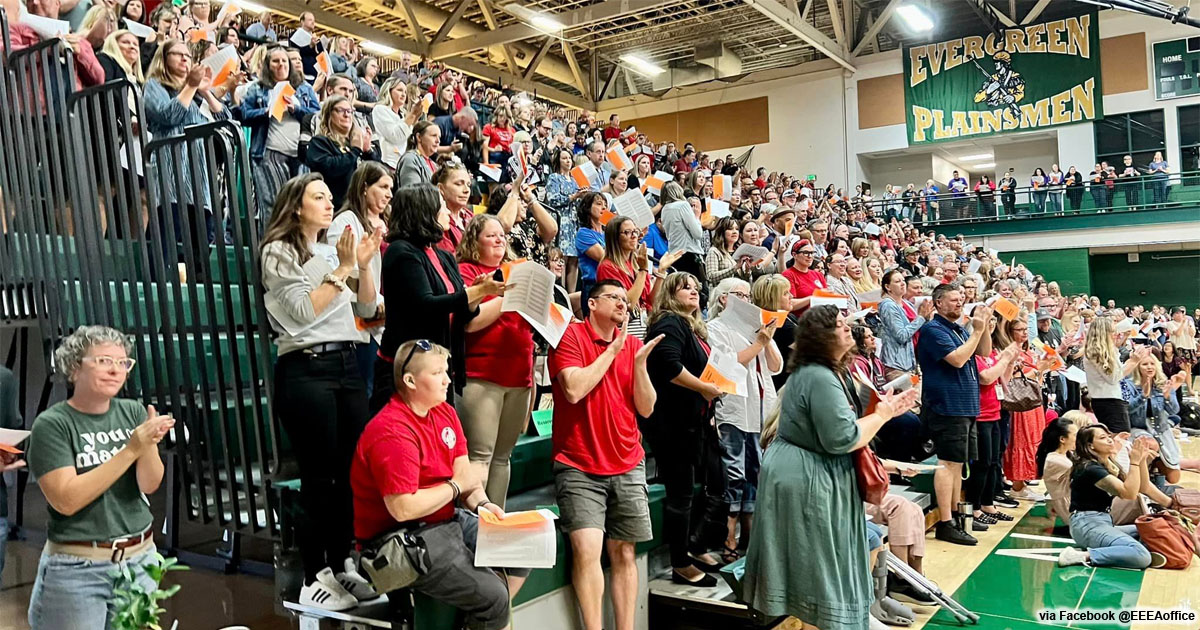 ► From the union-busting Columbian — Evergreen teachers approve contract, ending protracted strike — EEA President Kristie Peak expressed relief and gratitude to the community following the vote to ratify the agreement on Monday morning:
"I've been in this district for 30 years, and I've felt since the day I started that this community places value on quality education for their kids. Their willingness to engage was really inspiring. I'm thankful they stood up and used their voices."
The Stand (Sept. 11) — Strike ends: Evergreen educators ratify deal
► From the union-busting Columbian — Teachers' strikes shine spotlight on state law (editorial) — In 12 states — including Oregon — teacher strikes are explicitly legal. Washington should either follow the lead of those jurisdictions or specify penalties for strikes that violate state law. Either scenario would be preferable to having a state law that is ignored.
► From KUOW — Kroger and Albertsons are selling hundreds of stores. What we know, and don't — A coalition of unions representing more than 100,000 Kroger and Albertsons grocery workers denounced the deal. "We have raised alarms about the proposed Kroger/Albertsons merger from the very beginning," said UFCW 3000 president Faye Guenther. "News of a possible deal with C&S to buy hundreds of stores as part of the proposed merger in no way reduces those alarms. Indeed, in many respects this announcement raises the level of concern for our members."
The Stand (Sept. 11) — Despite C&S deal, UFCW 367 remains opposed to megamerger
► From the Oregonian — Dancers at Northwest Portland strip club vote to form city's first strippers union, second in U.S. — A total of 16 dancers at Northwest Portland's Magic Tavern unanimously voted to unionize with the Actors' Equity Association.
EDITOR'S NOTE — Ready for a voice at work? Get more information about how you can join together with co-workers and negotiate a fair return for your hard work. Or go ahead and contact a union organizer today!
---
THIS WASHINGTON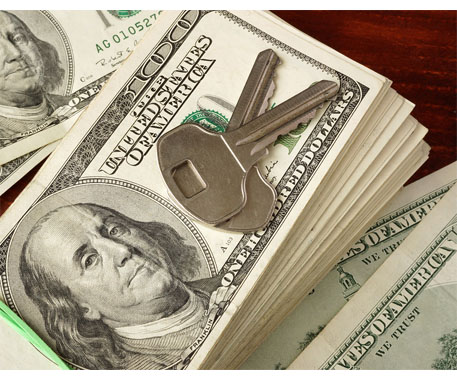 ► From the Washington State Standard — The outlook for new statewide renter protections in Washington — After failed attempts this year, the debate over how to best shield tenants from unaffordable price hikes will likely return in the next legislative session.
► From Crosscut — Who will redraw Central WA's Latino-majority voting district? — The Legislature can either regroup the redistricting commission — an unprecedented move that some say is unlikely — or pass the task to a federal court.
► From the Washington State Standard — Inslee won't call special session to deal with controversy over legislative district map
► From the Seattle Times — How WA firefighters mobilized for large wildfires throughout the state — Crews from several local fire departments have been getting an up-close-and-personal look at the Oregon Road and Gray fires that burned homes, closed roads, billowed smoke into our air and claimed lives.
---
AEROSPACE

► From Reuters — SMBC agrees $3.7 billion deal for 25 Boeing 737 MAX jets — Global leasing giant SMBC Aviation Capital said on Tuesday it had concluded an order for 25 Boeing 737 MAX aircraft in a deal worth more than $3.7 billion at current list prices.
► From the Seattle Times — Boeing jet deliveries drop in August over latest 737 MAX defect
---
THAT WASHINGTON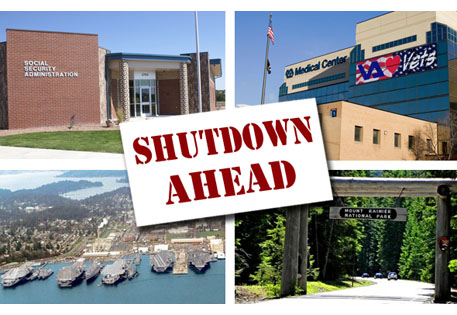 ► From Vox — Republicans might shut down the government… again — This year, shutdown concerns are especially heightened given Republican control of the House, and the dissent within the GOP conference. Thus far, various factions — particularly conservatives — have issued threats about holding up government funding unless their demands over issues like a border wall, investigations into the Biden family, and Ukraine aid are met. The deadline to pass a funding bill is September 30, giving Congress just 11 working days to agree on a path forward.
► From the AP — Farm laborers to receive greater protections under Biden administration proposal — Immigrant farm workers would receive a raft of new protections under a Biden administration proposal to be announced Tuesday, which would boost safety requirements on farms and raise transparency around how such workers are brought to the U.S., to combat human trafficking. The proposal would reform the H-2A visa program, under which hundreds of thousands of immigrants, mostly from Mexico, take on seasonal jobs in the U.S. agriculture industry.
► From Politico — White House threatens to veto House GOP defense spending bill — President Joe Biden would veto a right-wing defense funding bill that's slated to be considered on the House floor this week, his administration said Monday. The White House declared it "strongly opposes" the Pentagon spending measure in a statement outlining its objections, dinging Republicans for loading the bill with conservative policy riders, including on abortions and transgender troops.
► From The Hill — McCarthy to endorse Biden impeachment inquiry, setting up possible vote — Speaker Kevin McCarthy (R-Calif.) will endorse an impeachment inquiry into President Biden this week, setting the scene for a formal vote in the chamber — even though it remains unclear that there is enough support to launch a formal investigation.
► From The Hill — Senate GOP says House lacks evidence for impeachment — Senate Republicans say the House GOP doesn't appear to have enough evidence to pursue impeachment proceedings against President Biden and are skeptical about the prospect of setting up an inquiry.
---
NATIONAL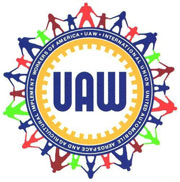 ► From HuffPost — Auto workers poised for historic strike against 'Big Three' automakers — The United Auto Workers union's contracts with Ford, General Motors and Stellantis ― owner of the historic Chrysler brands ― are set to expire at midnight Friday morning, and both sides remain far apart on several key issues. The union's president, Shawn Fain, has said repeatedly that workers are prepared to strike any company where they haven't secured a satisfactory deal. The prospect of walking out at the three companies at the same time marks a departure from past negotiating strategy for the UAW, which has 150,000 members employed under the trio of contracts. It also raises both the political and economic stakes of a showdown in a major manufacturing sector that is now shifting toward electric vehicles. Given the limited time left and the militant tone of the union's leadership, many observers believe a work stoppage of some kind looks increasingly likely.
► From Reuters — UAW says some progress in labor talks but wide divide remains — The United Auto Workers union has made some headway in labor talks with the Detroit Three automakers just three days before a potential strike of 146,000 U.S. autoworkers, but an agreement was still not in reach, UAW President Shawn Fain said on Monday.
► From Bloomberg — Auto workers want cost-of-living allowance built into pay raises — It's been more than a decade since America's carmakers have tied pay to inflation. Now workers want to change that.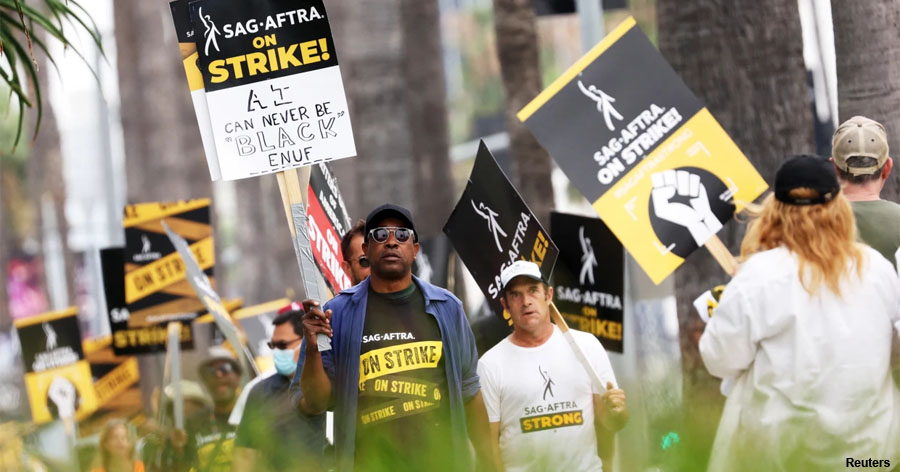 ► From NBC News — There's still no end in sight for the Hollywood strikes — The actors union hasn't heard from the studios since its members went on strike nearly two months ago, a source said, and there's no imminent deal for the writers union, either.
► From Deadline — California Assembly passes bill that would provide unemployment insurance for striking workers
► From the LA Times — Fran Drescher is easily reelected as SAG-AFTRA president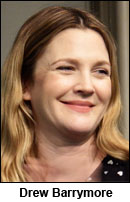 ► From the NY Times — Drew Barrymore's show is picketed as it resumes amid writers' strike — The star, who dropped out of an MTV awards show in May to demonstrate solidarity with striking writers, plans to bring her daytime talk show back without its unionized writers. A group of picketers demonstrated on Monday outside the CBS studios in Manhattan, where the show was taping the first episode of its fourth season, which is scheduled to be broadcast next week. One man held a sign that said, "Drew the right thing."
TODAY at The Stand — Drew Barrymore 'owns this choice' of being a scab (by Sarah Tucker)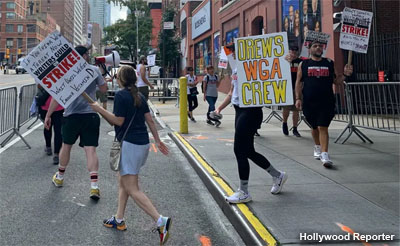 ► From the Hollywood Reporter — 'Drew Barrymore Show' audience members say they were kicked out for Writers Guild support amid picket — Writers Guild of America members and scribes for The Drew Barrymore Show picketed outside CBS Studios in New York on Monday as the daytime talker resumed filming amid the writers and actors strikes.  Two audience members, who had signed up for free tickets to the taping, were handed WGA pins by picketers as they walked in the door and say they were asked to leave before the show began because they were wearing the pins.
► From Reuters — UPS CEO says new labor deal with Teamsters to cost less than $30 billion — United Parcel Service's new five-year deal with Teamsters-represented workers will cost less than the $30 billion that was outlined by the union, Chief Executive Officer Carol Tome said.
► From Teamster.org — Now hiring for hundreds of Alaskan Teamster jobs — Among the hundreds of open positions for two major energy construction projects set to get underway in Alaska's North Slope are lowboy hauling, pipe stringing, side dumps, line haul/over-the-road, semi-end dump, water tankers, construction drivers, surveyors, and hostlers.
► From the (Longview) Daily News — Public defenders work 3 times too many cases, milestone study and new data show — Public defenders across America regularly work triple the cases they can effectively handle, and some work upwards of 10 times too many cases, according to an analysis of Lee Enterprises data based on a milestone study of public defender workloads released Tuesday.
---
TODAY'S MUST-READ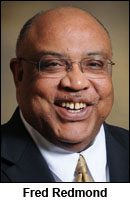 ► From Word in Black — Unions put more money in the pockets of Black folks — Unionization is most common among public-sector workers, protective service occupations, education, training, library occupations, and transportation and utilities industries. And Black folks have higher rates of unionization or union membership than any other racial and ethnic group. That's not without cause or history. Unions provide better working conditions with higher wages, good benefits, and less discriminatory retaliation from employers. AFL-CIO Secretary Treasurer Fred Redmond said:
"The union movement is the equalizer."
---
The Stand posts links to Washington state and national news of interest every weekday morning by 10 a.m.
Short URL: https://www.thestand.org/?p=119698
Posted by
David Groves
on Sep 12 2023. Filed under
DAILY LINKS
. You can follow any responses to this entry through the
RSS 2.0
. Both comments and pings are currently closed.