Remember 9/11 victims | Evergreen end game? | Drew defies strike
Monday, September 11, 2023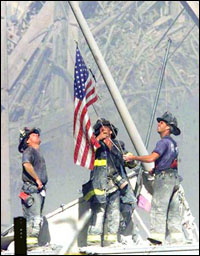 Today marks the 22nd anniversary of the 9/11 attacks. Union members were part of every aspect of that day. Of the nearly 3,000 who directly died because of the attacks, some 600 were union members, as were most of the people who have died of 9/11-related illnesses and injuries since then. Nearly 2,100 people have died since the attacks. Some 90,000 first responders, union members did as we always do and rushed into the chaos to help people. Since then, 55,000 of them have registered with the World Trade Center Health Program. Many others worked on the recovery, cleanup and rebuilding efforts, and hundreds of thousands of working people lived in the areas affected by the environmental hazards caused by the attacks. Take a moment today to remember and honor the lives of those who were lost on that harrowing day.
---
LOCAL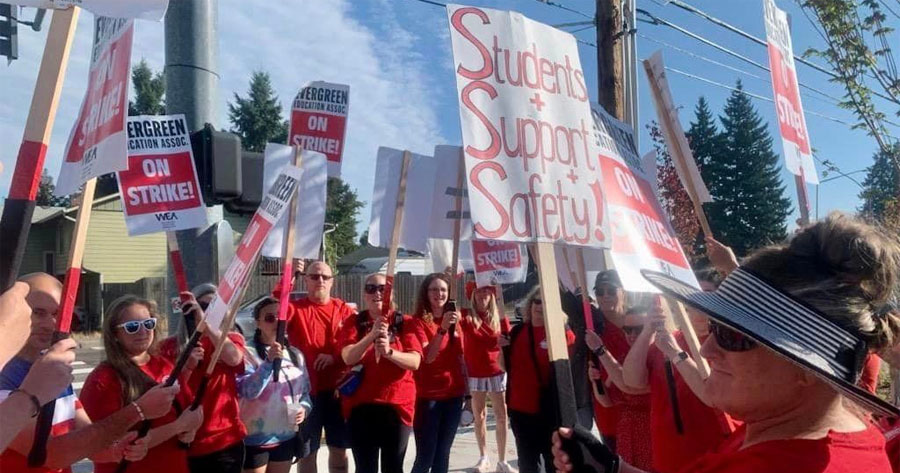 ► From the union-busting Columbian — Evergreen teachers union, district reach tentative agreement — The Evergreen Education Association has reached a tentative agreement on a new contract with Evergreen Public Schools Sunday evening, potentially ending a teacher strike that began Aug. 30. The union will meet to vote on the new contract at 8 a.m. tomorrow at Evergreen High School. If approved by the majority of the union's membership, schools will open on a two-hour delay.
TODAY at The Stand — Evergreen educators reach tentative agreement — If ratified in Monday morning vote, strike ends and classes begin right away. (This post will be updated with the vote results.)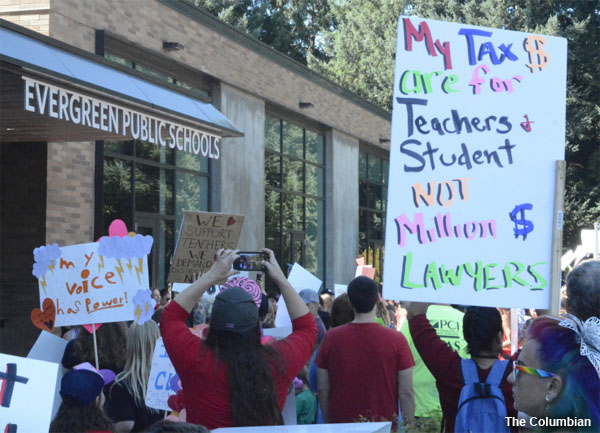 ► From the union-busting Columbian — Evergreen students rally in support of striking teachers — On day 10 of the teacher strike in Evergreen Public Schools, a new voice took center stage: students. Hundreds of Evergreen students rallied outside the district headquarters early Friday afternoon, leading chants in support of teachers and calling on district leaders to find a deal that could reopen schools. The students were joined by hundreds of parents who also led a picket line around district headquarters and Legacy High School. The rally was organized by an independent group on Facebook called "Evergreen Parents Support Red for Ed" that garnered over 1,400 members within just 48 hours of its creation on Wednesday.
► From KUOW — 'It is not OK,' Seattle union leader responds to transit drug study — The union leader representing Seattle's transit operators says, "Smoking drugs on public transportation should not be considered acceptable," following the results of a UW study that found traces of fentanyl and methamphetamine on buses and trains. ATU 587 President Ken Price said:
"It does provide some valuable insights that can help us understand the situation, but at the end of the day, it's still my workplace."
► From the Yakima H-R — Inside temporary foreign worker housing: Checking in on H-2A in Yakima — The Fairbridge Inn on North First Street is one of several hotels converted into housing for those workers, whom their employers must house, transport and, in this case, feed. Critics of the program are worried H-2A workers are replacing domestic labor with a workforce that is more beholden to its employers. Edgar Franks of Familias Unidas por la Justicia said:
"I think the rapid growth of H-2A is concerning. We're concerned growers are using the H-2A program to displace local workers."
---
AEROSPACE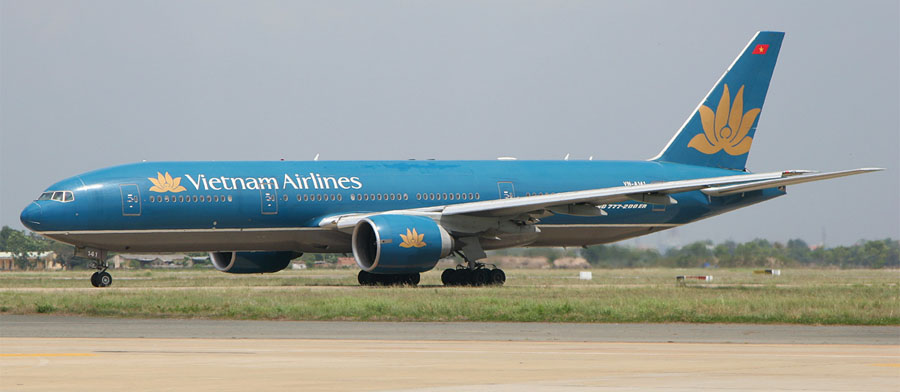 ► From Reuters — Vietnam Air inks $7.8 billion deal for Boeing 737 MAX planes, White House says — The White House said on Monday that Vietnam Airlines' deal to buy 50 737 MAX jets from Boeing is worth $7.8 billion. Boeing also has a deal with Vietnam Airlines' rival VietJet for the sale of 200 of its 737 MAX planes. President Joe Biden is currently on a visit to Hanoi, with top company executives using that opportunity to forge business partnerships.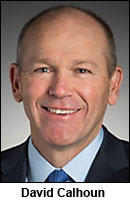 ► From the WSJ — Private jets and pop-up workspaces: Boeing eases return to office for top brass — Company flight patterns suggest CEO Calhoun travels infrequently to headquarters from two distant homes, while CFO West occupies a new office five minutes from his Connecticut doorstep.
► From Business Insider — Boeing's CEO is commuting to the office by private jet, and some employees who have returned to the office are mocking him, report says
---
THIS WASHINGTON



► From the Washington State Standard — Washington's new equity director on where her office goes from here — Office of Equity director Megan Matthews talks about the office's mission and what she plans to do differently from her predecessor, who left amid controversy.
---
THAT WASHINGTON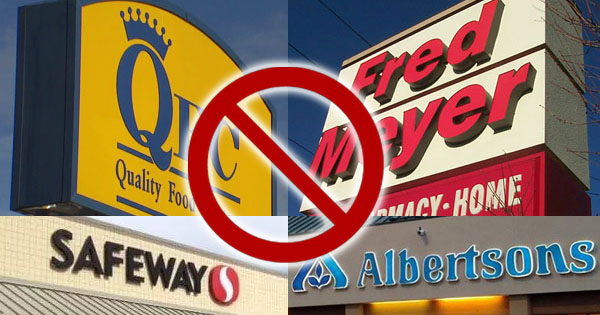 ► From the AP — Kroger and Albertsons sell 413 stores in a bid to clear merger of the 2 largest U.S. groceries — Kroger and Albertsons will sell more than 400 stores and other assets for about $1.9 billion, seeking to clear a path for a merger with antitrust regulators reviewing a deal that would unify two of the nation's largest grocery chains. The buyer, C&S Wholesale Grocers, reportedly has prior experience with divestitures related to mergers and has successfully transitioned union employees and their associated collective bargaining agreements in the past.
► From the Seattle Times — Kroger and Albertsons agree to sell 104 WA stores as part of merger
► From the Oregonian — Kroger, Albertsons have buyer for 49-plus Oregon stores if merger approved
TODAY at The Stand — Despite C&S deal, UFCW 367 remains opposed to megamerger
EDITOR'S NOTE — Recall that when Safeway merged with Albertsons in 2014, they appeased the FTC by "divesting" from hundreds of stores, selling them to Bellingham-based Haggen. It only took about a year for Haggen to go bankrupt, costing thousands of jobs. Albertsons bought back some of the stores at a steep discount. So what was the point? That merger was bad for competition, bad for consumers, and bad for workers — just as Kroger's pending megamerger would be.
The Stand (July 27) — Urge FTC to block Kroger-Albertsons merger — UFCW 367 calls on the community to contact the FTC, and voice concerns over proposed megamerger.
TAKE A STAND — Anyone hoping to voice their concerns about their opposition to the Kroger-Albertsons megamerger can email the FTC here. Please take a moment to send the FTC a message that this proposed megamerger spells disaster for consumers and essential workers everywhere. Only corporate executives and investors would benefit.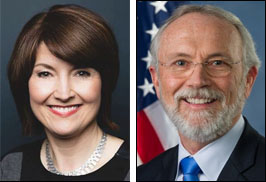 ► From The Hill — Hard-line House Republicans itching for shutdown, impeachment fights — Hard-line Republicans in the House are itching for fights over opening an impeachment inquiry into President Biden and extracting deep spending cuts even at the risk of a government shutdown. Their eagerness to fight isn't just with Biden and Democrats, but also with Republicans in their conference worried about the political risks of an impeachment fight and a shutdown.
EDITOR'S NOTE — Both Washington Republican Reps. Cathy McMorris Rodgers and Dan Newhouse voted for a resolution advancing articles of impeachment against President Biden to the House Committees on Homeland Security and Judiciary.
► From the Spokesman-Review — Sen. Murray tells House Republicans to 'back off' from looming government shutdown — Sen. Patty Murray, the Washington Democrat who chairs the Senate Appropriations Committee, said House Republicans should stick to the minimum funding levels to which McCarthy agreed in a deal with Biden in May:
"Like all of my colleagues, I have been back home with my constituents, talking about their concerns and their priorities. And let me tell you, they do not want to spend the next month wondering if Congress is going to fulfill its most basic obligation and fund the government."
---
NATIONAL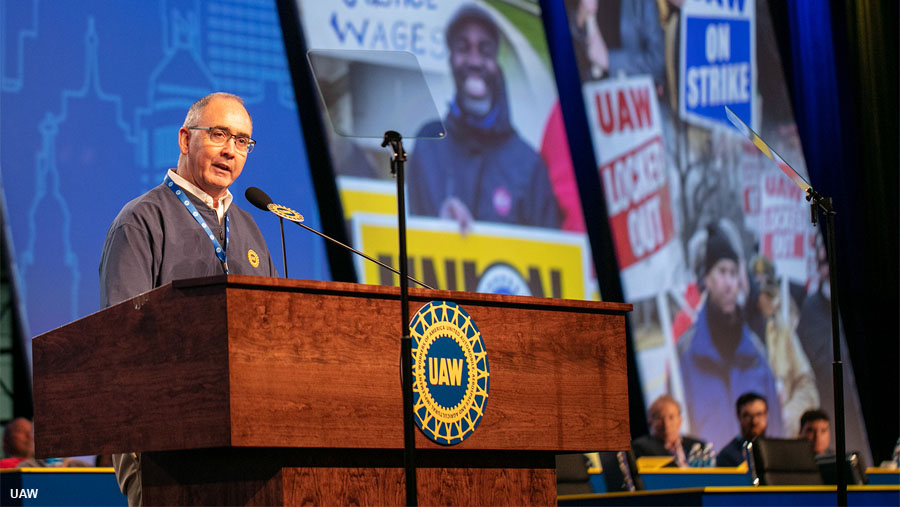 ► From the AP — Why the United Auto Workers union is poised to strike major U.S. car makers this week — About 146,000 U.S. auto workers are set to go on strike this week if General Motors, Ford and Stellantis fail to meet their demands for big pay raises and the restoration of concessions the workers made years ago when the companies were in financial trouble. UAW President Shawn Fain has threatened to strike any of the three companies that hasn't reached an agreement by the time its contract with the union expires at 11:59 p.m. Eastern time Thursday.
► From NPR — Why a 4-day work week is on the table for auto workers — As wild as that might sound, the UAW objective leans on a concept that has captured the imagination of workers all over the world, thanks to widely publicized trials. Microsoft ran a month-long pilot in Japan in 2019 and reported hugely positive results, including a 40% increase in productivity. More recently, dozens of companies in the U.S., Canada, and Europe have participated in ongoing trials that have likewise been deemed successful.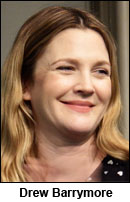 ► From the LA Times — Drew Barrymore says her talk show will resume amid strikes; WGA to picket outside taping — Drew Barrymore confirmed Sunday that her talk show will resume production amid the Hollywood writers' and actors' strikes. And the Writers Guild of America has announced plans to picket outside Monday's taping in New York City.
► From the LA Times — WGA says it's open to dealing with individual studios without AMPTP amid 'paralysis' — The Writers Guild of America said Friday that it would be open to negotiating separate deals with major studios outside the "confines" of the media companies' usual alliance, as the writers have been striking for 130 days with no end in sight.
---
TODAY'S MUST-READ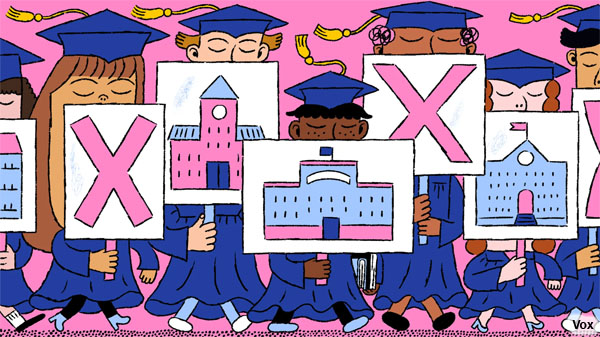 ► From Vox — This decades-old GOP movement is finally scoring breakthrough wins in the Biden era — The conservative push for "school choice" has had its most successful year ever. The aftereffects of the COVID-19 pandemic and an unfolding culture war shook up the status quo enough that a longstanding, well-financed conservative advocacy effort could finally defeat longstanding resistance. Now, in many red states and the occasional purple state, we're seeing what could prove the most sweeping change in K-12 education policy in decades. Critics of these changes argue they amount to a wealth transfer to families with kids in private schools, and they fear it will result in the weakening or even the eventual privatization of public school systems. They also voice concern over the separation of church and state, since many ESA funds will go toward sending children to religious education.
---
The Stand posts links to Washington state and national news of interest every weekday morning by 10 a.m.
Short URL: https://www.thestand.org/?p=119660
Posted by
David Groves
on Sep 11 2023. Filed under
DAILY LINKS
. You can follow any responses to this entry through the
RSS 2.0
. Both comments and pings are currently closed.