WSU Postdocs file to join together in a union
Supermajority of 160 Postdocs seek union to gain 'a seat at the table'
The following is from WSU Postdocs United-UAW: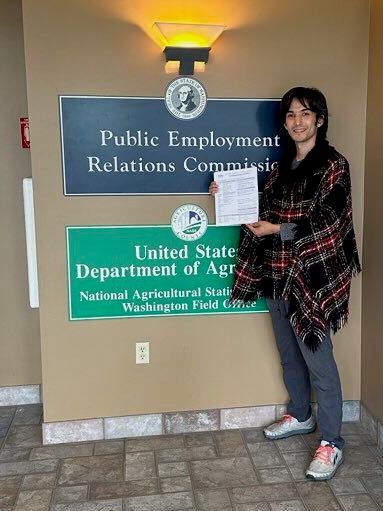 PULLMAN, Wash. (Sept. 19, 2023) — On Monday, Postdoctoral Scholars at Washington State University (WSU) filed to form a union at the Washington Public Employment Relations Commission (PERC). WSU Postdocs United-UAW (PDU-UAW) would represent more than 160 Postdocs at WSU, and would join with their colleagues in other public Research 1 universities on the west coast (all of whom also belong to unions). The workers filed with union support cards signed by a supermajority of the proposed bargaining unit.
Postdoctoral Scholars have already earned their PhDs and make essential contributions to the world-class research, instruction, and service at WSU. But in an increasingly unionized industry, WSU Postdocs are seeing the growing gap in their pay and benefits, while also facing an uncertain future given the precarious nature of science funding and unstable regulation of visas and work authorization.
"We love our research and that's what we want to focus on, rather than on figuring out how to make ends meet," said Malgorzata Krysiak, a Postdoc in the Institute of Biological Chemistry. "If you're a parent, if you're an international scholar, if you're not from a wealthy background, it's becoming increasingly hard to make it in academia, and that's bad for institutions and bad for research. We hope we can move quickly to bargaining so we can change that."
"Forming a union means finally having a seat at the table with the Administration to determine our working conditions like our unionized colleagues who have won better pay, guaranteed parental leave and guaranteed minimum appointment lengths. We are excited to join the academic organizing movement and raise the bar for Postdocs here at WSU and beyond," said Dylan Beal, a Postdoc in the Entomology department.
Unionized colleagues at the University of Washington recently negotiated pay minimums of $65,508 in 2023 and $68,456 in 2024 in keeping with the Washington Minimum Wage Act, while the median pay for WSU Postdocs is $52,700 and some are paid as low as $34,000 per year. Likewise, minimum pay for unionized Postdocs at the University of California will increase by over 30% from 2021-2026 (to $71,490), in addition to winning longer guaranteed appointments, and much more.
Also this week, Postdocs will deliver letters at the Pullman, Spokane, Wenatchee, Prosser and Puyallup campuses to university administration urging them to remain neutral and recognize their union.
"The UAW welcomes Postdocs at Washington State University into our union family. As we've seen all across the country, there is no stopping academic workers when they come together through their union to secure a voice at work and improve their working conditions, and the UAW is here to support them all along the way," said Mike Miller, Director of UAW Region 6.
The UAW represents 100,000 higher education workers across the US, including more academic student employees and more postdoctoral scholars than any other union. In addition to UW and UC, Postdocs at Columbia University, UConn, and Mount Sinai in New York City have formed unions with the UAW in recent years. WSU-CASE/UAW is the union of Academic Student Employees at WSU, which is currently bargaining their first-ever contract.

For more information, visit WSU Postdocs United-UAW online.
---
The Stand (Nov. 4, 2022) — 'Momentous day' for WSU student workers — UAW: Academic Student Employees at Washington State University have succeeded in forming union.
Short URL: https://www.thestand.org/?p=119846
Posted by
admin
on Sep 19 2023. Filed under
LOCAL
. You can follow any responses to this entry through the
RSS 2.0
. Both comments and pings are currently closed.